This easy fried rice comes together in just over 15 minutes and is a perfect way to use leftover rice. This dish has plenty of vegetables and is gluten free, soy free, egg free, and can be made Vegan.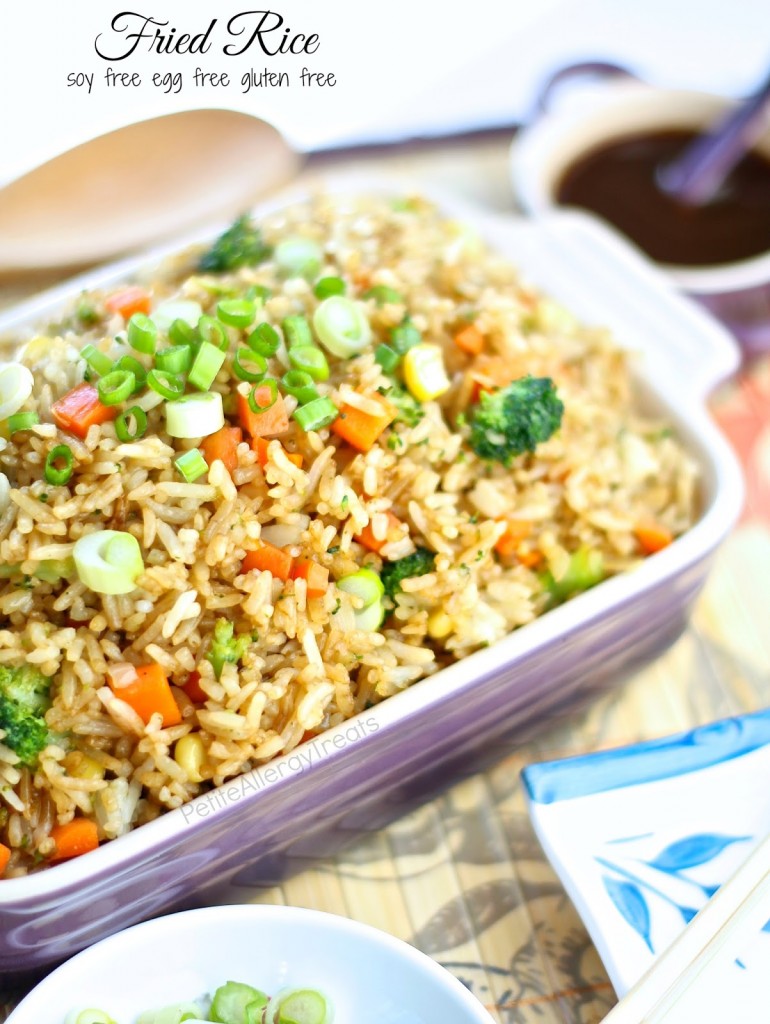 I ended up making this fried rice last night for dinner since there wasn't much time left for anything else. Our furnace decided to break… again… in the freezing WI winter.
Before I get into the whole furnace thing, how was your weekend? Did you get to watch the Packer game? I did and it was close one with a happy ending. That was by far one of the highlights of the weekend. Really the only one…
The rest of the weekend and Monday was a frustrating story that keeps repeating. Our furnace went out Saturday afternoon for yet the third time. We're in Wisconsin where it reached a low of -4 degrees F with a bone chilling -25 degree windchill last week. Needless to say a broken furnace is never fun to deal with. The most frustrating part is this happens every year for the past 3 years AND it's only 3 years old! It's such a pain dropping everything to sit around and wait for the repair guys, which coincidentally we've gotten to know a little better each time they come out and replace parts.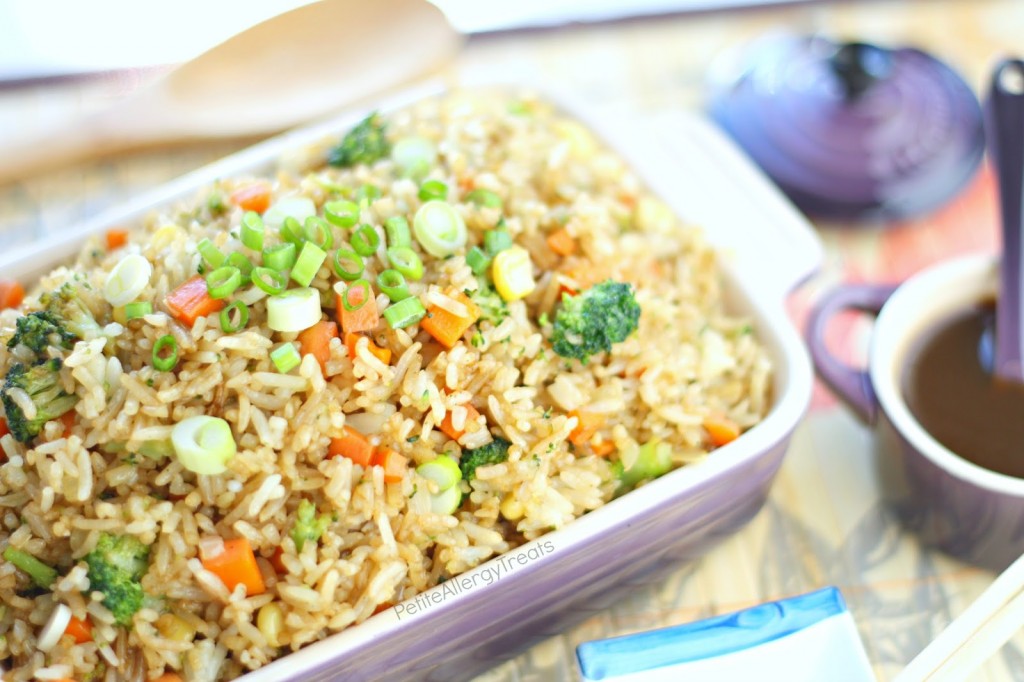 The added stress of it all makes me want comfort food. And lots of it.
I've been craving for Asian food lately and this was my easy fix for the family. My craving was ignited a short while ago at a party. If you follow me on Facebook, you probably saw the post where I admitted to 'cheating' and eating regular non-allergy food around my son. My husband and I took turns eating away from the kids and we were both careful to wash out hands, not share drinks and to not kiss the boys. We we're also very careful to not indulge in any peanut butter and to keep the kids away from it (since we were told there wouldn't be any nuts around).
Alas, I felt incredibly guilty indulging in egg rolls, crab rangoons, pasta salad… and a BEER. And for the record, I never do that. Ever. At least, not until then. I'm so used to going without, this has never happened before. But I'm human…
All of you guys made me feel better by sharing your 'cheating' stories of eating peanut butter on vacations away from the kids or eating out when they're staying a grandma's house.
And I think the whole cheating thing is normal for family member without food allergies. Food allergies are tough on us too. We sacrifice so much for our kids on a regular basis.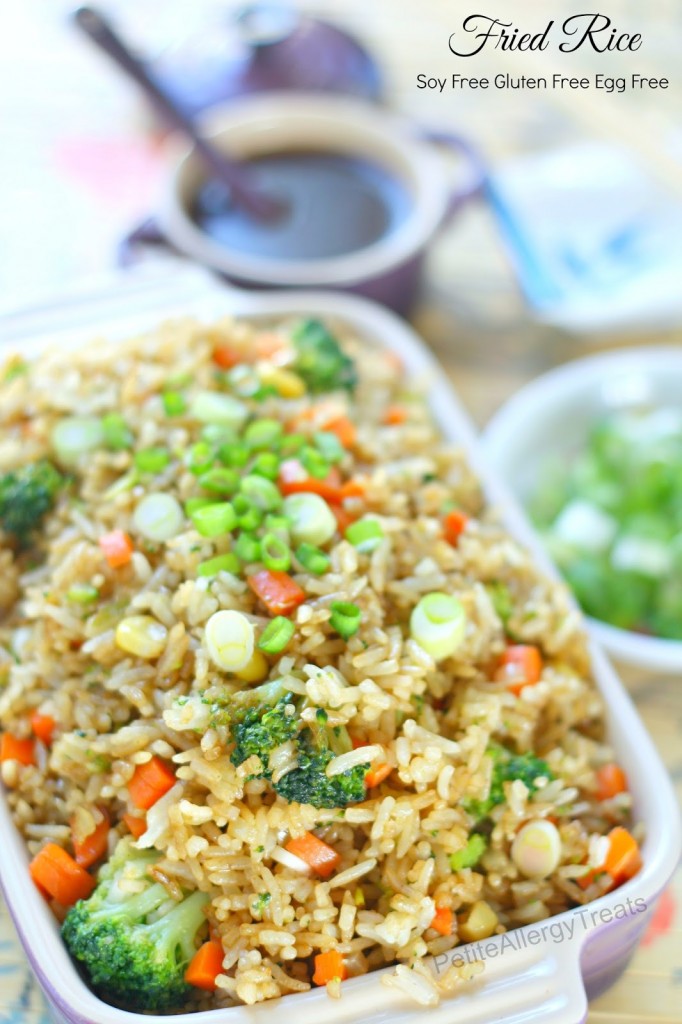 I going to be so BOLD as to come out and say it: Food Allergy Parents on occasion can eat the foods their child are allergic to and should not feel guilty. It's using common sense as to which foods would be OK around your child. And I think you already know this. We refrained from anything with peanuts because Sir has already been in the ER. The wheat for Mr. Naughty causes a rash and discomfort. It's just allowing yourself to enjoy a food once in awhile.
What do you think?
Best Easy Fried Rice
Author: Laura @ Petite Allergy Treats
Ingredients
5 cups cooked jasmine rice
3 T oil
2 tsp molasses (optional for color)
4 garlic cloves minced
1/4 cup onion
3/4 cup diced carrot
3/4 cup chopped broccoli
1/4 cup corn
1-2 green onions
1/4 inch chunk of fresh ginger (optional)
salt to taste as needed
Directions
Mince garlic and add to a cold pan with oil. Peel fresh ginger chunk, smash with the side of a knife and add to pan. Heat pan on low-medium heat with garlic for 2-3 minutes to infuse the oil with flavor.
Turn heat up to medium heat and add all remaining vegetables except green onion. Cook for 2 minutes stirring to avoid burning the garlic.
Turn heat up to high, fold in cooked rice. Add soy-free sauce and continue to stir until all rice and vegetables are coated for another 2-3 minutes. Fold in green onions.
Turn off heat and add extra molasses and salt if desired.
Notes: Day old drier rice is best to avoid sticking and any gummy texture. Folding the rice and vegetables will also help avoid the rice being 'smashed' and turn gummy. Have all your ingredients ready to go before cooking or risk the vegetables becoming over cooked. CHEATER Method: Use 2 cups frozen vegetable variety pack such as peas, corn and green beans instead of any chopping.
Some other things you may like: