Peanut butter and chocolate is a match made in heaven… That is unless you have a peanut or nut allergy. Now you can enjoy that peanut butter-like flavor with this chocolate peanut butter-less mousse made from healthy avocado and banana.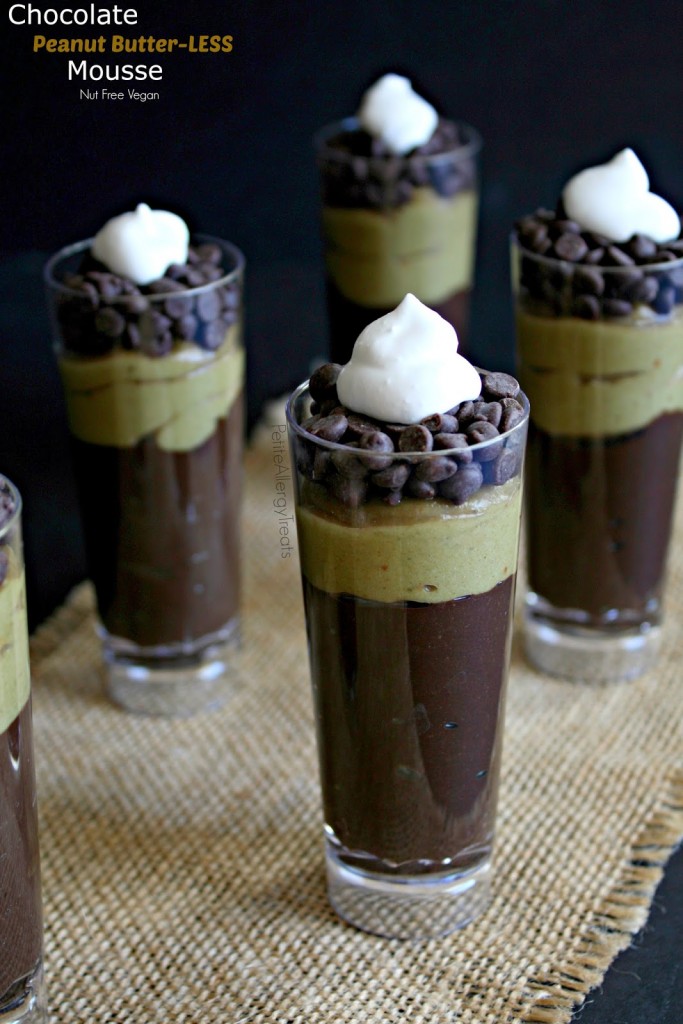 Rich and decadent chocolate mousse that comes together in less than 15 minutes is a definite win for ease. Add the health factor of no added oil or refined sugar and you got a big Win. But let's not forget this doesn't even contain real peanuts or tree nuts… and it's dairy free and Vegan… huge WIN.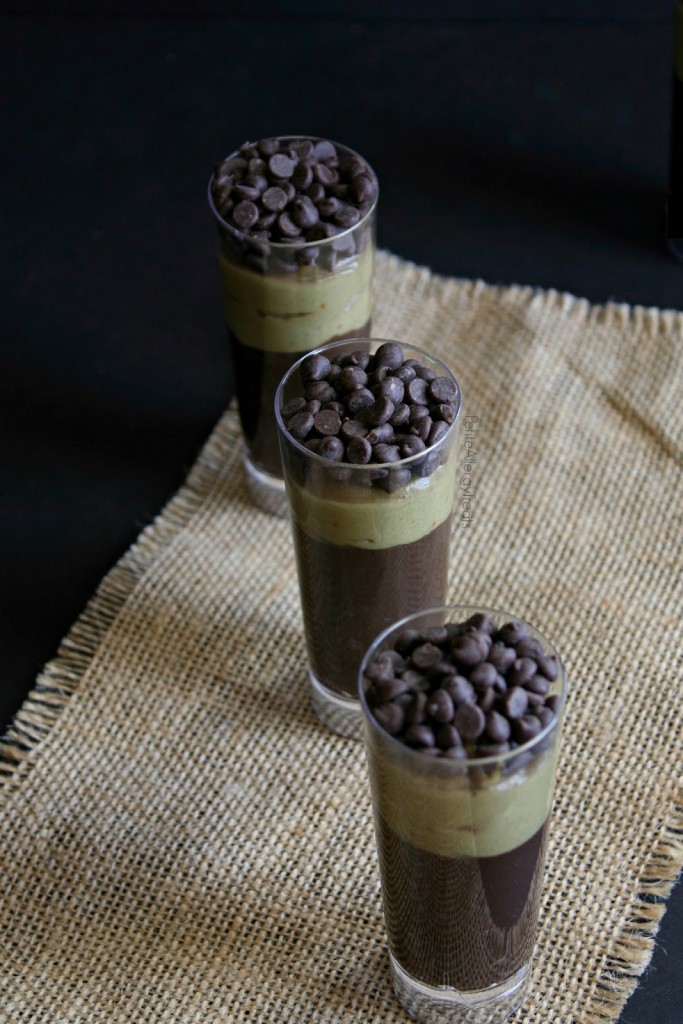 Do you ever daydream about things you wish you could eat but can't or won't? I often do. Peanut butter is one of those things I have given up for life to keep my boys safe. Their nut allergies are way more important than any cravings that want need to be satisfied… but the craving is still there.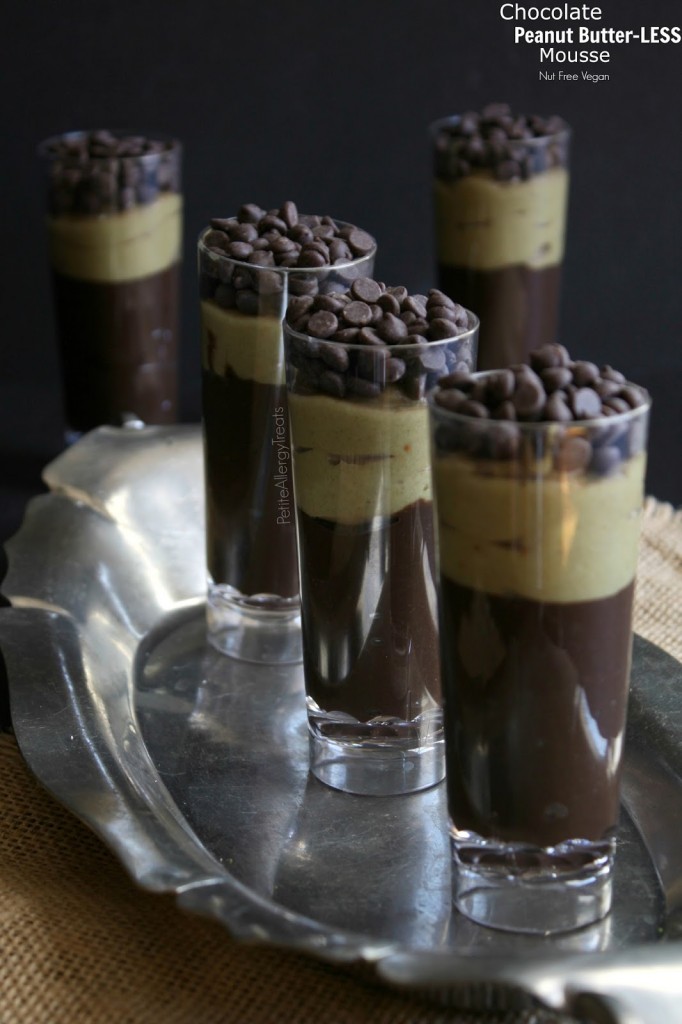 This mousse satisfied that craving since it really tastes like peanut butter. As you know, I love making my own pumpkin seed butter and even have a nut-free nutella recipe based off of it. It isn't peanut butter but it's so close and ultimately it's safe for everyone in the family to eat!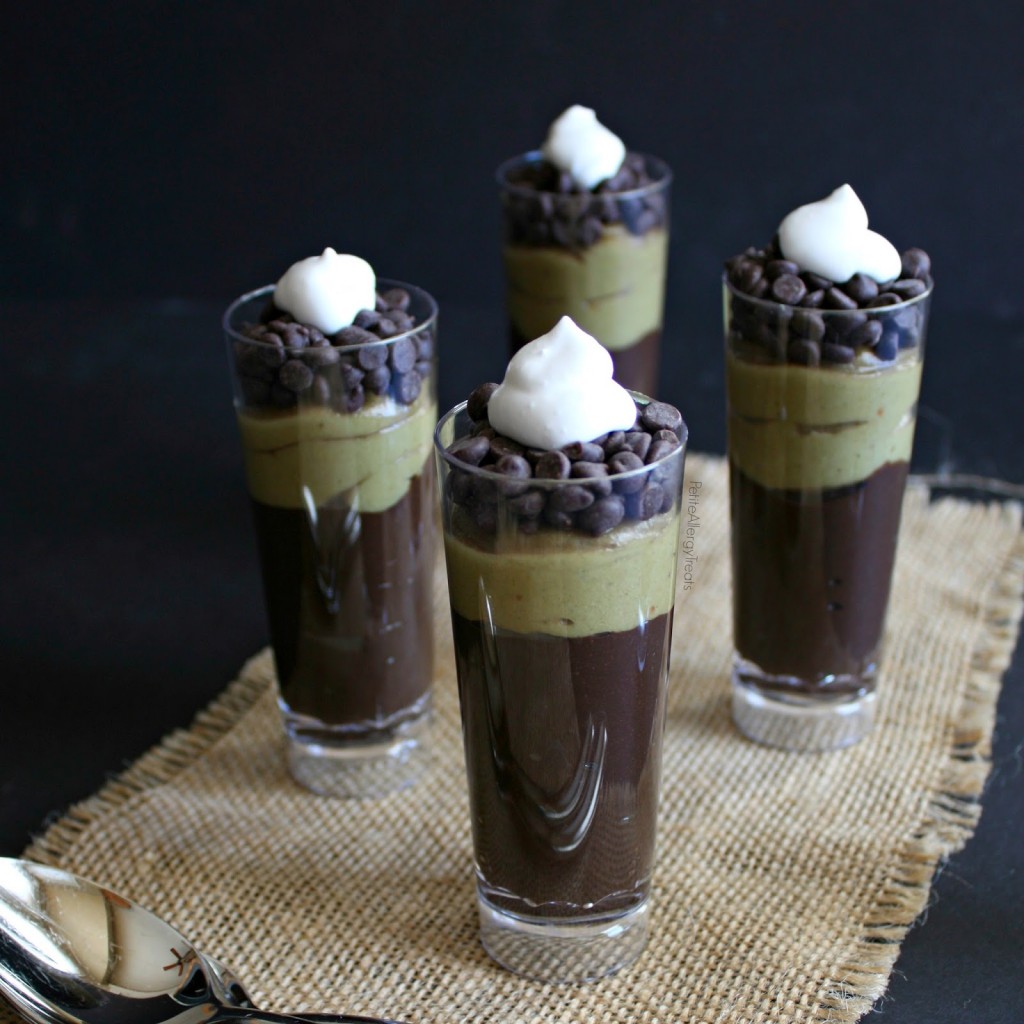 I bet you could bring these to a party and no one would even know the difference. I shared these with some girl friends and that didn't have a clue it was missing real peanut butter.
Share these with some peanut butter lovers!
Makes 3 small servings
Chocolate Peanut Butter-LESS Mousse
Author: Laura @ Petite Allergy Treats
Ingredients
Banana Peanut butter-less layer
2 ripe bananas
1 ripe avocado
1/2 cup seed butter or nut butter if not allergic
Chocolate layer
2/3 of seed butter banana mixture from above
3 Tbsp maple syrup
2 Tbsp milk of choice
1/4 cup dutch processed cocoa
1/4 cup Enjoy Life Chips
Directions
Puree banana, avocado and seed butter in a food processor until smooth. Reserve 1/3 and set aside.
Add maple syrup, milk and cocoa powder and blend until smooth.
Fill cups with 2/3 full with chocolate mixture and 1/3 way full with banana peanut butter-less layer and top with chocolate chips. Repeat for remaining cups.
Notes: This can be made with any type of seed or nut butters. I chose pumpkin seed since we are allergic to sunflower and all nuts. These can be made in advance and chilled until needed, but I found the water separated a bit from the chocolate layer after about 40 mins.
Some other things you may enjoy:
Shared with GF Wednesday