Fudgy Gluten Free Brownies (Egg Free)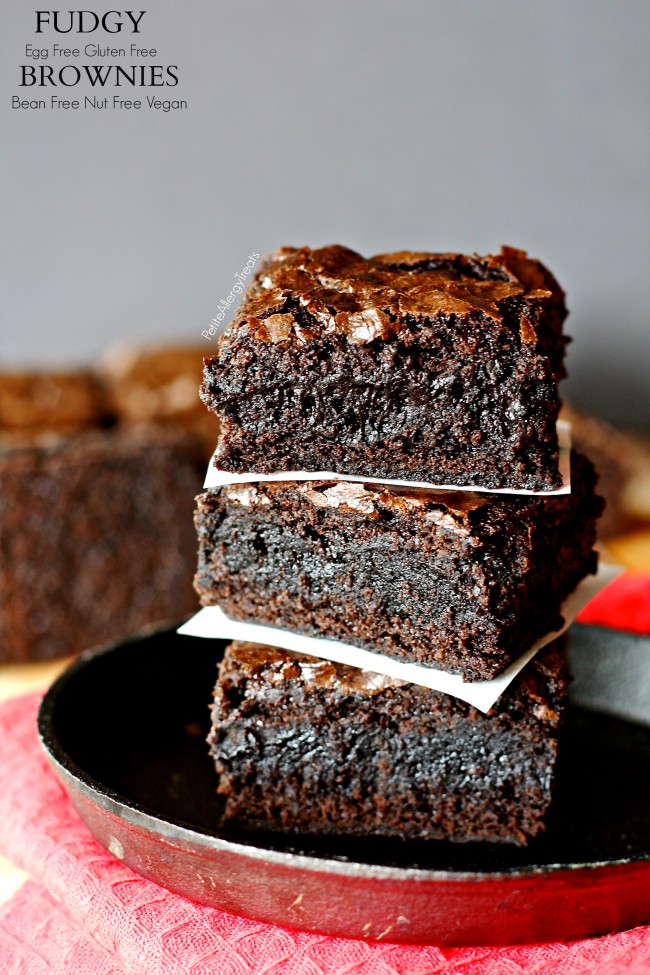 Author:
Laura @ Petite Allergy Treats
¼ cup tapioca flour
1¼ cup sugar
½ cup dutch processed cocoa
½ cup + 2 Tbsp milk of choice
½ cup oil
1½ tsp vanilla
¼ tsp baking soda
2 tsp guar gum
pinch of salt
Combine dry ingredients except sugar and set aside. Combine milk, oil, vanilla and sugar. Mix well and allow to sit for at least 4 minutes allowing the sugar to dissolve.
Use a mixer to gradually combine the remaining dry ingredients. Batter will be thick.
Spray or line an 8x8 pan with parchment paper for easy removal. (see photo above) Evenly spread batter.
Bake at 350 degree F for 27 minutes. Check the center around 25 minutes. If you want an extremely gooey center take the brownies out now, for a more firm crispy brownie with a dryer texture check again at 29 minutes. The best of both worlds is at 27 minutes, overall fudgy brownie with crispy outside edges and corners-- still very moist overall. The center will remain the most moist and fudgy no matter what the time.
Allow to fully cool before cutting an removing from pan.
My gluten free flour mix contains less starch so if you are using a mix, you can omit the extra tapioca and add ¼ cup more GF flour instead. It's important to allow the sugar to dissolve entirely or else the texture will be grainy. For a more gooey center, cook less and for extra crispy edges cook longer. I used a very dark dutch processed cocoa so the color will vary depending on the type of cocoa used. If your mix contains gum already, omit adding extra gum.
Recipe by
Petite Allergy Treats
at https://petiteallergytreats.com/fudgy-gluten-free-egg-free-brownies-vegan/