Rainbow Fruit Pizza (Gluten free Vegan)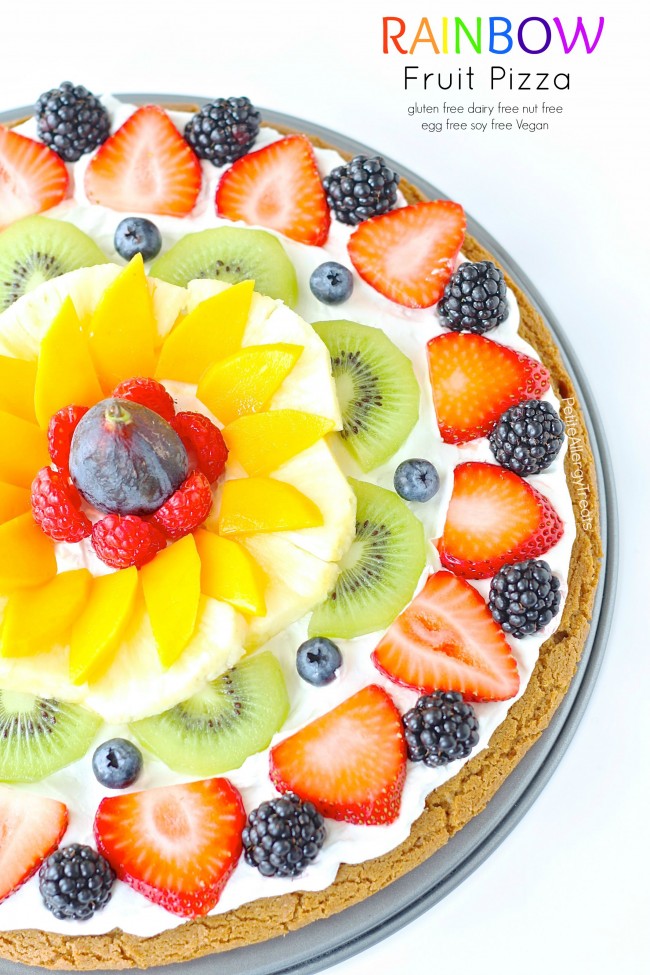 Author:
Laura @ Petite Allergy Treats
¾ cup non-hydrogenated palm shortening.
1¼ cup powdered sugar
1 Tbsp fresh lemon juice (approx ½ of lemon)
pinch of salt
1 pint strawberries
2 kiwi
1 small box blackberries
1 small box raspberries
1 small box blueberries
1 mango
fresh pineapple
fresh figs
In a large bowl combine sugar, water/milk and vanilla extract and mix until sugar is fully dissolved.
Add shortening and beat on high for 5 minutes with a mixer until smooth or by hand until small clumps remain.
Add the baking soda and slowly add the gluten free flour in small increments. Scrape down the sides of the bowl occasionally.
Once all the flour is incorporated, mix on high for 5 minutes. (If mixing by hand, be sure to beat vigerously taking breaks in-between.) Allow dough to absorb moisture while chilling dough in refrigerator for 30 minutes to 1 hour.
Divide dough in two. Press half out into a 10 inch circle leaving a ¾-1 inch border (cookie will spread a little during cooking and more if not chilled.) Dock dough with a fork to prevent air pockets.
Bake at 350 degrees for 8 minutes and rotate the pan. Cook an additional 5-6 minutes or until top is brown and dry. Turn the oven off and open the door. Let the cookie to bake another 2 minutes. Allow the cookie to cool completely before assembling with topping.
Beat shortening on high for 5 minutes until light and fluffy.
Add fresh lemon juice and vanilla extract and beat until incorporated.
Add powdered sugar ½ cup at a time. Continue mixing on high and scrap down the sides of the bowl.
Once all the sugar is added, beat on high for another 5 minutes.
Divide in half and reserve excess for later use.
Evenly spread frosting onto cooled cookie.
Create an alternating pattern with your favorite fruit.
This fruit pizza is super easy to make but does take a little time to chill the dough, cool off and assemble. To save time, make the dough the day before and bake when you can. Chilling the dough ahead will help control the amount of spreading. You can also make the frosting ahead of time and store in the refrigerator, just bring back to room temperature before using.

Chilling the pizza after assembly will make slicing easier since the fruit won't slide all over the place. Enjoy this within one or two days since the fruit is perishable.
Recipe by
Petite Allergy Treats
at https://petiteallergytreats.com/rainbow-fruit-pizza-dairy-free-gluten-free-vegan/