Blueberry Macaroons (Gluten Free Egg Free Dairy Free Vegan)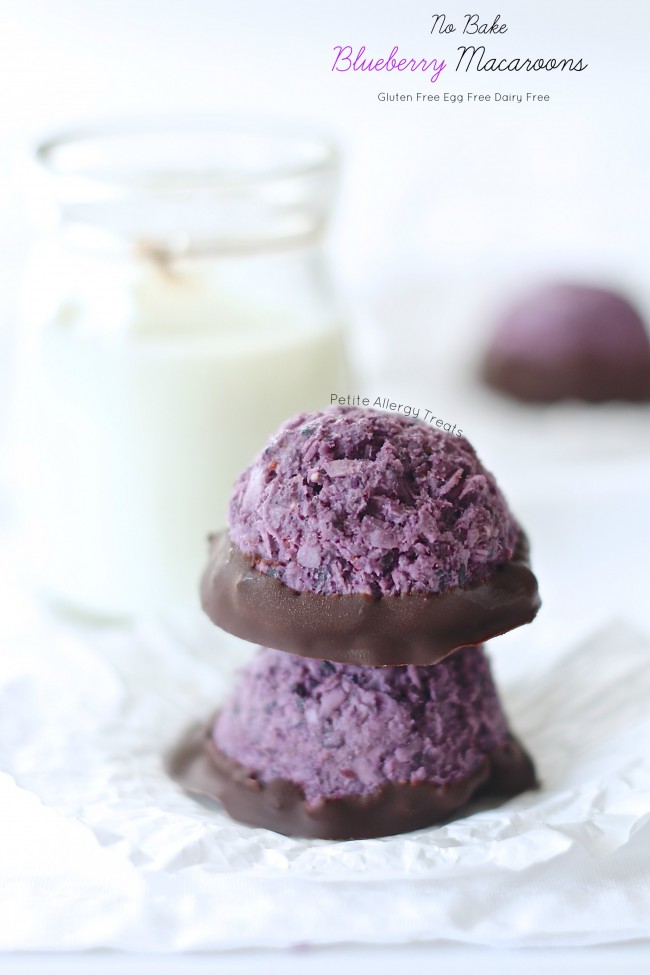 Author:
Laura @ Petite Allergy Treats
1 cup packed unsweetened shredded coconut (I used large flakes)
½ cup gluten free oat flour
¾ cup frozen blueberries (thawed)
1-2Tbsp maple syrup
2 Tbsp coconut oil (melted)
pinch of salt
1 cup allergy dark chocolate chips (I use enjoy life)
Combine all ingredients into a high power blender or food processor.
Blend until combined with a few chunks of coconut remaining, about 3 minutes. Chill in refrigerator 15 minutes to firm up.
Use a cookie scoop form balls. Place in freezer if coating in chocolate.
Heat chocolate in microwave until just melted. Dip macaroons and place on parchment paper lined baking sheet to dry.
The amount of maple syrup depends on if you choose to dip in chocolate. I thought 1 tbsp of maple syrup was great with the chocolate coating. The coconut oil should be melted in advance to help breakdown the coconut flakes.
Recipe by
Petite Allergy Treats
at https://petiteallergytreats.com/blueberry-macaroons-egg-free-gluten-free-vegan-nobake/