Dairy Free Vegan Mint Chocolate Chip Ice Cream (dye free)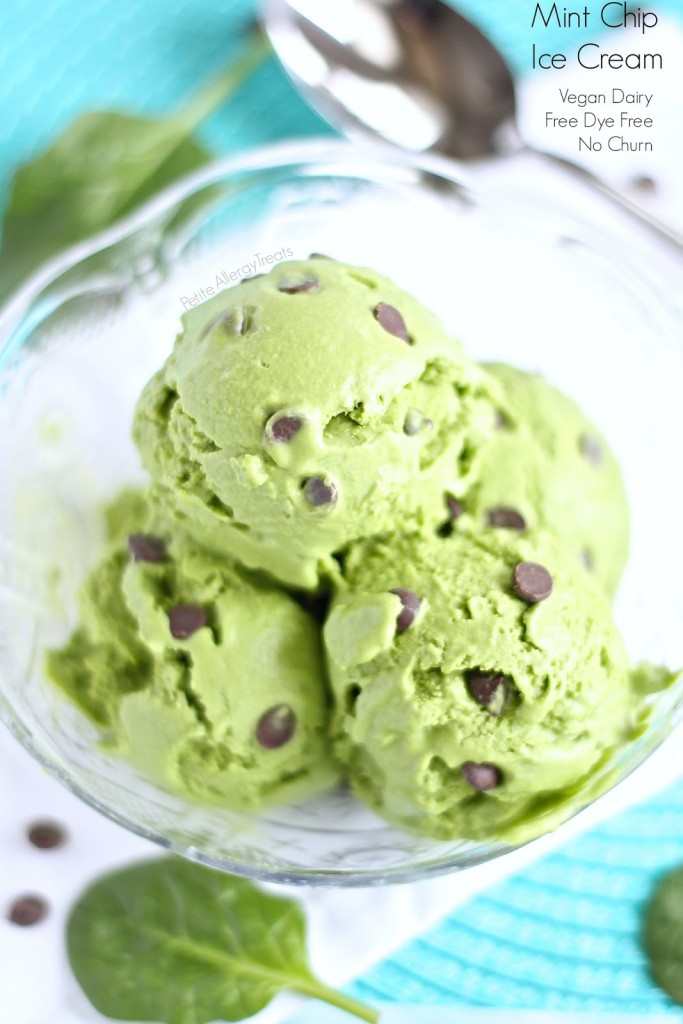 Author:
Laura @ Petite Allergy Treats
1 can coconut cream (NOT milk see note)
½-3/4 cup fresh spinach leaves (see note for using frozen)
6 Tbsp sugar
½ tsp vanilla extract
¼ tsp peppermint extract
½ cup mini allergy friendly chocolate chips
Combine spinach and ¼ of coconut cream in a blender or food processor.  Blend until smooth.
Add sugar, vanilla, remaining cream, peppermint extract and blend again until smooth.  Mix in chocolate chips.
Pour into an metal bread pan and place in freezer until set (2 hours if cream was already chilled or up to 6 hours)
Scoop and enjoy!
The spinach is really to provide that natural green color and you can omit and substitute 3Tbsp milk of choice.  Frozen spinach can be used, but you must have a high powered blender (like a Ninja or Blendtec) to achieve a smooth non-leafy texture.  The color isn't as vibrant either.  There is a HUGE difference between coconut milk and coconut cream.  If you only have canned coconut milk, you might have to use 2 cans since you'll only use the solid cream formed at the top.  Chilling the coconut cream overnight before will decrease freezing time.
Recipe by
Petite Allergy Treats
at https://petiteallergytreats.com/mint-chocolate-chip-ice-cream-vegan-dairy-free-coconut-nomachine/