Gluten Free Gingersnap Granola Bars (Vegan)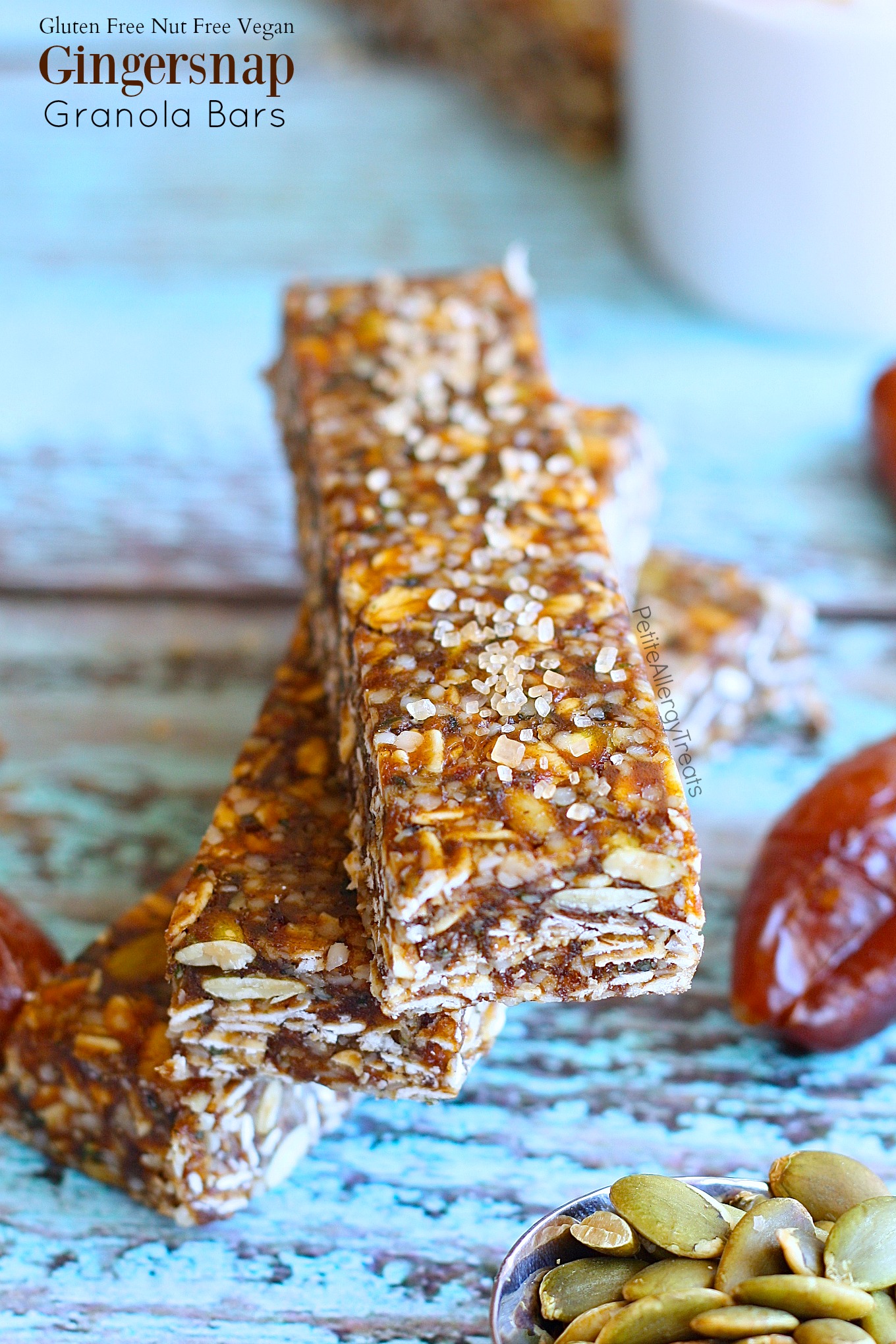 Author:
Laura @ Petite Allergy Treats
1½ cup gluten free rolled oats
1 cup hemp seeds*
½ cup pumpkin seeds*
1 cup deglet noor pitted dates
¾ cup water
¼ cup maple syrup
1 tbsp molasses
3 tbsp coconut oil
1¼ tsp ground ginger
½ tsp ground cinnamon
½ tsp ground cloves
optional- demerara sugar topping
Combine oats, hemp seeds, pumpkin seeds and spices in a large bowl. Mix and set aside.
Combine water dates in a sauce pan. Bring water to a boil, mix and smash dates with a wooden spoon (dates will still be hard and won't fall apart yet) . Reduce heat to a simmer cover for 5 minutes.
Smash dates more with the spoon. If dates are soft enough to fall apart, use a handstick blender to puree dates in the same pot. (If the dates are still too dry to break, simmer an addition 5 minutes or until hydrated and tender. Add a little more water if needed)
Add maple syrup, molasses and coconut oil. Continue to stir until bubbling and hot.
Carefully pour over dry ingredients and mix to evenly coat. Allow to cool 5 minutes.
Press granola mixture into an 8 x 8 pan. Sprinkle with demerara sugar.
Chill in refrigerator and cut into 16 equal bars.
The granola bars are best straight from the refrigerator. The bars become soft at room temperature but still taste amazing!

Be mindful of the source of hemp and pumpkin seeds. Many manufacturers use shared equipment with nuts. As a precaution, I suggest calling the brand of seeds to find their manufacturing habits.
Recipe by
Petite Allergy Treats
at https://petiteallergytreats.com/gluten-free-gingersnap-granola-bars-vegan/