Gluten Free Harry Potter Book of Monsters Cake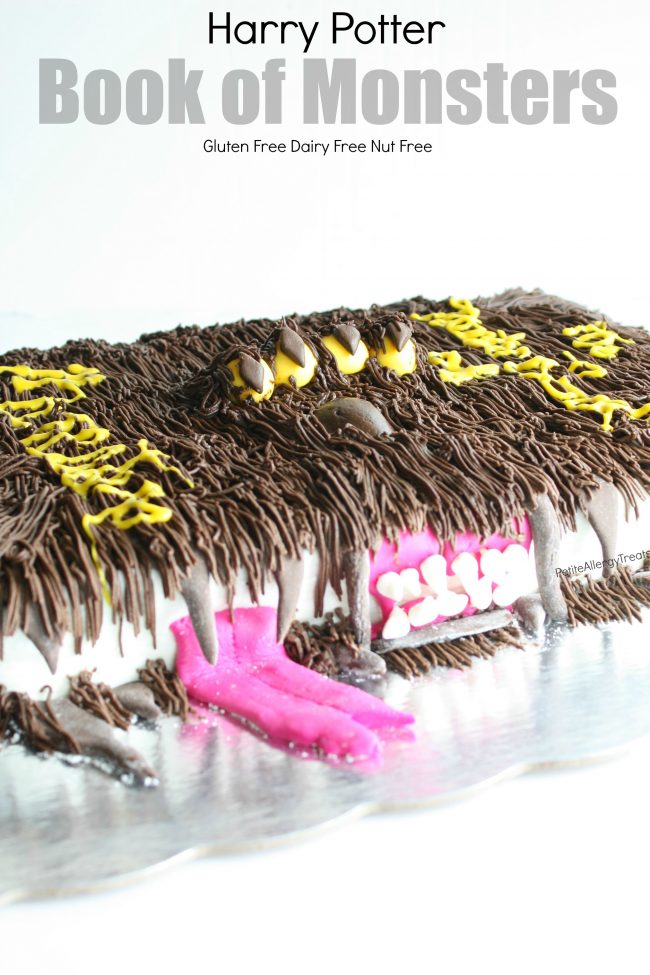 Author:
Laura @ Petite Allergy Treats
1 box of gluten free chocolate cake mix
1½ cup palm shortening
3 cups powdered sugar
¾ cup dutch cocoa powder
1- 1½ Tbsp dairy free milk*
2 tsp vanilla
⅛ tsp salt
Special piping tip for hair: #233
tooth picks
natural yellow food dye*
natural red food dye*
cocoa powder
1-2 tsps water
Prepare mix according to box. Pour into in 2 9 x13 pans and bake until center is set and toothpick comes out clean. Use a serrated knife to level each cake. Allow to cool completely before icing.
Cream shortening on high speed mixer until light and fluffy.
Add vanilla and ¼ cup- ½ cup powdered sugar until fully incorporated scrapping down sides of the bowl.
Add cocoa ¼ cup at a time until fully mixed scaring down sides of the bowl. Frosting will be thick. Test the consistency before adding the full liquid amount (See note)
Apply a frosting to one 9x13 cake about ¼ inch of thickness on top and thin crumb coat for the sides. Carefully stack the remaining cake on top. Save remaining frosting. Set aside cake and work on fondant.
Mix fondant and divide into 3 equal balls. (1 will be used for the white pages, 1 for the chocolate fur and the remaining will divide again for eyes and tongue.)
White Pages: 1st ball-Stretch and roll white fondant to approximately 3 inches wide by 29 inches long (Length of the book pages).
White Teeth: use scrapes from 1st ball- Form into 12 small triangular shaped teeth. Teeth will be used with toothpicks later. Set aside.
Brown Fur: 2nd ball- Mix fondant with dutch cocoa powder until desired color is reached, adding a touch of water if it become too dry. Roll flat and cut with a knife into large shaggy fur. Roll a 2½ x ¾ inch rectangle for eyes placement, set aside. Next create the nose by roughly shaping a thick triangle. (See first photo of cake as a reference)
Yellow Eyes: 2 Tbsp of 3rd ball- Mix with natural yellow food dye until desired color is reached. Use scrapes from fur to create diamond shaped pupils.
Red Tongue: Remains of 3rd ball- color tongue with natural red food dye until desired color is reached. Shape tongue into approximately 4 inch by 2 inch strip. Cut a triangle out of the end and lightly press a light down the center of the entire length of the tongue. Create 2 ovals for the upper and lower gums. Stretch-press into shape. Set aside.
Assembly & Detail: Apply a thin layer of frosting to the front and sides of the cake gently press white fondant pages in place. Use a straight end to create "page" lines. Cut a line just big enough to insert the tongue (slightly left of center).
Use toothpicks to secure gums into place in front and center of the cake. Add brown eye holder, eyes and nose.
Place fondant brown fur in place with a dab of frosting.
Use a pipping bag and Tip #233 to apply fur frosting. Start at the front on the cake closest to you (where the tongue is) and work away from you. Create even looking fur by gently squeezing down first then pulling towards you. Don't forget to add some hair on the bottom too.
Frosting is always an estimate with the amount of powdered sugar to liquid. Test the frosting before adding the full amount of dairy free milk to ensure it has the correct consistency for piping any design. You made need to add a little more or less liquid.
For the food dye I used India Tree food dye. This food dye is very thick but uses nothing artificial or synethic for color.
Recipe by
Petite Allergy Treats
at https://petiteallergytreats.com/gluten-free-harry-potter-book-of-monsters-cake/