Gluten Free Chocolate Chunk Protein Cookies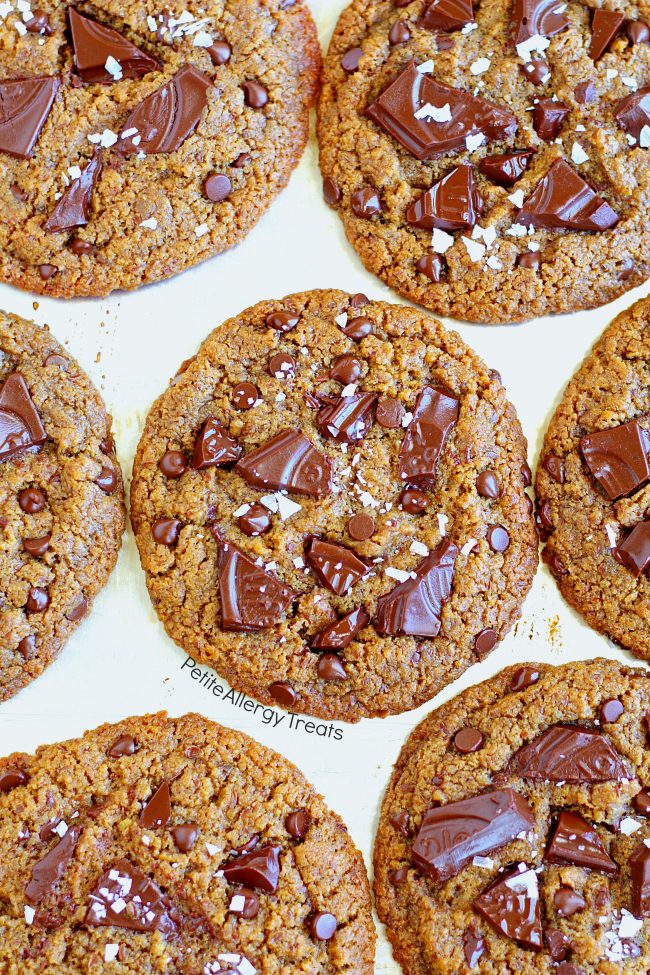 Author:
Laura @ Petite Allergy Treats
⅔ cup crushed lightly packed Sea Salt Plentils (approximately 3 1 oz bags)
¼ cup sorghum flour
¼ cup tapioca starch
¼ cup ground flaxseed
4 Tbsp non-dairy milk
½ cup sunflower seed or pumpkin seed butter
5 Tbsp palm shortening
½ cup + 2 Tbsp white sugar
1¼ tsp molasses
½ tsp baking soda
3½ tsp guar gum
½ tsp vanilla
½ tsp salt
optional- sea salt garnish
Combine ground flaxseed and non-dairy milk. Mix until combined. Add sugar slowly and stir to dissolve. Place in refrigerator for 10-5 minutes until it thickens into a gel consistency.
Pour flaxseed mixture into a large mixing bowl and add all remaining ingredients except seed butter and chocolates. Mix on high until fully incorporated, scraping down the sides of the bowl.
Add remaining seed butter and mix well. (Dough will become thicker and seem dry but oily)
Fold in mini chocolate chips and place dough refrigerator for 30 minutes or until easy to handle.
Break or chop chocolate bars into smaller bite size pieces.
Scoop and shape 2 tbsp of dough into balls and place on a cookie sheet 2 inches apart. Add chunks of chocolate and slightly flatten dough balls. Not all chocolate will fit, keep reserved for after baking. Repeat with all dough*
Bake at 350 for 12-13 minutes or when the center is still slightly soft. Remove cookies from oven.
Immediately add more remaining chocolate chunks to cookies and allow cookies to fully cool before moving.
Garnish with sea salt.
Eat. Share. Repeat.
Nut and seed butters absorb lots of moisture and can cause the dough to appear to be dry yet oily. This texture is normal due to the natural oils released from the seed butter. The dough will be too sticky when warm and therefore chilling is needed. You can bake the cookies immediately (can't wait, right?) but it will affect the overall appearance and thickness. Keep the unused dough chilled while shaping.

Green is still good...If you end up using sunflower butter it may or may not, turn slightly greenish after being baked or before if you do not bake them right away. It's from the reaction of the baking soda and natural chlorophyll in sunflower seeds. Still tastes normal. My dough turned green after sitting a day unbaked in the refrigerator.
Recipe by
Petite Allergy Treats
at https://petiteallergytreats.com/vegan-gluten-free-chocolate-chunk-protein-cookies-nut-free/