Gluten Free Espresso Chocolate Chip Cookies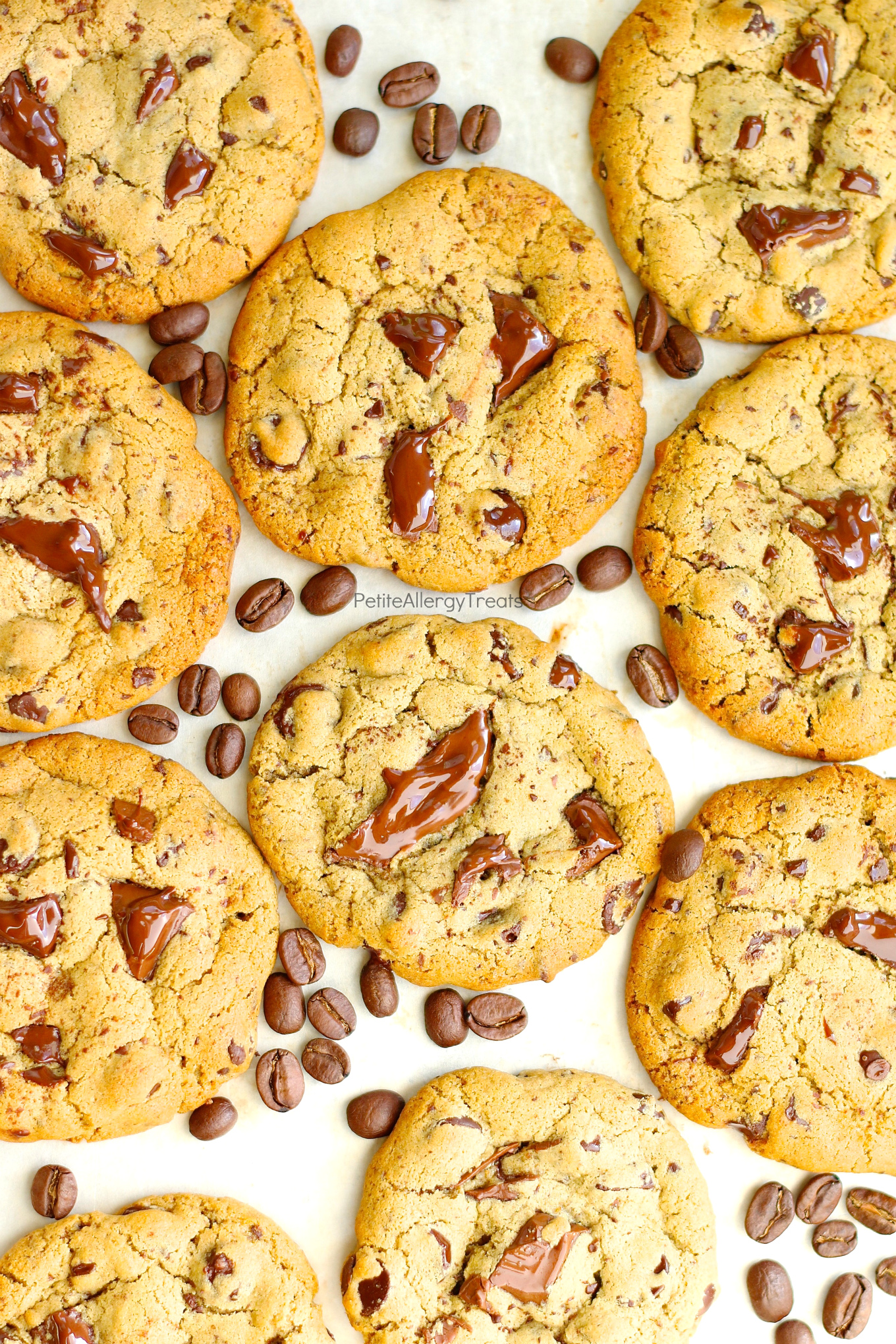 Author:
Laura @ Petite Allergy Treats
2⅓ cups + 1 Tbsp (308g) Enjoy Life Foods All Purpose Flour Baking Mix *SEE notes
½ cup + 1 Tbsp palm shortening or dairy free shortening
½ cup dairy free milk
¾ cup brown sugar
1½ tsp baking soda
½ tsp salt
2-3 tsp espresso powder (optional)
Cream shortening, brown sugar, baking soda and salt by hand or with a mixer until incorporated. Add espresso powder and dairy free milk.
Gradually add flour until all is incorporated.
Coarsely chop chocolate bars into bite size pieces. Set aside a handful for later
Hand mix in chocolate chips and chopped chocolate.
Scoop 1 tbsp size of dough onto a parchment paper lined baking tray. (dough will be sticky) Space 3 inches apart (cookies will spread). Garnish with extra chopped chocolate and slightly flatten dough.
Bake for 7 minutes at 350 degrees rotating the pan half way through. Edges will just be golden brown and center will appear uncooked. Remove from oven and allow cookies to completely cool on the pan.
Eat.Share.Repeat!
Sorry my friends for such detailed measurements. But you'll thank me. The texture of these cookies match those found in a bakery.

A few things I learned...
1. Shake the mix to help break up any clumps. Use a spoon to scoop and gently shake/drop into measuring cup. (Don't scoop with the measuring cup! It will pack too much flour.) Make sure to level off any excess flour.

2. Use the SAME measuring cup for all the flour. Measuring is then more consistent. (And you'll have less mess to clean. You're welcome :)

3. Yes, you really need that extra 1 Tbsp (tablespoon) of flour. Annoying, isn't it? But this will give you the correct balance. Gluten free baking requires more precision. In this case, even more precision is needed since this mix contains nutritious ancient whole grains which tends to clump/pack together. Feel free to use a scale if you have one, for the exact flour amount.

4. Only 7 minutes of baking for a soft chewy center and crisp outside. The cookies will look 'undone' but will continue to bake on the pan. The center will deflate and firm up.
Recipe by
Petite Allergy Treats
at https://petiteallergytreats.com/gluten-free-espresso-chocolate-chip-cookies-vegan-egg-free-dairy-free/