Gluten Free Vegan Garlic Crescent Rolls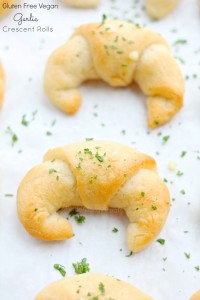 Author:
Laura @ Petite Allergy Treats
1¼ cup + 2 tbsp milk of choice
1 rapid rise red star yeast packet or 2½ tsp
3 tsp xanthan or guar gum (omit if mix already contains gum)
½ tsp salt
1 tbsp sugar
2 tbsp melted vegetable shortening + extra for parchment paper
3 tbsp shortening
2-3 garlic cloves
pinch of salt
preheat oven to 375 degrees
Heat ¼ cup of milk to 100 degrees. Add yeast and set aside for until foaming.
Topping: Crush garlic and mix with shortening. Set aside.
Mix all dry ingredients for the dough. Combine yeast, melted shortening and remaining milk.
Mix ingredients by hand for 5 minutes to help activate gum.
Lightly grease a sheet of parchment paper the size of a baking sheet. With greased hands, gently press out dough to form a rectangle approximately 14x18 inches.
Evenly spread topping along the entire dough.
Divide the dough in half (length wise) using a pizza cutter, cut in half again. Slice the extra long rectangle into triangles.
Gently roll each triangle staring from the largest end. If dough breaks, simple press together with a little water. Cover and allow to rest about 10 minutes before baking.
Bake at 375 degrees for 13-14 minutes or until golden brown.
If you are allergic to garlic simply omit from recipe. Gluten free dough is always a bit fragile. Be careful to not allow the dough to be too thin or else it will break when being rolled. Don't allow the dough to double in size or else risk the possibility of losing it's shape when baked.
These are best fresh from the oven. You can make them ahead and freeze them. Instead of baking the full time, decrease bake time to 8 minutes and freeze for later use. Allow rolls to full defrost and bake them an additional 5-6 minutes or until golden brown. If you will be traveling and want to take these full baked ones along, simply warm them up in the microwave for about 15-20 seconds.
UPDATE:
I made them again today and decided I wanted larger ones. Instead of cutting it into fourths, cut into thirds length wise. It makes them larger but save time for other meals sides.
Recipe by
Petite Allergy Treats
at https://petiteallergytreats.com/gluten-free-vegan-garlic-crescent-rolls/