Perfect for breakfast or any time, these Lemon Blackberry Muffins are gluten free, egg free, dairy free, soy free, peanut free and tree nut free.  If you have an allergy to oat, simply enjoy without the topping.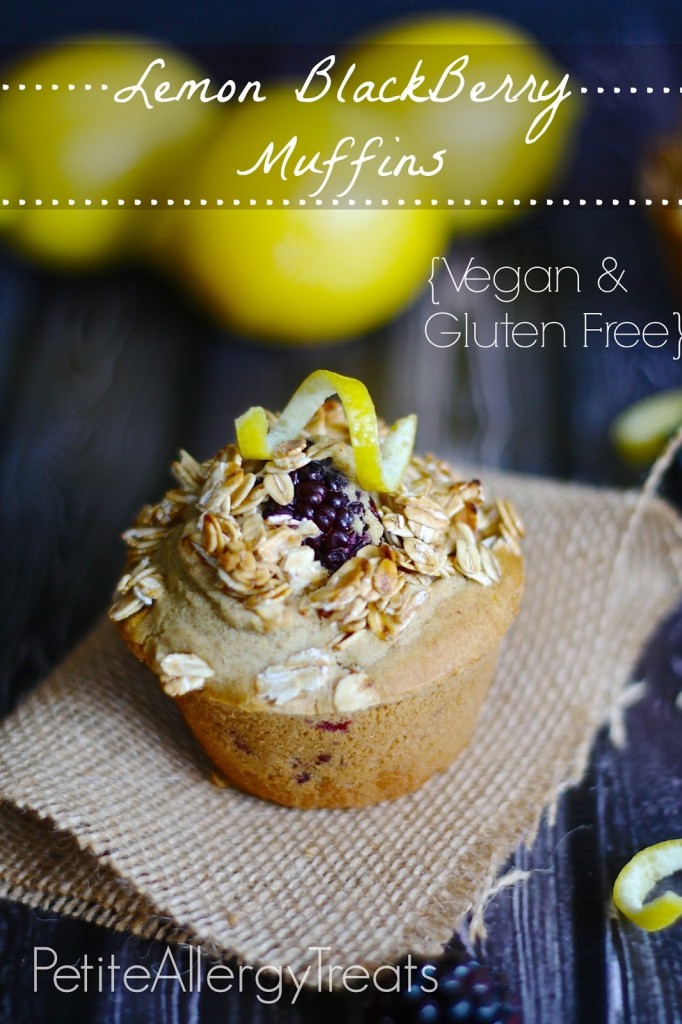 Remember how I mentioned my son recently passed his Oat food challenge?   It's still so exciting since it's huge option for adding more nutrition and variety.  If I had a recipe for granola bars he could actually eat them.  Hmm… that will be added to the list of "must make".
I was grocery shopping the other day and blackberries happened to caught my eye.  (The on sale sticker helped that too.)  Blackberries are such a pretty fruit with a deep color and all the little details in the individual sacks of juice.  There was a time I thought it didn't like blackberries.  If you've eaten them enough, you know they can sometimes be really tart and sour.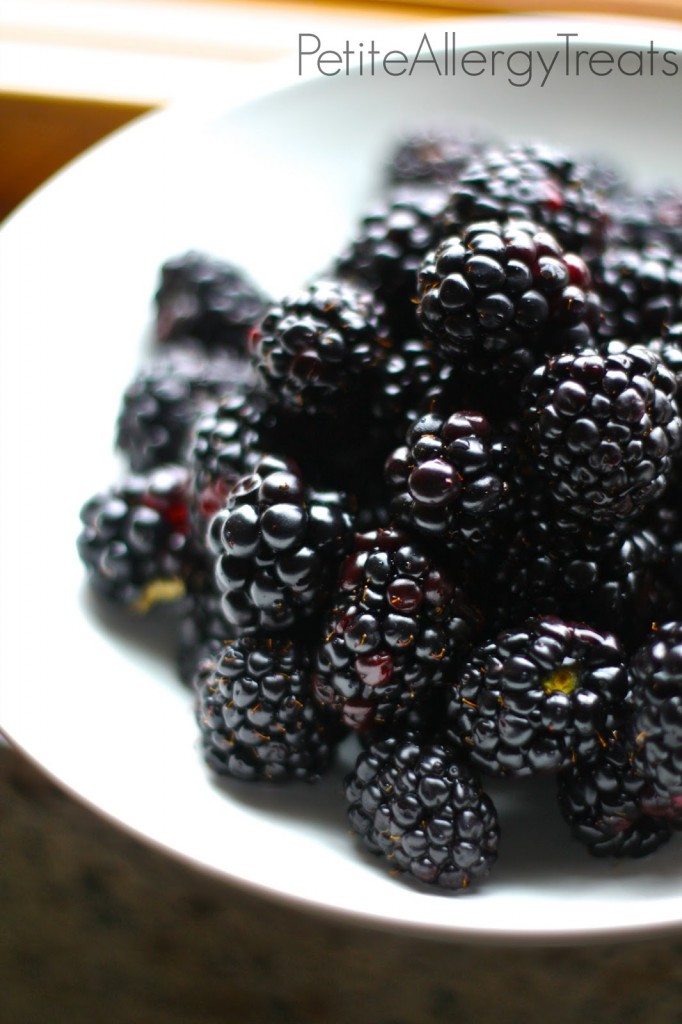 My first experience was really gross tart and sour.  Of course, I was pregnant at the time so everything tasted weird and certain foods just bothered me.  When I was pregnant with my first son, I worked at a hospital right next to a Whole Foods Market.  It was dangerously close.  Just across the street.  I developed the strangest craving for apples and needed to have at least 2 apples a day.  Whenever I could eat a real lunch (appointments are scheduled during lunch), I would walk over to and pick the best fruit.  One day I found a beautiful fruit salad with blackberries.  I couldn't resist paying the $13 for a l pound of pre-packaged fruit salad.  (Can you say crazy pregnancy brain for paying that ridiculous price?!)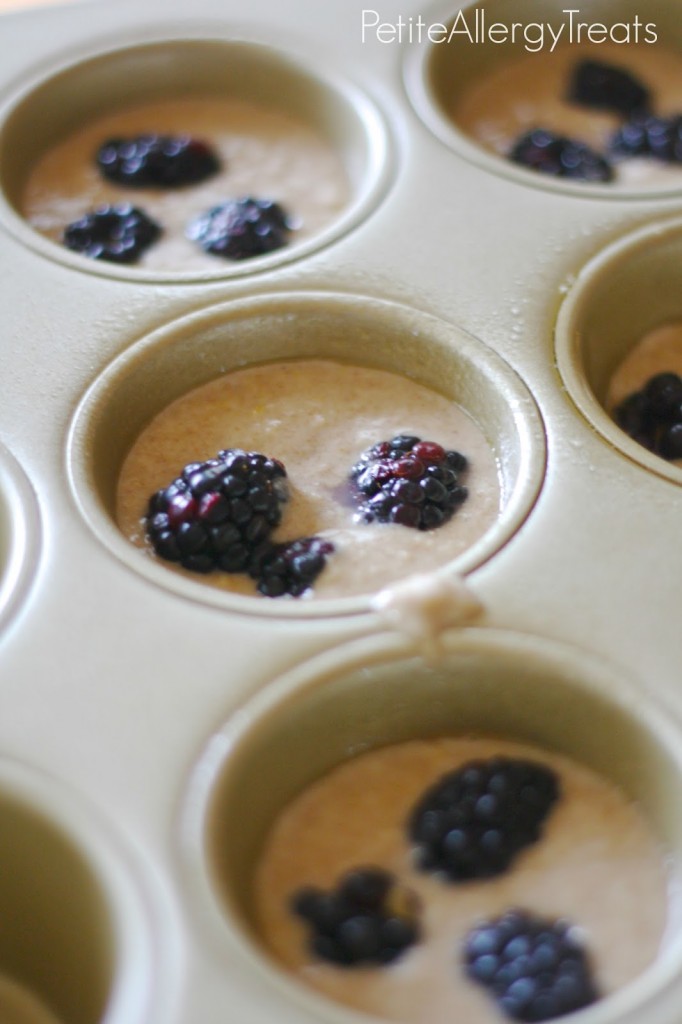 Anyways, talk about a disappointment…  The unripened blackberries were much too firm and sour.  And they filled about 1/3 of the container. :-/  So I gave them away to my co-worker.  I decide then and there blackberries were not for me.
Fast forward another 3 years and I finally tried them again.  And boy am I glad I did!  Now I love them and wish they were available all year round.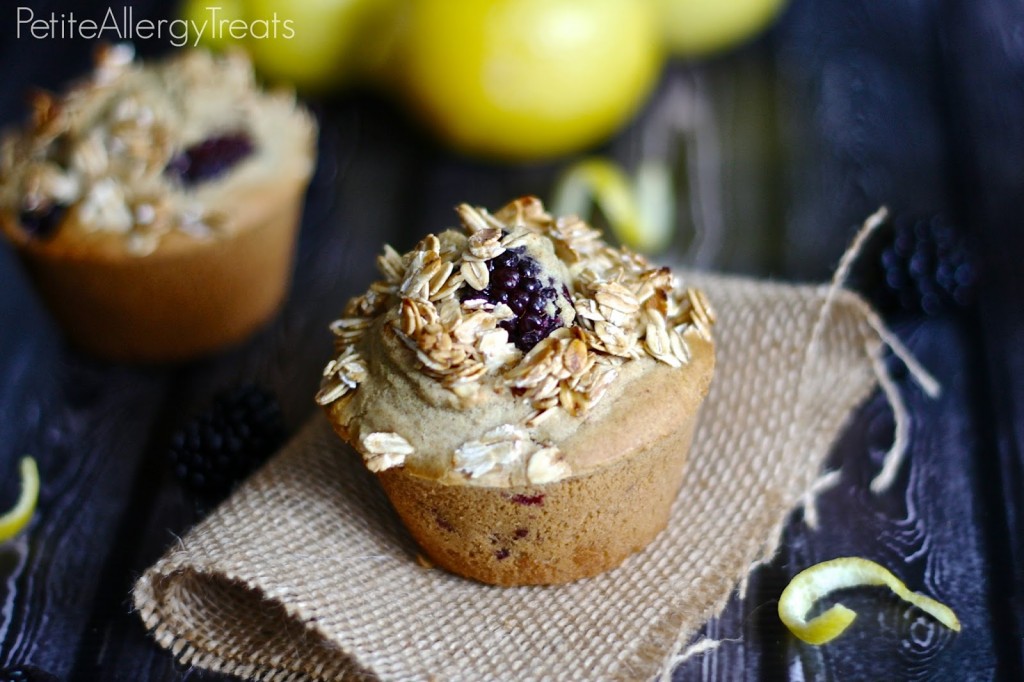 Adding a little lemon gives the blackberry flavor such boost.  You'll definitely taste the lemon in here with all the zest and juice.  Plus, this muffins will have no trouble rising with a naturally acidic batter to really active the baking powder and soda.  These muffins aren't overly sweet.  In fact, they are borderline tart… but only a little.  My oldest son didn't seem to notice.  He loved them.
I hope you love these too!Author: Laura @ Petite Allergy Treats
Ingredients
2 cups whole blackberries
1/2 cup applesauce
2 T oil
1 tsp baking powder
1/2 tsp baking soda
1/4 tsp guar or xanthan gum
1/4 cup maple syrup
3/4 cup milk of choice
fresh lemon juice from 1/2 lemon
lemon zest from 1 lemon
Topping
1/2 cup steel cut oats
1-2 tsp maple syrup
Directions  Bake at 350 (makes about 8 large muffins)
Broil oats until just lightly brown.  Allow to cool.  Add maple syrup.
Combine all dry ingredients and mix well.  Wash blackberries and shake off excess water.
Zest lemon with a grater.  Squeeze half a lemon and strain the seeds.
Combine remaining ingredients (except blackberries) and mix well.
Pour into greased large muffin tins 2/3 of the way.  Gently submerge 4-6 blackberries for each muffin.
Evenly distribute oats on top of each muffin.
Bake for 20 minutes or until a tooth pick comes out clean in the center.
Remove from the muffin tins and move to a cooling rack.  Enjoy!

Some other recipes you may like: