Start your day out with some wholesome quick Gluten Free Blender Chocolate Banana Muffins (vegan)!  These gluten free chocolate blender muffins are so quick and easy and packed with real banana, avocado, whole grain gluten free flour and a touch of  maple syrup.  Very Food Allergy Friendly too since they are egg free, dairy free, peanut nut free, tree nut free and soy free!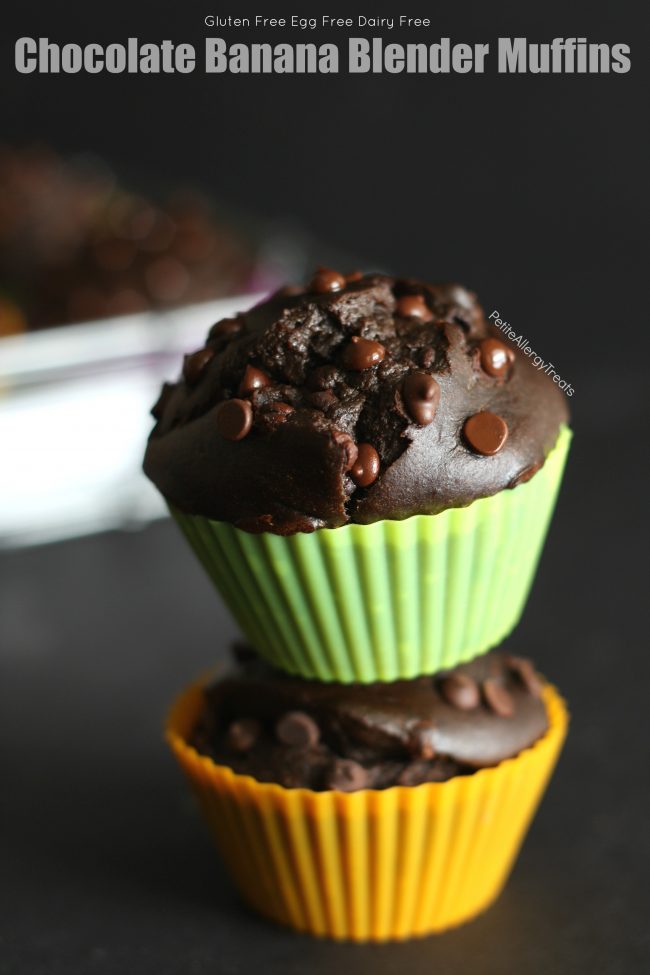 Muffins are such a weakness.  A good weakness though if you make them healthier.  Gluten free muffins (and regular muffins) are so easy to grab and go for busy mornings.  These gluten free blender chocolate banana muffins are one of the easiest food allergy friendly recipes out there.  I dare say even easier than my gluten free Life Saving Pancakes since you won't be actively baking these over the stovetop.
I ended up dreaming of these after my parents (really in-laws) were visiting.  It's it funny how parents and kids always seem to have arguments.  Not big ones but silly little one that start from not listening to each other.  It happens in every family with gatherings.  My parents stayed with us for week, there were plenty of hilarious examples of this.  Since my parents are really my in-laws (we just love each so much I call them my parents too), I have extra patience with them and often take in the family dynamics from the peripheral.  What drives my husband nuts is funny to me, although I can view both sides of things.
A perfect example would involve a watch, phone and blueberry muffins.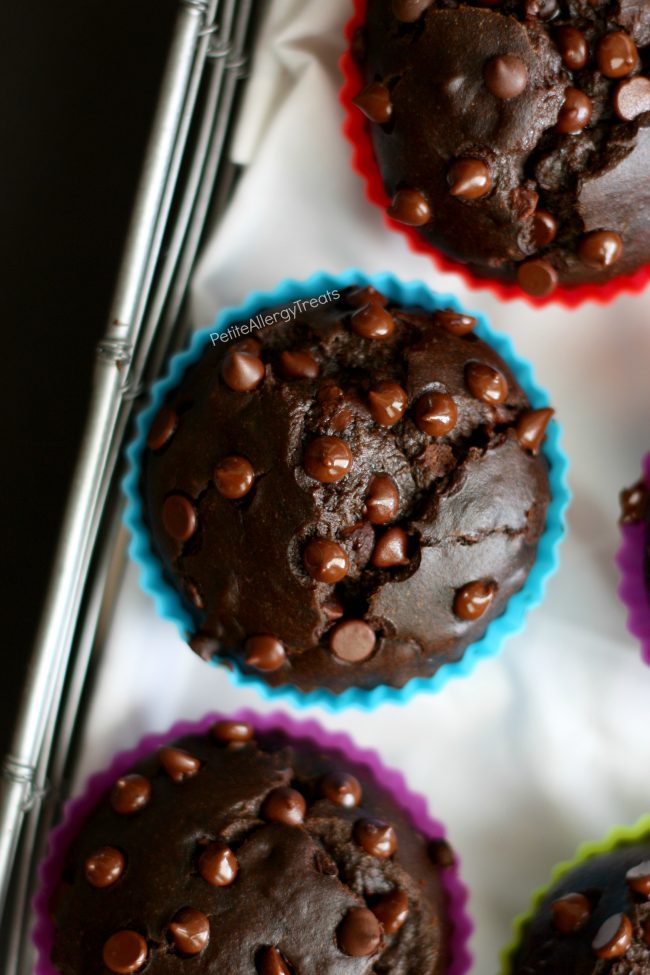 My dad wanted to go the to mall to look for a sport coat.  Since our week was jam packed with events (you can read about them here) we had to give him a time meet us.  There has been communications problems in the past… Before he left he was being overdramatic about telling us the time to pick up.  It's 11:30am.  At Panera.  Got it?  Smiling and pointing at each of us then his watch.
Yep.  We all got it.  Or so we thought.
We showed up at 11:30am.  He was no where to be seen.  We drove to the other mall entrances in search of him.  Nothing.  We tried calling his phone and looked again.  It was now 11:45am as we drove past the Panera entrance once more.  We happened to spot a man eagerly opening a bag in window.  It was him.  We spotted him just as he honked down and took a huge bite of muffin.  When he finally saw me, he looked like a guilty child caught in the act!
The rest of the trip home they argued about the meeting time.  I said around 11:30am. No Dad, you said at 11:30am.  But you should have called me, I had my phone. We did call you, you never picked up.  Well, I must not have heard it.  Clearly not.  Well, we should have decided on a firm time.  I thought we did that?  Parents… The aging relationship seems to shift towards being their parents the older they get. 😀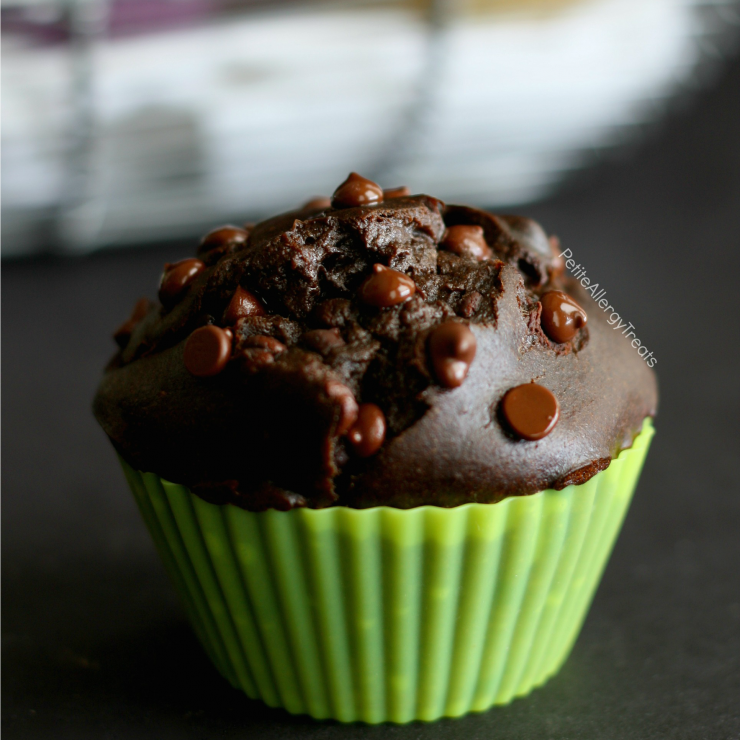 So these lovely gluten free blender chocolate banana muffins are inspired by the whole muffin incident, since clearly he needed that muffin.  While Panera's muffins are good, I would go to say these are better.  These chocolate blender muffins are filled with avocado, Teff flour and protein from seed butter.  I've used both my pumpkin seed butter and sunflower butter, both are awesomely good!

Gluten Free Blender Chocolate Banana Muffins (Vegan)
Author:
Laura @ Petite Allergy Treats
Ingredients
3 ripe bananas
1 cup + 2 Tbps gluten free all purpose flour
¼ cup teff flour or whole grain other gf flour
¼ cup dutch processed cocoa
½ avocado
¼ cup pumpkin/sunflower seed butter or favorite nut butter
¼ cup melted oil (I used coconut)
½ cup dairy free milk of choice
1 Tbsp maple syrup
¼ tsp guar gum or xanthan gum
2 tsp baking powder
¼ tsp baking soda
1 tsp apple cider vinegar
pinch of salt
¾ cup allergen chocolate chips
Instructions
Combine all ingredients except chocolate chips in a blender (see note). Blend ingredients until smooth and scrape the down sides. Carefully remove blade.
Mix in chocolate chips.
Pour into silicone muffin liners or oiled muffin tins (do not use paper liners)
Bake at 375 degrees F for 28-30 minutes or until toothpick comes out clean from center. Allow muffins to cool in the tin for 5 minutes then move to a wire rack.
Note: If you don't have a high powdered blender you could use a food processor. Puree the fruit, milk of choice, and oil first then add the seed butter and flour. If you cannot find Teff flour use another whole grain flour such as sorghum, buckwheat or brown rice. These muffins freeze extremely well. Feel free to use frozen ripe bananas (just thaw first).
Some other things you may like: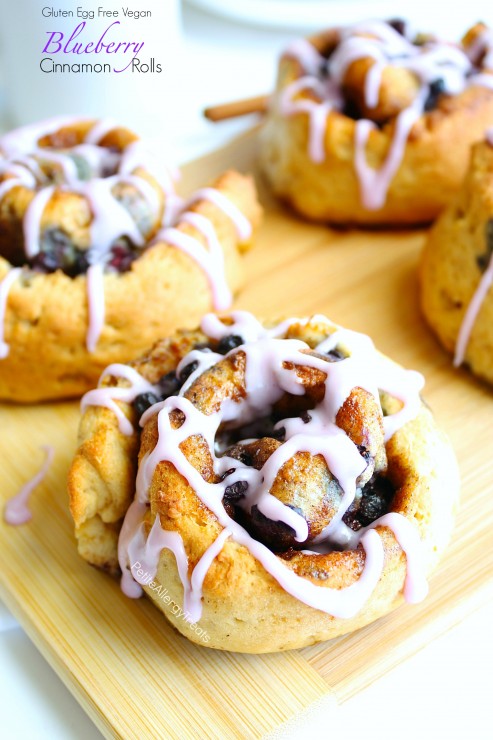 Gluten Free Blueberry Cinnamon Rolls– dairy free egg free vegan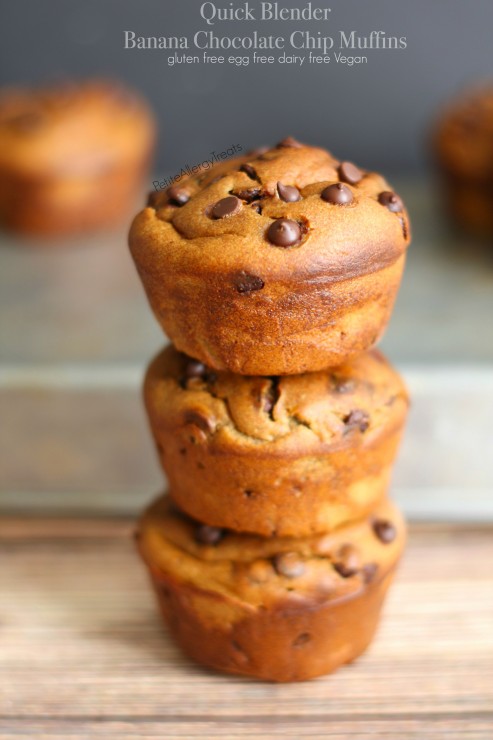 Gluten Free Blender Banana Chocolate Chip Muffins– dairy free egg free vegan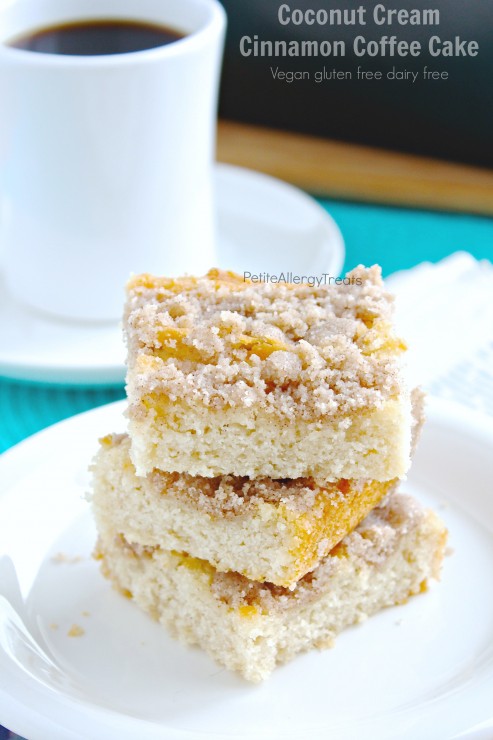 Coconut Cream Cinnamon Coffee Cake (Gluten Free Vegan)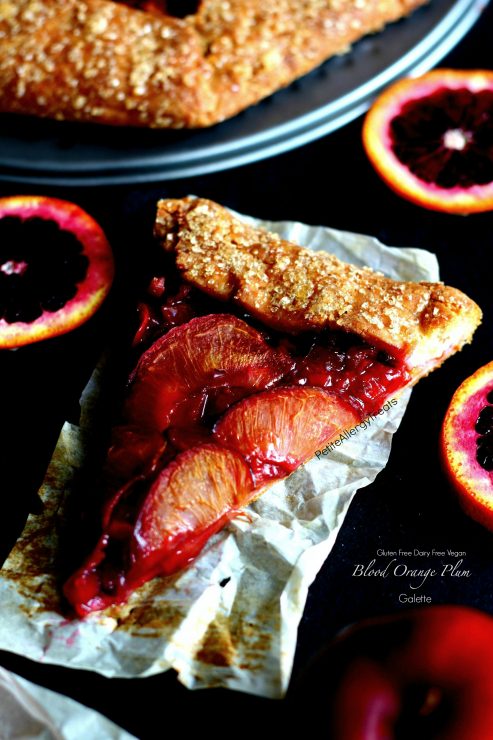 Gluten Free Blood Orange Plum Galette-dairy free egg free vegan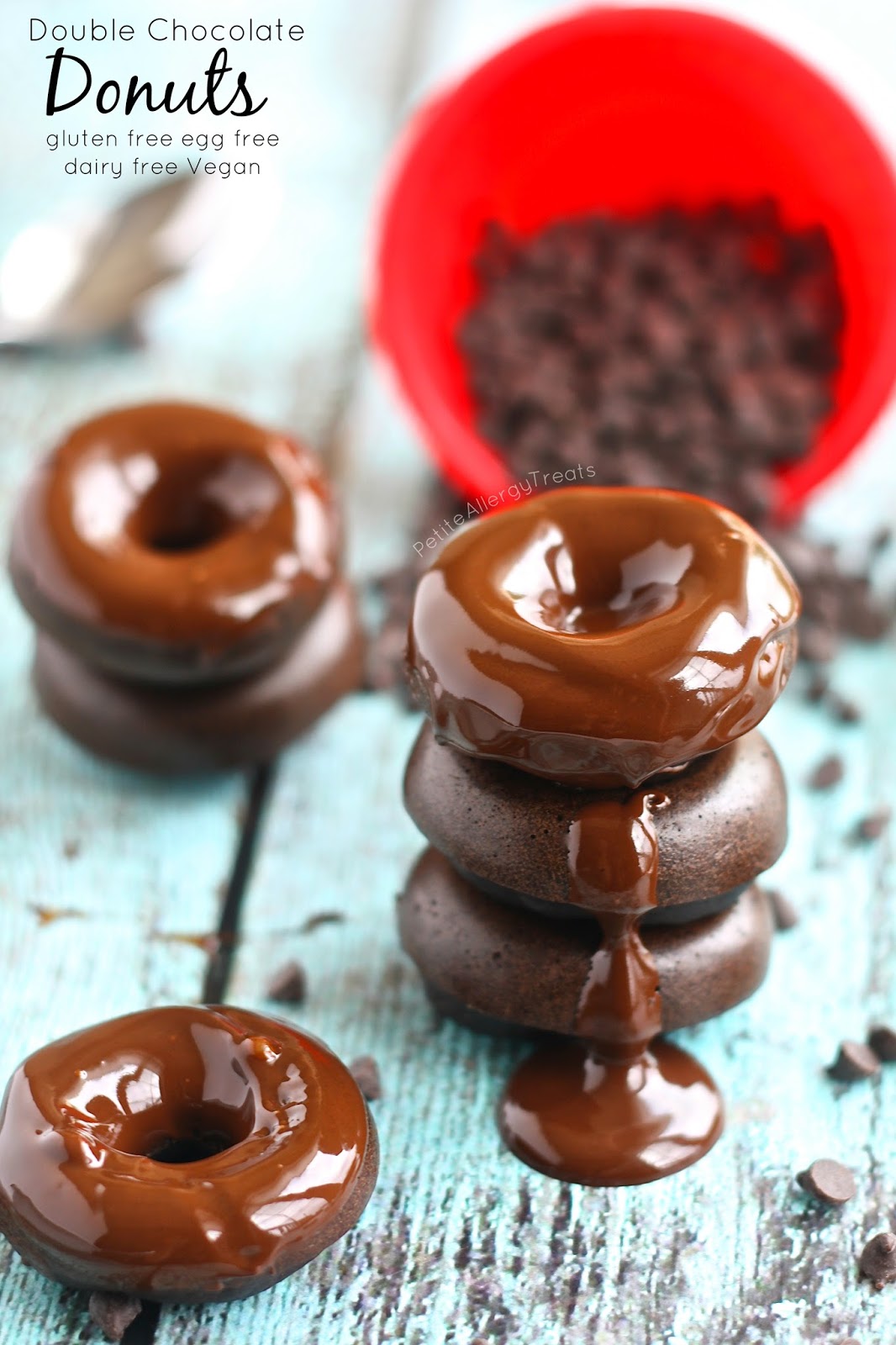 Double Chocolate Donuts (Vegan Gluten Free Dairy Free Egg Free)