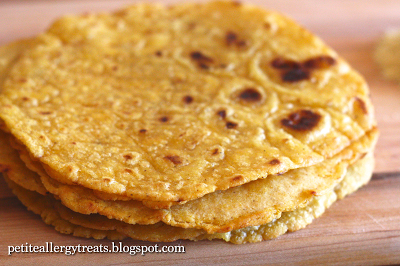 These are great fresh off the stove! This was such a simple recipe, that turned out wonderful.
I've been looking for a good gluten free tortilla for a long time. I was pleasantly surprised to find a couple of brands that were safe for all of our allergies. Unfortunately, they tasted bad. Really bad. They were dry in texture and tasted like cardboard. I didn't enjoy eating them and I had to choke down every bite.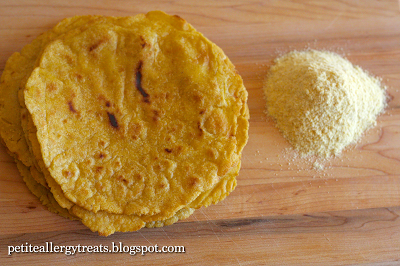 I wish I would have tried making these sooner. The reason it took me so long was because I thought Mr. Naughty was allergic to corn. Thankfully, he is not. This opens up so many new options.
These take a little time to make but are worth it. The prep and clean up is minimal. Make a bunch and freeze for later. Hope you enjoy!
Ingredients
2 cups masa harina corn flour
1 1/2 – 2 cups very warm water
oil for pan
salt (optional)
Directions
Combine salt and flour in a bowl and mix well. Carefully add warm water
Mix with spoon until a dough forms. Hand mix until smooth. Dough should be soft an pliable. If it cracks or feels dry in you hands add a little more water.
Divide dough in half. Take half the dough an divide into 6 equal balls.
Roll out ball between parchment paper.
Heat oil in a pan and fry on each side 2-3 minutes.
Wrap in a towel to keep warm.
Enjoy immediately or freeze for a later use.