If you've been following along you probably noticed I really love my sweets. I have to be honest with
you. Many of the things I bake aren't going straight to my kids. I do care about how much sugar and processed things they consume. Therefore, I allow them small tastes of my new creations. I realize now I need to make recipes healthier. For my family and for you. I feel like I've been deprived of cookies, cakes and other forbidden candy for so long that I've been living out my cravings.
I not saying I'm done baking with sugar or shortening. I'll be trying some better ideas with reducing sugar and fat. If they turn out, I'll post them here.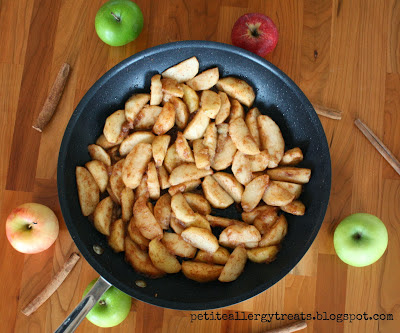 I'm still very new at blogging or publishing whichever you'd call it. I'm finding myself and my voice. The irony of being a publisher is I've never enjoyed writing. Writing doesn't always come naturally for me. Don't get me wrong, I LOVE my little blog and I'm having so much fun sharing with you. I'm not very polished yet, but I'm continually learning new things and hope to be able to express them better.
I hope you like the "fried" apples. They're not really fried but sautéd in pan. Super easy and healthy. It's just apple, cinnamon and oil to prevent sticking. I made double batch and it only lasted 2 days. The best part is I didn't feel guilty giving it all to my family!
Ingredients
4 apples peeled and sliced
1 tsp cinnamon
1/2 T oil
Directions
Wash and peel apples. Use an apple slicer or cut out core and slice into 1/2 thick slices
Heat oil in a pan and sauté apples and cinnamon for 5 minutes or until tender
This recipes is so delicious and easy. You may want to double the recipe in a large skillet.