These Garlic Knot Rolls are gluten free, egg free, peanut free, tree nut free and soy free. Make
them as side for any meal.
Fall is practically over and winter is here. I not looking forward to the change. The cooler
weather always makes me want fresh bread and soup. These garlic rolls are free of 7 of the
top 8 food allergens. They can be made dairy free and Vegan by omitting the cheese. And they
are pretty darn addicting I might add! The kids aren't really into soups yet but they'll eat any
bread. The temperatures are already in the low 30's in the morning so it's perfect soup and
bread weather. What do you like when the weather is chilly? A hot cup of coffee always
brightens my mood too. That's another thing you'll learn about me, I love and need my coffee.
My family knows I'm much nicer after my coffee. 😀
I'm still working on a good sandwich bread recipe, that's why you haven't seen any here yet.
I'll get to it, I promise. You should know my rule: if I don't love it, I won't post it.
But, I was able to create some great tasting rolls. And I think they look really pretty too.
This recipe was inspired by a few things. First would be my love for anything with garlic
and butter. Second is my love for bread. I still miss bread 🙁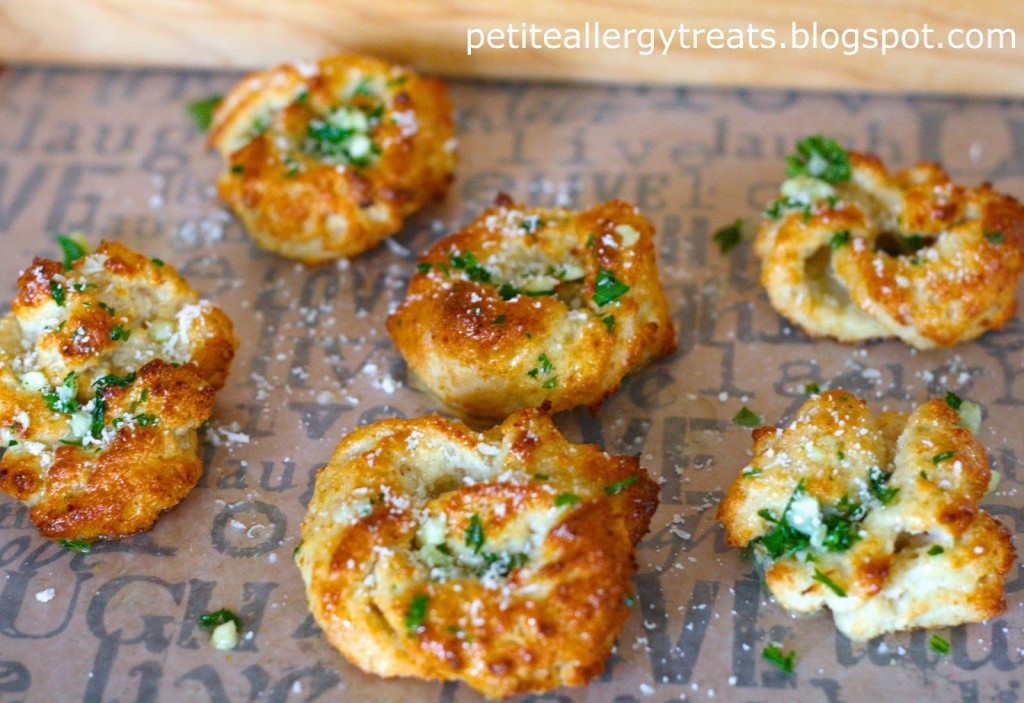 There's something about the house being filled with the delicious smell of baking bread…
you know what I'm talking about. The smell permeates the air and makes you salivate. You
wait by the oven door. You count the minutes on the timer. Ding! It's so fresh it burns your
hands and mouth. But you have to eat it this way. You cannot stop yourself.
Yeah. That's the kind of bread I want.

These rolls answered my craving. As usual they are free of wheat and eggs. I even shaped them similar to a knot roll. (I'll be honest, I only made one into an actual knot shape. The rest looked prettier twisted into a close circle. Not to mention the some of the dough broke when trying to tie it. Why the name then? Well, I think it sounds better than, "Gluten Free Garlic Twisted Dough That Almost Is A Knot Roll But Fell Apart, But Still Looks Pretty And Tastes Good Too." Just saying'. 😉
Here it is! And try not to burn your mouth 😉
This recipe as is free of 7 of the top 8 allergens. Simple substitute the cheese with a non dairy cheese like Daiya, to make it dairy free and Vegan.
Ingredients
preheat oven to 375 bake for 10 minutes
2 1/2 cups gluten free all purpose flour
1/4 cup cheese (plus more for garnish)
1 cup (slightly less) warm milk of choice
2 1/2 tsp dry active yeast
1 tsp sugar
1/2 tsp salt
2 1/2 tsp xanthan or guar gum
TOPPING
4 T oil
2-4 crushed garlic cloves
1/4 cup chopped parsley
1/4 tsp salt
cream or milk of choice to brush the tops
Directions
Warm up milk in microwave to 100 degrees. Add sugar and yeast. Mix and allow to sit for at least 5 minutes or until frothy and foaming.
Combine all dry ingredient in a bowl with cheese and mix. Add in yeast mixture and stir.
Knead dough by hand for 1 minute to help activate the gum. Dough will be slightly sticky but should not stick to hands, add more flour if too sticky.
Place dough between parchment paper and roll out to 1/8 inch thickness.
Carefully peel the top layer of parchment paper off. Replace top and flip. Peel off bottom layer. (this will allow you to move the dough in strips and hopefully not break.)
Use a pizza cutter to cut 1 1/2 inch strips.
Take a strip and first twist the dough. Then form into a circle and place on baking sheet lined with parchment paper.
Repeat until dough is gone.
Cover dough with plastic and allow to rest and rise for 10 minutes.
Brush the tops of rolls with cream or milk to help brown. Bake for 10 minutes and allow to slightly cool.
Crush garlic using a garlic press and combine with oil and salt. Add in chopped parsley.
Brush the tops of the baked knot rolls with mixture and garnish with extra cheese.
Best served warm from the pan.