This easy Mint Brownie In a Mug is dangerously good… Not to mention gluten free,
Vegan, egg free, peanut free, and tree nut free.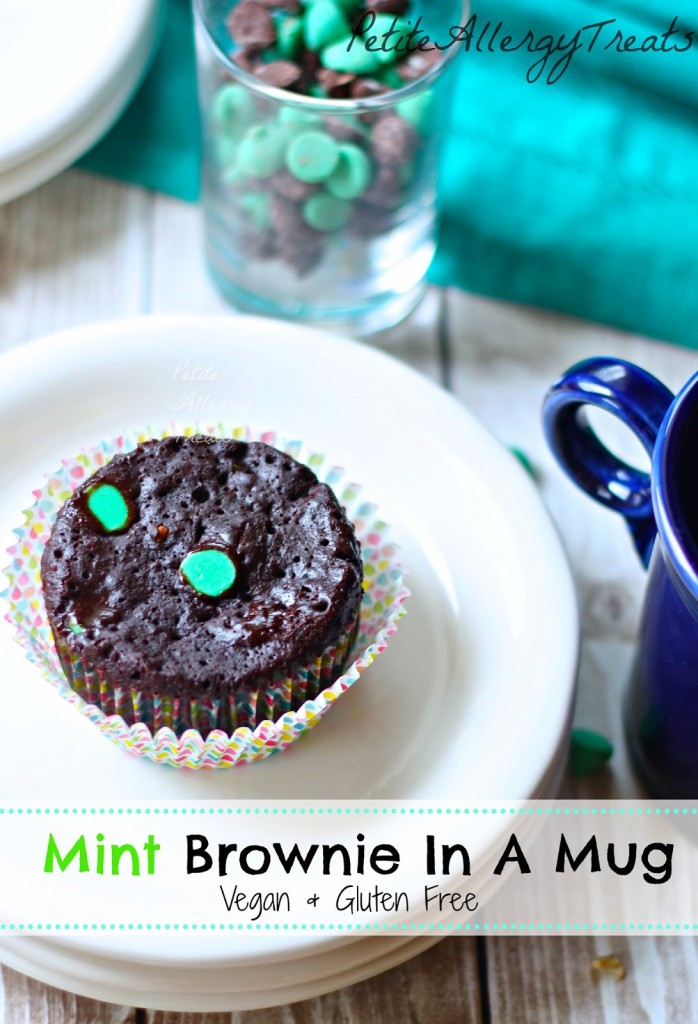 Ok, so I'm totally cheating here. First of all I liked to point out this recipe is really just for
me (and you of course). My son is allergic to soy so he cannot enjoy this because of the
mint chips. The only amount of soy in here is from the soy lecithin but I don't want
to risk it and honestly he really doesn't know he's missing mint.
Mint is just one of those things I love. It can be peppermint or even spearmint and I'll eat
it. I have yet to experiment with real mint leaves in a recipe but I promise I'm going to
try at some point.
Back to the whole cheating… If this recipe looks familiar, it is. I simply added mint to
my regular Brownie In a Mug. Don't be mad. There are recipes that just work so well, a
little addition here or there, and its a whole new flavor. Come on, you have to admit
Chocolate and Mint are friends forever.
I'm keeping things short because….
Wait for it….
I'm going on VACATION!!
That's such big deal with food allergies and all the prep work. I'll explain more later but
in the mean while enjoy a gooey delicious mint brownie in a mug!
Ingredients
3 T gluten free all purpose flour (or regular wheat flour)
3 T cocoa powder
2 T oil of choice (I used avocado oil)
2 T water or milk of choice
2 T maple syrup or sugar
1-2 T Mint flavored chips (I used Guirtarrd- contains soy)
Directions
Single brownie in a mug
Combine ingredients in a mug (dish) and mix.
Microwave on high for 40 seconds for a gooey center or 60 seconds more cake like texture.
2 Brownies in cupcake liners
Mix all ingredients in a small bowl. Pour half the batter inside a mug with a cupcake liner.
Microwave for 25 seconds for a gooey center or 30 seconds for a moist, perfect texture.
Repeat with left over batter.
Some other things you may enjoy: