Enjoy a healthier and more nutritious breakfast with Teff Waffles covered with a Blueberry Orange Glaze.  While the glaze could be healthier, it's still better than a donut.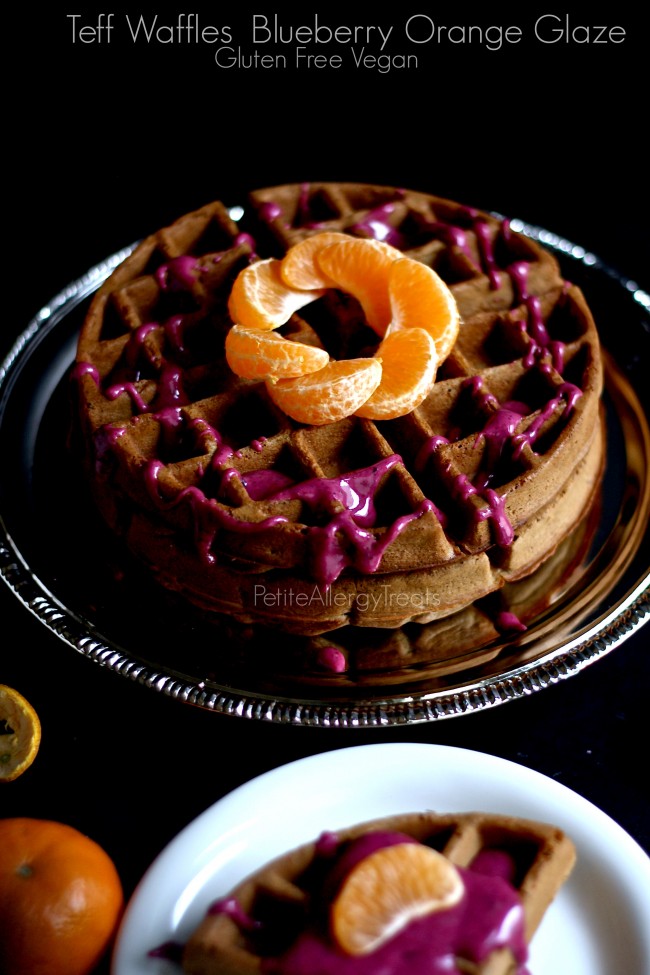 I'm dreaming of warmer days and that feeling of being healthy and active.  All this sitting around and being cooped up makes me feel blah.  I'm still trying to keep my resolution of eating healthier, including using more whole grains.  One thing I've neglected for awhile was using Teff Flour since many of you mentioned you couldn't find it in stores.  For those of you who don't know what teff flour is, keep reading.  This flour is a great resource for extra nutrition, especially on a gluten free diet.
Some facts about Teff
1. It's loaded with calcium.  Just 1 cup of cooked teff contains 35% of the recommended daily value for calcium.
2. It's a complete protein.   Complete proteins contains all 8 essential amino acids.  These are the building blocks our bodies need to function properly.  They are essential since our bodies cannot synthesize (produce) them.  Proper nutrition= health.
3. It has loads of fiber.  Fiber is great for a couple of reasons.  One, makes us feel fuller longer because it slowly digests.  Two, it… well…makes you regular. 😉
4. Teff has lower glycemic qualities. There's a newer type of starch classification called resistant starch.  Apparently, this starch helps keep blood sugar levels from spiking.  I'm not an expert in this by any means but found it interesting.
5. It's naturally gluten free.  Gluten free diets lack many vitamins and minerals found in fortified and processed breads/cereals.  The main ingredients for gluten free baking are often rice based, which unfortunately offers little to nothing nutrition wise.  Vitamin supplements help, but nothing is better than a natural source.  If you need to be on a gluten free diet, you should really try this next.
It's probably a good time to mention there are two forms of Teff.  One is whole grain, which are super tiny grains great for porridges.  The other is in flour form which is finely ground whole teff grains.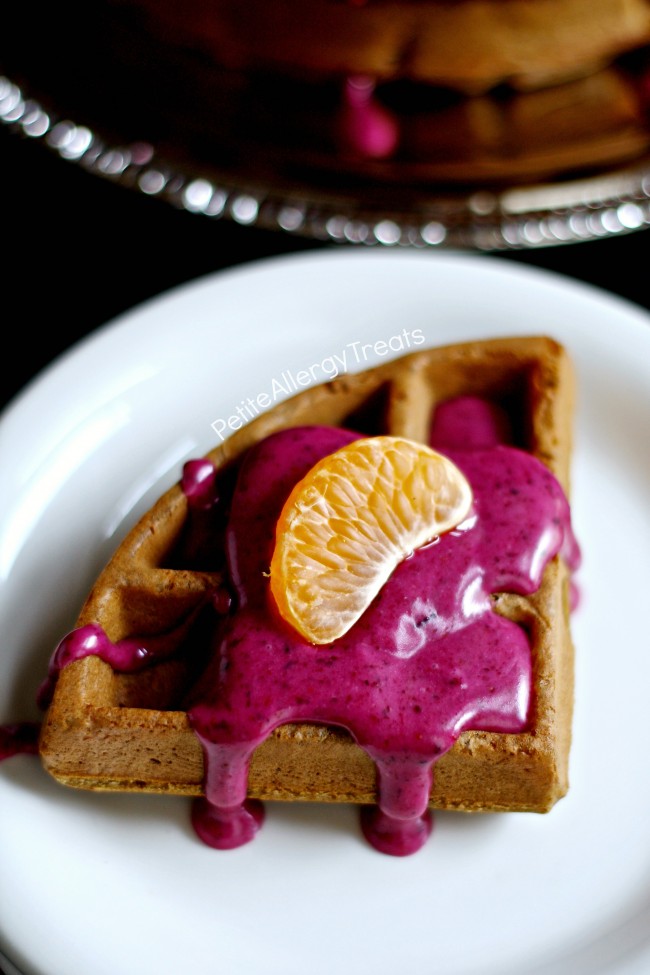 Have I intrigued you yet?  You can read more on the
Whole Grain Council Site.
 This flour really is pretty amazing for being gluten free.  So why don't I use it more, or in larger quantities in my baking?  For a couple of reasons.  The first being the cost and second it's makes baked goods very dense in large amounts.  Look for this the next time you visit your local health food store or you can always order online.  The brand I use is Bob's Red Mill.
This flour would be a great addition to any recipe that requires a whole grain such a sorghum, millet, or even brown rice.  It has a mild but distinct taste that's slightly sweet but almost nutty in flavor.  The color also reminds me of whole wheat flour.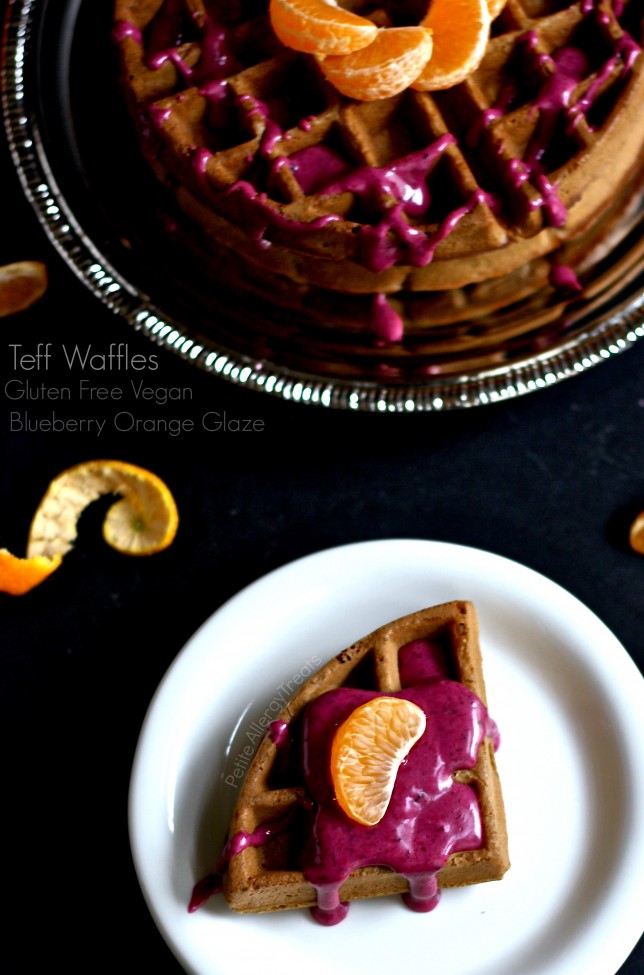 Gluten Free Teff  Waffles with Blueberry Glaze
Author: Laura @ Petite Allergy Treats
Ingredients
Waffles
2 cup Teff flour
3 cups unsweetend milk of choice or water
1 tsp baking soda
1 tsp baking powder
2 tsp molasses
2 T avocado oil
Glaze
2/3 cup frozen blueberries (thawed)
1/2 clementine (about 5 slices)
1 cup powdered sugar
Directions
Heat waffle iron.  Combine all dry ingredients in a bowl and mix well.
Add liquid ingredients and mix well by hand to avoid lumps.
Pour onto a hot waffle iron.  Mine has a sensor that beeps when finished.
Carefully remove the waffle and allow to cool on a wire rack. (Waffles will become soggy if stacked)
Glaze Combine blueberries and clementine slices in food processor and blend until smooth.
Pour into a small bowl with powder sugar and mix until smooth.
Top waffles right before serving.
Notes:  The waffle freeze extremely well, just allow to fully cool first to avoid excessive ice crystals.  You'll notice there is no egg or gum used here, you don't need it.  The protein and waffle iron does all the magic here. 😉
Some other recipes you may like: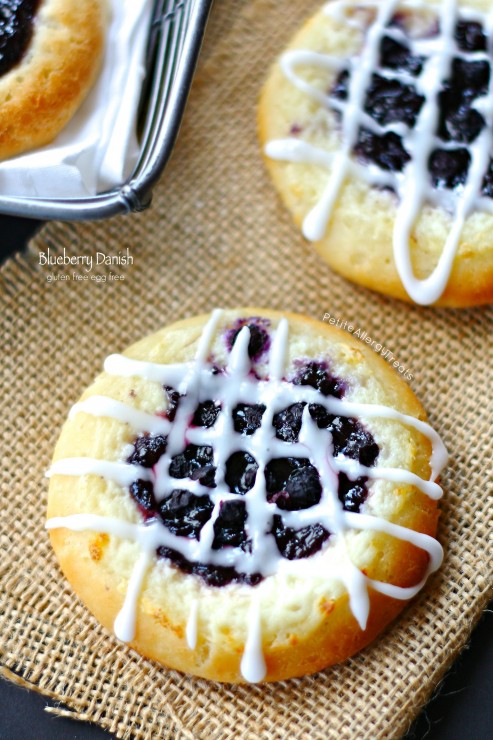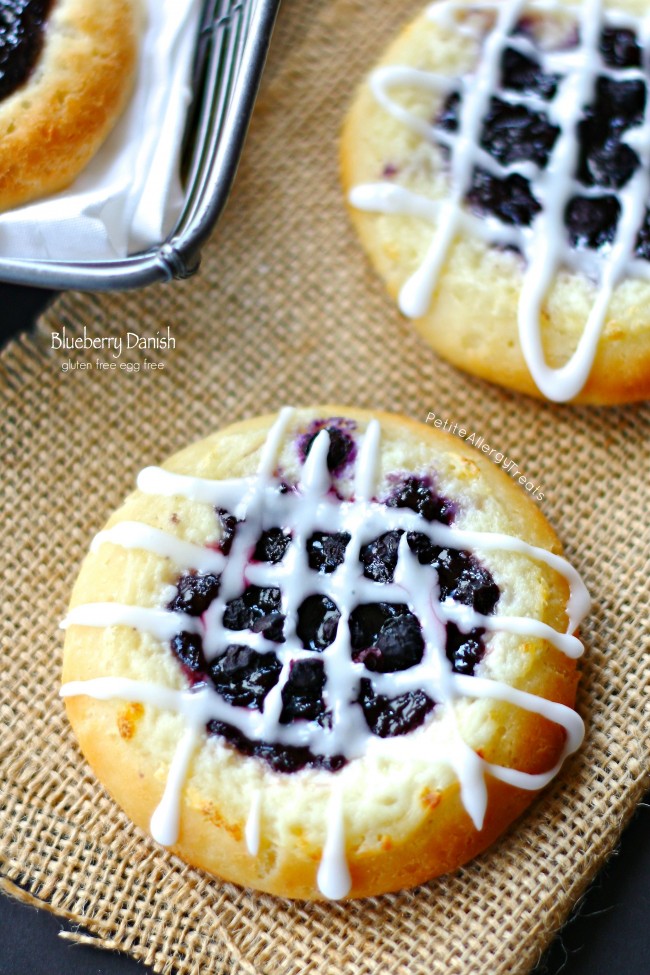 Blueberry Danishes- gluten free dairy free-vegan option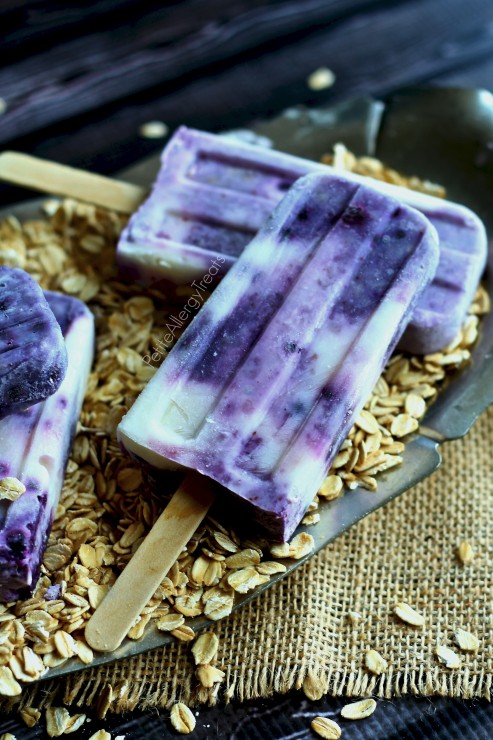 Blueberry Oatmeal Popsicles- gluten free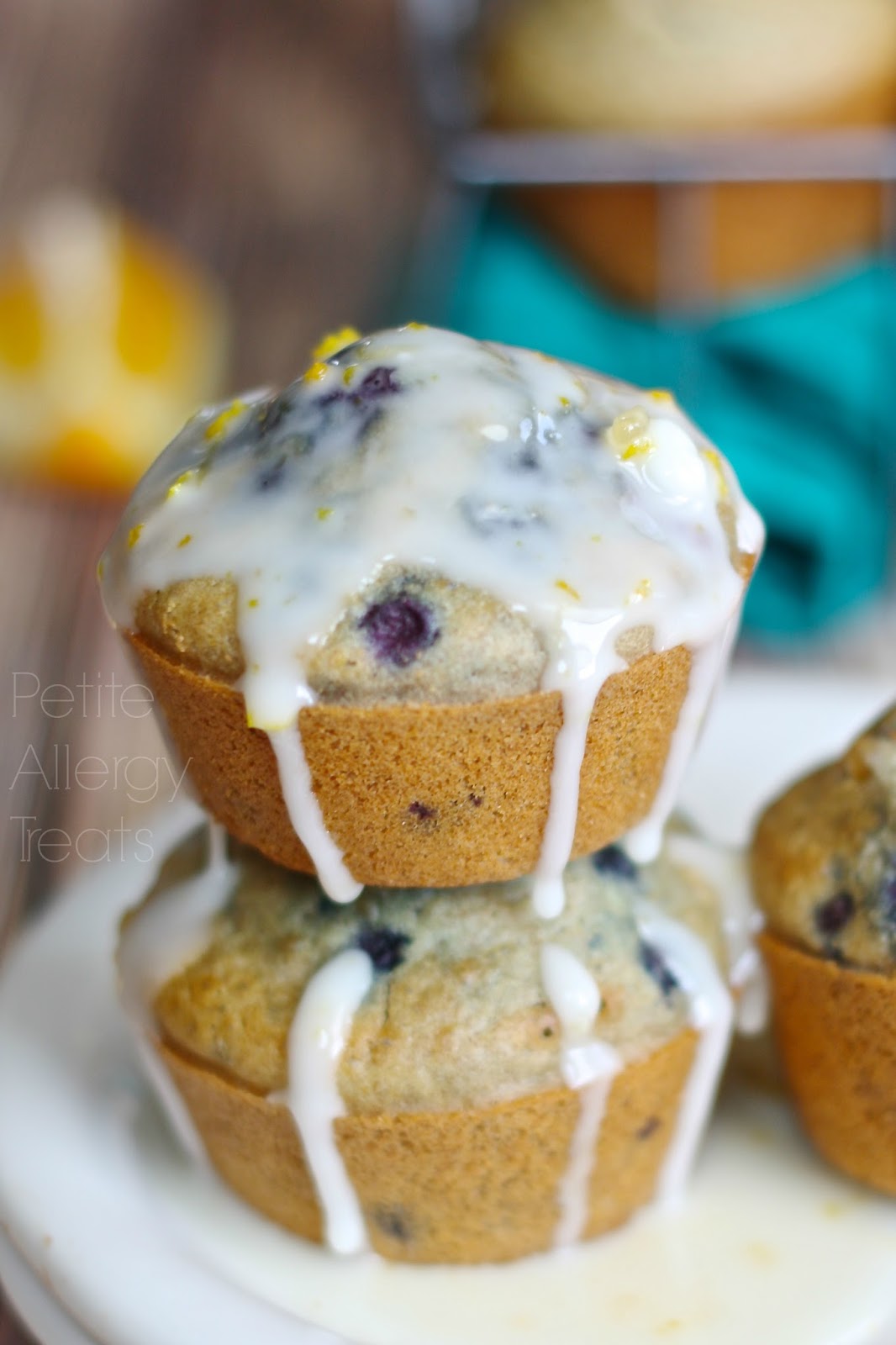 Orange Blueberry Muffins- gluten free, vegan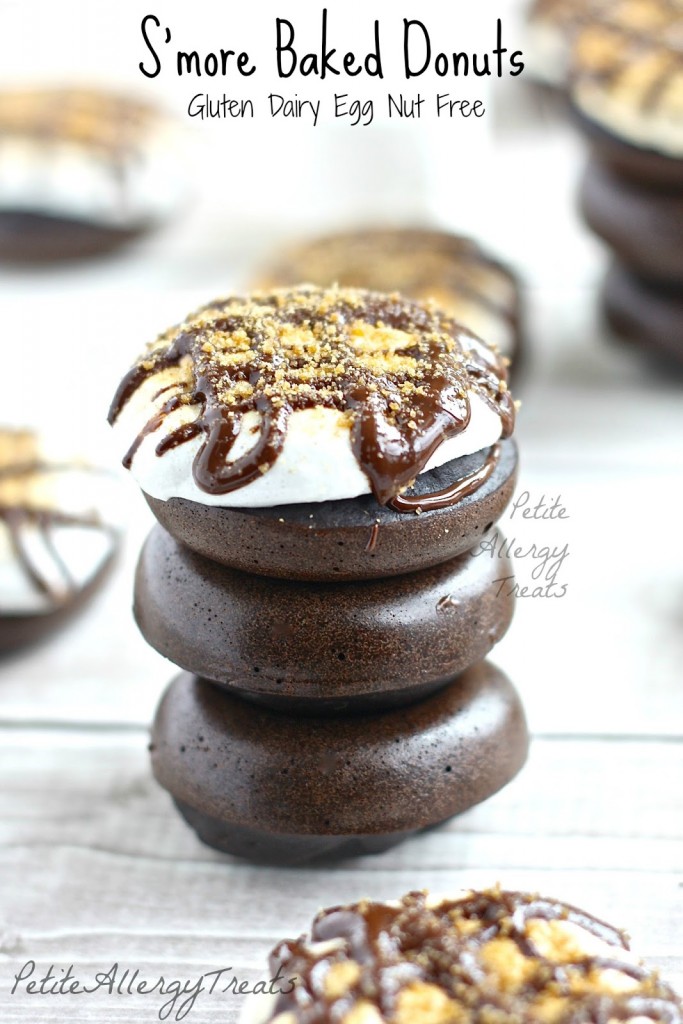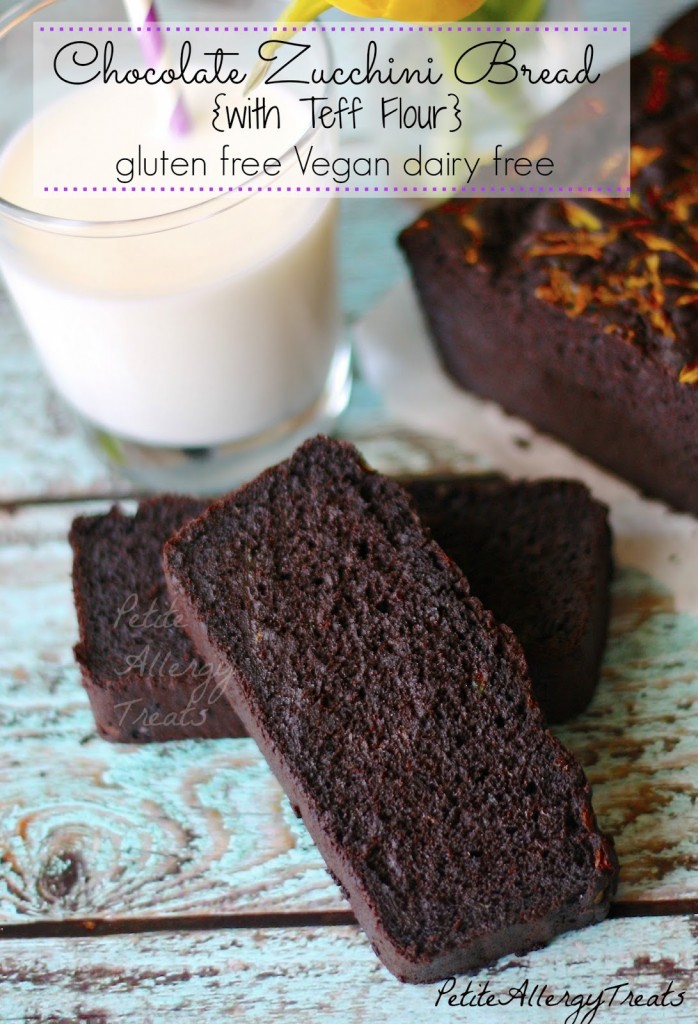 Chocolate Zucchini Bread- gluten free vegan