Add this adorable vegan Turkey Fruit Platter to your Thanksgiving Day or Fall Party!  Super quick and elegant, this naturally gluten free and food allergy friendly fruit platter will brings smiles to your family.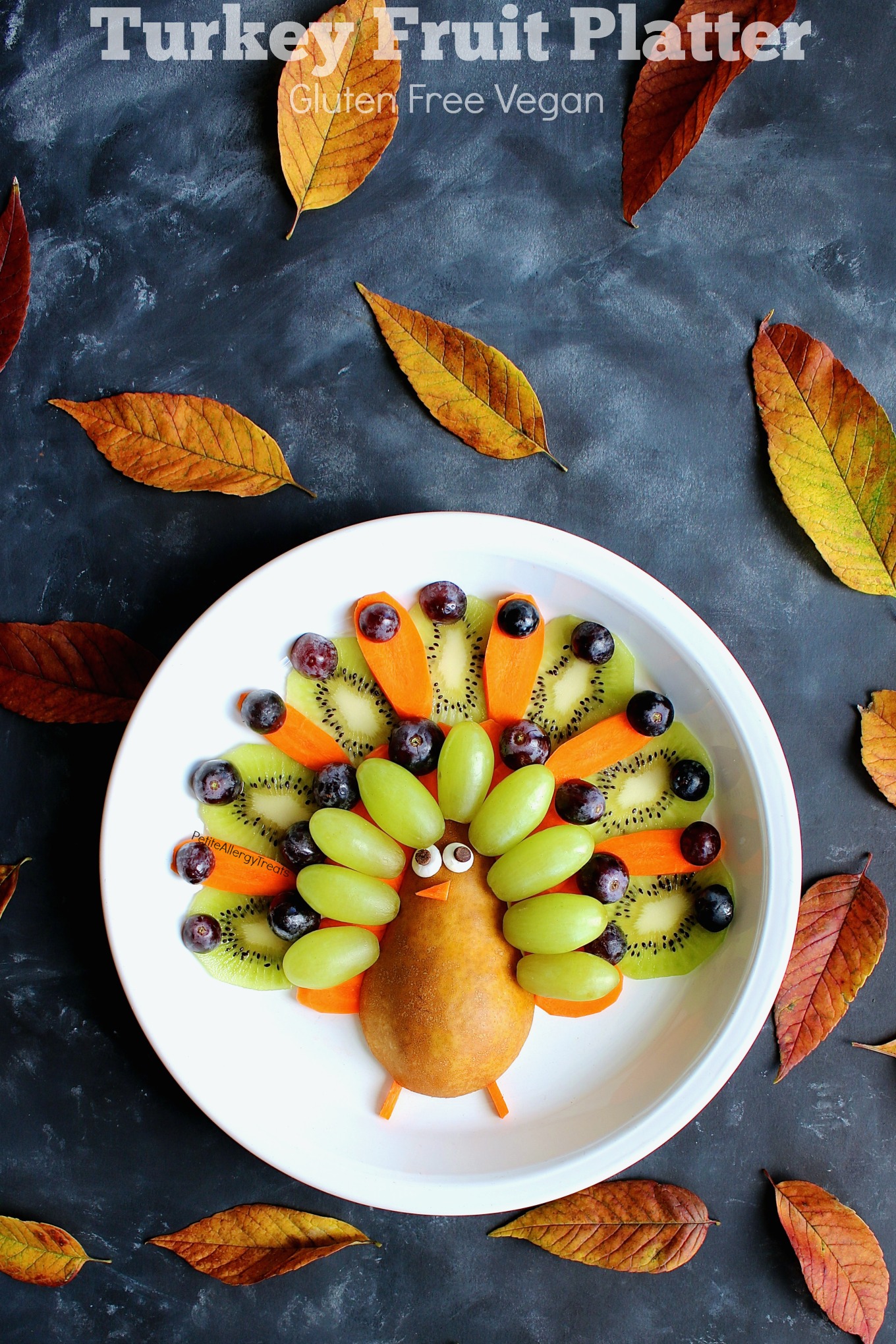 Gobble, Gobble.  Real turkeys best being running and hiding this time of year.  For a turkey-free but festive Turkey Thanksgiving, go for the naturally vegan Turkey Fruit Platter.  This year's Thanksgiving will be extra special.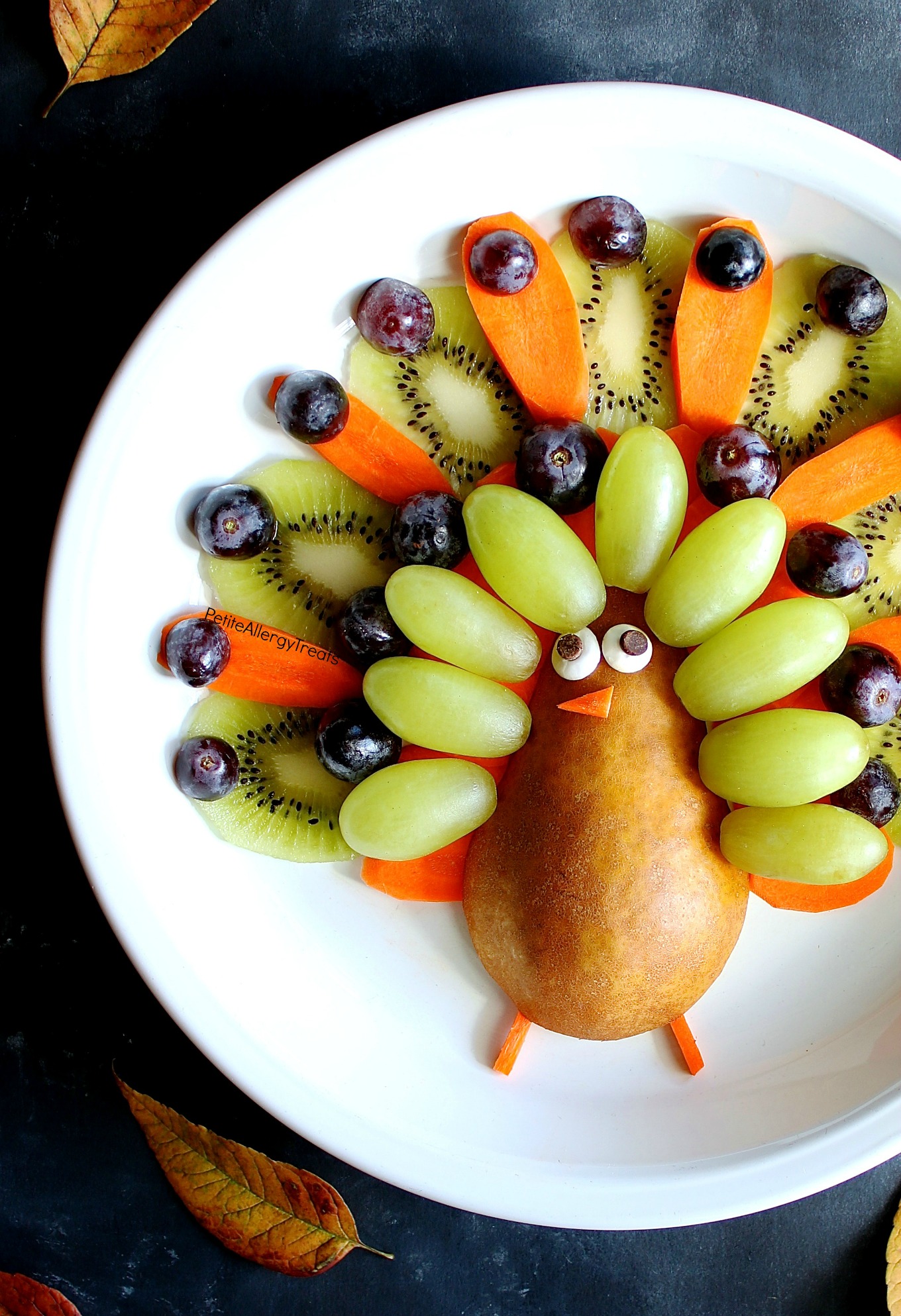 Traditionally, Thanksgiving in the US falls on the second to last Thursday in November.  It happens to be November 24 this calendar year.  That date also happens to be our wedding anniversary.
I'm pretty good at remembering dates however, years have seem to escape me ever since I had kids…  I wrote down our anniversary for 8 years.  Times seem to fly by when you're in the rush hour of life as we are with younger children.  And time really does fly by (as does my memory) since my husband had to corrected my math.  It will be 9 years of marriage.
Oops.
8 years. 9 years.  At this point, does it reeeally matter?  This reminds me of the book Water For Elephants when the book begins with the character not remembering if he's 90 or 93.  He could carless how old he actually is since 3 years doesn't matter once you're that old.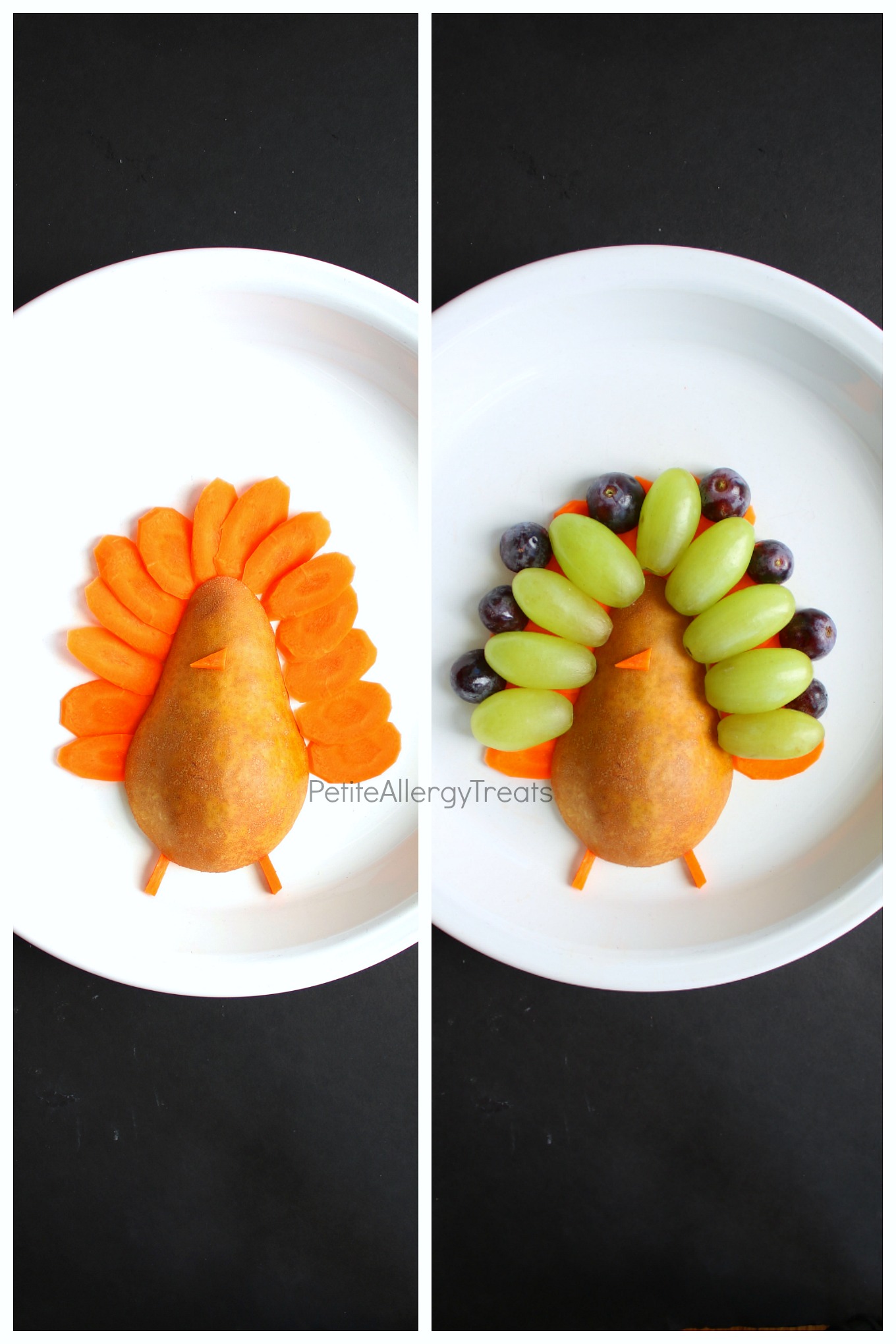 Another thing after being married for so many years, it's comfortable.
So now that we have the dates and year figured out correctly, we'll be spending our 9th anniversary apart.  Yeah.  Good ole work means my husband will away traveling and cannot get back in time for Thanksgiving or anniversary.
Boo!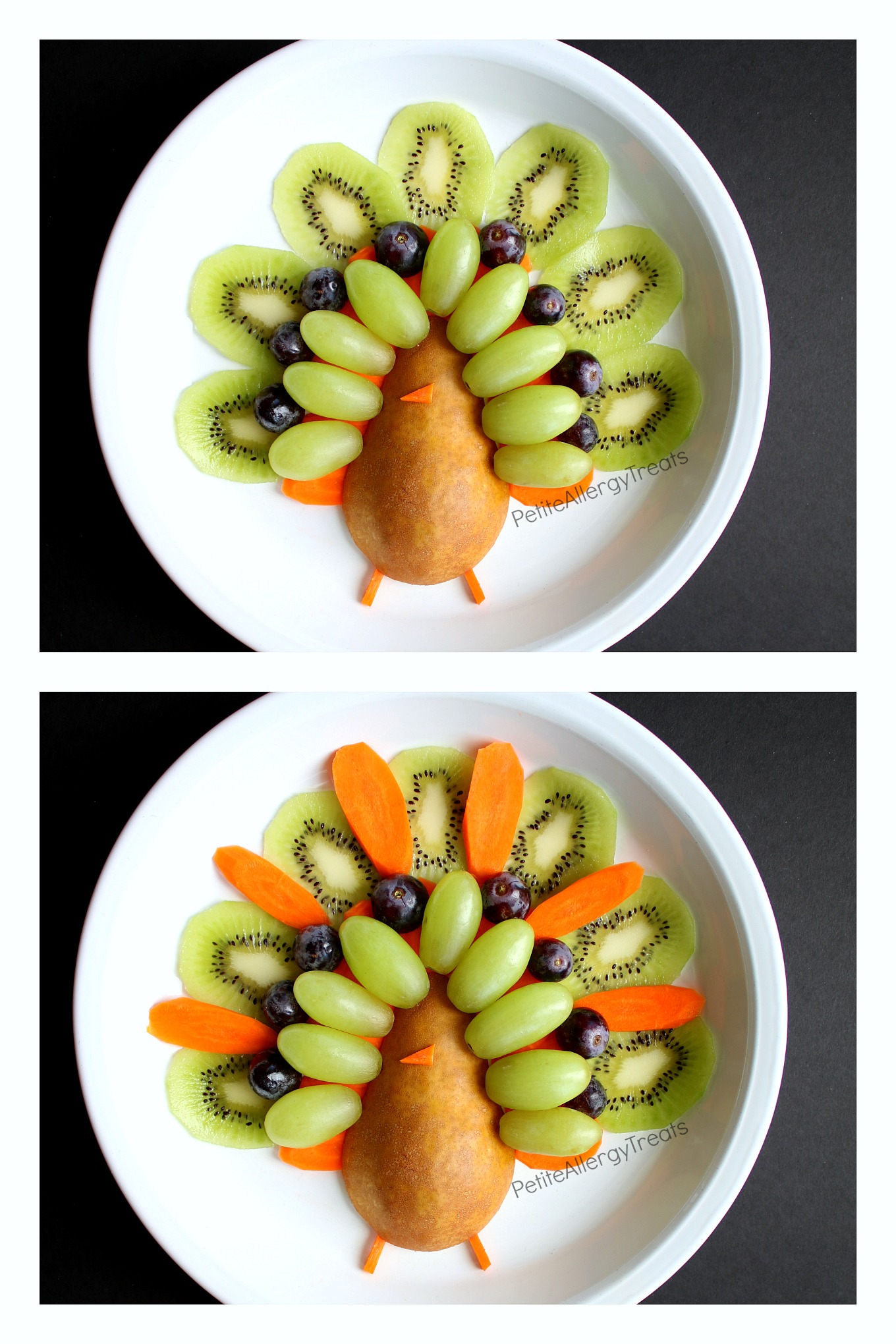 The kids are bummed too.  Holidays are important to build memories and traditions.  I don't know about you but we're still trying to find make our 'special family tradition'.
This new traditional will be making easy vegan Turkey Fruit Platters.  Arranging the fresh fruit will keep the kids busy while I cook.  Plus, we can eat this healthy snack between stuffing ourselves with too much food.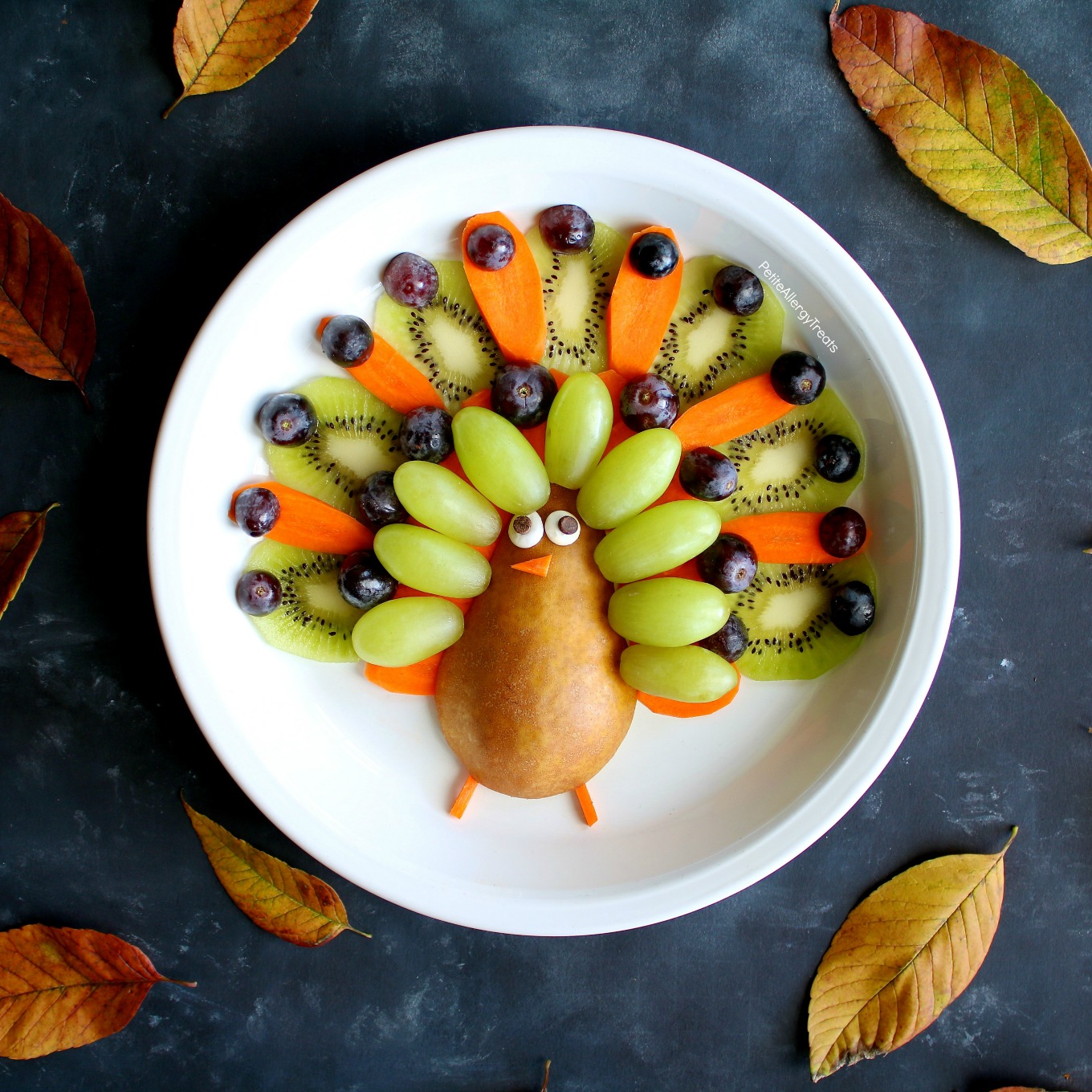 Feel free to change the type of fruit to meet your tastes.  If you don't like kiwi (or are allergic) try bananas or pineapple.  The carrots make the feathers longer and more realistic.  Change which ever fruits or veggies to meet you needs or taste.
Enjoy and happy early Thanksgiving!

Vegan Turkey Fruit Platter
Author:
Laura @ Petite Allergy Treats
Ingredients
1 medium bosc pear
2 large carrot
green grapes
red grapes (halved)
1 large kiwi
Instructions
Wash all vegetables and fruit.
Cut bosc pear in half. Remove stem.
Peel and cut 1 carrot at at 45 degree angle for small carrot feathers,about 14 slices. Peel and cut remaining carrot at 60 degree angle for large feathers, about 6 slices.
Peel and cut kiwi at 45 degree angle.
Place green grapes surrounding pear halve.
Arrange small carrot slices then add green grapes.
Add red grape halves for border around feathers.
Add long carrot feathers.
Add more red grape halves for border around feathers.
Accent with googly candy eyes and carrot legs.
Follow me for the latest news!
Some other thing you may like: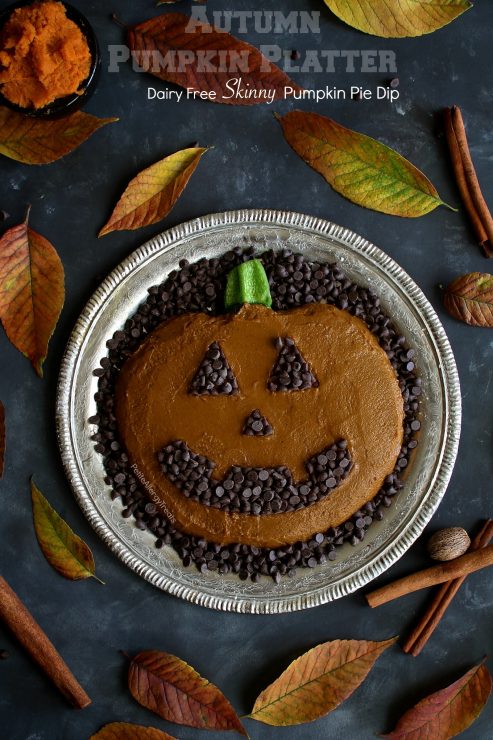 Dairy Free Skinny Pumpkin Pie Dip– vegan no bake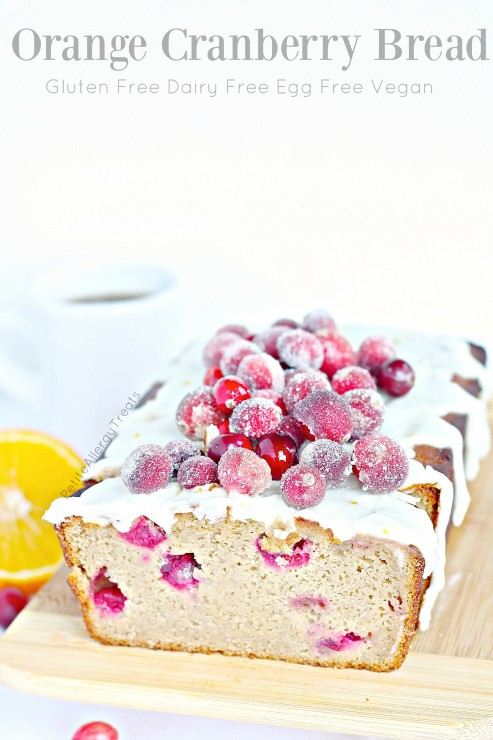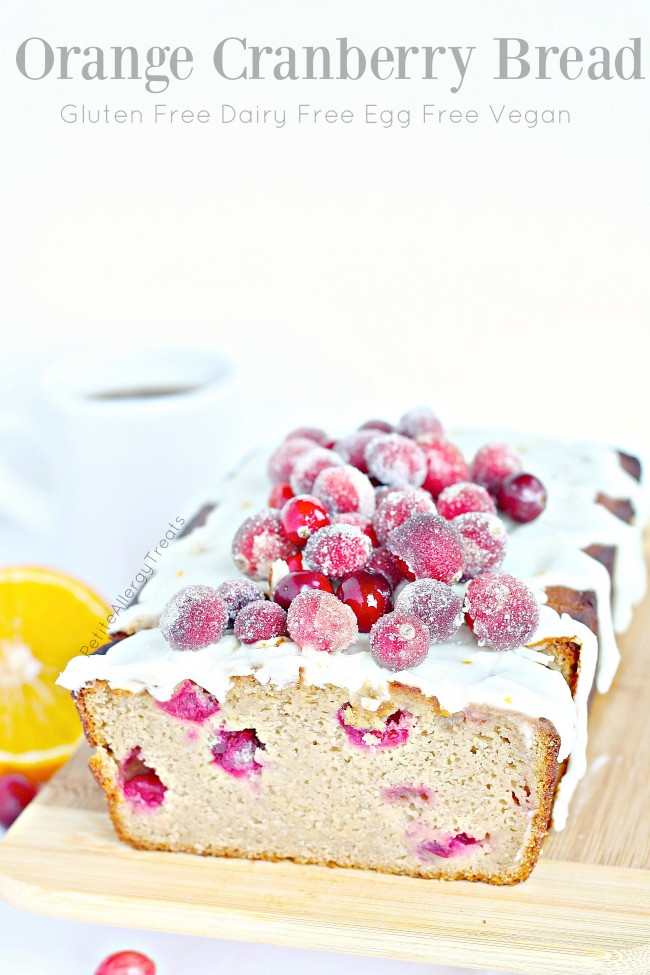 Gluten Free Orange Cranberry Bread– vegan dairy free egg free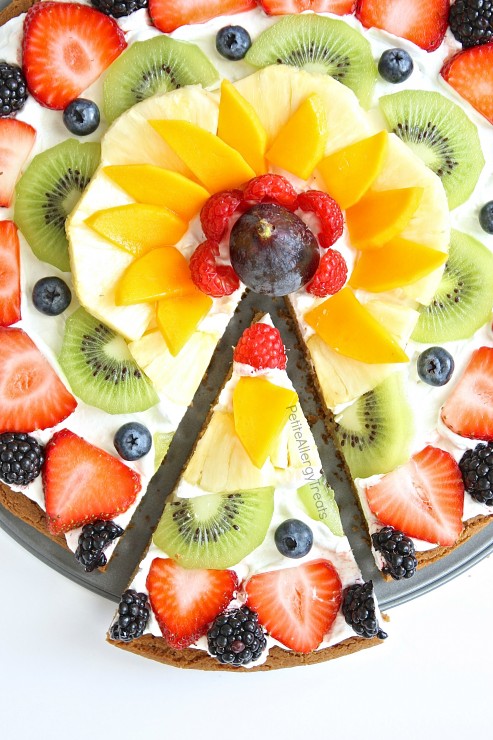 Rainbow Fruit Pizza (Gluten free Vegan)– dairy free