Blueberry Danishes (Gluten Free Egg Free)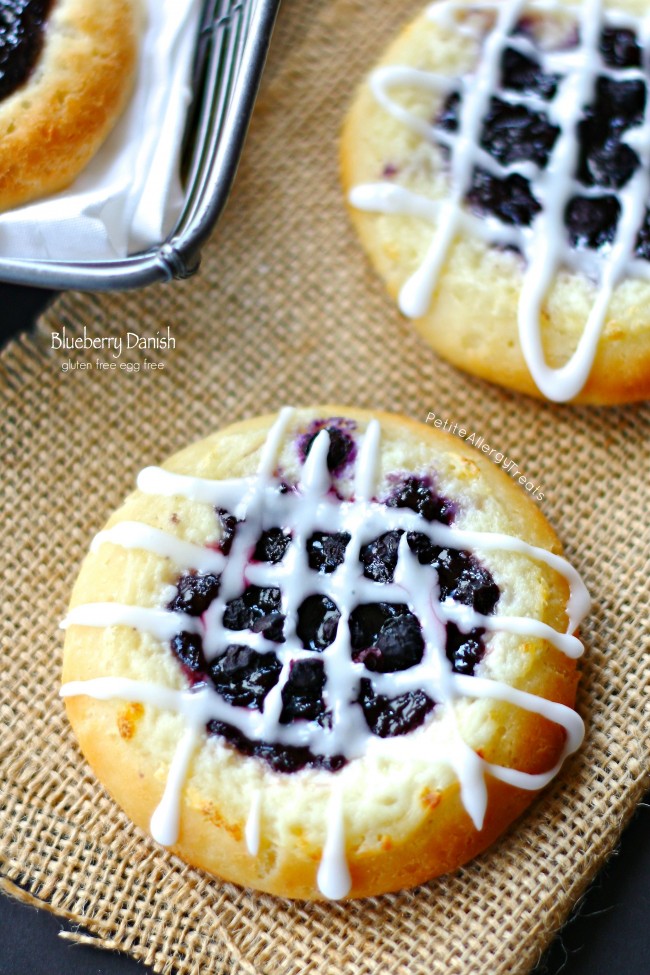 Author:
Laura @ Petite Allergy Treats
1 packet yeast (I use Red Star)
4 Tbsp vegetable shortening--reserve 1 Tbsp for top
¾ cup pineapple juice
¾ cup milk of choice
2¼ tsp guar or xanthan gum
¼ tsp powdered pectin
1½- 2 cups blueberry jam or jelly
1/4 cup frozen blueberries optional
1½-2 cups mascarpone cheese (omit or use Vegan cream cheese for dairy free)
Heat ¼ cup of milk to 100 degrees. Add yeast and set aside for 5 minutes or until foaming.
Mix all dry ingredients for the dough. Combine yeast, juice, 3 Tbsp shortening and remaining milk.
Mix ingredients by hand for at least 5 minutes to help activate gum.
Lightly dust parchment paper with extra flour and gently press out dough to form a rectangle approximately 14x18 inches. Use a rolling pin to make an even layer.
Use a mug to cut circles. Repeat with remaining dough and cover finished disks with plastic wrap.
Melt remaining shortening and lightly brush the top and sides of each danish.
Fill the center of each disk with approximately 1 Tbsp of cheese. Slightly flatten cheese and create a well in the center for the jelly. Add 1 Tbsp of blueberry jelly and a few frozen berries if using.
Bake at 400 degrees for 10-12 minutes or until just beginning to turn golden brown. Centers will be wet and bubbly.
Allow to cool on a wire rack and set for at least 5 minutes.
The dough can dry out quickly so be sure to cover any unused dough with plastic wrap to help. The filling will melt down a bit and spread. Trust me when I say you only need about 1 Tbsp of filling for each. My jelly was really thick so I ended up pressing it down just a bit to flatten before baking.
Recipe by
Petite Allergy Treats
at https://petiteallergytreats.com/gluten-free-blueberry-danish-egg-free-dairy-free/