Chubby Easter Bunny Cookies Natural Dye (gluten free egg free dye free)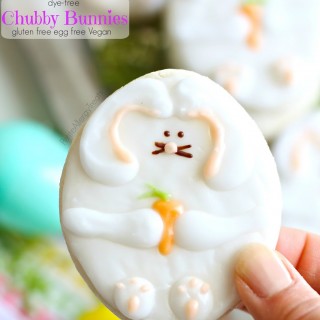 Author:
Laura @ Petite Allergy Treats
Cookies
½ cup dairy free milk
1 cup white sugar
½ cup non hydrogenated shortening
1 tsp baking powder
4 tsp guar gum (slightly less with xanthan)
Egg Free Icings
-White
2 cups powdered sugar
8 tsp water
-Pink-ish
(light orange)
1 cup powdered sugar
2 tsp carrot puree
2.5 tsp water
-Orange
¼ cup powdered sugar
1 tsp carrot puree
-Green
⅛ cup powdered sugar
spinach puree to reach desired color
Black (dark brownish)
1 Tbsp Enjoy Life chocolate chips
¼ tsp oil
Cookies
Preheat oven to 325 degree F. Combine all dry ingredients and mix well. In another bowl, add shortening, sugar, dairy free milk, and mix until fluffy. Gradually add all flour until a dough is formed.
Roll out dough on parchment paper to ⅛ inch thickness. Cut into shapes and carefully transfer to a parchment paper lined baking sheet. Use the scraps and repeat until dough is gone.
Bake for only 7-8 minutes or until tops appear dry and slightly cracked. The cookies won't appear golden brown or fully cooked. They will continue cooking on the sheet and will firm up after they cool. Allow to fully cool before decorating.
Icings
For all icing, mix powdered sugar with liquid amount stated until smooth. Create each in a separate bowl and cover any unused icing to keep from drying out. (To create the puree, a high powered blender or food processor is needed.)
Carrot Puree-
cook until soft before pureeing. Although the recipe doesn't require much, it's necessary puree more than you need to achieve a smooth puree. I found little water is necessary to help start the puree and thin it out just a bit. I started with 1 cup carrots and used about 1-1.5 Tbsp water. Freeze leftovers to use later.
Spinach Puree-
use fresh spinach to achieve a vibrant green.
Decorating (reference photos)
Transfer icing to individual zip lock bags.
Cut a small hole in the white bag and pipe a line surrounding the entire cookie. Use a toothpick or spoon to make any adjustments and fill in the rest of the cookie.
Ears: make a C-shape that is thicker on the bottom and thin on the top. Line with a thin light pink on inside.
Feet: two white dots center bottom. Drop one light pink dot in the center with three smaller dots on top for toes.
Arms: drag a line slightly down from the outside border towards the center. Allow space for carrot.
Carrot: center dark orange in the center where the arms meet and thinly allow icing to fall in-between.
Carrot top: Use a toothpick to paint two faint green lines extending from carrot.
Face: Use a toothpick to drop two chocolate eyes and paint whiskers.
Allow to dry overnight before trying to move.
Recipe by
Petite Allergy Treats
at https://petiteallergytreats.com/chubby-easter-bunny-cookies-natural-dye/