Chocolate Covered Strawberry Ice Cream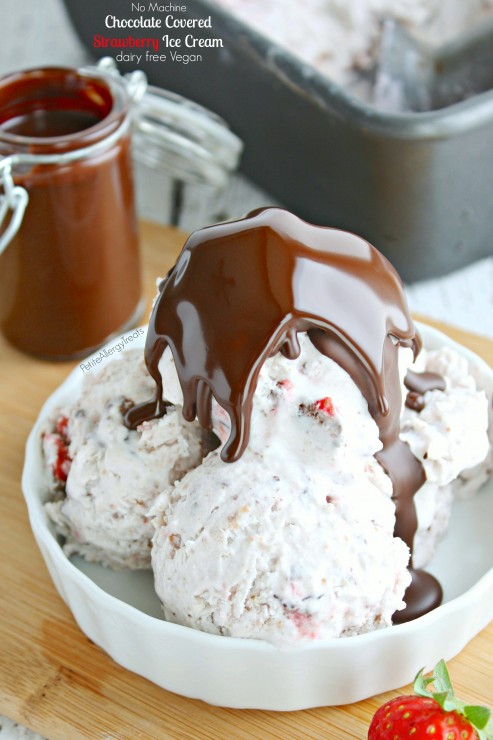 Author:
Laura @ Petite Allergy Treats
2 pints fresh strawberries
2 cans coconut cream (not milk)
6Tbsp sugar
2 tsp vanilla extract
½ cup frozen raspberries
Refrigerate cans of coconut overnight.
Wash and de-stemed strawberries. Pat dry to remove excess water. Reserve ½ pint for dipping in chocolate.
Open cans of coconut and scoop into a blender. Add 1½ pints of strawberries and frozen raspberries. Blend until smooth.
Pour the mixture into a mini muffin pan (if there is excess, freeze and add to blender later) Freeze 2-3 hours.
While the ice cream is freezing, dip ½ pint of berries in magic shell and place on a baking sheet in the refrigerator until chocolate firms up. Coarsely chop into bite size pieces. Reserve in refrigerator until needed.
Run pan under hot water to help loosen and flip to remove ice cream.
Add to a high powered blender and blend until smooth.
Pour into a pre chilled bread pan. Pour half of the mixture and add the bite size chocolate covered strawberries. Repeat.
Freeze another 3 hours or overnight. Enjoy!
The high water content of the berries make this a little icy. Freezing in smaller batches and blending will help decrease the ice crystals. If you have an ice cream maker you can skip these steps. To help with scooping, allow ice cream to thaw 10-15 minutes before scooping. The raspberries aren't necessary but added a little more sweetness and pink color to the ice cream overall.
Recipe by
Petite Allergy Treats
at https://petiteallergytreats.com/chocolate-covered-strawberry-ice-cream-dairy-free-vegan/