Coconut Cream Cinnamon Coffee Cake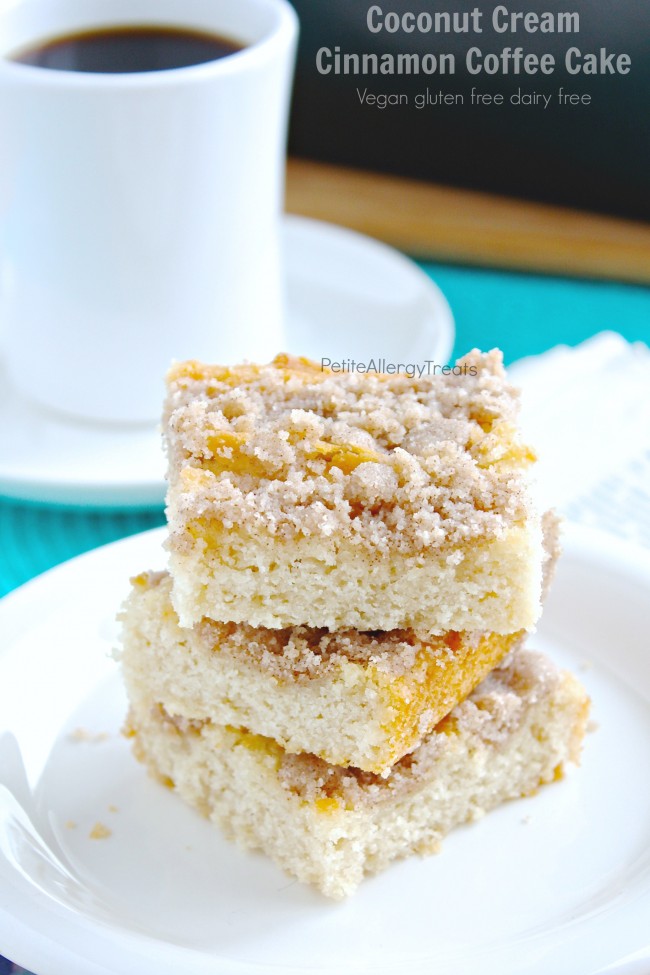 Author:
Ginny McMeans of Vegan In the Freezer photos by Laura @ Petite Allergy Treats
¼ cup coconut oil, plus more for pan
1½ cups all-purpose flour, plus more for pan or gluten free white blend mix
*1 tsp guar or xanthan gum
2 teaspoons baking powder
½ teaspoon salt
½ cup turbinado sugar
Vegan substitute for 1 egg, prepared (I used ¼ cup applesauce)
¾ cup full-fat coconut cream (17% to 22% fat)
¹⁄³ cup all-purpose flour or gluten free white blend mix
*1/8 tsp guar or xanthan gum
½ cup granulated sugar
¾ teaspoon ground cinnamon
4 tablespoons nondairy butter, at room temperature
Preheat the oven to 375°F.
Lightly grease a 9-inch square pan with coconut oil and lightly flour OR for gluten free line pan with parchment paper. (see note)
In a large bowl, combine the flour, gum, baking powder, salt, and turbinado sugar.
Stir in the egg substitute, coconut oil, and coconut cream. Mix until just combined, for gluten free mix until well incorporated. (see note)
Spread evenly in the prepared pan.
Combine all the topping ingredients.
Sprinkle evenly over the batter.
Bake for 20 to 25 minutes, or until a toothpick inserted into the center comes out clean.
Let cool in the pan on a wire rack for 10 minutes. *see special note for gluten free
Transfer to a wire rack and cut into squares to serve.
Storing in the refrigerator:
Will keep covered in the refrigerator for up to 1 week.
Freezing:
Freeze in either resealable plastic bags or a hard-sided freezer container.
Reprinted with permission from "The Make Ahead Vegan Cookbook" by Ginny Kay McMeans

Ginny's coconut bread is absolutely wonderful. I easily converted this to a Gluten Free version by simply swapping a 1:1 ratio of wheat flour to my gluten free white all purpose mix plus added guar gum (or you could use xanthan gum). Gluten free baked goods should be mixed well and cannot be over mixed. The extra mixing allows time for the gum to activate and bind.

The original recipe states to remove from the pan after 10 minutes of cooling. I found using parchment paper made it easier to lift out of pan since gluten free baked goods are bit more fragile when moving.
Recipe by
Petite Allergy Treats
at https://petiteallergytreats.com/coconut-cream-cinnamon-coffee-cake-vegan-glutenfree/