Dairy Free Garlic Parmesan Gluten Free Dinner Rolls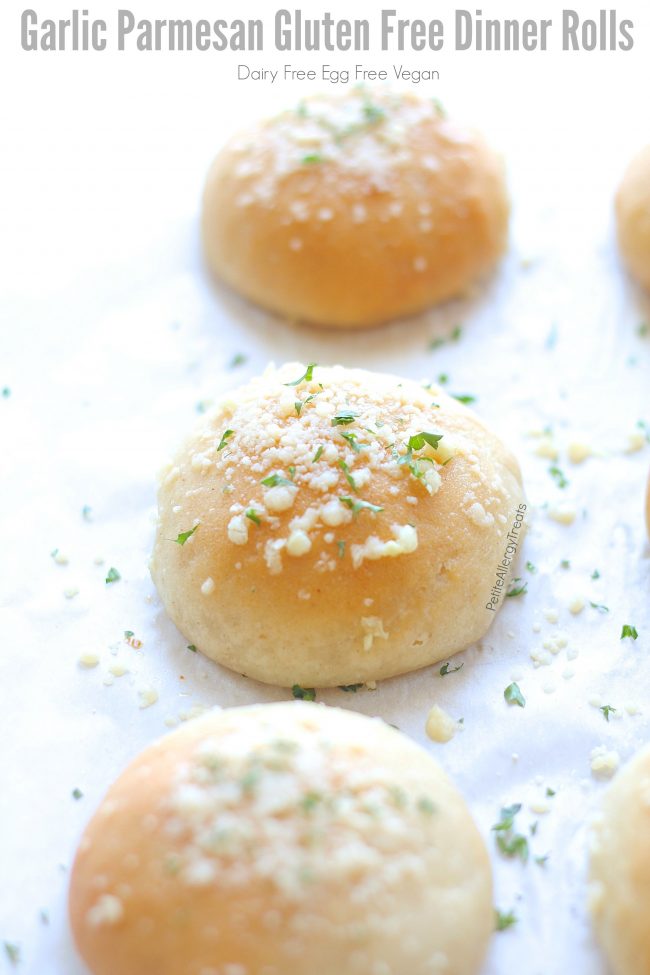 Author:
Laura @ Petite Allergy Treats
½ cup sorghum flour
1½ cup water or dairy free milk of choice
1 packet or 2½ tsp of dry active rapid rise yeast
3 Tbsp oil
2 Tbsp sugar
2 tsp guar or xanthan gum
2 tsp psyllium husk powder
¾ tsp salt
1 Tbsp oil
1 garlic clove
¼ cup dairy free parmesan cheese
Preheat oven to 350 for 20 minutes.
Heat liquid to 110 degrees. Add yeast and sugar. Allow to sit for at least 5 minutes, it should be light and foaming.
Combine flours, gum, husk powder and salt. Mix thoroughly.
Add yeast and oil to flour mixture ½ cup at a time, mixing well with a stand mixer or by hand for 10 minutes. Batter will be very thick.
Line a baking sheet with parchment paper and grease entire sheet with oil. Use a large cookie scoop or ½ cup measuring cup to measure dough.
Shape into a ball with oiled hands and gently place on baking sheet with 2 inches space. *(See note) . Repeat until batter is all gone. Gently grease the tops with oil and cover with plastic wrap and allows to rise approximately 15-10 minutes.
While dough is rising, crush garlic clove and combine with oil. Set aside.
Bake at 350 degrees for 15 minutes or until slightly golden brown. Pull buns out and brush with garlic oil and sprinkle 1 tsp of parmesan cheese on top.
Bake another 2-3 minutes until cheese melts. Serve warm.
Recipe by
Petite Allergy Treats
at https://petiteallergytreats.com/dairy-free-garlic-parmesan-gluten-free-dinner-rolls/