Vegan Raw Espresso Coffee Cream Bars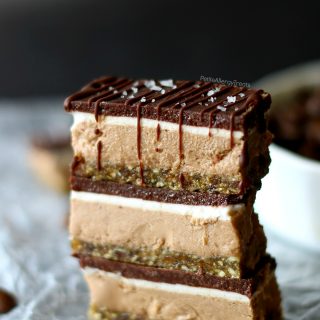 Author:
Laura @ Petite Allergy Treats
1 cup pumpkin seeds
⅔ cup packed dates
2 Tbsp hot water
pinch of salt optional
2 cups coconut cream (not milk)
4 tsp instant espresso powder
1 Tbsp date paste
4Tbsp date paste
4 tsp instant espresso powder
4 tsp dutch cocoa powder
4 Tbsp coconut oil
2 Tbsp maple syrup
2½ Tbsp dutch cocoa powder
½ tsp vanilla
Coarsely chop dates with hot water in a food processor until small chunks remain. Add pumpkin seeds and chop until small pieces remain. Press mixture into an 8x8 pan lined with parchment paper and place in freezer.
Combine date paste and coconut cream using a mixer. Break up any stubborn chunks of date paste with a fork. Mix until date paste is incorporated. Reserve ¼th of entire white base in a small bowl. Cover with plastic until needed. ( You may refrigerate but must be brought back to room temperature before adding to top of coffee filling)
Begin with the remaining white base in the same bowl. Add in 4Tbsp of date paste, cocoa and espresso powder and mix until incorporated, breaking up date paste chunks.
Pour mixture over frozen crust base. Place back into the freezer for 1-2 hours or until set before adding the next layer.
Evenly spread reserved white base over entire coffee layer. Work quickly before cream hardens and sets. Place back in the freezer to firmly set up.
Heat coconut oil, maple syrup and vanilla in a microwave safe bowl. Mix in cocoa and immediately pour over espresso bars. You'll need to work quickly to create an even layer. Place back in freezer.
Cut bars and enjoy! Keep in the freezer until needed.
The layers are completely optional if you want to cut down on time and steps. To for forgo the white layer, combine the white filling and chocolate ingredients together and only mix once and the freezing time would be extended. The end product won't be as pretty but still taste darn good!

Coffee and chocolate are a go-to treat for extra caffeine and energy. This bars are for adults and I would not suggest them for kids. (They have endless supplies of energy!) There is a jolt of caffeine in them so don't eat the entire pan and wonder why you cannot sleep later. ;-)
Recipe by
Petite Allergy Treats
at https://petiteallergytreats.com/vegan-raw-espresso-coffee-cream-bars-dairy-free/