Vegan Gluten Free Vanilla Cupcakes & Allergy Amulet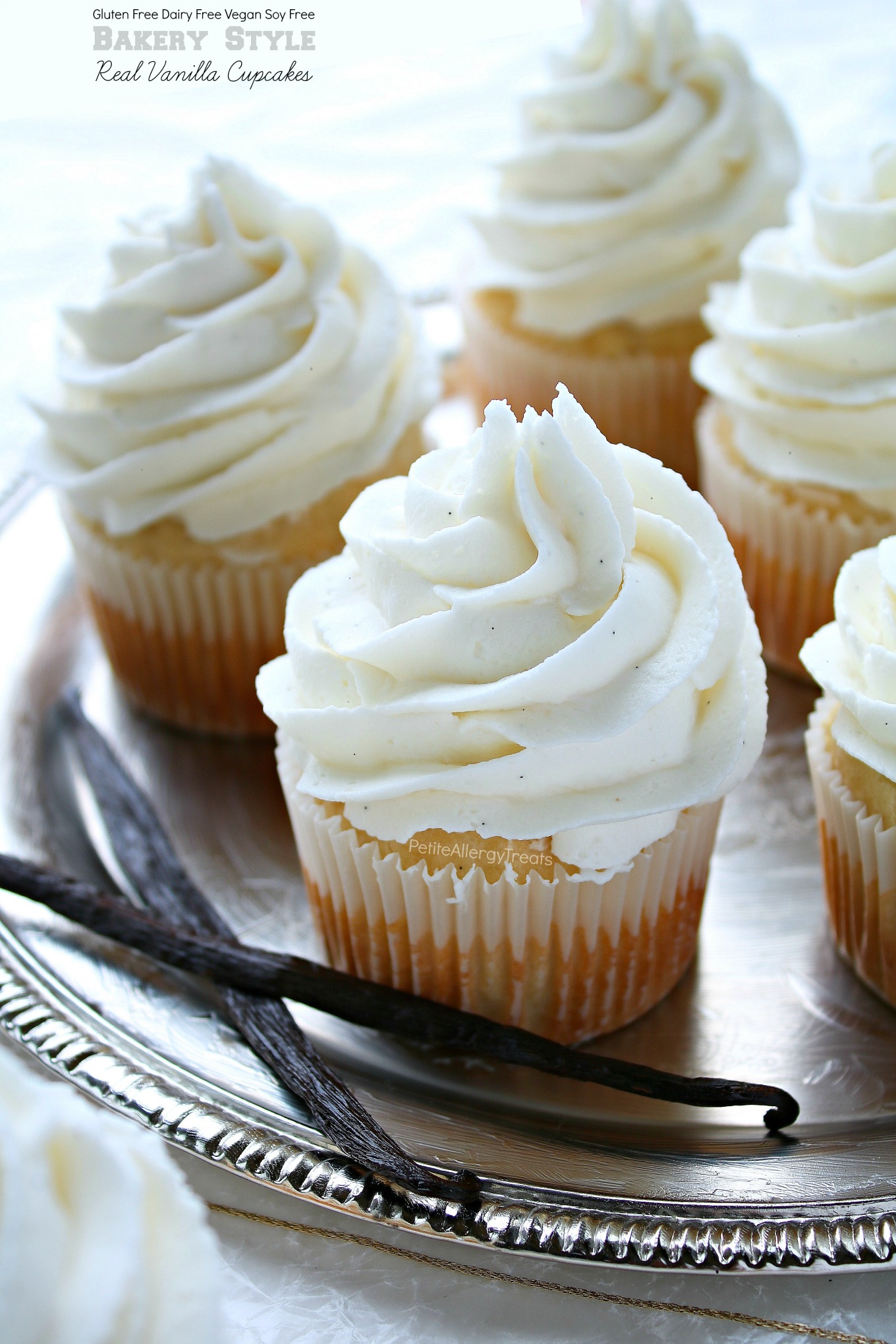 Author:
Laura @ Petite Allergy Treats
1 cup or 135g my own gluten free basic white flour blend
⅓ cup or 74 g sugar
¾ cup dairy free milk
3 Tbsp oil
1½ tsp vanilla extract
½ vanilla bean
½ tsp guar gum
1 tsp baking powder
¼ tsp baking soda
¼ tsp salt
1½ tsp fresh lemon juice
1¾ cups dairy free shortening
4 cups powdered sugar
¼ tsp lemon
½ tsp vanilla extract
½ vanilla bean
pinch of salt optional
Preheat oven for 20 minutes prior to baking at 325. Prepare cupcake tray with greased paper cupcake liners. See note*
Combine all leavening ingredients (salt, baking powder, baking soda) in a small bowl and set aside.
In a large mixing bowl, combine gluten free flour, sugar and gum in a large bowl. Mix to incorporate and set aside.
Cut vanilla bean in half. Use ½ of vanilla bean for batter and reserve other half for frosting. Scrape out vanilla bean contents. Keep empty vanilla pod for later use. See note*
In a microwave safe bowl, heat dairy free milk, oil, vanilla extract and vanilla bean for 1-2 minutes or until hot. Carefully pour into bowl with gluten free flour mixture. Use a hand/stand mixer to mix on high for 5 minutes, periodically scraping down sides.
Add leavening ingredients to batter and mix on high for 1 minute. Add lemon juice and mix again for 1 minute on high scraping down sides.
Immediately pour into greased and lined cupcake tins. Fill cupcake liners only ⅔ of the way full, it should make 9 cupcakes. Add water to unfilled spaces.
Bake at 325 for about 15 minutes or until golden brown and tooth pick comes out clean in the center.
Allow cupcakes to cool in the pan for 5 minutes before removing. Allow to fully cool before frosting. (You can place in refrigerator to speed up cooling time).
Measure and sift powdered sugar to remove any lumps.
Cream shortening with a high speed mixer until light and fluffy, approximately 10-12 minutes.
Add both vanillas and salt. Gradually add powdered sugar in ¼ cup increments until all sugar is used. Scrape down bowl every so often to ensure even mixing.
Pipe frosting onto cooled cupcakes. Garnish with fresh fruit or enjoy plain.
Store unused frosting in refrigerator for 1 week or freezer for 1 month. Allow to reach room temperature before using.
Enjoy while reading more about the Allergy Amulet!
Be sure to preheat your oven for at least 20 minutes to ensure it's HOT and ready to bake the moment you add the cupcakes. The warming the liquid ingredients helps to activate the gum and allows the flour to start absorbing moisture. Doing so will remove any graininess. The warm batter is also ready to *really* react with the leavening agents to give the lightest egg free texture.

Lightly grease the paper liners to ensure cupcakes will easily pull away and not tear the light texture.

Keep the vanilla bean pods and use them for accents on the cupcakes. Or you can even make your own vanilla sugar. Place the empty vanilla pods in a glass jar with sugar. The vanilla flavor will become enhanced in the sugar after a few days/weeks.
Recipe by
Petite Allergy Treats
at https://petiteallergytreats.com/vegan-gluten-free-vanilla-cupcakes-amulet/