Gluten Free Vegan Flaxseed Blueberry Muffins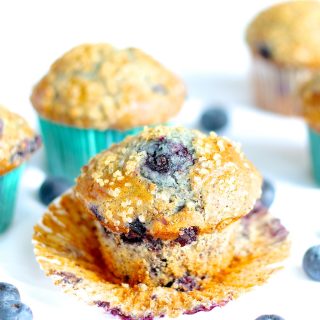 Author:
Laura @ Petite Allergy Treats
¼ cup ground flaxseed meal
⅓ cup sugar
½ cup dairy free milk of choice (water also works)
3 Tbsp oil (I used avocado oil)
1 tbsp fresh lemon juice
1½ tsp baking powder
¼ tsp baking soda
⅛ tsp salt
¾ cup small frozen blueberries
1½ tsp demerara sugar optional
Preheat oven to 375 degree F for at least 15 minutes prior to baking.
In a small bowl, heat dairy free milk of choice in microwave until hot and stir in flaxseed meal. Allow to sit and thicken for 10 minutes.
In another bowl, mix gluten free flour, baking soda, baking powder, sugar and salt. Reserve 1 full Tbsp flour mixture in another small bowl. Coat frozen blueberries in reserved flour mixture
Add oil, lemon juice and thicken flaxseed mixture. Gently fold in coated blueberries to only combine in batter (do not over mix).
Pour batter into a paper lined muffin tin, filling ¾th of the way up. Sprinkle with demerara sugar. Bake for 12 minutes with a foil tent covering muffins (make sure it does not touch the tops)
Remove the foil tent and bake another 8-10 minutes or until toothpick comes out clean in the center.
Recipe by
Petite Allergy Treats
at https://petiteallergytreats.com/gluten-free-vegan-blueberry-muffins/