Gluten Free Egg Free Bagels (Vegan Dairy Free)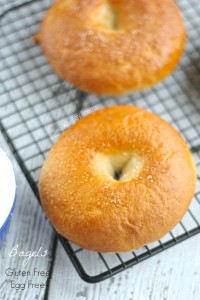 Author:
Laura @ Petite Allergy Treats
1¾ cups dairy free milk of choice or water
2½ tsp yeast or 1 packet
3 tsp guar gum
2 T oil
1 tsp salt plus extra for top
1 T sugar
Heat liquid to 100 degrees. Add yeast and sugar and mix and allow to sit for 5 minutes.
In a separate bowl mix flour, gum and salt.
In large bowl combine liquid and oil. Gradually mix in all the flour mixture by hand to avoid big lumps. Mix until all incorporated and smooth.
Use a large cookie scoop or spray a ½ cup to scoop the dough. With wet hands form dough into a ball and use a finger to poke a hole in the center. Gently shape into bagel form by expanding the hole. Place on a individual piece of parchment paper on a baking sheet lined with parchment paper. (see pic)
Spray tops with oil, cover with plastic and allow to rise in a warm place for about 20 minutes. (Don't allow to double in size or else it will lose its shape and fall apart in the bath.)
Bring a large pot of water to a rapid boil. Gently drop a max of 2 bagels in the water and boiled each side for only 30 seconds each side. Remove individual parchment paper pieces and place back on baking sheet. Sprinkle with salt.
Bake at 450 degree for 14-16 or until golden brown.
Be careful moving bagels to and from the water. The extra sheet of parchment paper makes it easier to move and comes off easily after boiling. The water should be a rapid boil and only let them sit for a short while on each side or else they will absorb too much water and become soggy. If you can, allow your oven to preheat at least 20 minutes prior to baking. These freeze extremely well and can be used for sandwich bread.
Recipe by
Petite Allergy Treats
at https://petiteallergytreats.com/gluten-free-vegan-bagels-egg-free-dairy/