Gluten Free Reindeer Soft Gingersnap Cookies (vegan)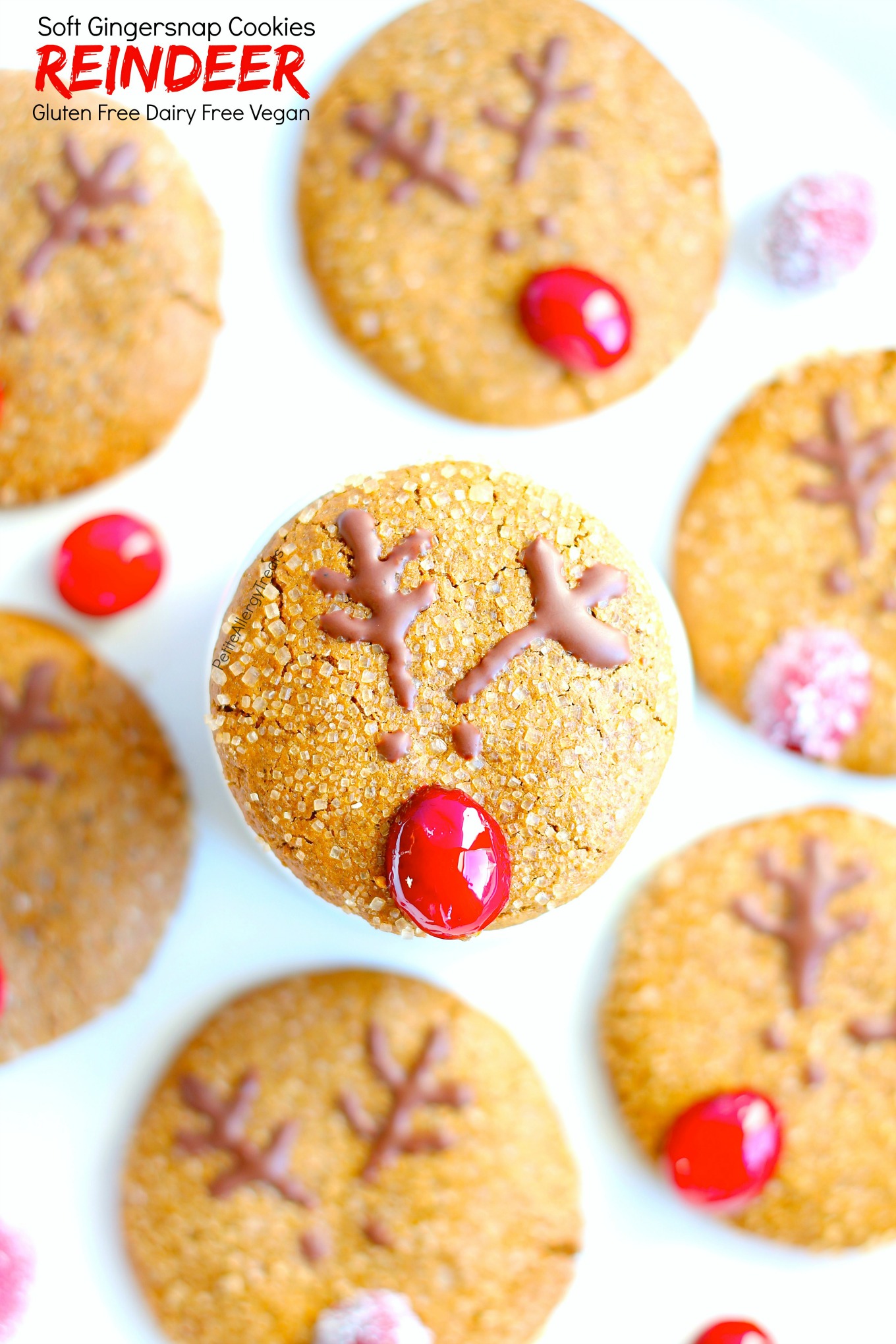 Author:
Laura @ Petite Allergy Treats
1½ cups white sugar
½ cup + 1 Tbsp vegetable shortening
⅓ cup + 2 tsp molasses
⅓ cup + 2 tsp dairy free milk or water
2 tsp guar gum
1 tsp baking soda
1¾ tsp ground ginger
¾ tsp cloves
¾ tsp cinnamon
Sugar for coating
½ cup allergy chocolate chips
Make the Sparkling Cranberries ahead of time without adding extra sugar coating for a super shiny nose.
Use a mixer to combine shortening, molasses, sugar, milk, and spices in bowl until ingredients are well combined and sugar is dissolved.
Add baking soda, gum and gradually add all of the flour while constantly mixing. Continue to mix until all the flour is incorporated. Dough will be sticky.
Use a cookie scoop to form balls approximately 1 tablespoon in size. Roll dough in sugar and place on a parchment paper lined baking sheet. Very slightly flatten. Leave 1 inches of space between, cookies will expand but not spread.
Bake at 350 degrees for 6-8 minutes only. Look for the edges to turn golden brown. The center will appear wet and soft, cookies will continue to bake on the sheet. Allow cookies to fully cool before moving or else the cookies will fall apart.
Melt ¼ cup of chocolate chips in a microwave safe bowl. Mix in remaining unmelted chips.
Pipe eyes and antlers on the center of cookie.
Cut the sparkling cranberry in half length wise and attach with more chocolate.
Enjoy!
Recipe by
Petite Allergy Treats
at https://petiteallergytreats.com/gluten-free-reindeer-gingersnap-cookies/