These Sparkling Cranberries are not only beautiful but are a simple wholesome treat that is naturally gluten free, Vegan, dairy free, egg free, soy free peanut free, tree nut free and seafood free. This is quick and ready in just 15 minutes.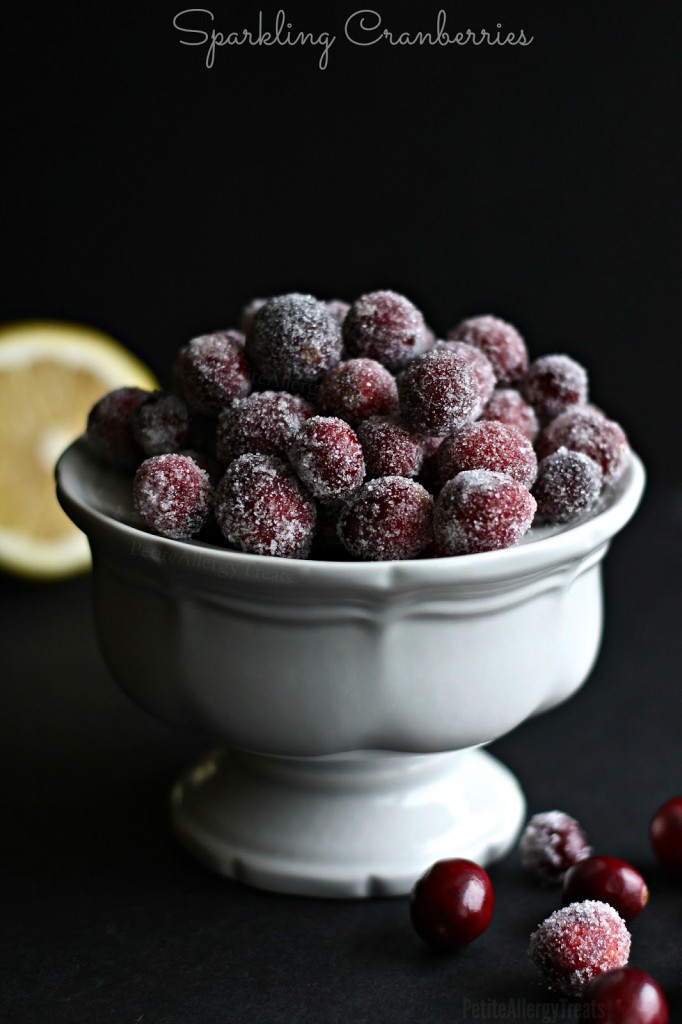 Ok. So time is FLYING. I really missed the whole Christmas cookie boat this year since I don't have a single new recipe up. But I am really proud I was able to make my Gingerbread House I wanted to make last year. And this year I got side tracked with all the pretty foods with recipe development. Of course it usually takes me a good few weeks to create a great recipe from the ground up…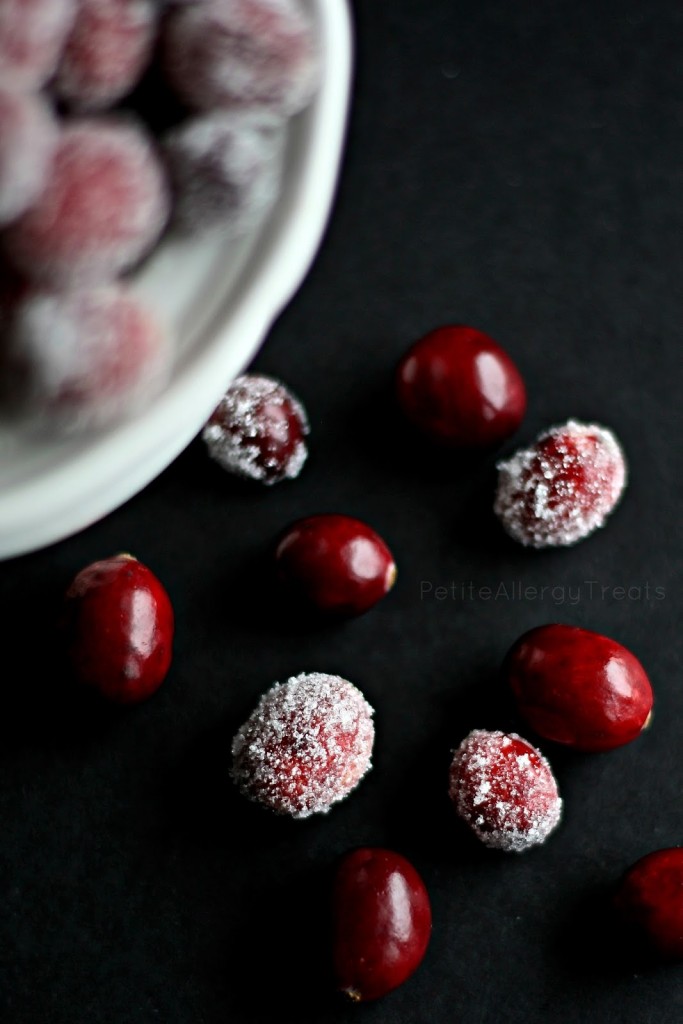 Except for this.
These cranberries have been jumping all over social media and Pinterest like crazy. I don't know if they are a new thing, but knew I wanted to try them since it's literally just sugar and fruit. The few recipes I peeked at took waaay too long for something that seemed so basic.
I took the cheater way out and used the microwave to make a simple syrup with a touch of lemon juice. The cranberries stayed crisp and actually pop when you bite into them.
Another awesome factor about these fresh sparkling cranberries is, they are natural. And relatively healthy. AND the big one of us: They don't contain sunflower oil.
For some crazy reason, all dried cranberries (sugar free or not) contain sunflower oil. Seems a bit strange but every-single-brand I've found contains this. I realize it's to reduce clumping and sticking… but that also means we can't eat dried cranberries.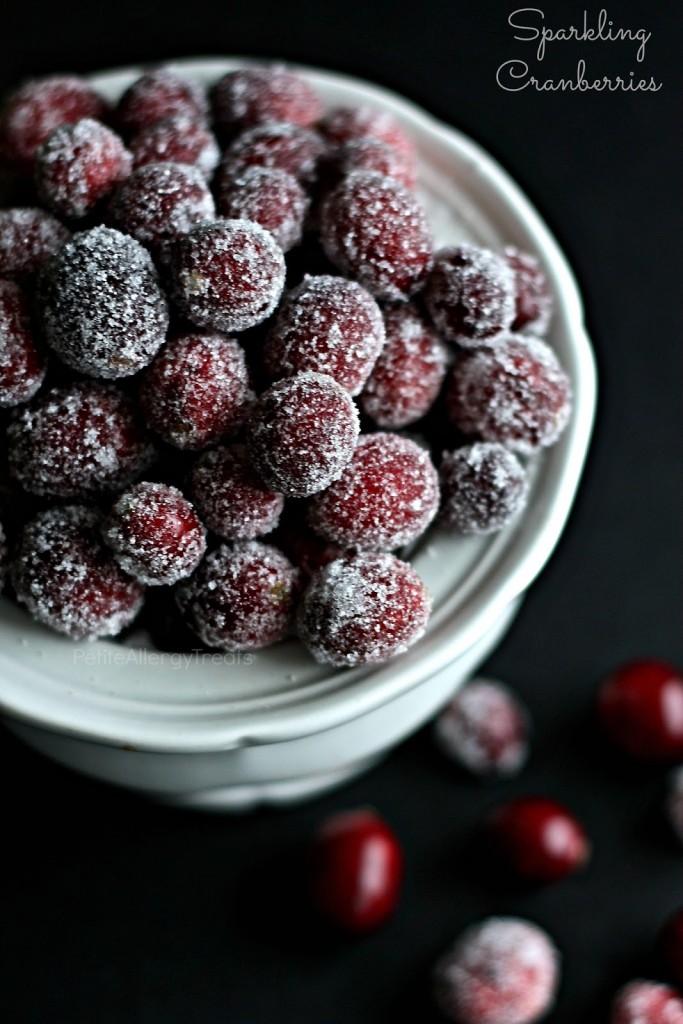 Sunflower allergies seem to be on the rare side but that's one that Mr. Naughty is anaphylatically allergic to. I've mentioned it before but this complicates so many other foods that don't actually contain sunflower directly.
For instance, honey is also listed as one of our allergies. Why? Well… you never know where those darn bees are collecting all their nectar. Really. It's been proven. Samples of honey were tested and 66% or 2/3 of all tested honey had levels of sunflower proteins.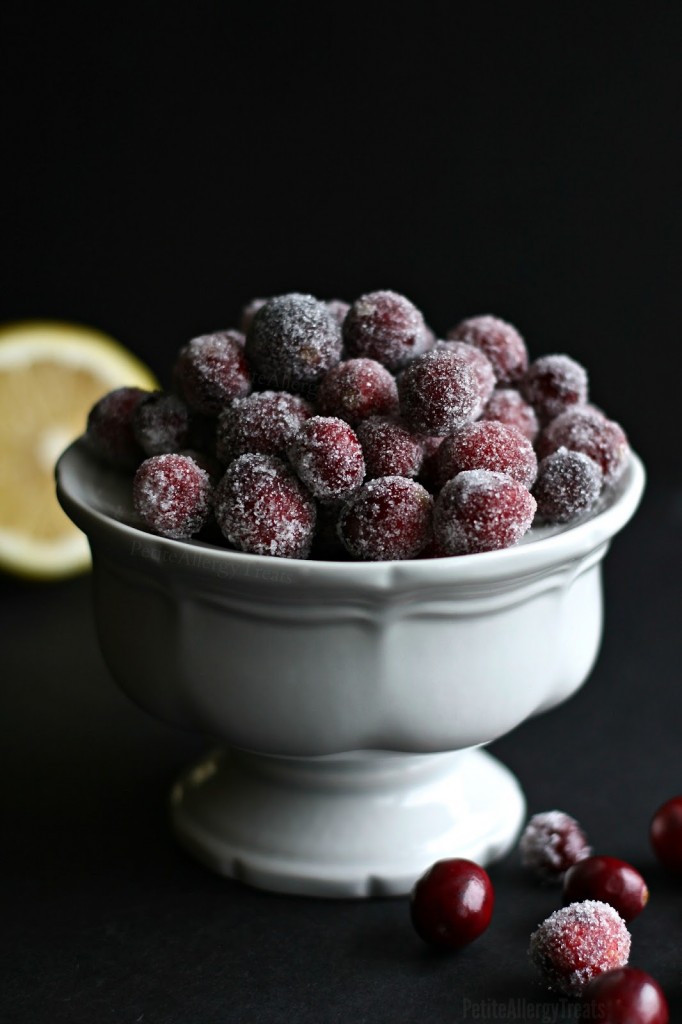 Another strange source (that we avoid just to be safe) is the Stevia plant. While it's not sunflower, it's a close relative. This can be a little tricky since stevia is used to make a bunch of alternative sweeteners like Truvia, Xylitol etc. It's been ok since everything we eat isn't prepackage or made outside the house.
Some weird facts but true…
Enjoy these super easy naturally beautiful treats!
Modified from Sugar Dish Me
Ingredients
1 cup fresh cranberries
3/4 cup sugar
1/2 cup water
1 tsp fresh lemon juice (optional)
Directions
Thoroughly wash cranberries and shake off excess water.
Create a simple syrup by heating the water, lemon juice and 1/2 cup of sugar in a microwave safe bowl for 40 seconds or until sugar is dissolved.
Gently submerge cranberries with a spoon to evenly coat with syrup. Allow to sit for about 2 minutes.
Remove cranberries from syrup and place on a cooling rack to drip dry for about 5 minutes.
In a large bowl or ziplock bag, use the remaining 1/4 cup sugar to evenly coat with sugar.
Best enjoyed within 1 or 2 days of making. Store in a dry container. These have a crunch and pop from the combination of the skin and sugar coating. They are highly addictive, like popping candy. 😀

Some other things you may like: