Enjoy the best fudgy gluten free egg free brownies everrr.  These vegan brownies are BEAN FREE.  Finally, a real egg free brownie not made with beans (bean allergy here).  Added bonus: super food allergy friendly since they are dairy free, egg free, soy free and nut free.   You would never know they are free of the top 8 food allergens!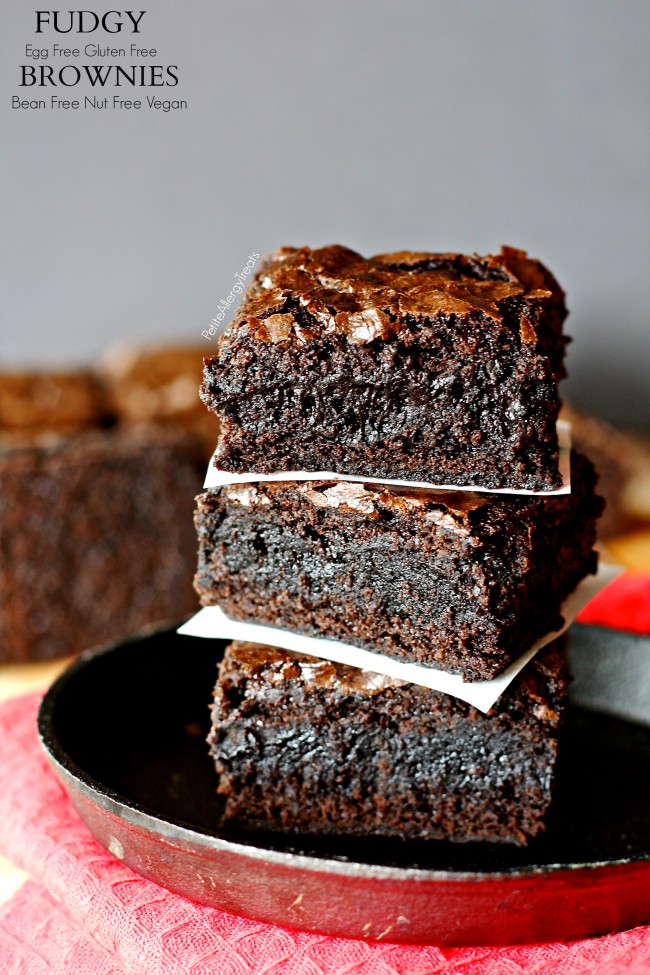 The term fudgy, egg free and brownie so rarely go hand in hand… And if you see these words together, often the main ingredient is black beans or chickpeas.  I have nothing against those ingredients (except we're allergic to them) but they don't make a real brownie in my opinion. Many probably wouldn't consider a gluten free egg free Vegan brownie to be "real" either.  Well, to those people, I'll tell you this–These gluten free egg free brownies have the ULTIMATE level of fudgy gooey-ness you'd find in any traditional brownie.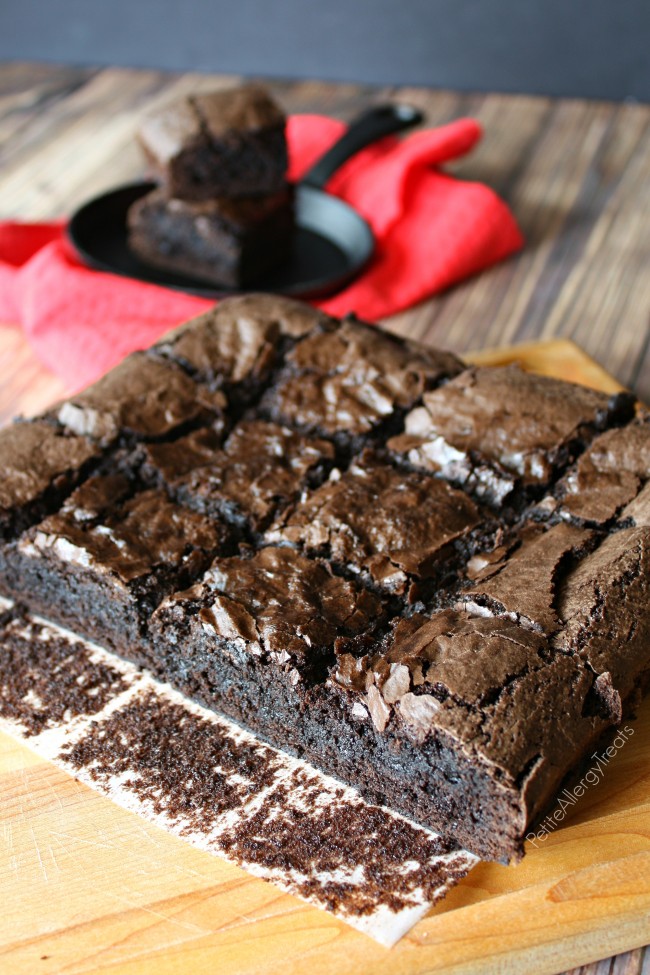 The brownies are TOO fudgy according to my husband.
Yeah.  As if a high level of fudginess is reeally a problem with a dessert…
Many of you were just as shocked as I was when my husband complained they're too rich.  I take his opinion seriously.  He's my go to man for real taste tests.  My husband is always willing to give an honest and constructive critique.  And I trust that.
That is until now.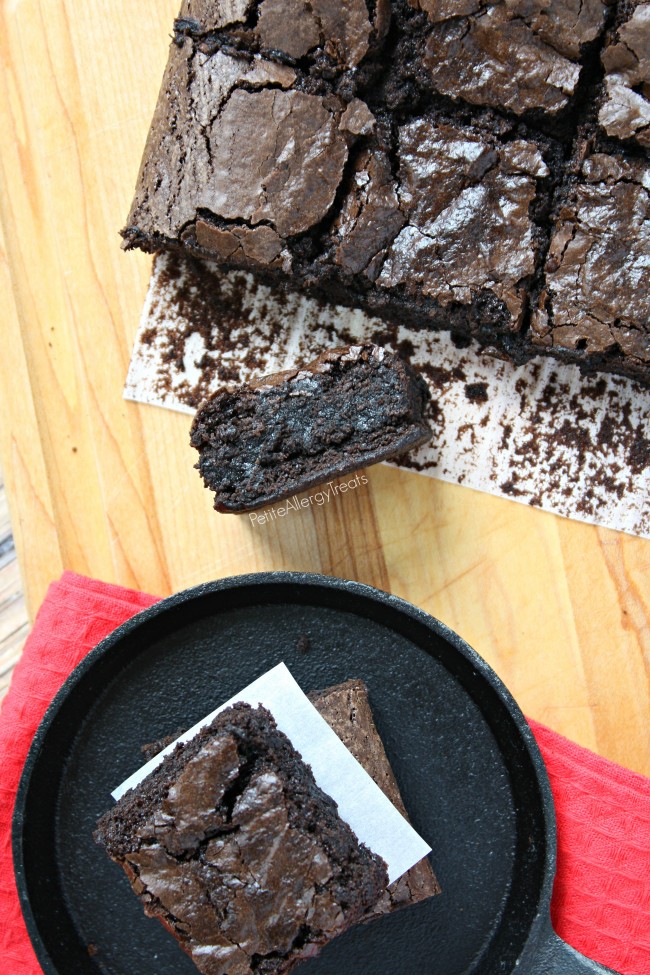 Can anything chocolate really be too fudgy or chocolately???
I think not.
But this has me thinking, maybe some people do.
I asked all of you on Facebook to tell me what type of brownie you liked best:
1. Fudgy
2. Crispy
3. Extra moist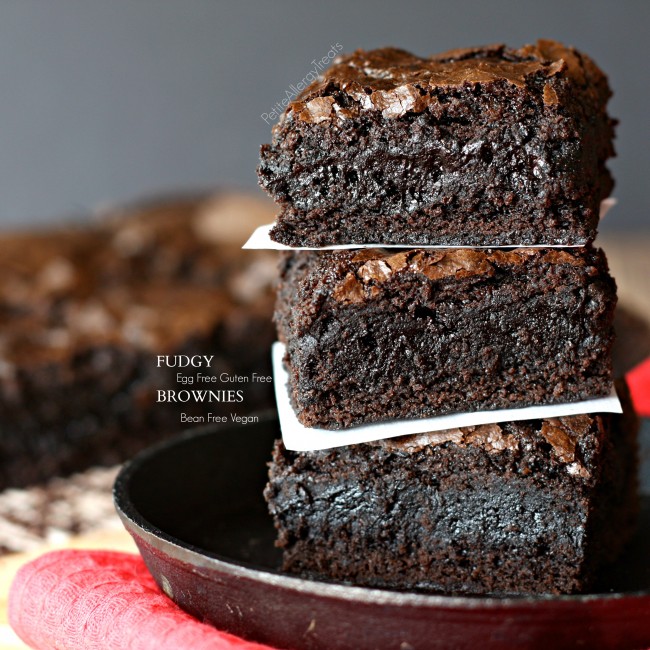 And boy did you tell me… Over 113 comments.  Your answers were predominately FUDGY.
So without further ado, here are these incredibly too fudgy gluten free brownies made from normal gluten free flours and no beans or legumes. Whoo!

Fudgy Gluten Free Brownies (Egg Free)
Author:
Laura @ Petite Allergy Treats
Ingredients
¼ cup tapioca flour
1¼ cup sugar
½ cup dutch processed cocoa
½ cup + 2 Tbsp milk of choice
½ cup oil
1½ tsp vanilla
¼ tsp baking soda
2 tsp guar gum
pinch of salt
Instructions
Combine dry ingredients except sugar and set aside. Combine milk, oil, vanilla and sugar. Mix well and allow to sit for at least 4 minutes allowing the sugar to dissolve.
Use a mixer to gradually combine the remaining dry ingredients. Batter will be thick.
Spray or line an 8x8 pan with parchment paper for easy removal. (see photo above) Evenly spread batter.
Bake at 350 degree F for 27 minutes. Check the center around 25 minutes. If you want an extremely gooey center take the brownies out now, for a more firm crispy brownie with a dryer texture check again at 29 minutes. The best of both worlds is at 27 minutes, overall fudgy brownie with crispy outside edges and corners-- still very moist overall. The center will remain the most moist and fudgy no matter what the time.
Allow to fully cool before cutting an removing from pan.
Notes
My gluten free flour mix contains less starch so if you are using a mix, you can omit the extra tapioca and add ¼ cup more GF flour instead. It's important to allow the sugar to dissolve entirely or else the texture will be grainy. For a more gooey center, cook less and for extra crispy edges cook longer. I used a very dark dutch processed cocoa so the color will vary depending on the type of cocoa used. If your mix contains gum already, omit adding extra gum.
Follow me for the latest news!
Some other things you may like: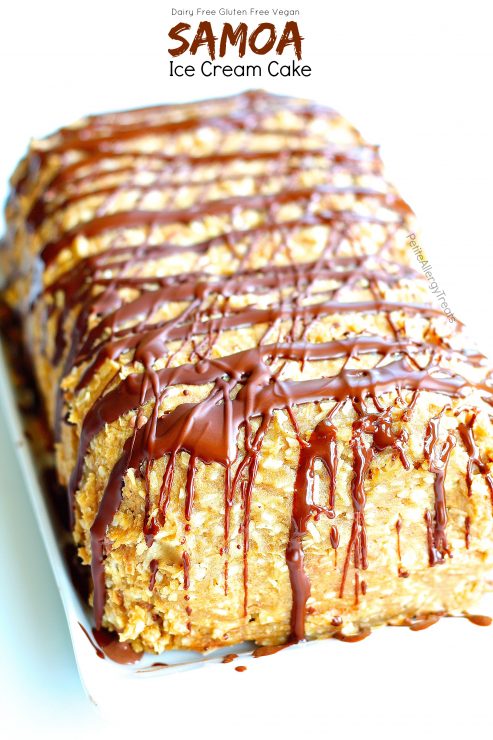 Gluten Free Dairy Free Samoa Ice Cream Cake (aka Caramel deLites)- free of top 8 allergens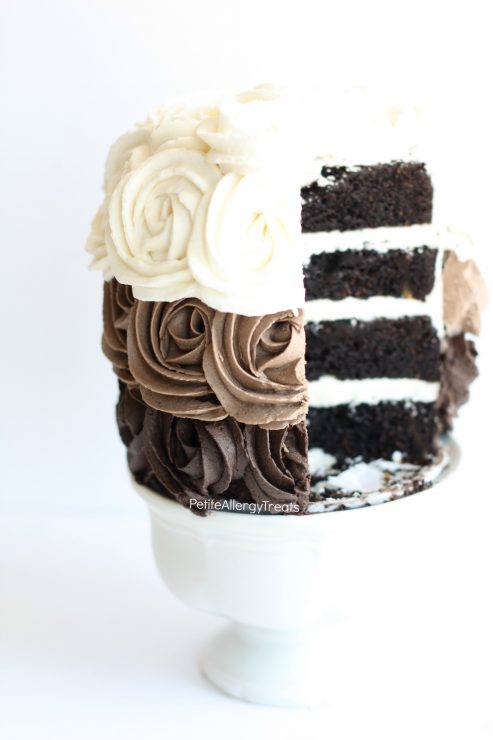 Gluten Free Vegan Chocolate Cake (Dairy Free)– egg free, nut free, soy free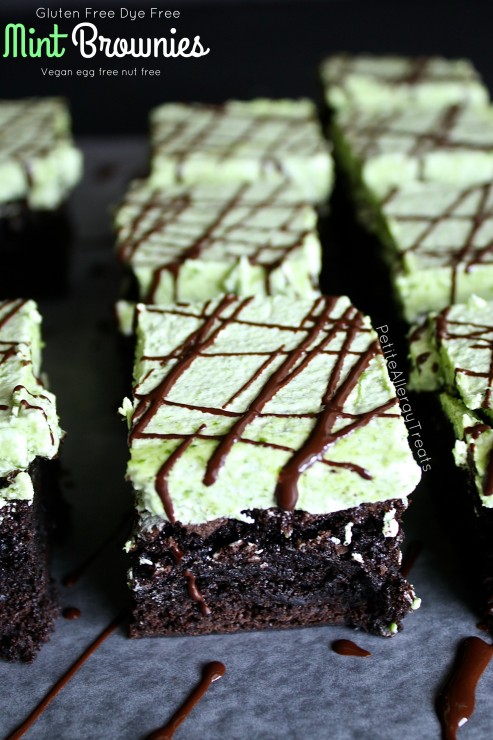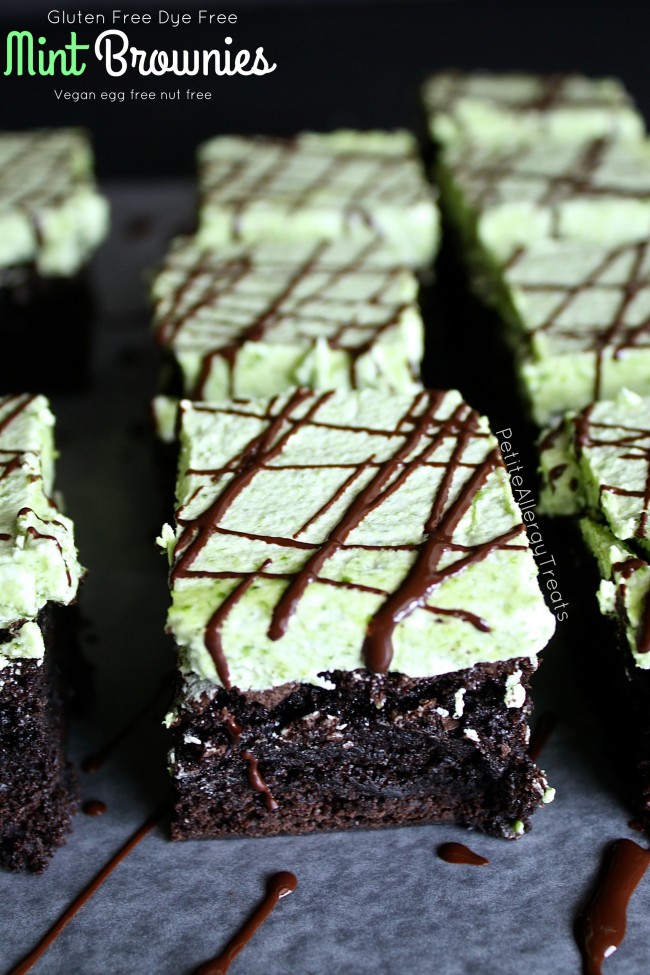 Gluten Free Mint Brownies- dye free egg free Vegan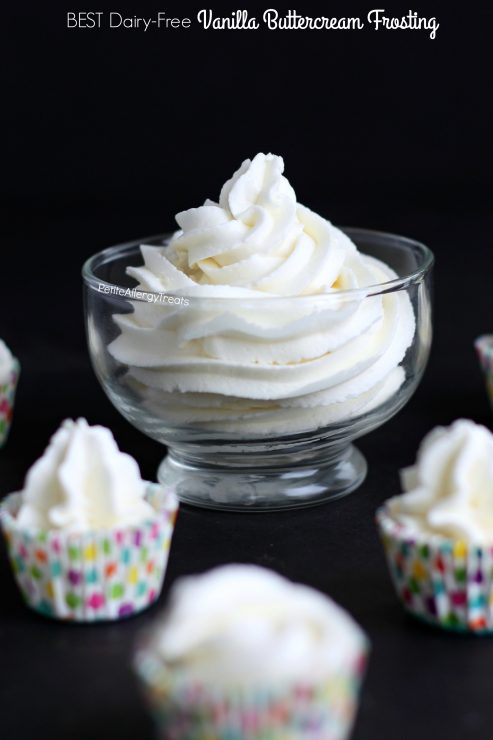 Best Easy Dairy Free Buttercream Vanilla Frosting-vegan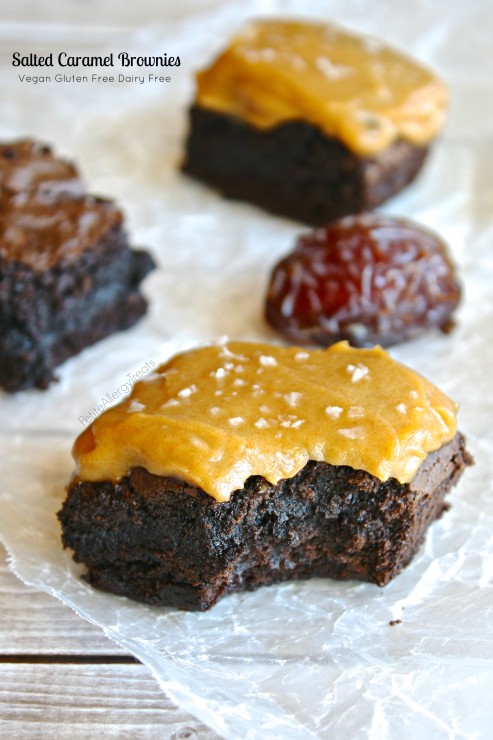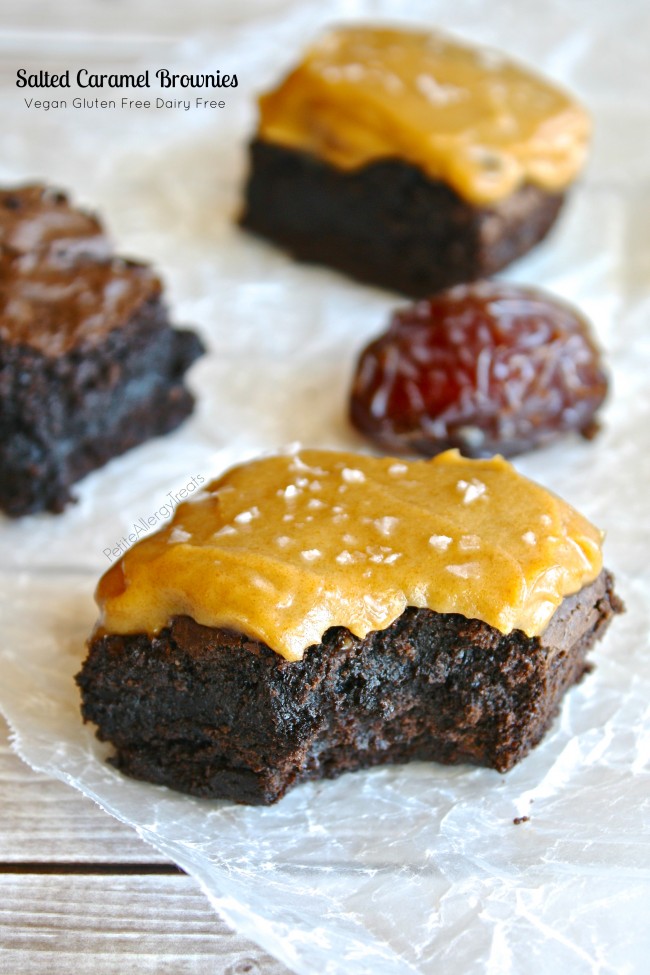 Salted Caramel Brownies- gluten free egg free vegan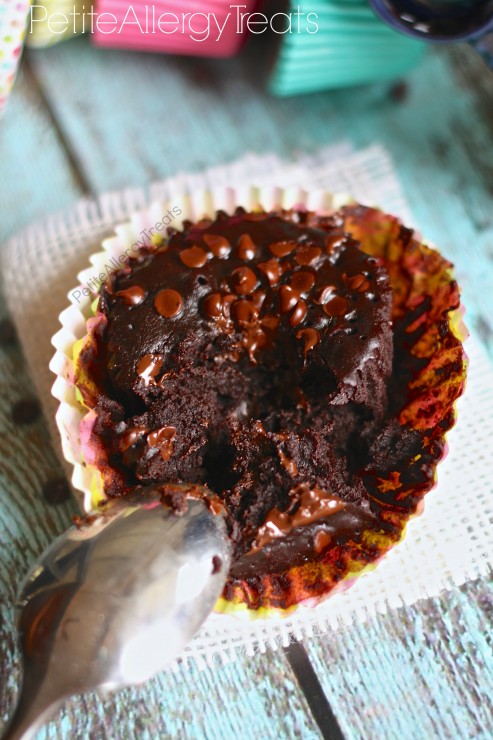 Mug Brownie- gluten free vegan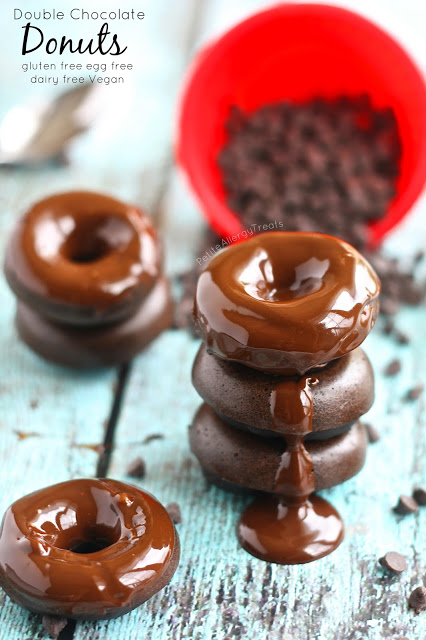 Double Chocolate Gluten Free Donuts- egg free Vegan dairy free