Easy and beautiful Gluten Free Orange Cranberry Bread with Sparkling Cranberries.  This Vegan cranberry pound cake is super moist with just the right amount of tart from the cranberries.  It's a traditional cranberry bread but better since this cake is dairy free, egg free, nut free and Vegan.
Thank you to Enjoy Life Foods for sponsoring this post!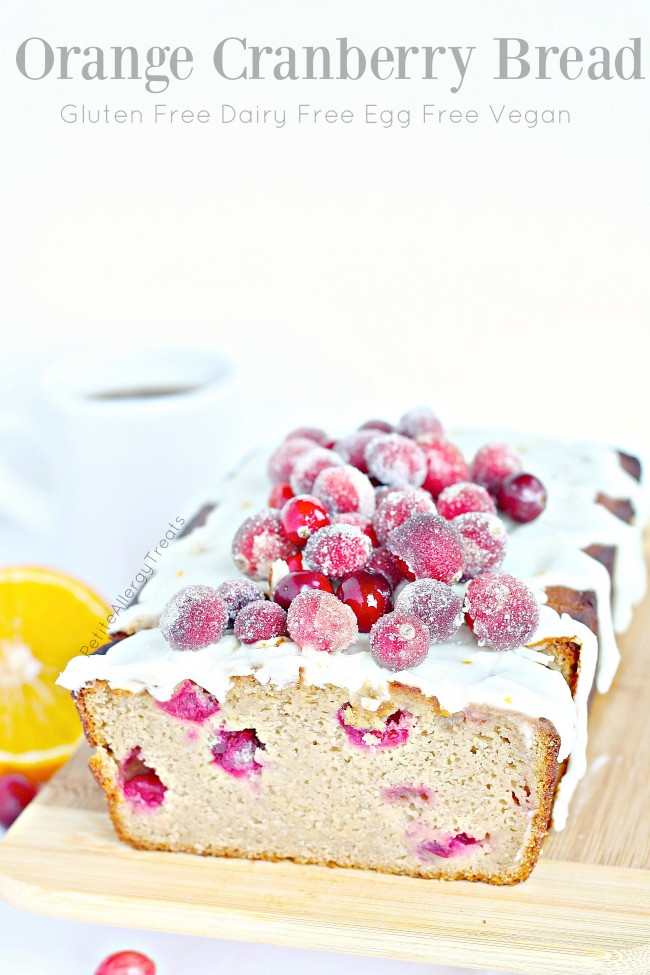 My goodness, it's December.  How did that happen?  This marks the true beginning for the Holiday craze.  Less than 1 month until Christmas which can mean lots of things…  Snow. Shopping. Parties. EXHAUSTION.
Every year, I think I'll work ahead and simplify things so I can enjoy more time with family and friends. Annd every year this doesn't happen.  There are just too many things to do.  From extra school projects to special treat days.  That silly Elf on the Shelf shows up too… The big Thanksgiving day feast leads directly into this madness, clearly throwing a wrench in simplifying things.  You know what I mean.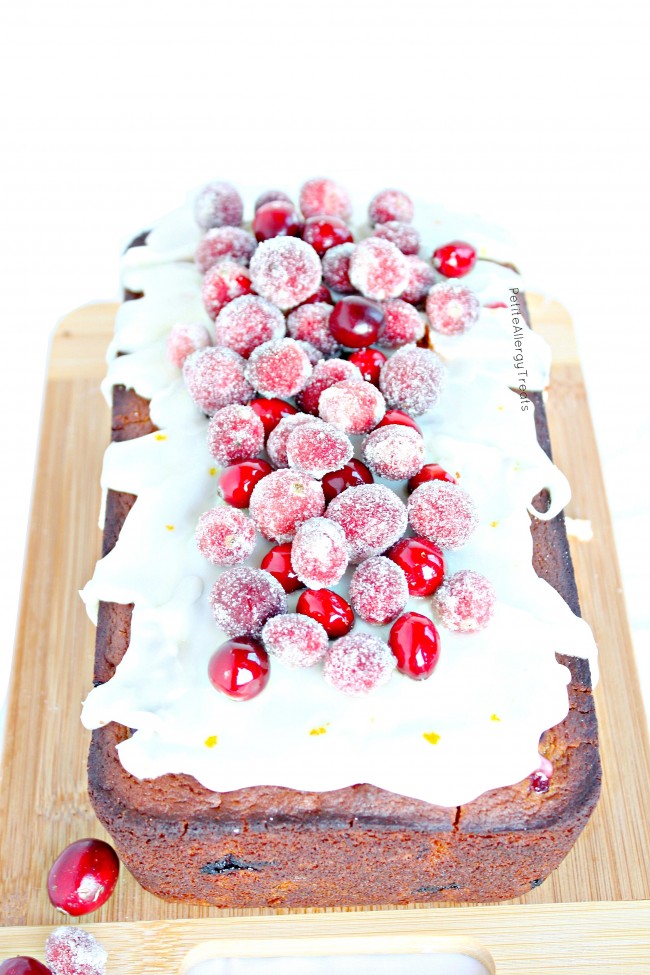 If I'm being completely honest, right now I'm already dead tired.  Exhausted, would really be a better term.  But that's pretty standard following the creation a food allergy friendly Thanksgiving solo every year, right?  Food allergy parents don't have the luxury of dividing dishes for guests to bring (unless you're very lucky and have friends/relatives that can cook allergy foods)  And you can forget heading to the nearest store for a pie or sweet dessert…
But
I am attempting to simplify special treats and holiday baking with this gluten free orange cranberry bread.  This lovely loaf was from a box.  Yep.  A box. I'm starting to realize you cannot do everything all the time.  Especially with gluten free egg free baking…fails are inevitably sometimes.  So I give you permission to grab a quality boxed mix.  That my friend, is exactly what I did recently.  I have no shame in admitting I grabbed the new Enjoy Life Foods Muffin Mix to create this gluten free orange cranberry bread or cranberry pound cake.  It made things a ton easier.  I have not been feeling well lately so this is a huge time saver and allows me to still be the Super Food Allergy Mom I want to be and who is expected to make holiday treats.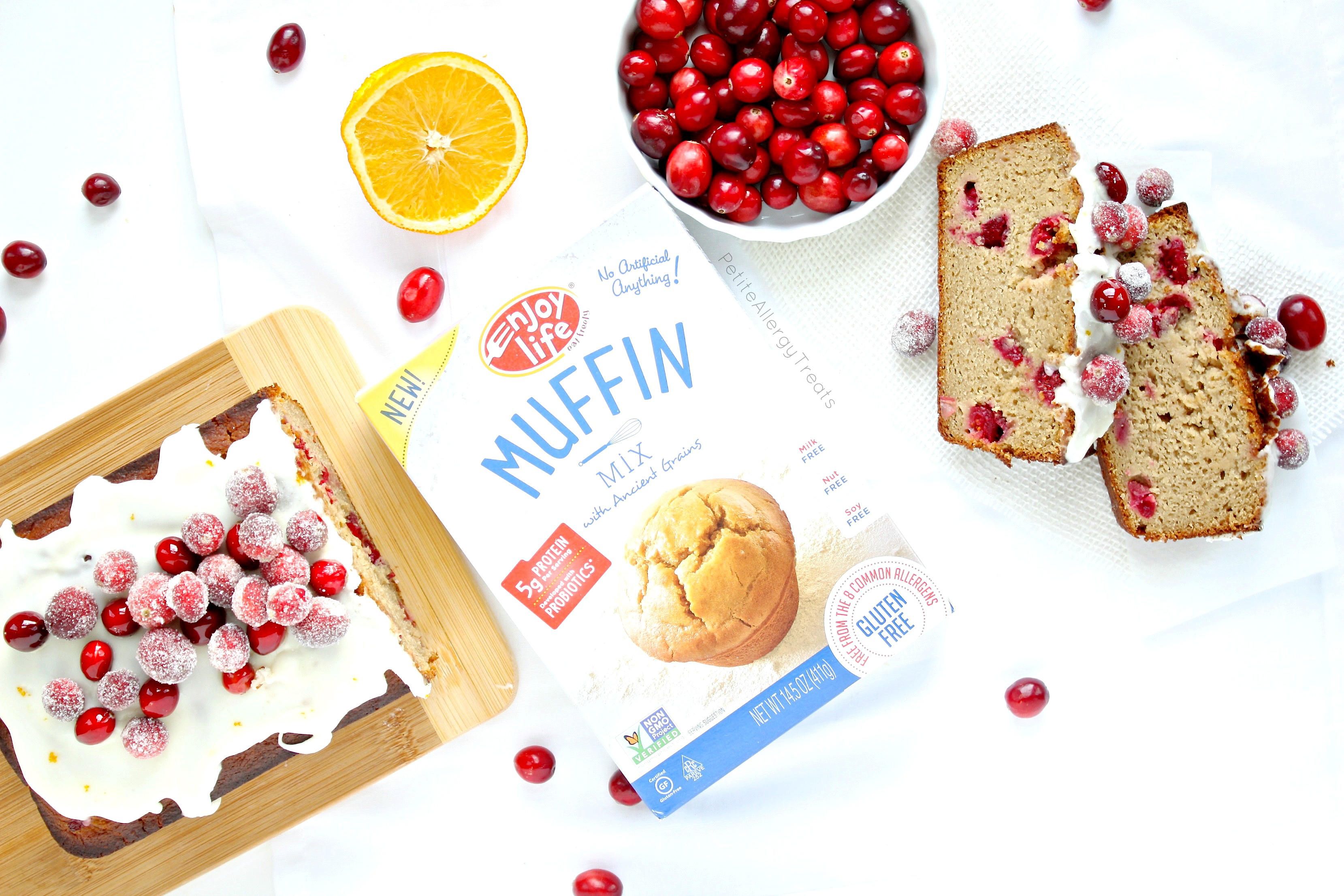 I don't feel guilty using this mix either since it contains whole grains like Teff, Buckwheat, Quinoa and Millet flours.  It even has special probiotics that survive the heat with baking.  I've raved about it before in my review of all the baking mixes but now I appreciate all these things even more!
Want to know the best thing about the Enjoy Life Mixes (and also true of all products)?  They are all made in dedicated Top 8 Free Food Allergen facility.  I know I won't have to worry about cross-contamination of peanuts, tree nuts, egg, milk, soy or shellfish/seafood.   Zero risk of the Top 8 Allergens = less worrying.  And piece of mind is priceless.
So a Muffin Mix for a quick bread or pound cake, huh?  Well, why not?  Muffins, pound cakes and quick breads are all very similar desserts.  Traditional pound cakes called for a 'pound' of each ingredient but that doesn't hold true for most pound cake recipes now.  Don't even get me started with egg free gluten free poundcake… Quick breads are essentially giant muffins with similar structures.  But then we have cake and cupcakes.  Cupcakes are miniature cakes but have similar shapes as muffins.  The ingredients are similar but the toppings typically sets a muffin and cupcake apart.  But the lines get blurred when muffins contain sugary glazes and other decadent toppings.
So really, this cranberry bread is a cranberry pound cake or cranberry muffin OR just cranberry cake.  Which ever you'd like to call it, it's down right delicious!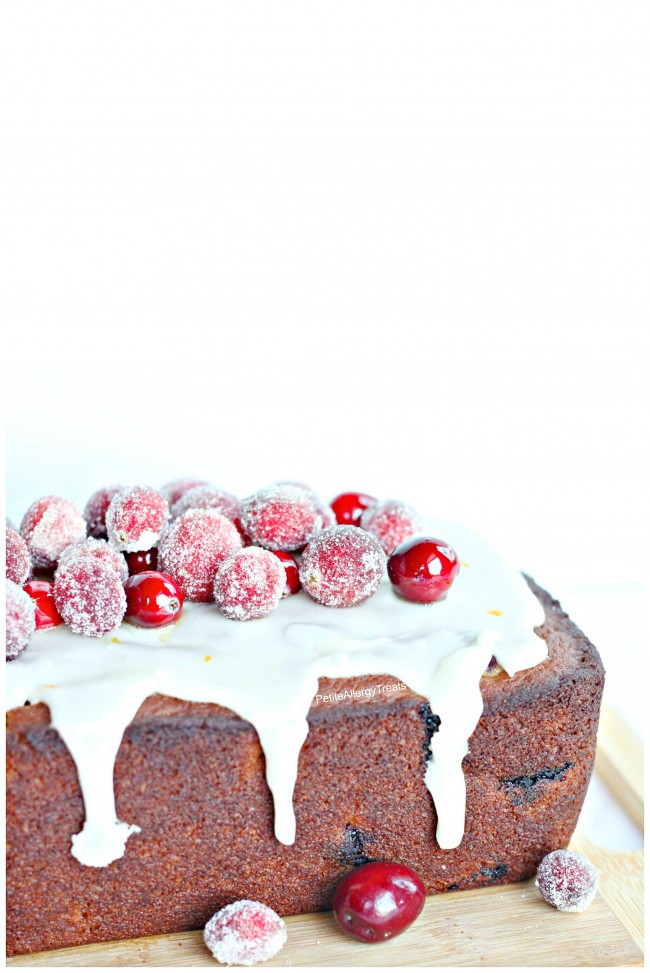 This gluten free orange cranberry pound cake is just one possibility of using a mix that already contains all baking ingredients, binder and sweeter.  Just throw everything in a bowl and mix.  Washing the cranberries takes the longest.  If you can't find fresh cranberries (or vow you do not like them) you can substitute another fruit like cherries.  But if you can find fresh cranberries, and want those lovely sugared cranberries on top (I call them sparkling cranberries, you can find them here), plan on making these in advance the night before or while the bread is baking and cooling.  I added applesauce and a little maple syrup for extra texture and keep things super moist.
A few things to note about this recipe and I'll let you get to baking…
Use a water bath to help control your oven temperature and add moisture.  This method will also help avoid an extreme cracked peak in the center. The crust on the bread won't develop as fast and be able to expand with less of a large crack in the center overall.  Just an FYI, a cracked top is considered normal for muffins and quick breads.  That's fine and all but with gluten free egg free baking, that deep crack will cause those middle pieces to fall apart when sliced.  And no one wants that. 🙁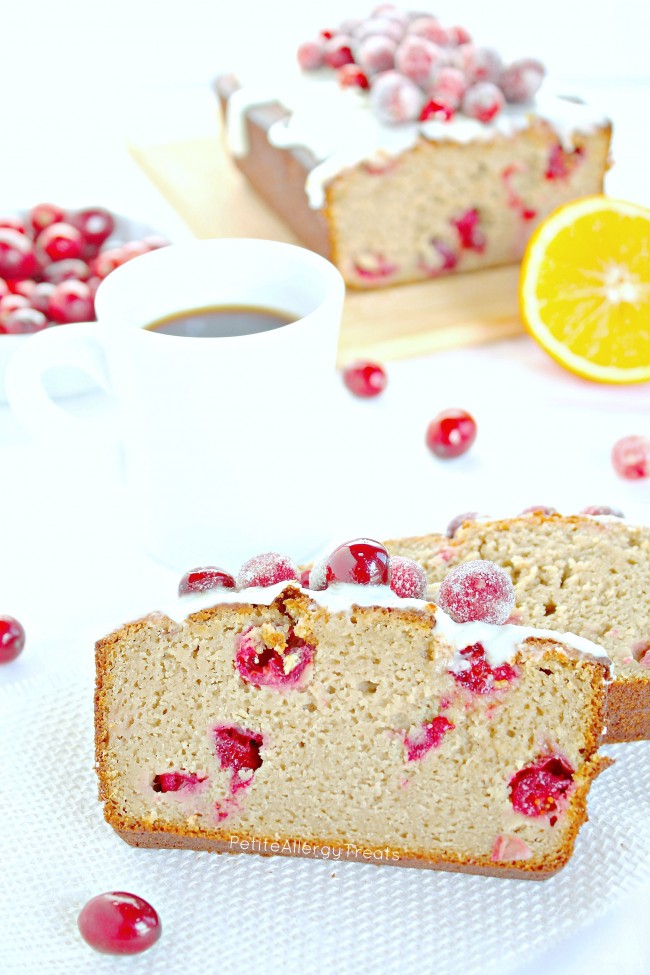 This bread will also brown rather quickly at this temperature from the sugar and maple syrup.  Check the bread occasionally to ensure over browning (aka burning 😛) doesn't happen.  To control browning, cover the top loosely with a foil tent about half way through at 30-35 minutes.  It is completely optional to add the orange juice in the glaze, orange zest, or just use water if you cannot tolerate citrus fruits.
All right, that's all you need to know about this gorgeous and ridiculously easy gluten free orange cranberry bread.
Now that I've given you this lovely cake, I have to get on that Christmas shopping thing.  I've delayed it long enough.  It's off to the malls and stores… gah.  Just thinking about it makes me exhausted.  Do you feel like this too?  If so, I give you my full permission to make things easier this busy holidays season and use a mix.  You will thank me later. 😉

Gluten Free Orange Cranberry Bread
Author:
Laura @ Petite Allergy Treats
Ingredients
½ cup palm shortening or oil of choice
1½ cups unsweetened applesauce
¼ cups + 2 Tbsp maple syrup
1½ cup fresh cranberry (frozen is ok, do not thaw)
Topping
1 cup powdered sugar
4-5 tsp fresh orange juice
Instructions
Preheat oven to 375 degrees F for at least 15 minutes with a shallow pan filled with water on the lowest rack.
In a large bowl combine mix, melted oil, applesauce and maple syrup. Mix well removing any lumps. Fold in cranberries and gently mix. Pour into an oiled a 9x5 bread pan.
Bake at 375 for 45-1 hour (mine took 54 minutes). Cover with a tent foil halfway (30-35 minute) to avoid over browning.
Check the center with a toothpick; when it comes out clean it's done. Or use a thermometer to reach 180 F.
Let bread cool in the pan for 5 minutes then gently move to a wire rack. Allow bread to cool off completely before icing.
Topping
Mix powdered sugar and fresh juice orange until a thick smooth glaze forms. Feel free to add 1-2 tsp orange zest.
Pour over completely cooled bread and top with sparkling cranberries.
Notes
This bread is really a pound cake: moist, sweet and dense. Refrigerator helps to any gluten free bread slice better. Use a sharp serrated knife when cutting to achieve clean cuts and minimize crumbs.
Find all the entire line of 
Enjoy Life Baking Mixes
 here.  To see all the latest from Enjoy Life Foods including recipes and the latest news, be sure follow them their social media on
Facebook
and
Twitter
Disclosure: This post was sponsored by Enjoy Life Foods.  Thank you for allowing me to work with brands that fit our allergy needs!
Some other things you may like: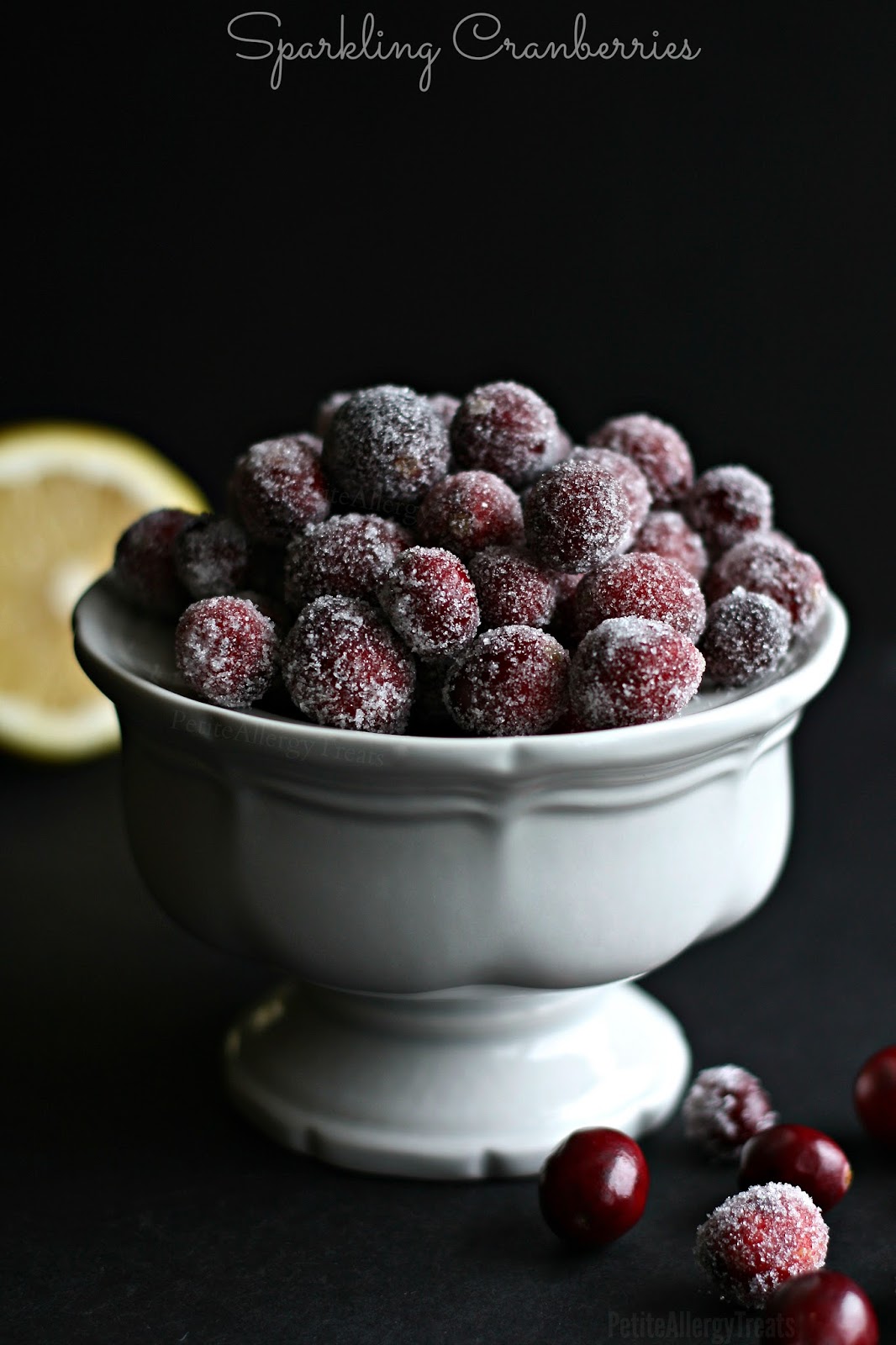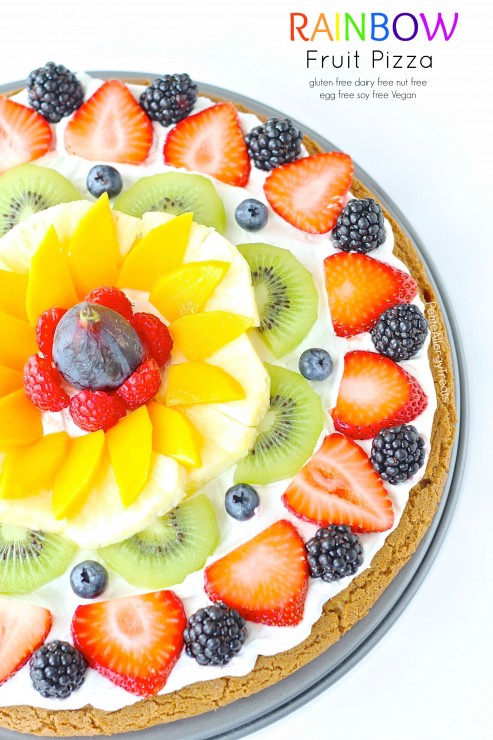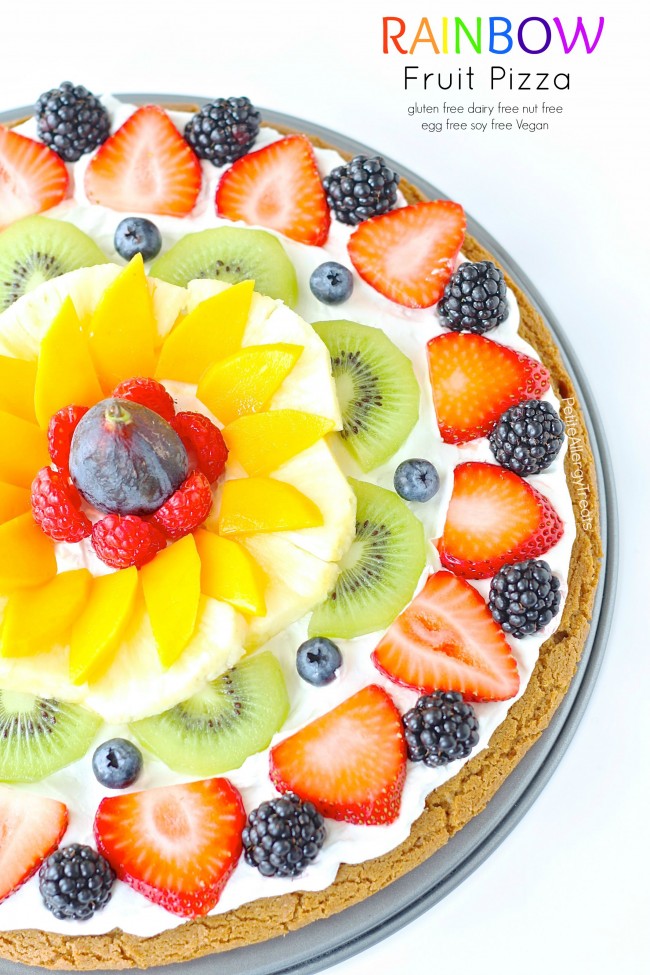 Rainbow Fruit Pizza (dairy free egg free Vegan)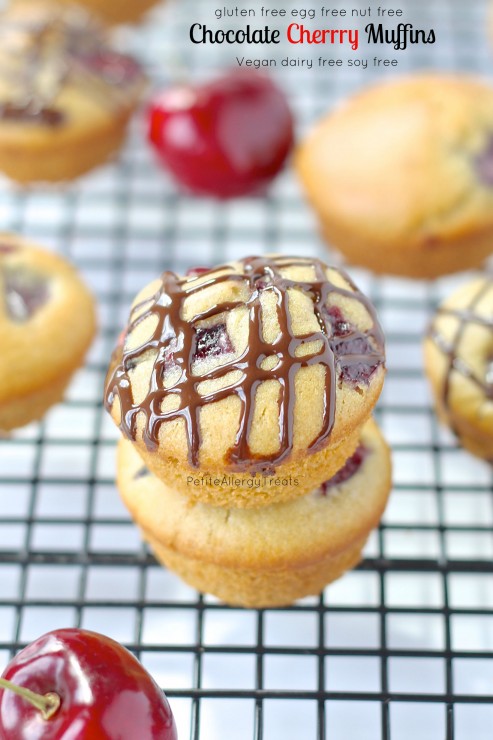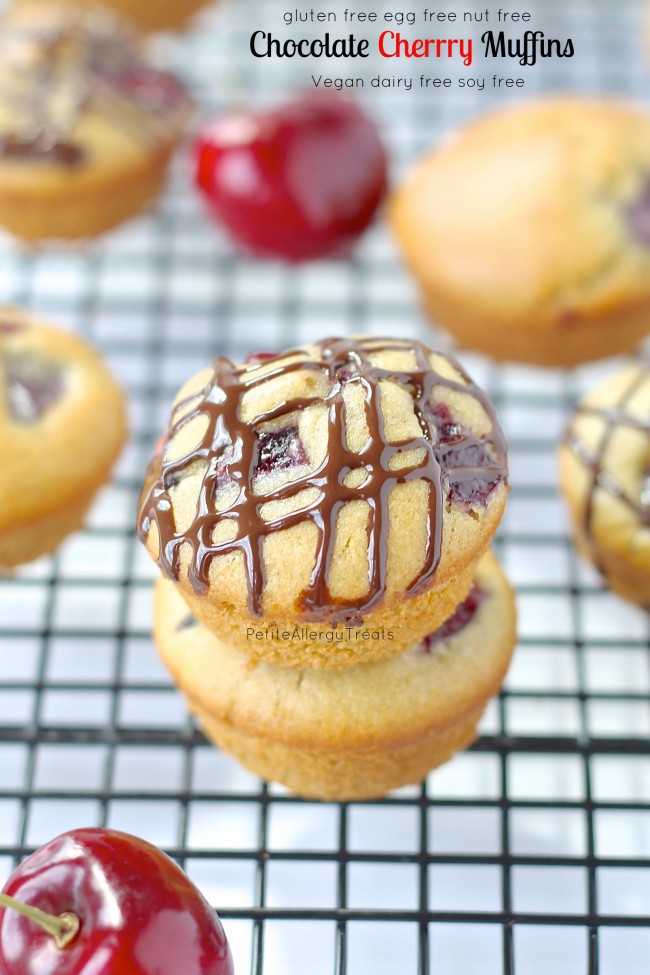 Chocolate Cherry Muffins (gluten free egg free dairy free Vegan)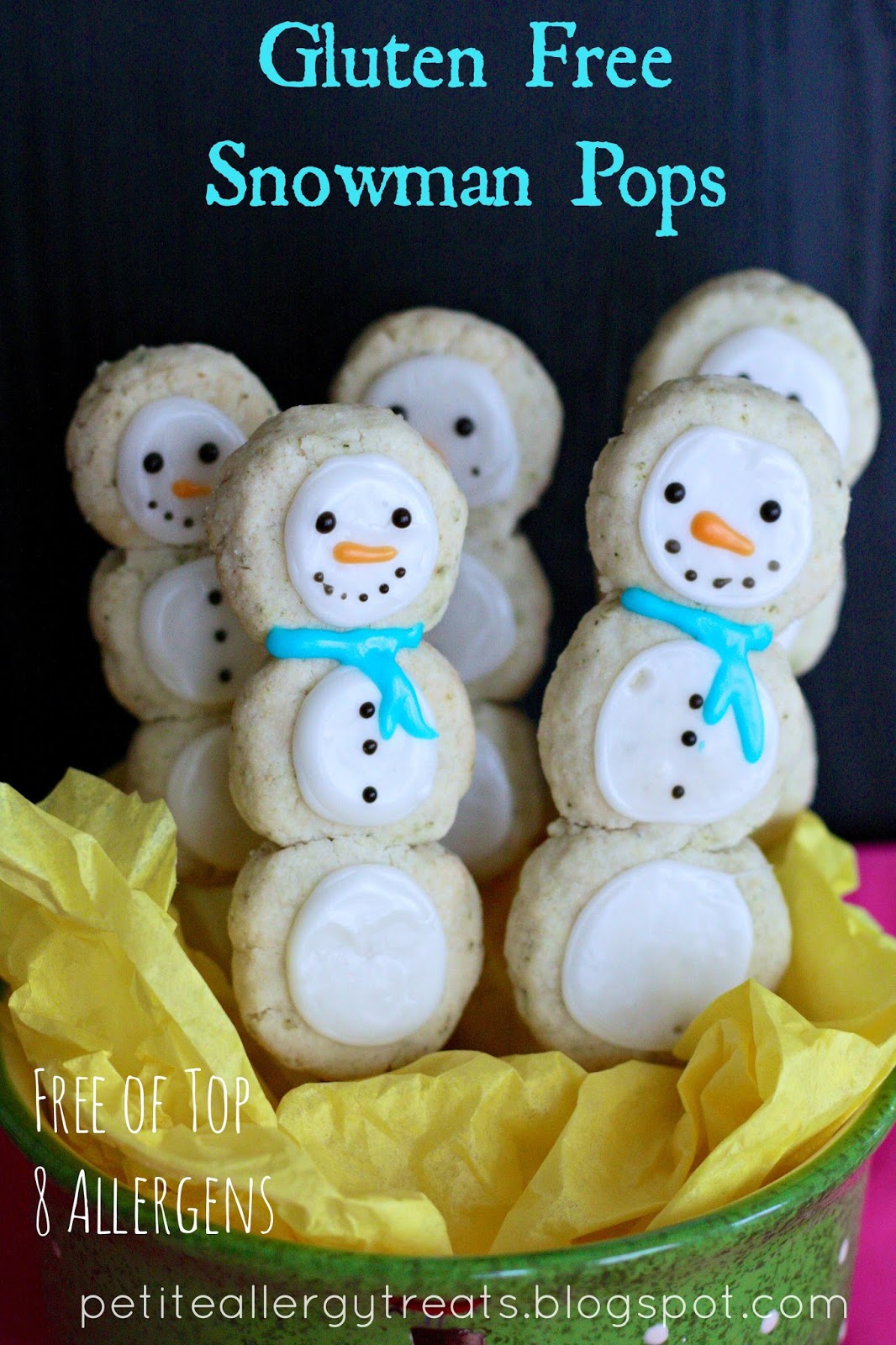 Snowman Cookie Pops (gluten free egg free dairy free Vegan)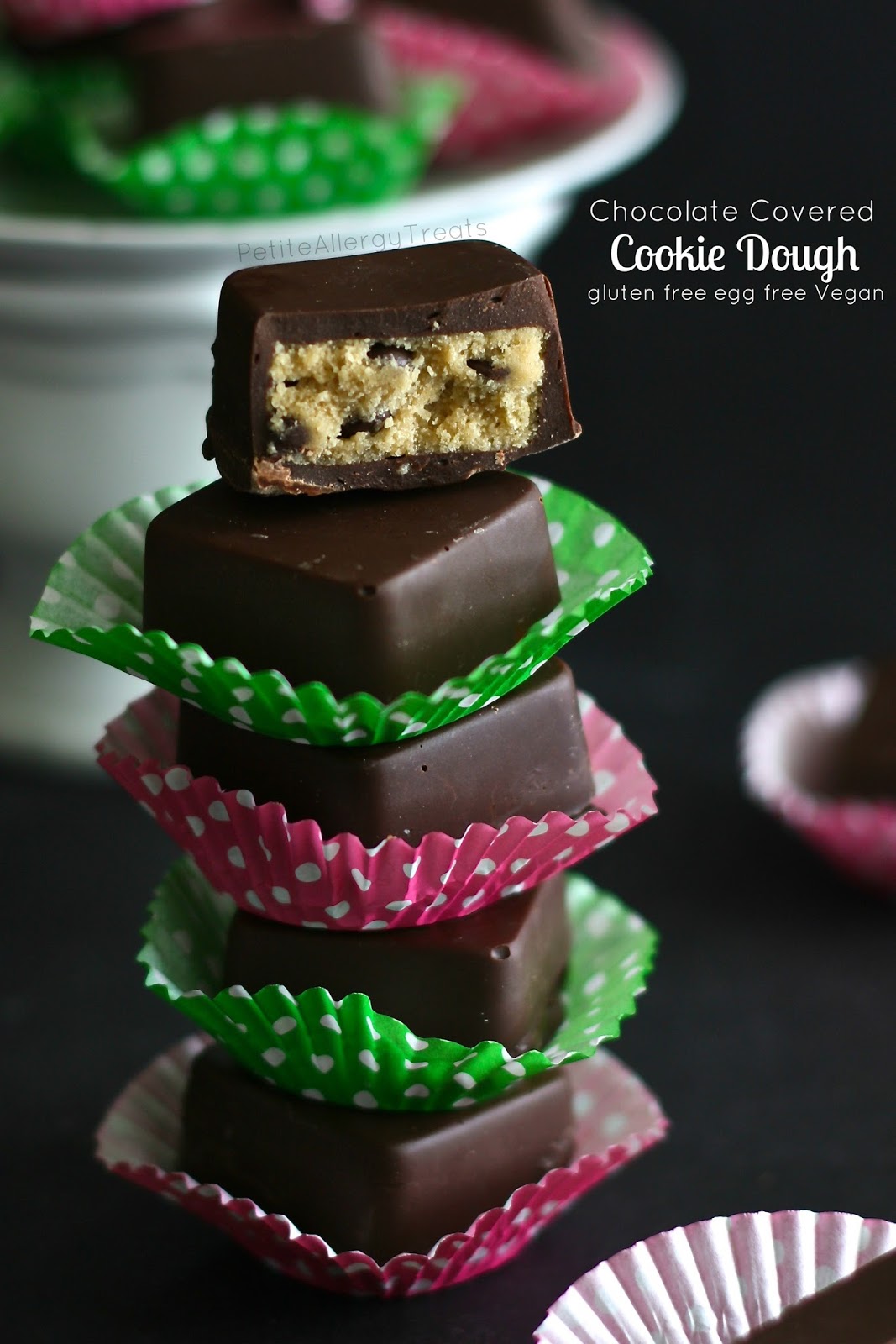 Chocolate Covered Cookie Dough Bites (gluten free Vegan FodMaps Friendly)