Find the entire Enjoy Life Baking Mixes Review & Chocolate Cherry Muffins.  All of the wonderful foods pictured below are created from the Enjoy Life Baking Mixes that are food allergy friendly, free of the top 8 food allergens.  You'll find a full review of each baking mix: Pancake Mix, Pizza Crust Mix, Brownie Mix, All Purpose Mix and Muffin Mix.
Food allergy eating just got exciting again!
Disclosure: I was sent the full line of Enjoy Life Baking Mixes at not cost to me in exchange for an honest review. All opinions expressed are mine alone.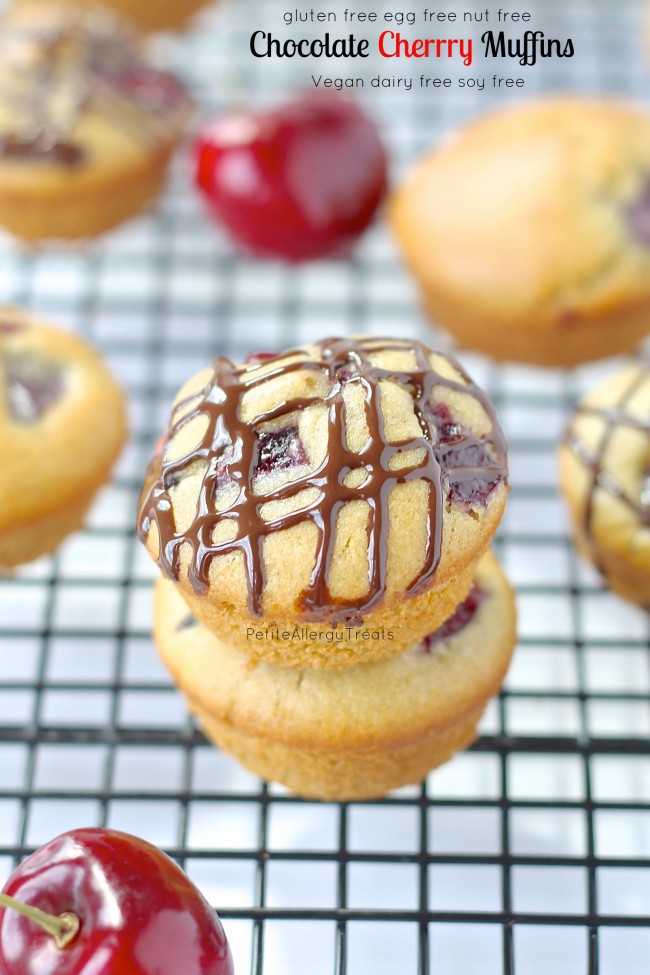 So much testing and waiting has lead to this.  I'm proud to bring you my honest review of all of the Enjoy Life Foods newest food allergy friendly creation: Baking Mixes.
These ready made mixes are created in a dedicated facility, certified gluten free, free from the eight most common allergens and is sesame free.  And while it isn't necessary these mixes are also certified kosher, Vegan and Non-GMO.
Free of the top 8 food allergens means:
-no wheat
-no dairy
-no peanuts
-no tree nuts
-no egg
-no soy
-no fish
-no shellfish
This review might take a while, so take a seat…  If you're only looking for the chocolate cherry muffin recipe, scroll to the bottom, I won't be offended. 🙂  But if you get a chance to read everything here, you'll find a real review with descriptions of textures, smells and actual product use.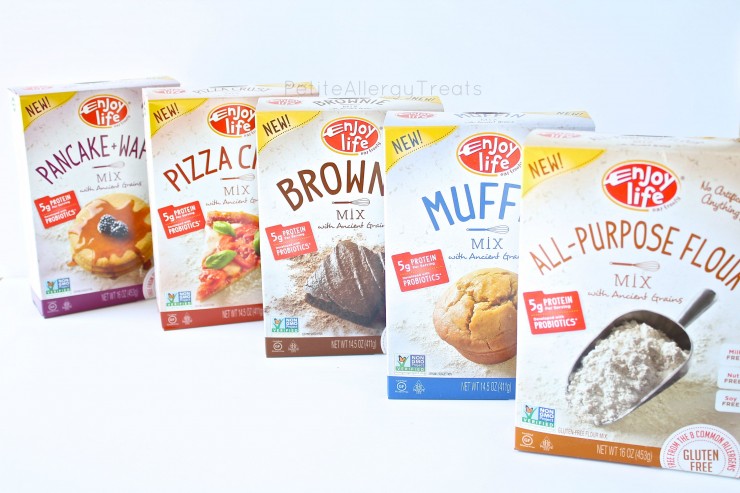 One last thing before we start…  My point of view in the food allergy world is very unique since we have multiple food allergies.  And I really do mean multiple.  We're not talking just 3 or 4 allergies… As a quick reminder here's our current list 8/2015:
wheat
egg: yolk and whites
peanut
tree nuts: almond, hazel nut, pecans, walnuts, cashew, macadamia, brazil nut, pistaschio, chestnut
soy
fish
shellfish
sesame
sunflower (and stevia since they are closely related)
honey
poppy seed
beans
peas
Quite a list.
The list is long but I know many of you are managing more.  Since we have so many allergies our mindset has always been "less is more" for ingredients and safety.
These mixes are revolutionary since they are whole grain, contain things like algae protein, konjac flour and probiotics that won't die with high heat….AND they do not contain yeast, xanthan gum, guar gum, or ANY gum.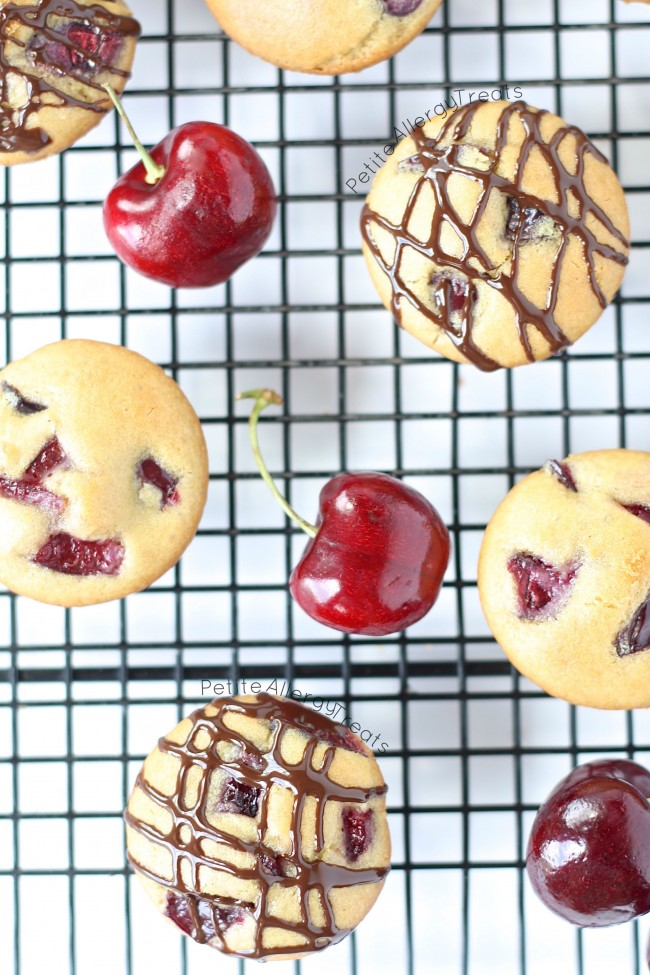 Sounds different.
And amazing…Revolutionary in every aspect.
Annd a little scary.
Allergy parents fear the unknown and un-rountine.  Different and new ingredients can all equal fear.  But there comes a time where you need try new things (slowly), to see if they fit into your diet.  And I know that is much, much harder than it sounds.
Part of the reason this review has taken so long to write was because I waited the full 3 days in-between each mix.  I started really small, like just a bite for breakfast the first day.  I'm not going to lie, I was nervous and scared each day…pretty 'normal' when introducing new foods with food allergies.  But we passed all of the mixes and ended up with more nutrition and protein in our limited diet because of it….
LET'S START THE REVIEW ALREADY!
All of these mixes have a whooping 5 grams of protein per serving, with whole grains like teff flour, buckwheat flour and millet flour to name a few.  In addition to whole grains, all of these mixes are GUM Free.  As crazy as it sounds, these mixes work great without them.  Each mix has different flours and protein blends but they all contain a new heat resistant probiotic.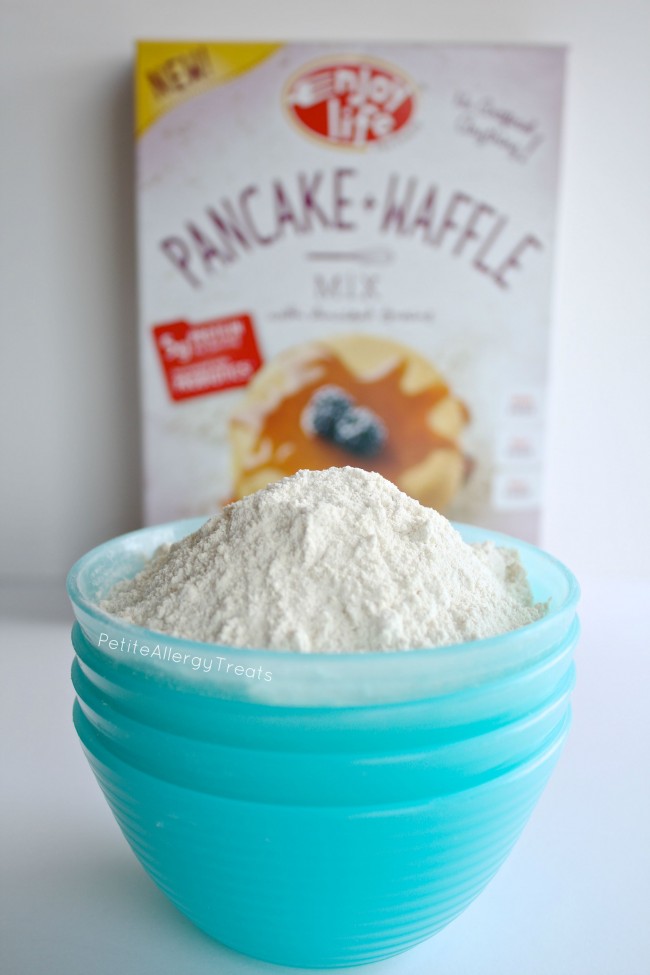 PANCAKE
Flour: sweet smelling, light brown color, 5 grams of protein per serving, probiotics, whole grains- teff, buckwheat, millet. Full ingredient list here.
Characteristics: NOT gummy texture, sweet, bubbled up nicely to create a light pancake.
Cost: $8.49
This was the first and least 'scary' to try with regular ingredients like brown rice flour, teff,….
The flour has a light brownish color that smelled sweet.  Just mix with water and oil and you're ready to go! With any pancake recipe, make sure your pan is hot and greased with oil before dropping spoonfuls of batter.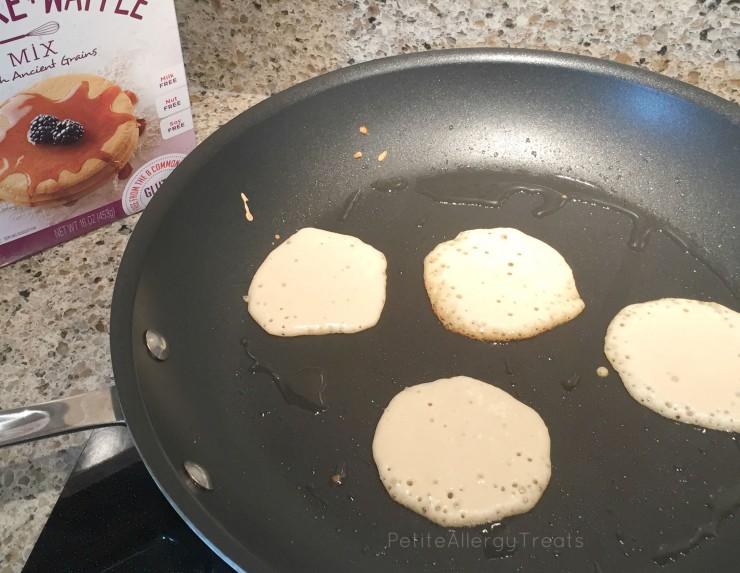 The thought the batter was just a tad thicker than my life saving pancakes but not by much.  As soon as the batter hit the pan, it bubbled up nicely.  The first side only took about a minute (dollar sized) a quick flip to finish in about another minute.
The texture of the finished pancake was light and not gummy at all. It had a slight crunch from one of the whole grain flours but I like the added texture.  This mix already contains sugar and therefore is sweet.
These pancakes were so good they brought tears to my son's eyes… not even kidding.  There were tears of frustration when an uneven number of pancakes were distributed to youngest (the one with all the allergies).  The oldest received one. less. pancake. upsetting the balance in the universe. Oh, the drama… And just think I have two boys!
This also can make waffles which we never got around to since the pancakes were in high demand.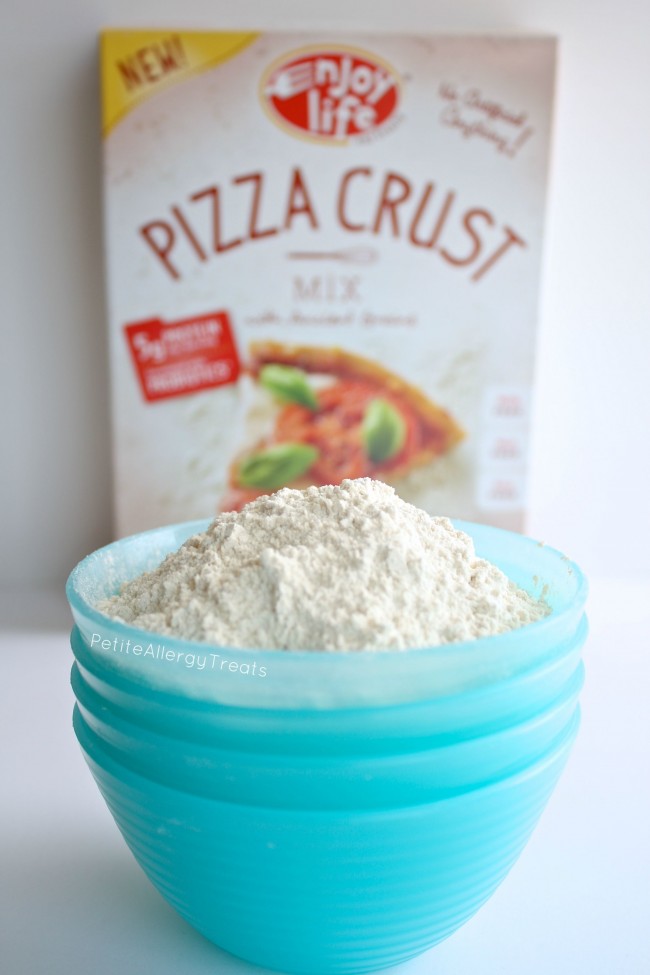 PIZZA CRUST MIX
Flour: light brown color, light brown color, 5 grams of protein per serving, probiotics, whole grains- teff, millet, konjac flour, flaxseed meal. Full ingredient list here.
Characteristics: yeast free, dough held together without sticking to hands, high sodium level
Cost: $8.49
Whoa, would be such an understatement…  This mix has one of the coolest characteristists.  Magic happen when you add oil and water.  The mix actually binds to itself much like a real gluten based dough ball.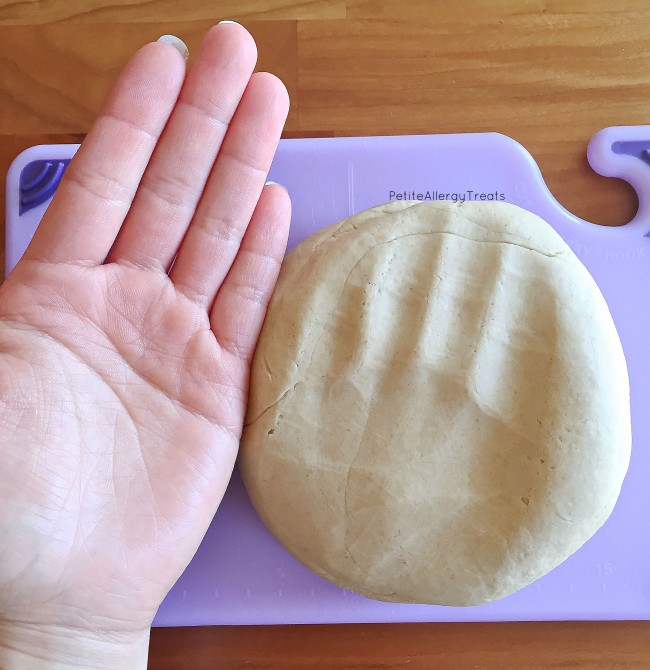 You can see how it formed a nice ball and could easily be shaped without sticking to my hand.  Even after I was a little mean and smashing the dough, it refused to stick to my hand.  Über awesome.  Another important difference about this pizza crust mix is, it is yeast free.  That's super helpful for yeast allergies and it also saves you time in the kitchen waiting for things to rise.
On the flip side of yeast free pizza dough, this mix heavily relies on baking soda and other leavening agents.  This means the sodium levels are a bit high per serving.  If you need to be on a low sodium diet, this might not be suitable for you.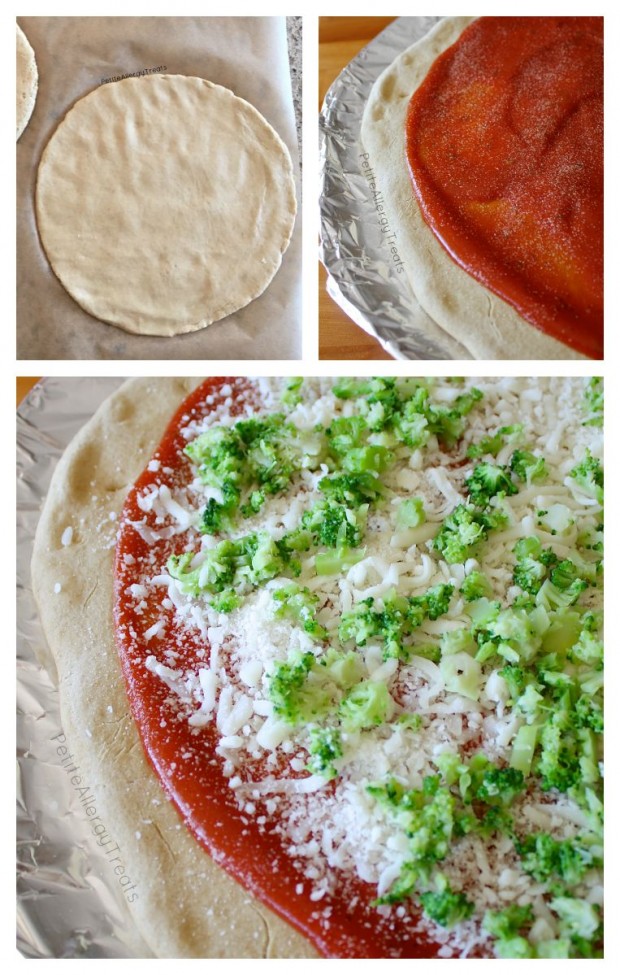 The crust itself baked up well and had more of a doughy consistency than a crispy crust.  I made a thin and thick version and both were great.
Add you favorite dairy free toppings to keep it free from the top 8 allergens.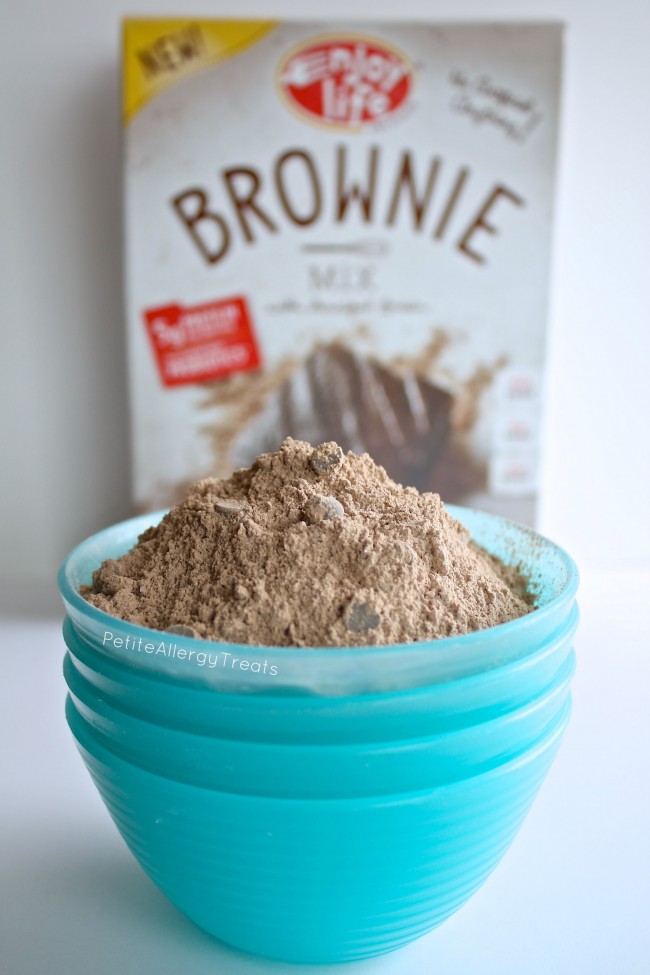 BROWNIE MIX
Flour: chocolate brown color with mini chocolate chips mixed in, 5 grams of protein per serving, probiotics, whole grains- teff flour, flaxseed meal. Full ingredient list here.
Characteristics: sweet, chocolately, no gummy texture,  cake-like, smelled like corn/peanuts?? (I'm sensitive to smells… annnd I'm a little weird)
We ALL love a good brownie.  And an allergy friendly brownie is no exception.  My gluten free fudgy brownies and salted caramel brownies have been pinned over 14k times in less than 2 months.  Proof of the powers of brownies…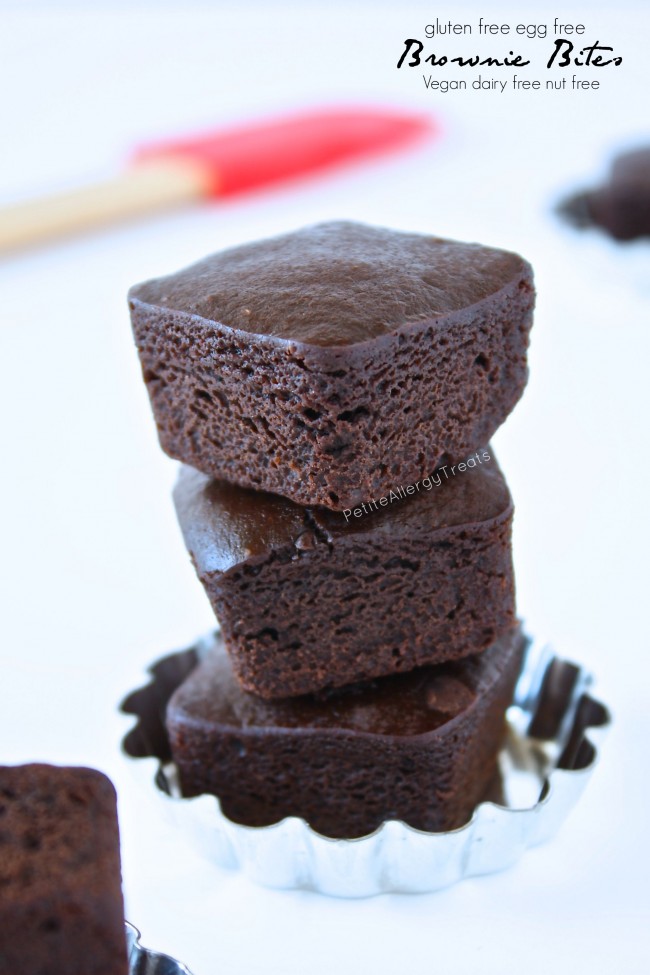 So, do I really need to tell you about how great these chocolate brownies are?
Nope.
But I'm still going to… 😀
This mix remind me of the good ole easy days of grabbing a boxed brownie mix made from Betty.  This mix is that good.  Such simple steps again too. Just add the water, oil and mix.  Lick the spoon to ensure the batter is as good as it looks.  <—– a very necessary step
Bake. Swoon. Eat…repeat.
It even bakes well in little batches for mini treats or even as individual servings.  I'd be lying if I said if freezes well, since they never made it to the freezer. BUT, I think they could freeze well, it's just getting them in there.
And a little side note, I like my brownies thick and fudgy.  Enjoy Life Foods created a mix that is fudgy and cake like at the same time.  Best of both worlds.
One strange thing was the smell.  I swear it smelled like peanuts although I haven't smelled real peanuts in almost 8 years.  Clearly it does not contain any peanuts or nuts.  And maybe I'm a little 'nuts' for thinking it smell like nuts.  :p
Moving on.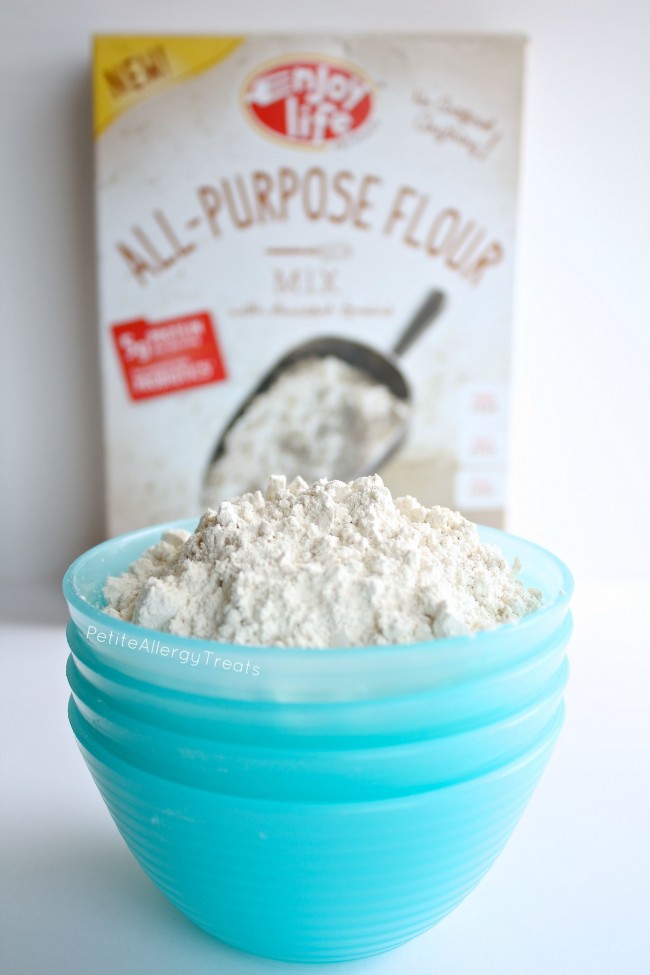 ALL PURPOSE MIX
Flour: light brown color, 5 grams of protein per serving, probiotics, whole grains- teff, buckwheat, millet. Full ingredient list here.
Characteristics: gum free, yeast free, 
Cost: $8.49
The box says "substitute any recipe 1 cup to 1 cup", meaning you won't need add extra gums.  Really?  No need for added gum…sounds almost too good to be true.  I decided to give it the  ultimate test with my chocolate chip cookies.  I always feel like cookies need the more gums other wise they break under their own weight went picked up.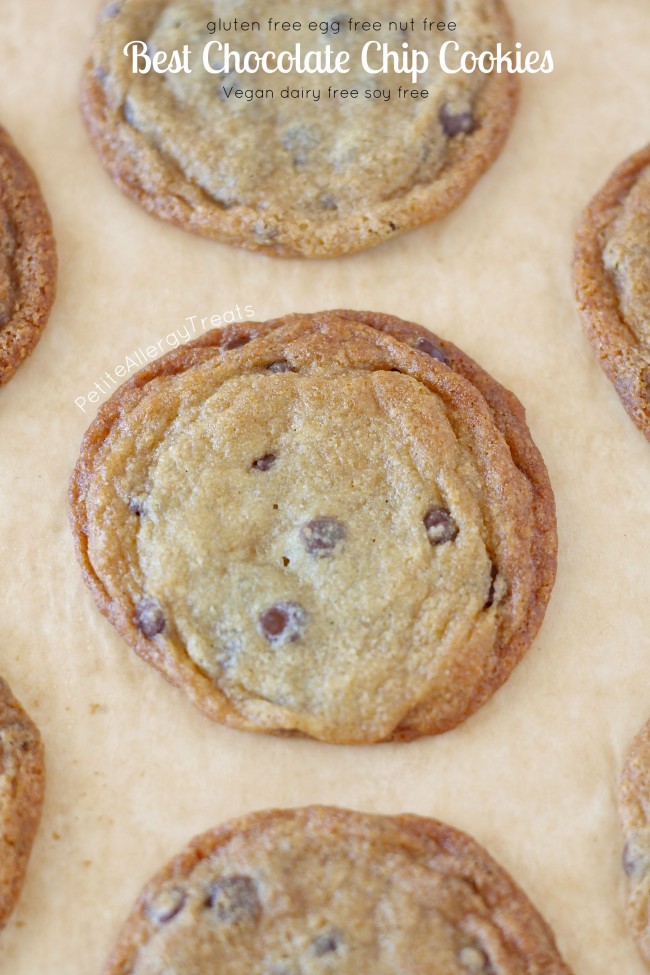 OMGosh.  The cookies were absolute perfection!  I'd even go as far as saying better than my version of gluten free vegan chocolate chip cookies since these contain whole grains and extra protein.  These cookies are a dead ringer for a copycat version of the Enjoy Life Foods Crunchy Chocolate Chip Cookies.  Annnd it makes sense since you're using Enjoy Life Foods flour blend and allergy friendly chocolate chips, right?
Lightbulb: Imagine baking up dozens and dozens of you very own crunchy Enjoy Life chocolate chip cookies… never running out.  Yeah. You're welcome. 😀
(SPOILER ALERT: You won't want to miss what else I decided to create with this mix.  Hints: it's fruity and creamy and gosh darn good! Look for the next post)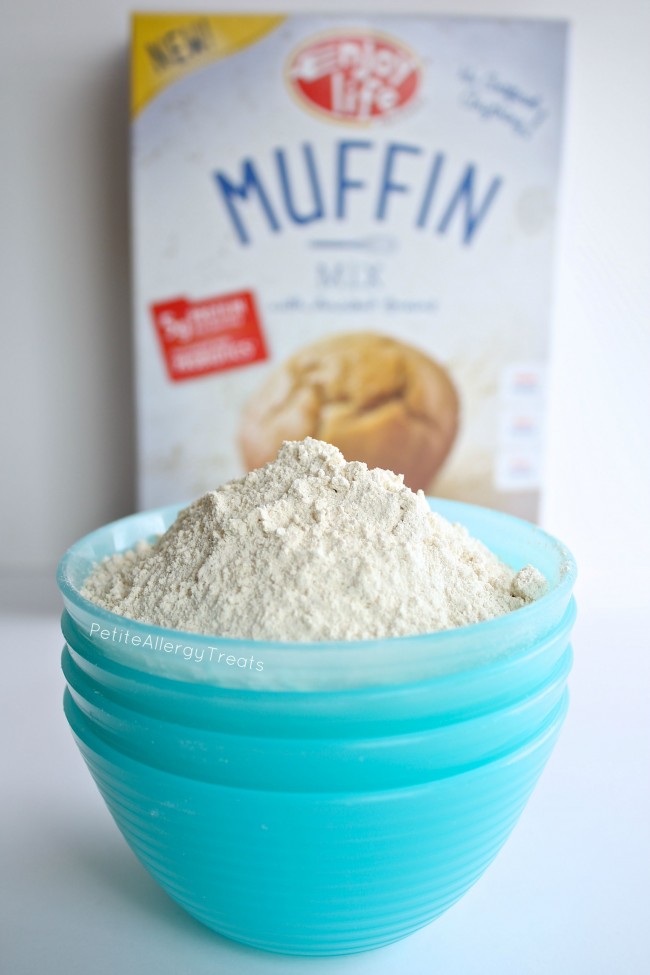 MUFFIN MIX
Flour: light brown color, 5 grams of protein per serving, probiotics, whole grains- teff, buckwheat, millet, quinoa, konjac flour.  Full ingredient list here.
Characteristics: sweet, slightly crunchy, smelled like corn
Cost: $8.49
This was similar to the pancake mix but much sweeter.  Annd our favorite mix, go figure!  Another easy add the water oil and mix the batter.  Ridiculously easy.  The hardest part of this recipe was cleaning the cherry stains from under my nails.  
These muffins could easily be mistaken for bakery style muffins… of course we don't have any dedicated top 8 food allergen bakeries around us.  This mix has potential for so many fruit and seed combinations.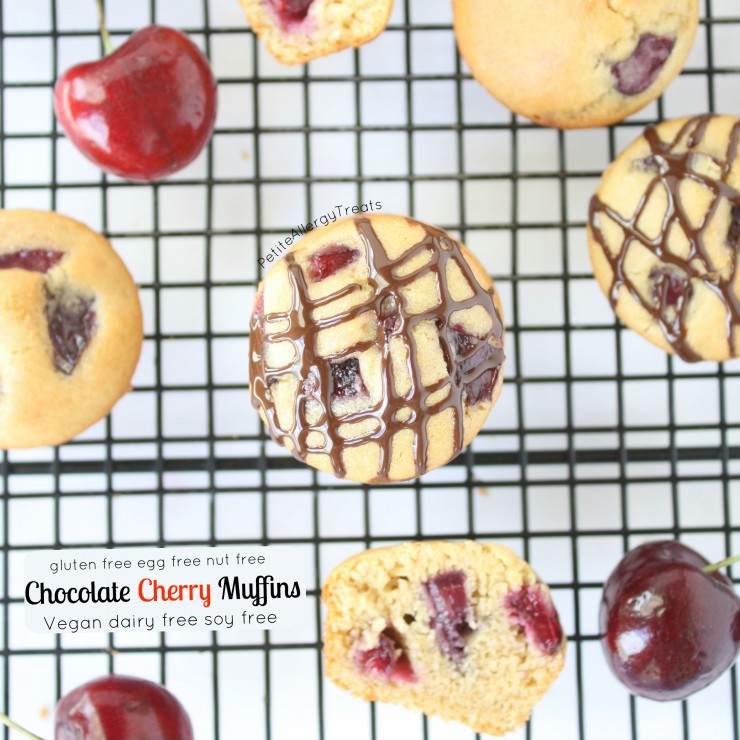 Good job!  You made it to the end.  To learn more about Enjoy Life Foods and find recipes and latest news, be sure follow them their social media  on Facebook and Twitter
Disclosure: I was sent the full line of Enjoy Life Baking Mixes at not cost to me in exchange for an honest review.  All opinions expressed are mine alone.

Chocolate Cherry Muffins (gluten free Vegan)
Author:
Laura @ Petite Allergy Treats
Ingredients
1 box Enjoy Life Foods Muffin Mix
16-20 fresh cherries
½ cup Enjoy Life Life dark chocolate chips
Instructions
Mix batter according to directions on box
Wash and pit cherries, coarsly chopping. Gently fold into to muffin batter.
Bake 350 for 14-16 minutes or until golden brown.
Melt chocolate in the microwave and drizzle over muffins.
Some other things you may like: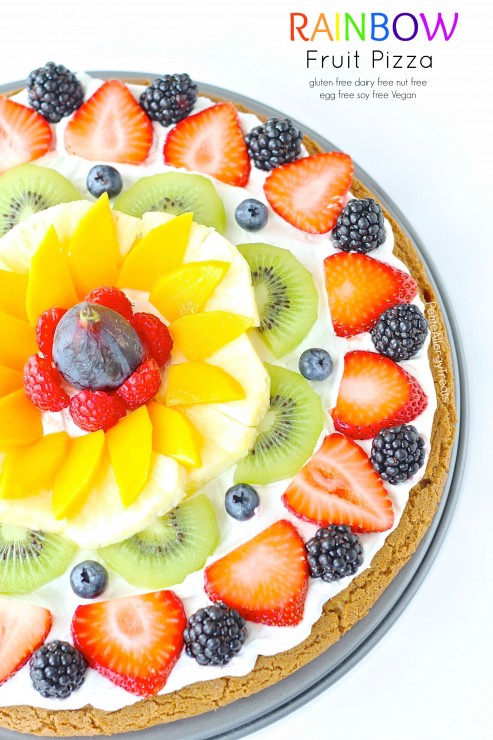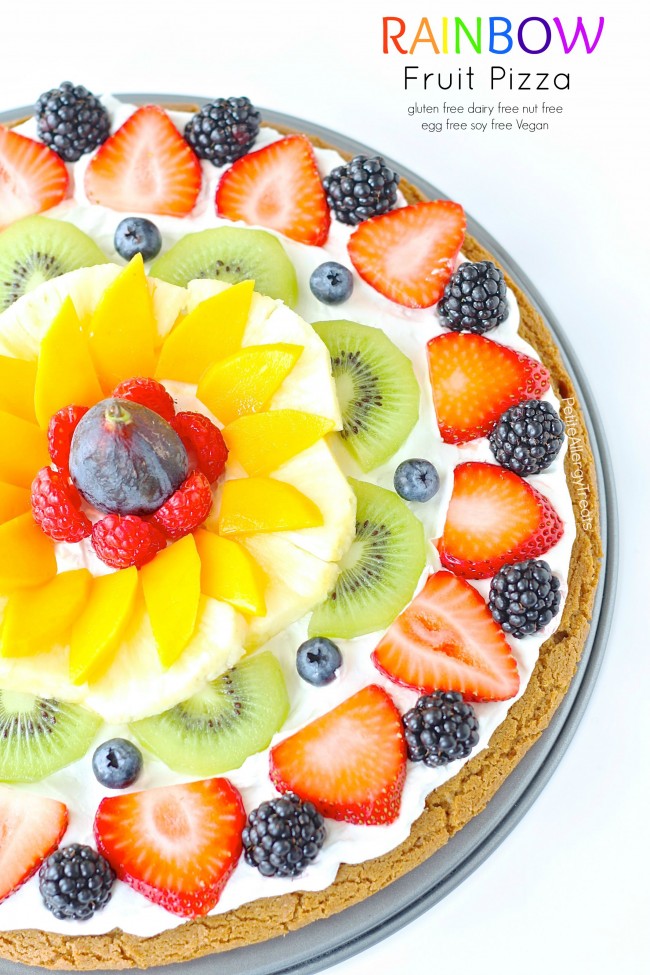 Rainbow Fruit Pizza (dairy free gluten free egg free)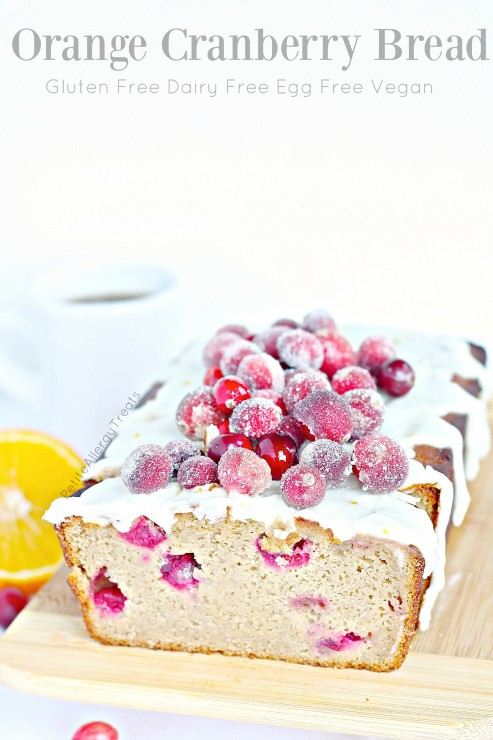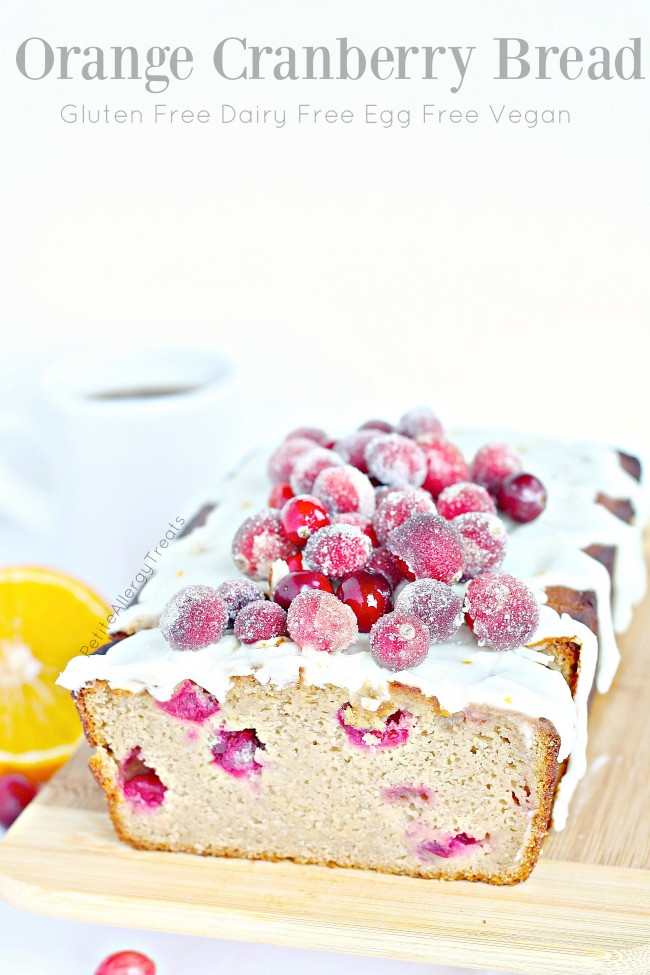 Orange Cranberry Bread (gluten free egg free dairy free Vegan)