It's the exhausting season… For a delicious pick-me-up, grab some refined sugar free Vegan Raw Espresso Coffee Cream Bars.  It's food allergy friendly coffee bars which are dairy free and nut free with the combined the flavors of chocolate and coffee. These Vegan bars have an ice cream texture that is also gluten free with a pumpkin seed crust.  A Top 8 Food Allergen treat made for adults!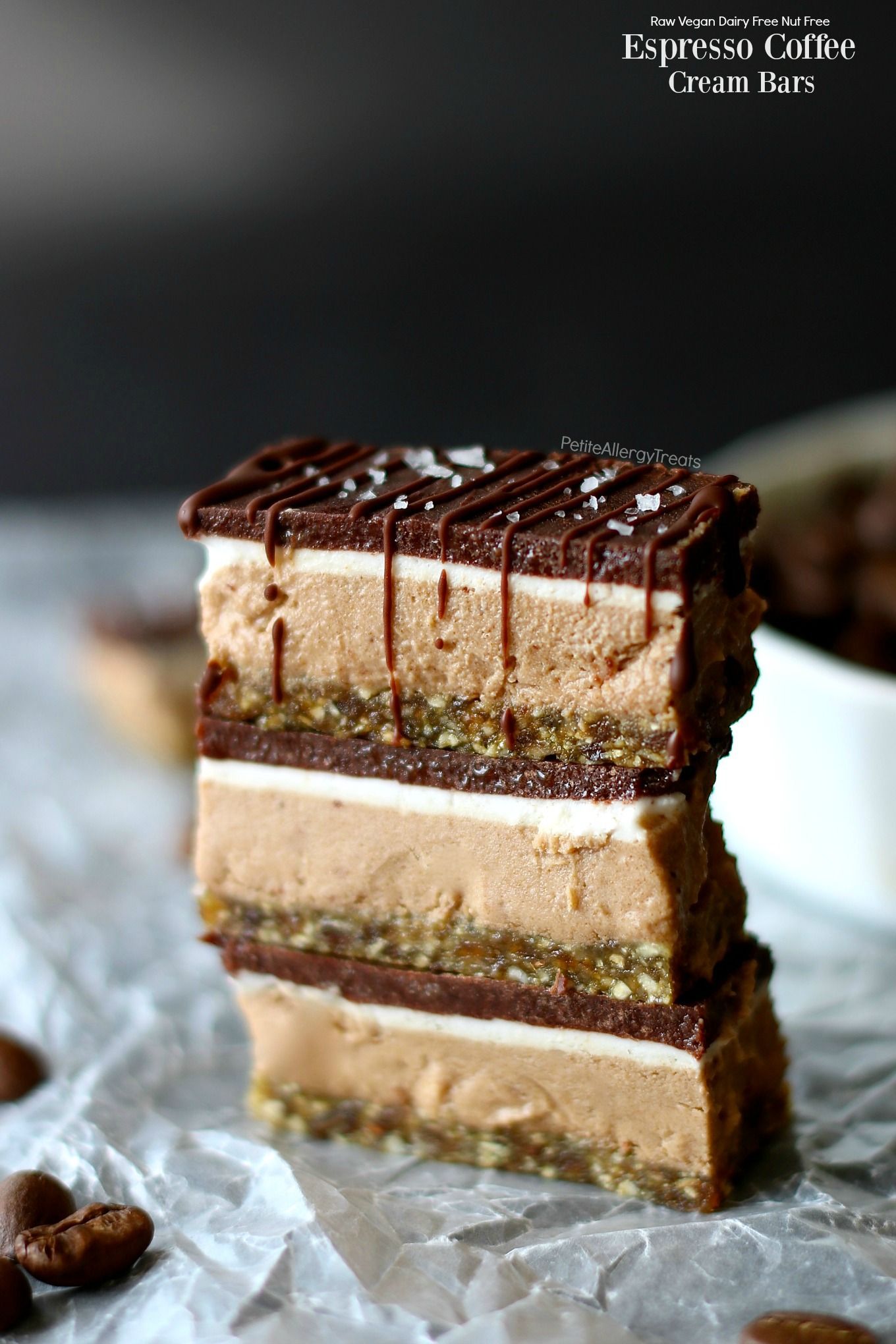 Psssst…  Heeeey.  Are the kids gone?  Ok, go distract them or wait until you're alone to read this.
Yes.
This post may be inappropriate for children.
It is Rated C.  As in C for COFFEE.
Instead of my usual kid friendly food allergy recipe, I'm throwing it all out the window for all YOU special adults.  You lovely exhausted special adults.
As you can tell from post title, this is all about COFFEE.  Ah, coffee… Such a wonderful friend you can always depend on.  Coffee won't judge you when you're tired and crabby.  Coffee will love you regardless and turn that tired frown upside down.  Coffee will actually "buy" you friends…buy a cup of joe for a co-worker and instantly a bond has formed.  Coffee is the way of life.
What's that?  Not on the coffee train?  Then get on board my friend, you might like it.
Really.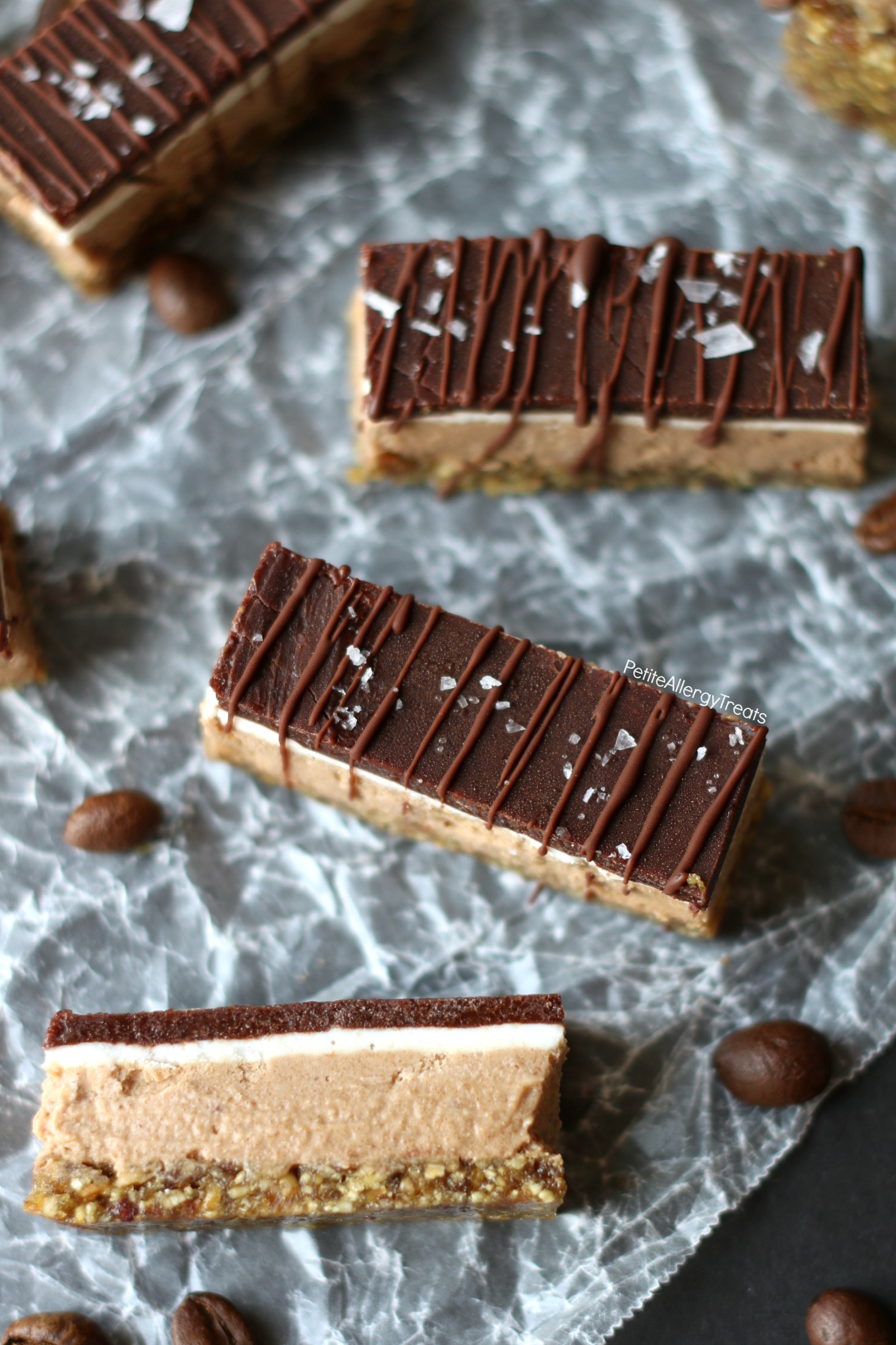 I'll admit, I did not like the taste of coffee, H-A-T-E-D the taste in fact.  I started out with hot chocolate and just a half spoonful of instant coffee crystals (I know, gross right?  My husband and I both were not coffee drinkers but had the instant crystal around in case anyone wanted coffee.)  People who do not drink coffee must either be really young and full of energy or haven't experienced true and utter sleep deprivation from children.
I remember in college being able to complete my 40 hour unpaid internship and then work my 20 hour paid weekends for rent and food money.
Never a day off.
Not a single cup of coffee.
I did this vicious cycle for 6 YEARS straight.
I was invincible then.  And then I had children.  Kids zap the energy from you. #truth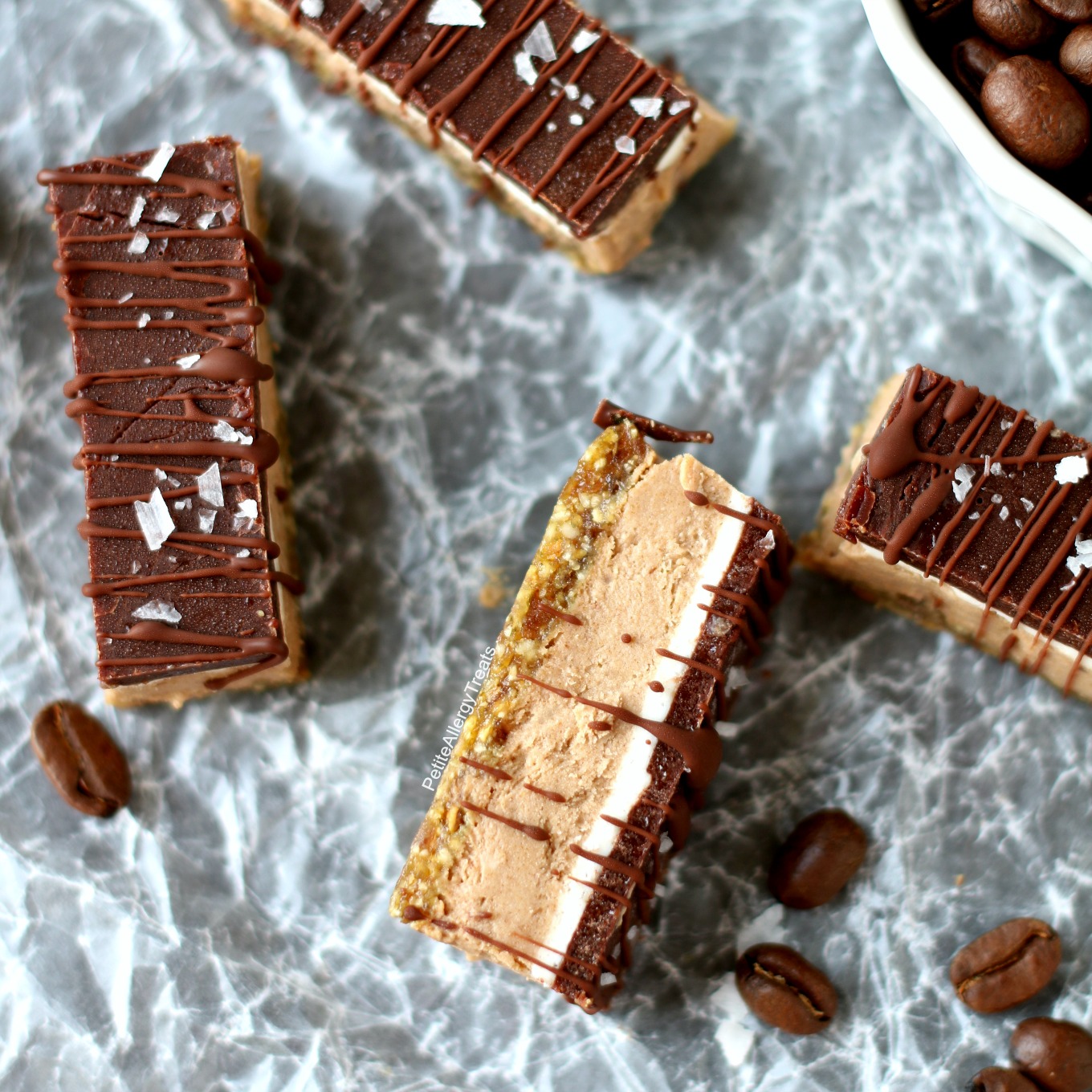 Anyways, regular coffee is now a must and espresso powder is an amazing baking element as well!  Obviously, these coffee cream bars won't be for the kids but they will reap the benefits of a non crabby parent. 😀
So if you're exhausted from Thanksgiving, or Christmas shopping- Have no fear.  My good friend, Coffee will help you.  Coffee has convinced me to create these refined sugar Vegan Raw Espresso Coffee Cream Bars.  It's your sweet source of chocolate, along with caffeine for quick energy to get the job done.  The coconut cream combined with the date paste is not sickly sweet either.  The coffee bars are sweet enough and contain no refined sugar as an added natural bonus.  There's even a little protein from the pumpkin seeds in the crust.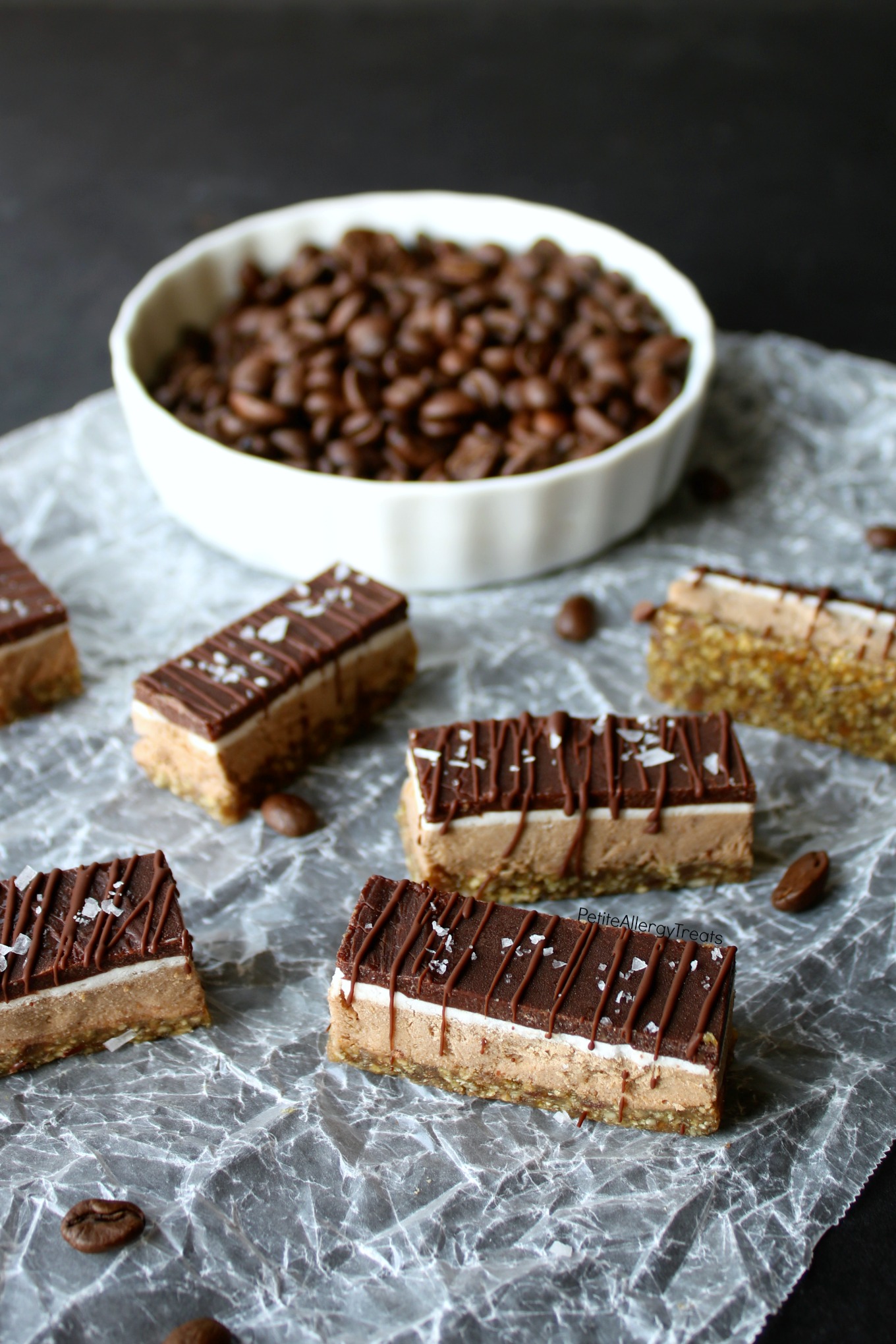 Make a batch of these vegan raw espresso coffee cream bars for extra long days that never seem to end (Summer break is another EXCELLENT time!).  Just keep them frozen until you need a chocolate and coffee fix.  The sweet from the dates pairs perfectly with the salty crunch from the nut free crust.  When sharing with friends and family, you may want to mention it has chocolate and espresso.  😀
Vegan Raw Espresso Coffee Cream Bars
Author:
Laura @ Petite Allergy Treats
Ingredients
Crust
1 cup pumpkin seeds
⅔ cup packed dates
2 Tbsp hot water
pinch of salt optional
White Filling Base
2 cups coconut cream (not milk)
4 tsp instant espresso powder
1 Tbsp date paste
Chocolate Coffee Filling
4Tbsp date paste
4 tsp instant espresso powder
4 tsp dutch cocoa powder
Chocolate Coating
4 Tbsp coconut oil
2 Tbsp maple syrup
2½ Tbsp dutch cocoa powder
½ tsp vanilla
Instructions
Crust
Coarsely chop dates with hot water in a food processor until small chunks remain. Add pumpkin seeds and chop until small pieces remain. Press mixture into an 8x8 pan lined with parchment paper and place in freezer.
White filling Base
Combine date paste and coconut cream using a mixer. Break up any stubborn chunks of date paste with a fork. Mix until date paste is incorporated. Reserve ¼th of entire white base in a small bowl. Cover with plastic until needed. ( You may refrigerate but must be brought back to room temperature before adding to top of coffee filling)
Chocolate Coffee Filling
Begin with the remaining white base in the same bowl. Add in 4Tbsp of date paste, cocoa and espresso powder and mix until incorporated, breaking up date paste chunks.
Pour mixture over frozen crust base. Place back into the freezer for 1-2 hours or until set before adding the next layer.
White Layer
Evenly spread reserved white base over entire coffee layer. Work quickly before cream hardens and sets. Place back in the freezer to firmly set up.
Chocolate Coating.
Heat coconut oil, maple syrup and vanilla in a microwave safe bowl. Mix in cocoa and immediately pour over espresso bars. You'll need to work quickly to create an even layer. Place back in freezer.
Cut bars and enjoy! Keep in the freezer until needed.
Notes
The layers are completely optional if you want to cut down on time and steps. To for forgo the white layer, combine the white filling and chocolate ingredients together and only mix once and the freezing time would be extended. The end product won't be as pretty but still taste darn good!

Coffee and chocolate are a go-to treat for extra caffeine and energy. This bars are for adults and I would not suggest them for kids. (They have endless supplies of energy!) There is a jolt of caffeine in them so don't eat the entire pan and wonder why you cannot sleep later. 😉
Follow me for the latest news!
Some other thing you may like: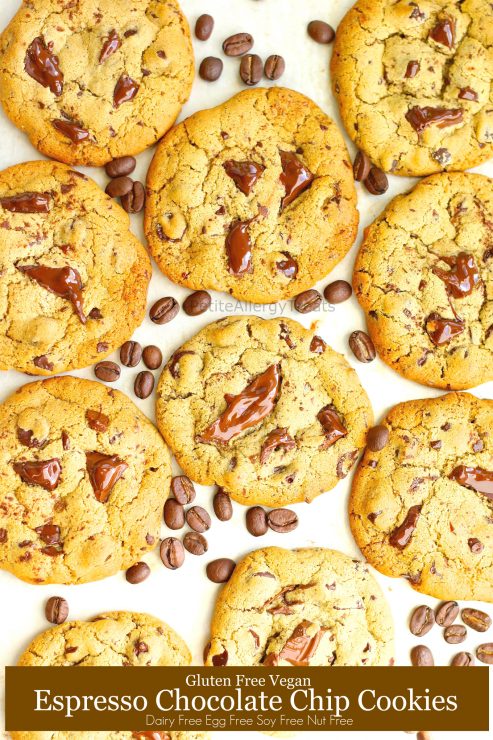 Gluten Free Espresso Chocolate Chip Cookies-dairy free egg free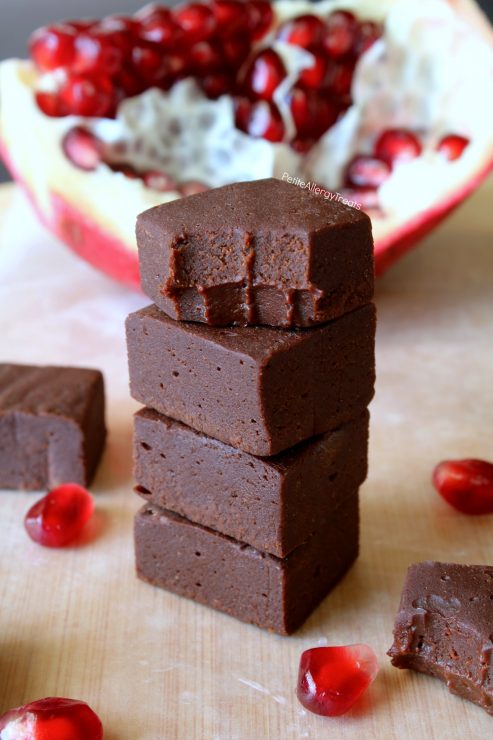 Healthy Dairy Free Fudge– no added oil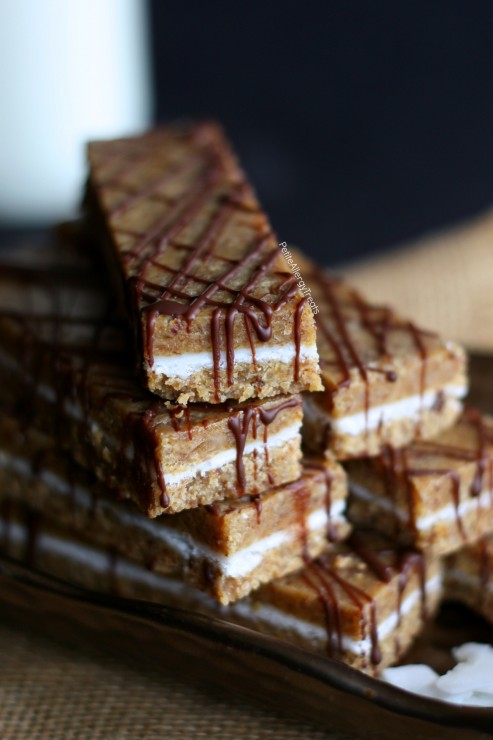 Homemade Nut Free 4 Ingredient Protein Energy Bars– dairy free vegan gluten free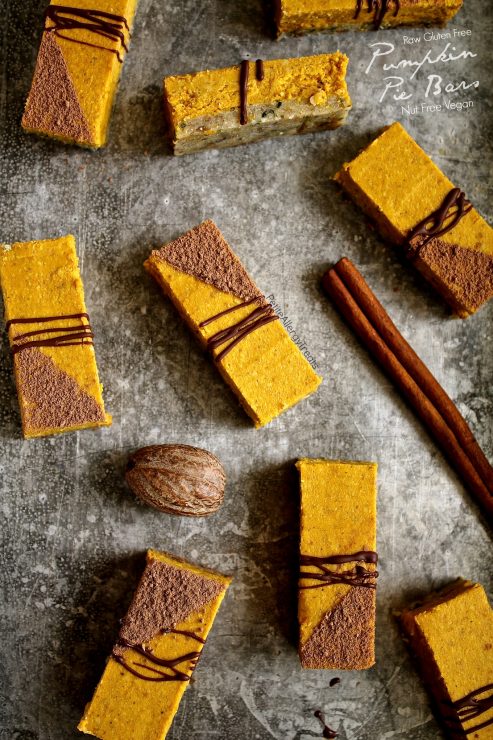 Healthy Gluten Free Vegan Pumpkin Pie Bars (Dairy Free) Raw no bake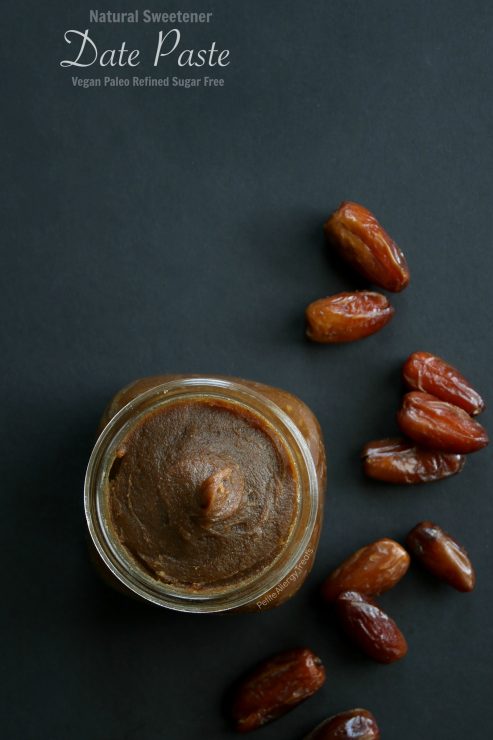 Natural Date Paste Sweetener Paleo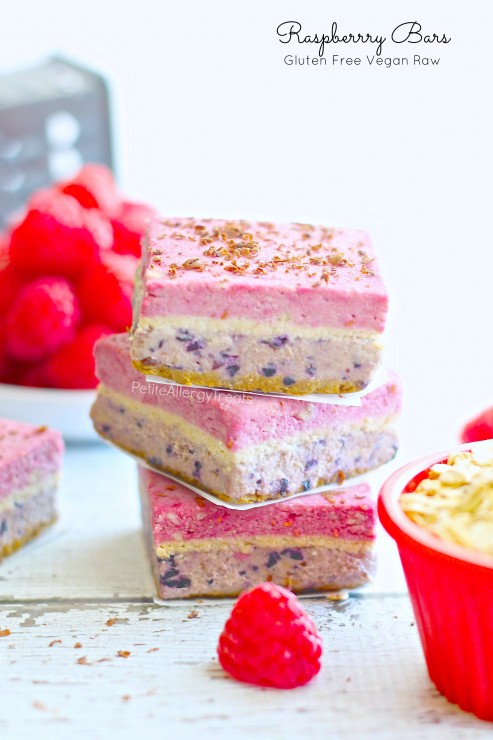 Raspberry Bars Raw Vegan Gluten Free– dairy free