Snack healthy with No Bake Raspberry Protein Energy Bites (gluten free + vegan). These raspberry energy balls are dairy free, naturally sweetened with dates and have a raspberry center. Refined sugar free. Super food allergy friendly on-the-go snack. A great easy last minute idea for a naturally colored for Valentine's Day treat or any day!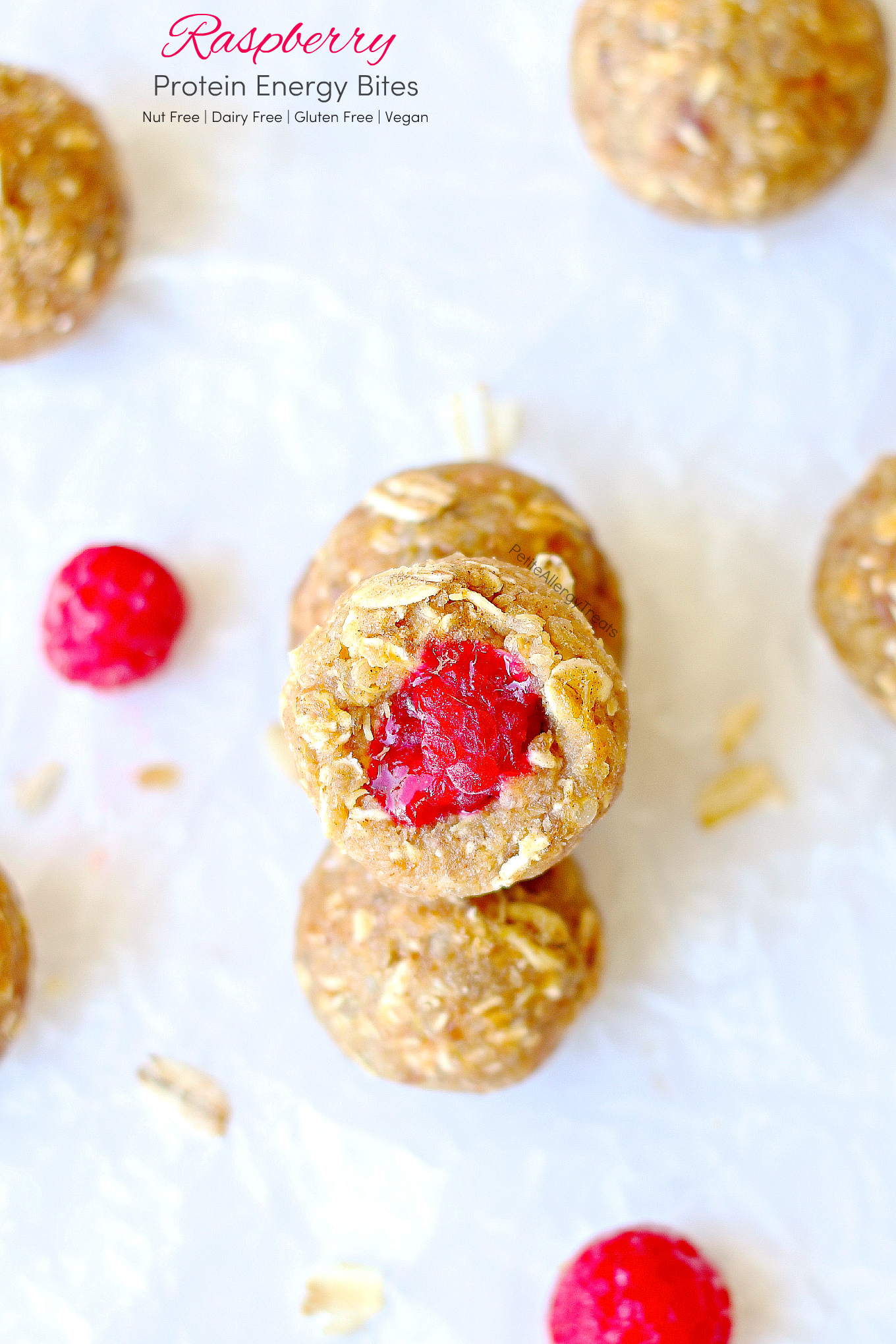 Hooray for nut free protein energy bites! You'll love how simple these gluten free raspberry protein energy bites are with just 6 ingredients total. Energy ball or bites have become the easy healthy snack alternative for families on-the-go!
You might remember my easy NUT FREE BANANA OAT PROTEIN ENERGY BALLS or  NUT FREE PROTEIN BARS for traditional breakfast bars. Or even go for some CHOCOLATE COCONUT OAT BANANA BREAKFAST COOKIES (cookies for breakfast is the ultimate! Plus these are healthy).
Energy bites remind me of warmer times. Is it Spring yet? February is the time where winter seems crazy looooong. Everyday is cold. Day after day filled with more snow in the forecast. Cold plus more cold. No sunshine. Or leisurely walks outside. Cooped up at home with little or no outlets for breaking up the monotony.
I feel like all we do is get in the car, run into school or wherever we need to go and then go home.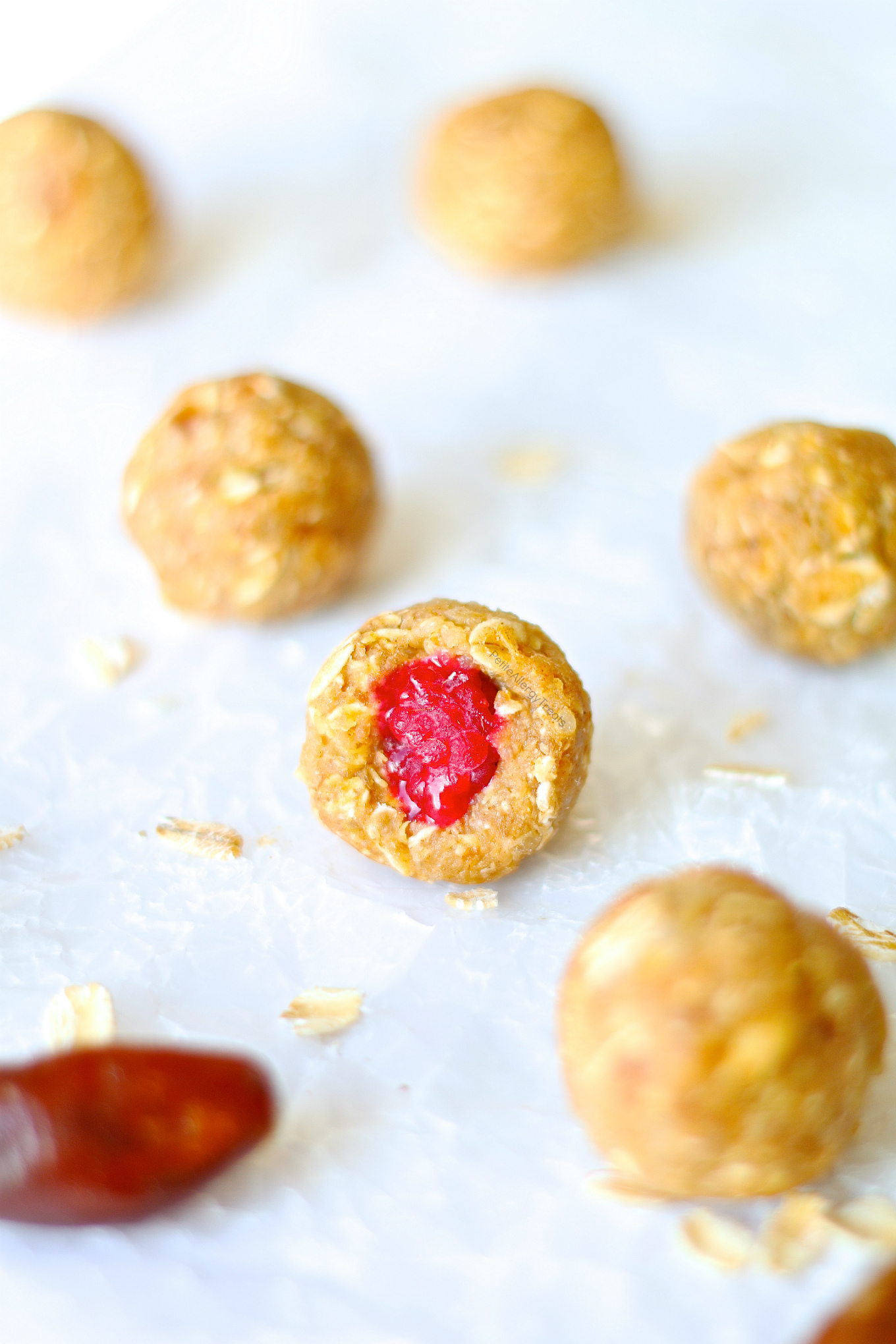 Instead of giving into the winter crazies, I'd decided to get back to the gym. More specifically, continuing my adventures of learning tennis. (Which btw is much, much harder that just swinging a racquet.)
Anyways, being cooped up all winter caused us to believe all four of us could try playing tennis together on one court… All I can say is it wasn't pretty.
Both my boys play tennis and my husband was a former state champion in high school. All of us are on drastically different levels of ability, not to mention different colored/weighted balls.
I am an adult and therefore grandfathered into using the regular 'yellow' tennis ball. My oldest son, Sir, uses the 'green' balls which are a bit lighter and don't bounce as high as yellow balls. Then we have Mr. Naughty who has just graduated from the 'red' balls (even bigger balls that deform and don't bounce high) to 'orange' ball which is between the green and red balls.   <—–great description, huh? thanks Captain Obvious!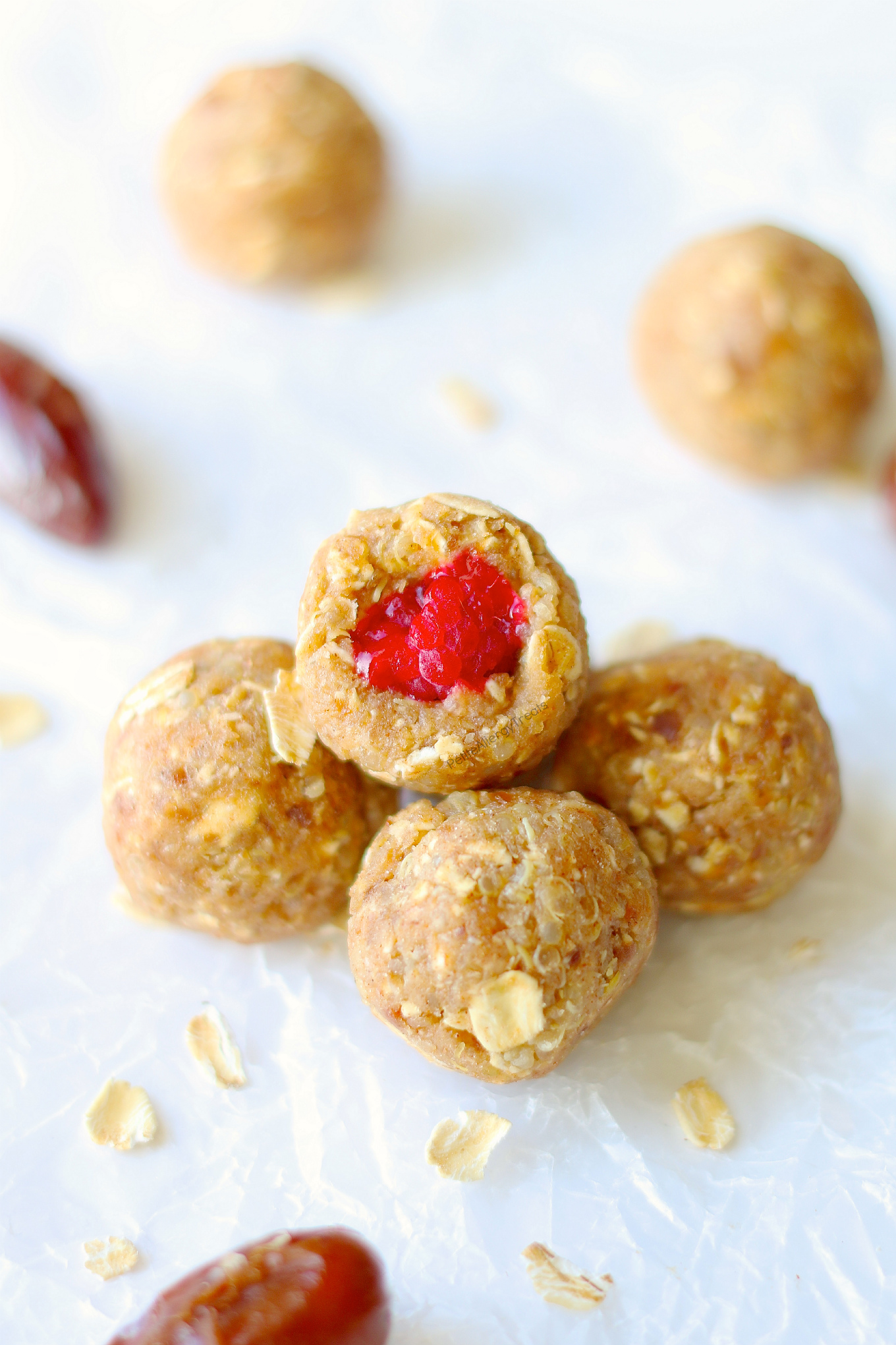 Since all the balls are different weights/sizes, the timing to hit them is different. We used the kids ball to 'play' with them. I can't tell you how many balls I personally whiffed because I was anticipating more speed and height. Let's just say frustration set in quickly. Sir was dragging his feet picking up balls so I snapped at him to hurry up (you rent the court for 1 hour increments). He was oversensitive and started crying. That led to Mr. Naughty said he was tired and didn't want to play. Then he started crying. Within a matter of seconds of each other both kids were having a melt down. I was dying of embarrassment since the other courts were full of other people.
All this occurred in less than 15 minutes into our 60 minute court time…
My poor husband was the only one unfrazzoled by mass crying. We ended up hitting to with each other for the next 20 minutes to at least get use of the court. By that time, Sir felt like playing so I went to sit with Mr. Naughty.
50 minutes into our court time, Mr. Naughty suddenly decides he wants to play. But it's too late. By the time we go back down stairs, get orange balls out and put them back our time is up. Hence the second, more volatile tantrum begins. Mr. Naughty is so hot and cold from one minute to the next sometimes.
Parenting its soooo much fun!
And by fun I mean: confusing, funny, ridiculous and maddening all mixed into one in moments like this.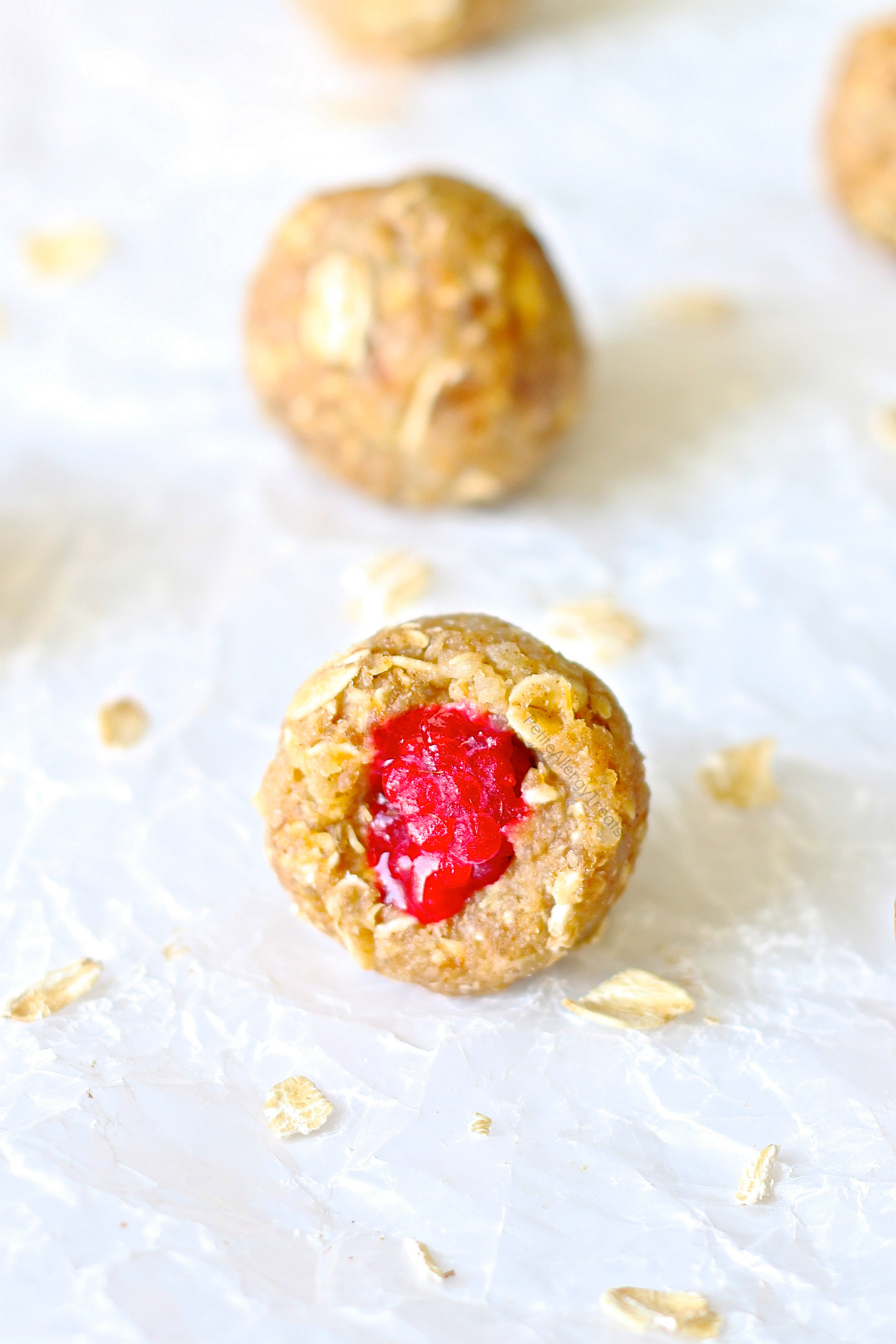 As we were leaving, I heard more crying and yelling. Thankfully, it wasn't my children this time! It was another member's kids. They looked mortified too. Honestly, it made me feel so much better. But only because we weren't the only family with cranky kids… I wish parenting was easier.
Speaking of easy, these gluten free Raspberry Protein Energy Bites are no bake, nut free, dairy free and vegan. Raspberries aren't really in season so just grab a bag of frozen raspberries and pull out as many as needed.
Enjoy!

Gluten Free Vegan Raspberry Protein Energy Balls
Author:
Laura @ Petite Allergy Treats
Ingredients
½ cup cooked quinoa
¼ cup gluten free old fashion rolled oats
1 tbsp dairy free butter (melted)
½ tsp cinnamon
2 tbsp date paste or finely chopped dates
12-14 frozen raspberries
Instructions
Mix date paste, quinoa, cinnamon and melted butter in a small bowl. Mix well.
Add gluten free oats last and mix until incorporated.
Form a ball with a level 1 tablespoon of dough. Use your finger to create an ident in the center and place one frozen raspberry inside. Gently fold dough around frozen raspberry.
Repeat until all dough is gone. Makes about 12 balls.
Follow me for the latest news!
Some other things you may like: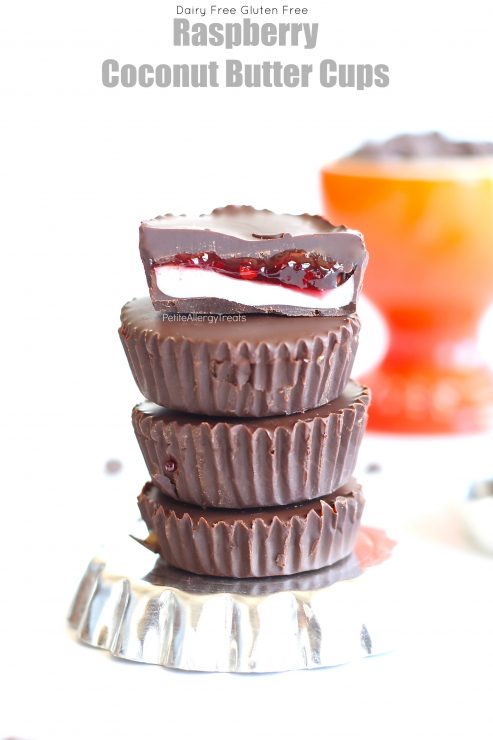 Vegan Raspberry Coconut Butter Cups dairy free soy free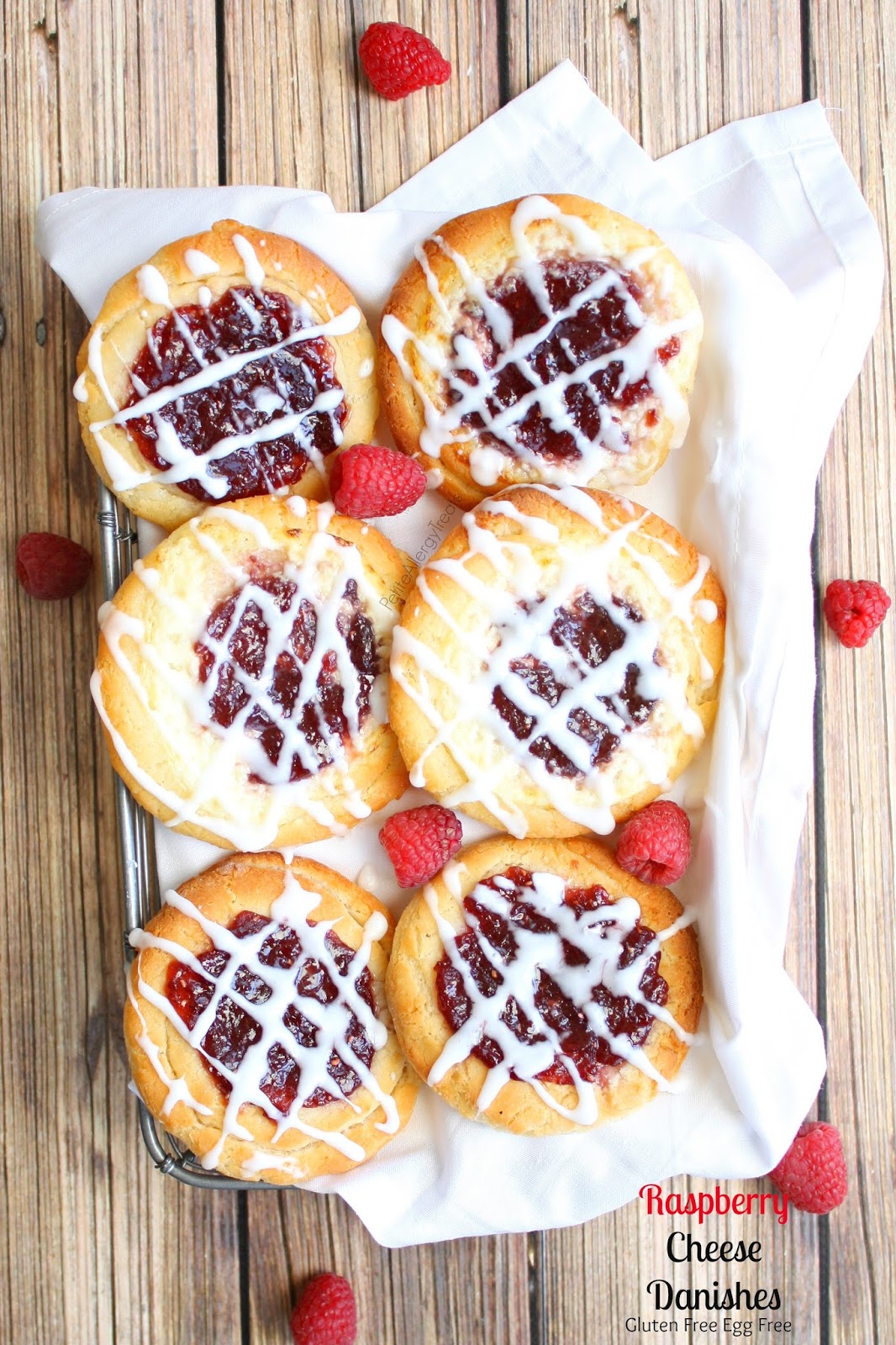 Raspberry Cheese Danish (gluten free egg free, dairy free option)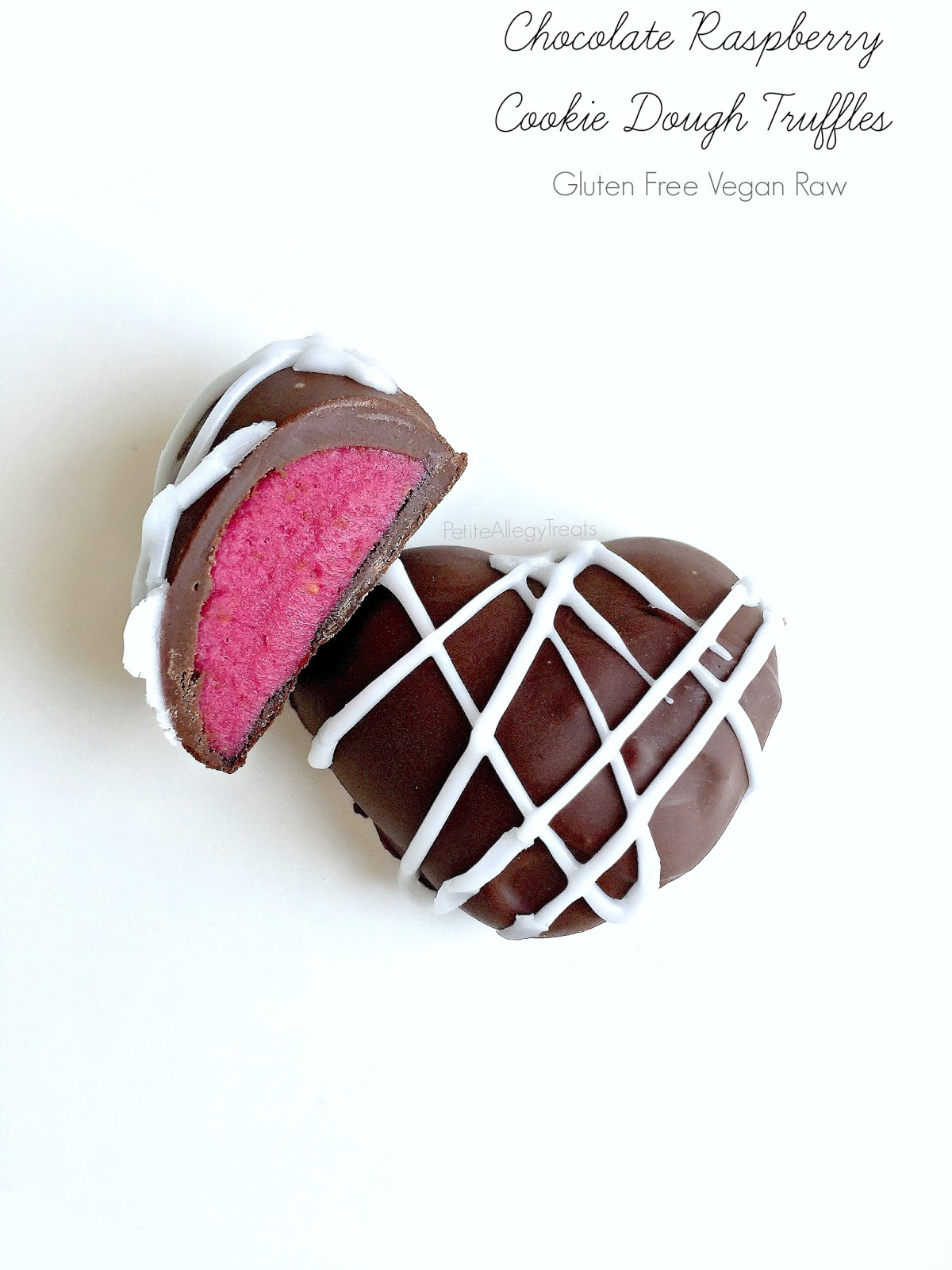 Chocolate Raspberry Cookie Dough Truffles-dairy free vegan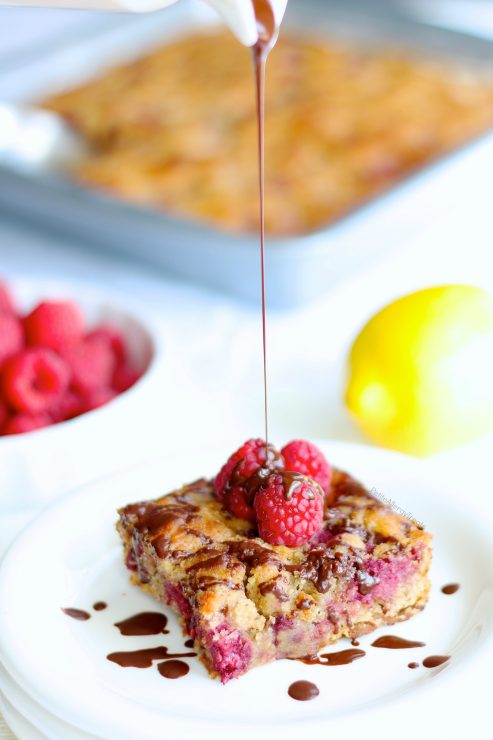 Gluten Free Raspberry Buckle Dump Cake (vegan dairy free)