A ridiculously easy chocolate gluten free Raspberry Buckle Dump Cake. No bowl is used to make this amazing dairy free, egg free, vegan dessert. Full of gluten free whole grains with protein and real fruit, this gluten free raspberry dump cake is healthy enough for breakfast. If don't know how bake, or you're afraid to bake food allergy friendly desserts  just this dump cake is for you!
Thank you Enjoy Life Foods for sponsoring this post! #eatfreely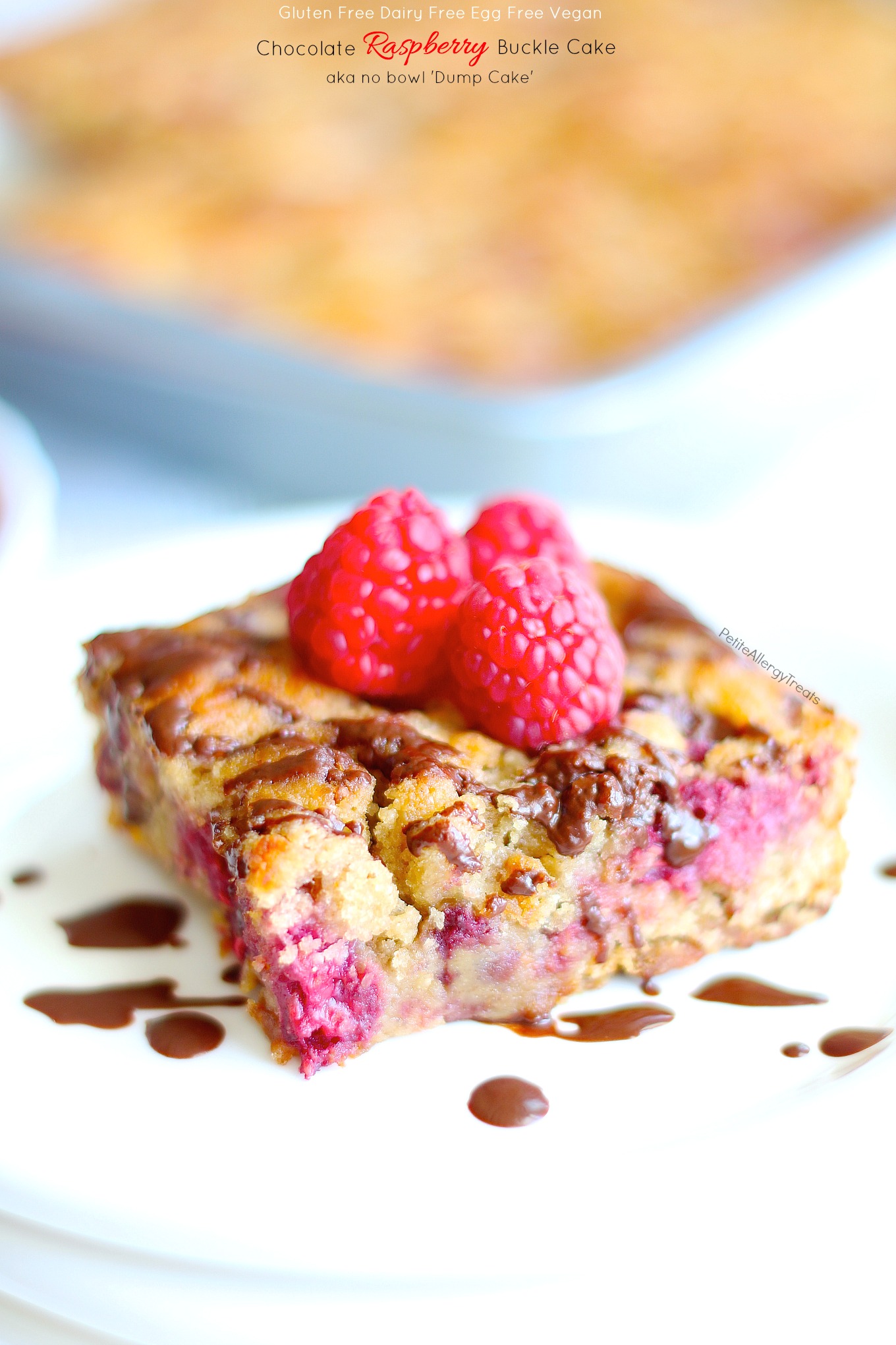 It's back to life and reality after Spring break. Can you believe it's already May?!  May is National Celiac's Awareness month along with a full week of National Food Allergy Awarness. A powerful month to say the least.
We're jumping back into the fast lane with my in-laws arriving this past weekend. While I absolutely love and adore my in-laws (I just call them Mom and Dad), it's work to prepare the house and make sure they have everything they need. Since they often arrive late in the evening, I always prepare a breakfast for the first morning after traveling.  The next day or so, we usually head to the grocery store and have them pick up their favorite food. Or at least something they might like…Let me explain.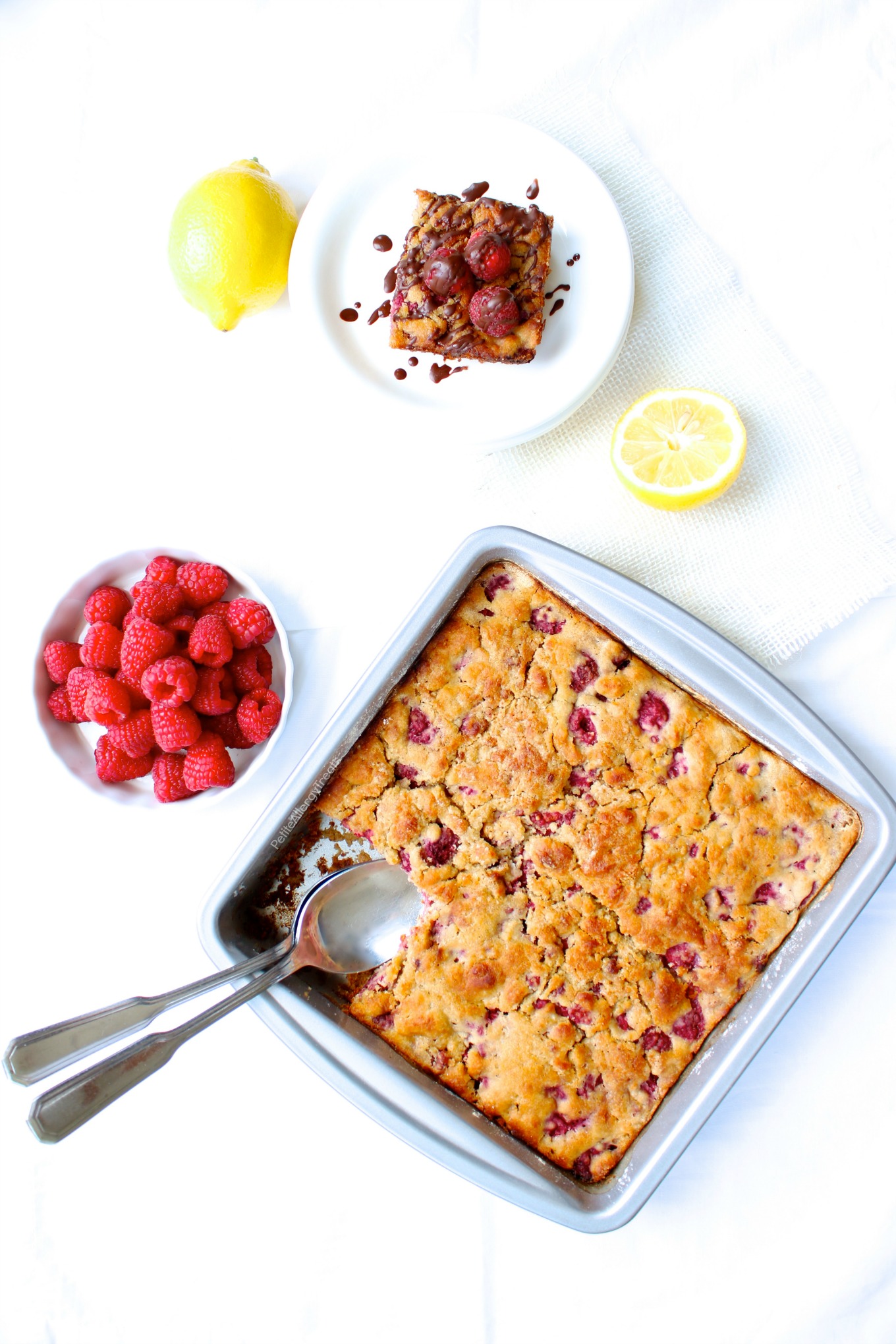 My in-laws are self-less. They are well aware of Mr. Naughty's multiple food allergies and adjust to them without hesitation or resentment. Do they want their favorite breakfast of fried eggs and toast with loads of nuts? You bet. But they don't. And they don't fuss about it. They put their wants aside without a second thought because they want to keep the kids safe. I am so lucky to have them.
The kids and I wanted to spoil the grandparents, with an over the top intricate I-Love-You cake. We thought about making a cake for a full minute before reality set in. We had a time crunch that blatantly put a stop creating something amazing.
Or did it?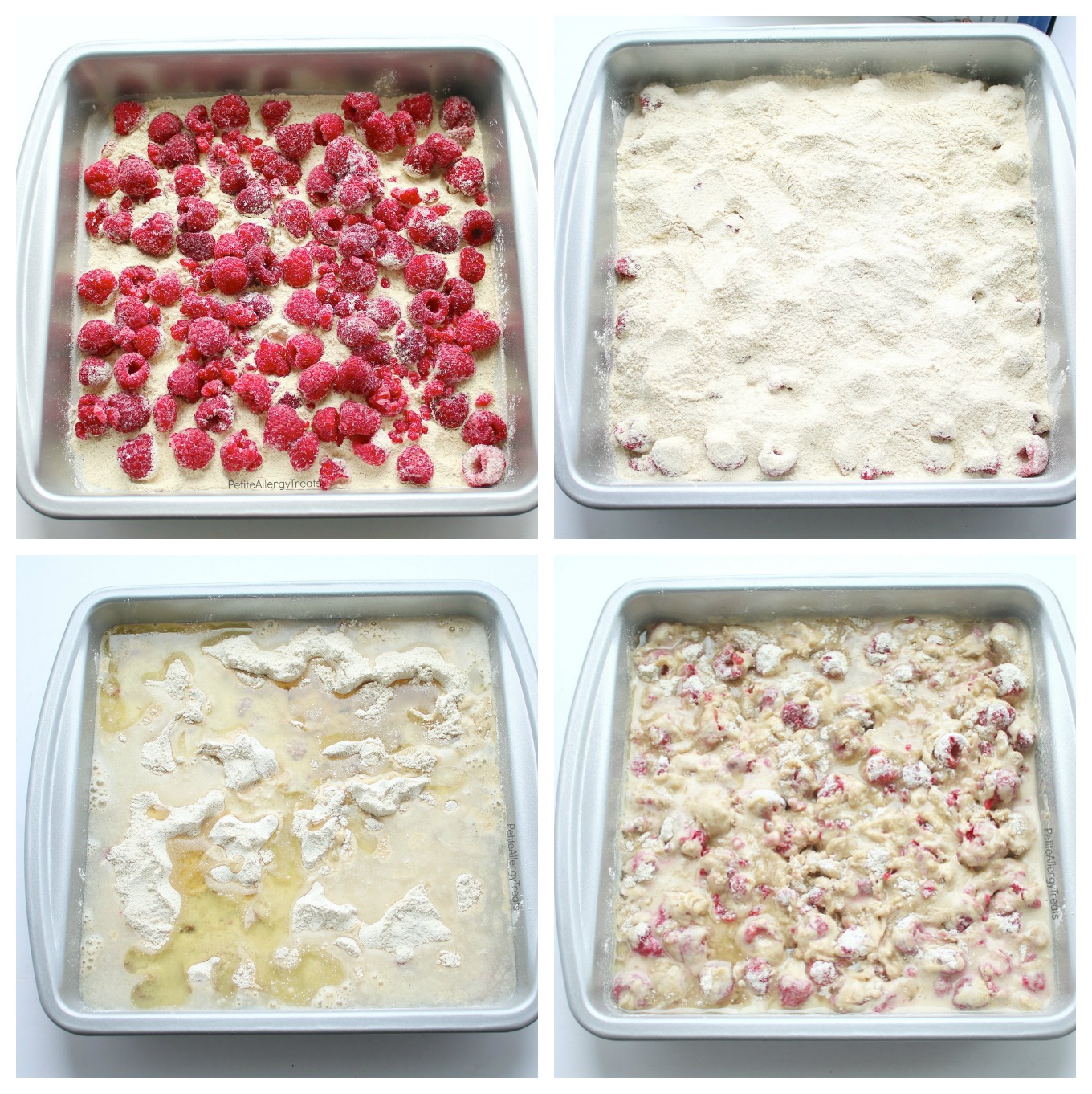 What do you think of this chocolate gluten free raspberry buckle dump cake? Looks impressive, right? You can definitely see the love in the gloriously golden crust. This gluten free dump cake is the product of my older son's, Sir's, extensive memory. Waaaay back before food allergies modified our lives, he made a dump cake. Once. He was only 3 1/2 or 4 years old but remembers making a traditional dump cake from a recipe my husband received at work.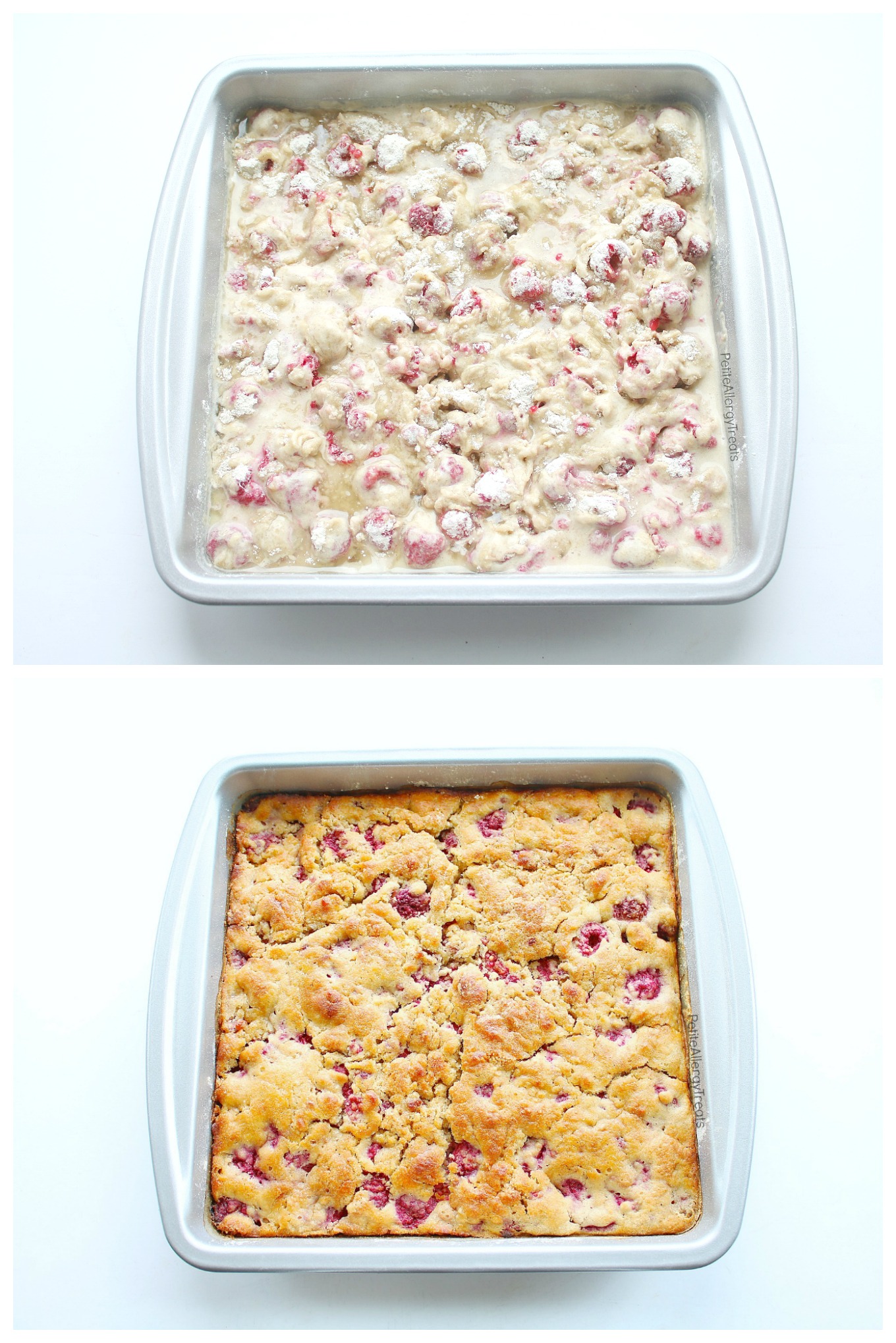 I know. The name "Dump Cake" is less than appealing but very self explanatory. (Here's a great example of a traditional dump cake by Lisa at Wine and Glue if you have no idea what a dump cake is.) Basically you use a ready made cake box mix and add your own fruit. Hence, I give you an easy gluten free raspberry buckle dump cake.
But hold on.
This isn't your average dump cake.
No.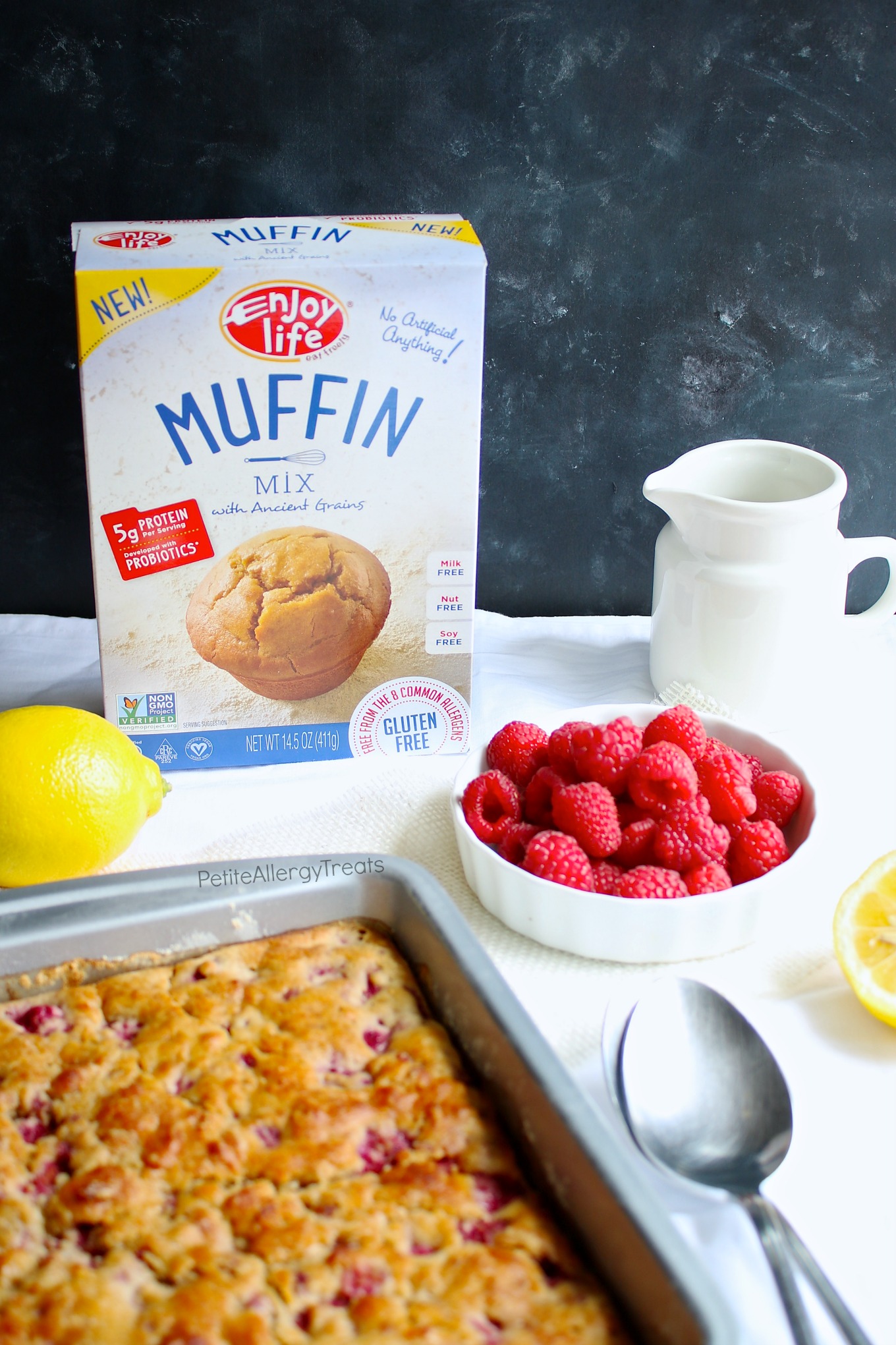 This muffin mix is from Enjoy Life Foods which uses wholesome ingredients like whole grain gluten free flours, probiotics that survive baking temperatures and 5 grams of protein in each serving. Best of all, this top 8 allergy free mix is made on dedicated equipment making it safe from cross contamination.  Top 8 allergen free means it's gluten free, dairy free, soy free, egg free, peanut free, tree nut free and seafood/shellfish free.
I couldn't decide what to call this breakfast cake. Is it a dump cake or a buckle? Or is it both? So I chose to call it both. I'll let you decide what the name is but whatever you call it, it's going to taste wonderful!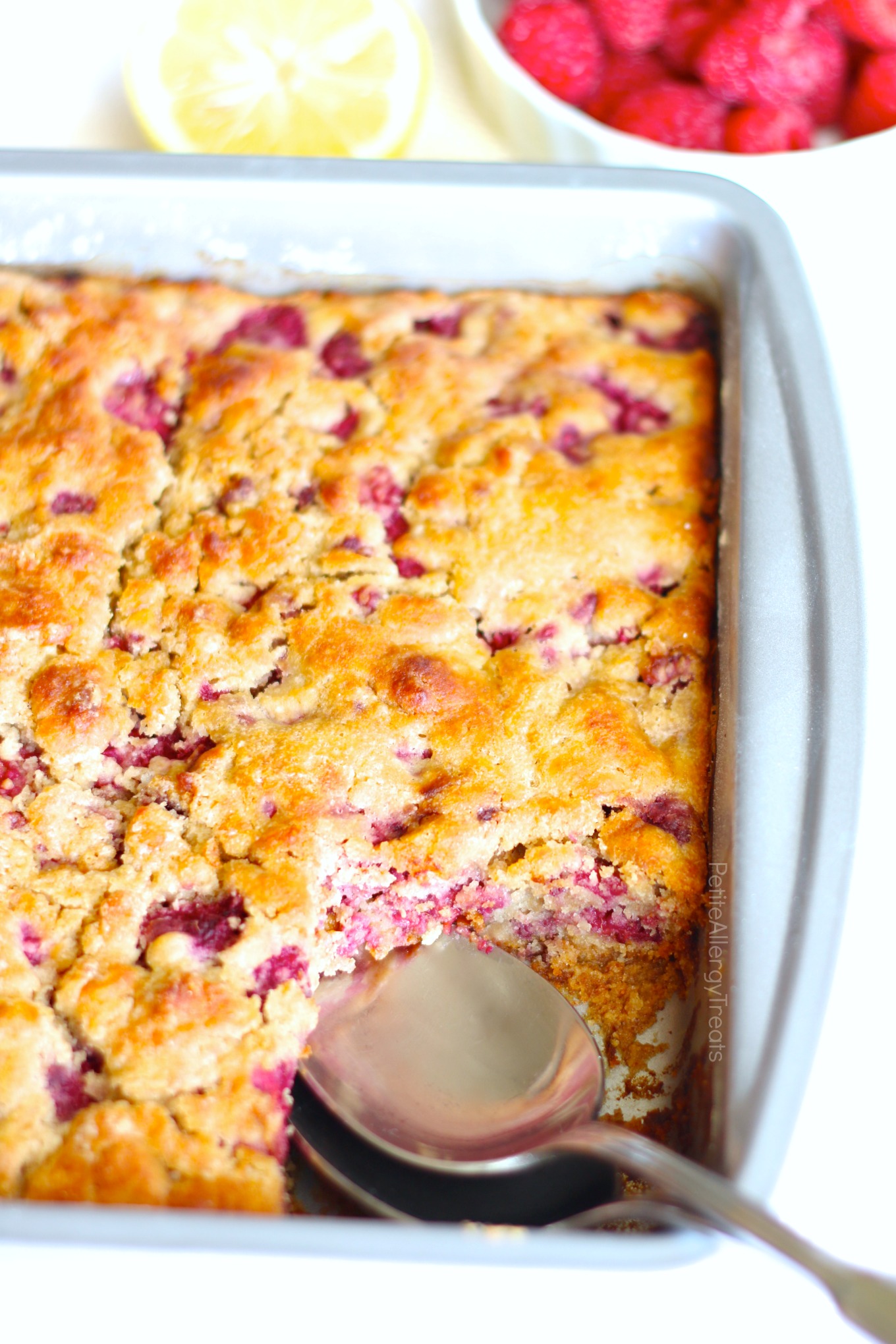 Instead of reaching for traditional dump cake ingredients like canned fruit and soda for liquid, I went crazy. For this raspberry buckle dump cake and used…
Water and oil.
Yep. I need to settle down in the use of crazy ingredients. :p
It turned out pretty awesome if you ask me. And the best part? It's made from a muffin mix which contains less sugar than a cake mix. So it's acceptable as a gluten free breakfast muffin cake, gluten free raspberry buckle cake, or gluten free dump cake– you choose the name.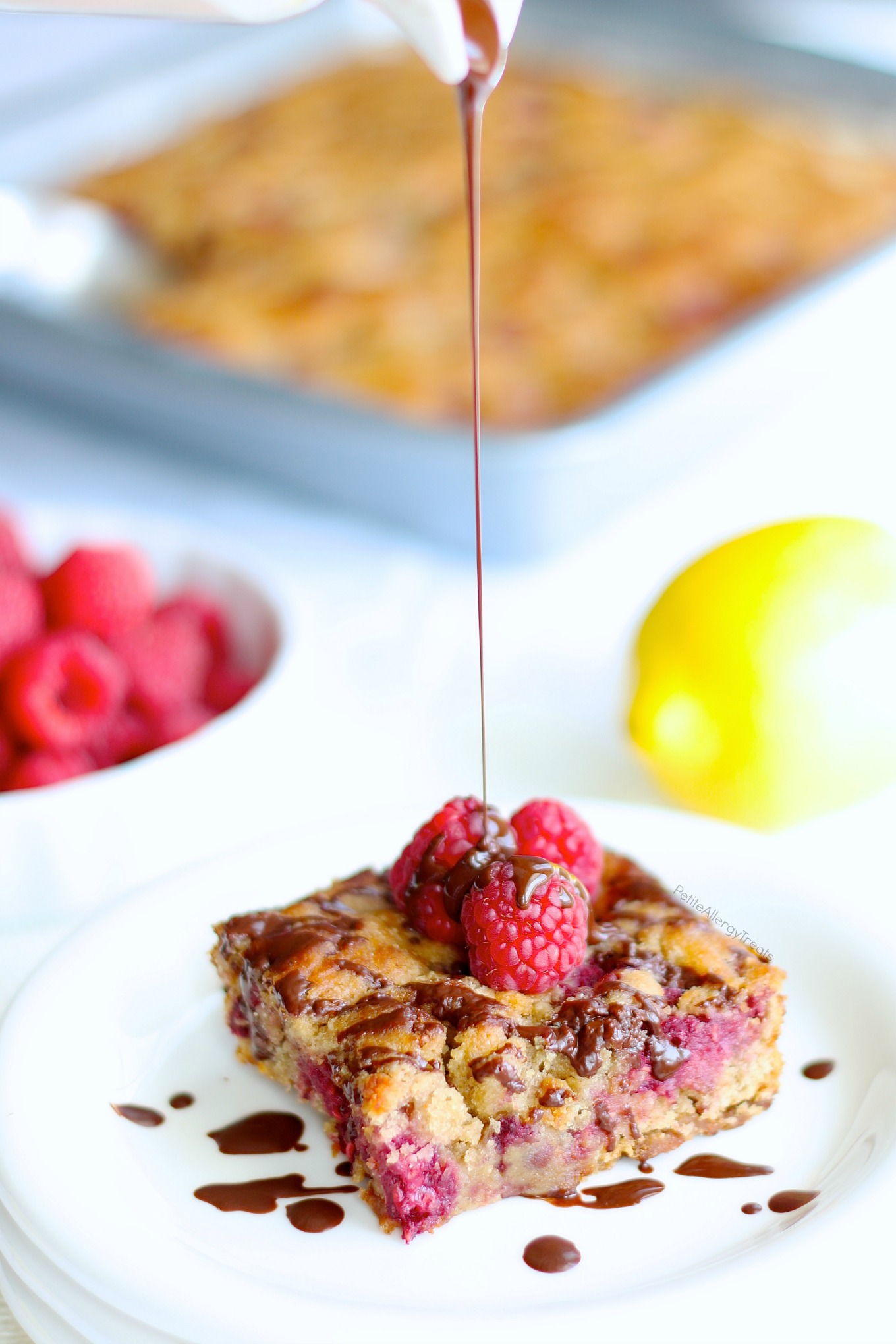 Ready for the extremely difficult easy baking instructions:
1. Dump mix
2. Dump fruit
3. Dump more mix
4. Dump liquid.
5. Bake
That's it. So easy a child could make it. Top generously with chocolate sauce!
Enjoy your no fail no work gluten free raspberry buckle dump cake. Annnd there's more beautiful allergy friendly desserts with this gorgeous Chocolate Vegan Crepe Cake with Raspberries from Taylor over at Food Faith Fitness!

Gluten Free Raspberry Buckle Dump Cake (vegan dairy free)
Author:
Laura @ Petite Allergy Treats
Ingredients
1 box Enjoy Life Muffin Mix
2 cups frozen raspberries
¾ cup water
⅓ cup oil
1 Tbsp fresh lemon juice optional
Chocolate Sauce
Instructions
Pour half of muffin mix into an 8x8 pan.
Scatter frozen raspberries. Cover with remaining muffin mix.
Pour water, oil and lemon juice on top.
Poke with a toothpick and slightly mix to help evenly distribute the liquid and hydrate the cake. (Go for the full out stir if you don't want any loose flour or crispy bottom. Likewise, don't stir at all if you want a crumbly flour top and extra crisp bottom.)
Bake at 350 degrees covered with a foil tent 40 minutes. Remove foil and bake another 13-15 minutes or until the top is golden brown.
Serve warm with chocolate sauce for extra decadence OR enjoy as is for breakfast. <----(It is a muffin mix after all.)
Chocolate Sauce optional
Gently melt chocolate chips in the microwave, stopping every 20 to 30 seconds to stir until melted. Add oil.
Generously pour over raspberry buckle dump cake.
Disclosure: This post has been sponsored by Enjoy Life Foods.  All opinions are mine alone.  Thank you for allowing me to continue working with brands that meet our food allergy needs!  For more about Enjoy Life Foods be sure to follow them for the latest news on  Facebook and Twitter
Follow me for the latest news!
Some other things you may like: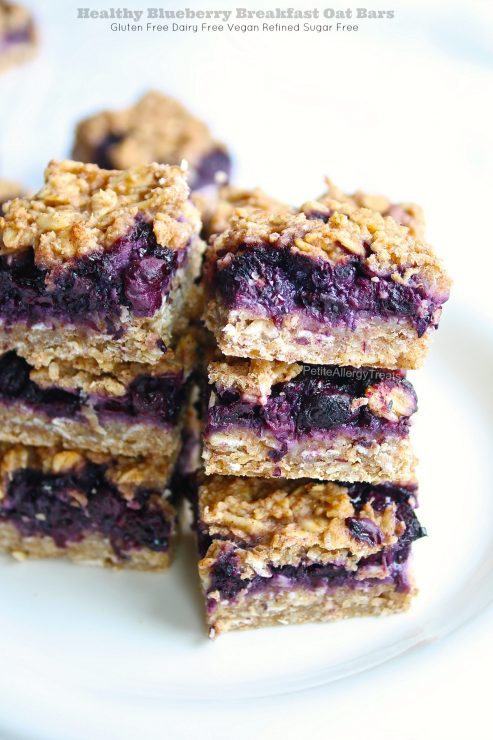 Gluten Free Blueberry Breakfast Oat Bars– dairy free vegan
Vegan Gluten Free Chocolate Pancakes Protein-dairy free nut free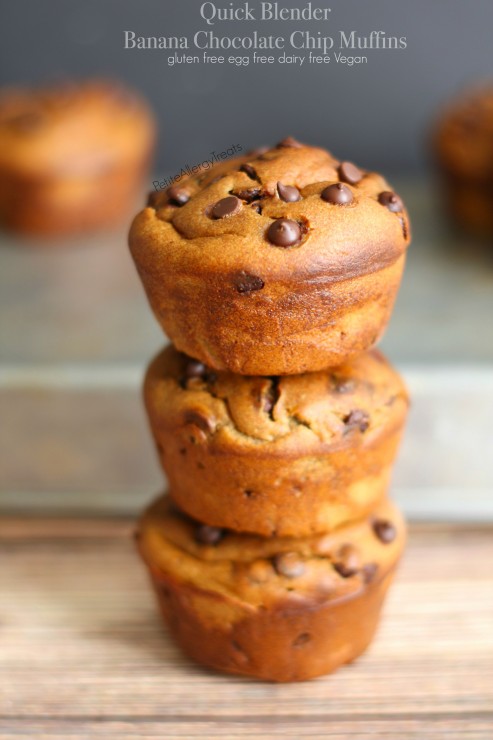 Blender Banana Chocolate Chip Muffins-Gluten Free dairy free vegan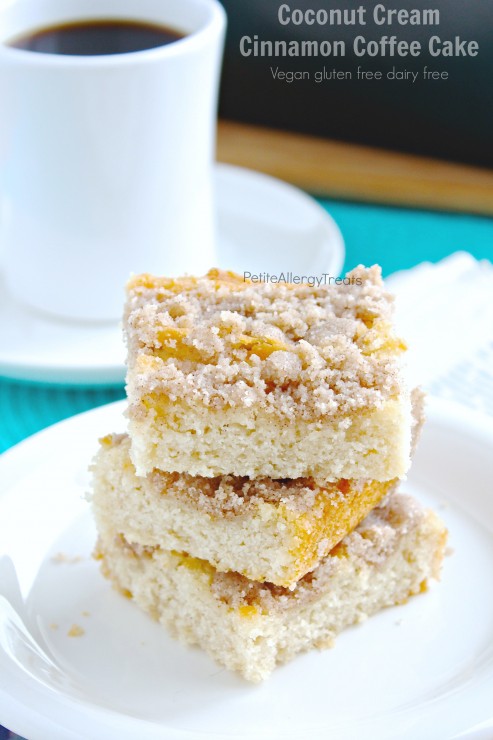 Coconut Cream Cinnamon Coffee Cake (Gluten Free Vegan) dairy free