Gluten Free Espresso Chocolate Chip Cookies are the perfect blend of classic chocolate cookies combined with coffee. Espresso flavored vegan cookies with loads of warm and gooey chocolate chunks. Make sweet memories with dairy free, egg free, and food allergy friendly cookies. (Don't worry if coffee isn't your thing. Turn espresso chocolate chip cookies into the amazing gluten free chocolate chip cookies by omitting the espresso powder.)
Disclosure: Thank you Enjoy Life Foods for sponsoring this post. Share great memories baking allergy friendly together!  #eatfreely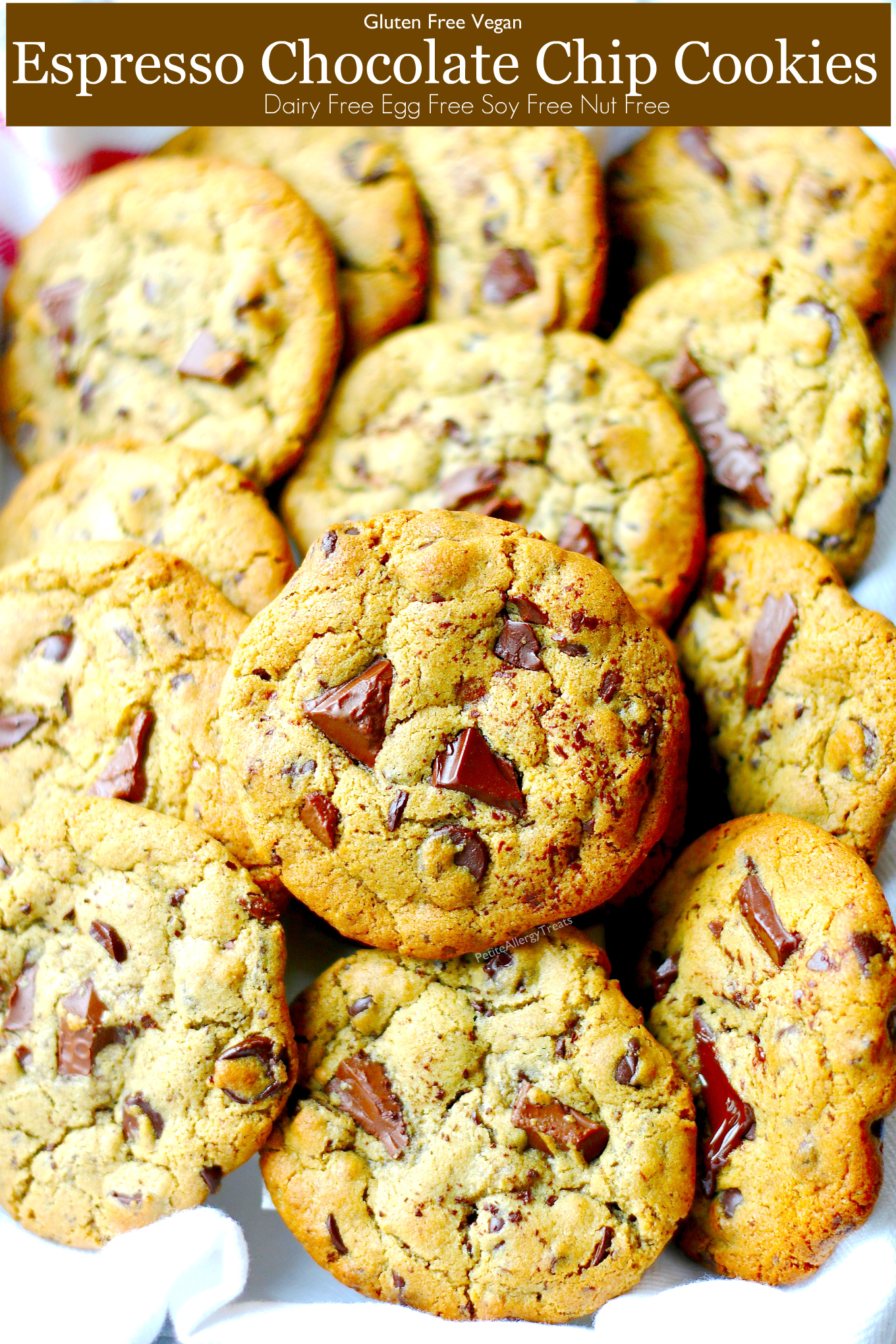 Take a look at these Gluten Free Espresso Chocolate Chip Cookies. You would never know these gluten free chocolate chip cookies are egg free and dairy free by looking at them. Or if you tasted them. Crisp and brown on the outside, yet still soft and chewy inside. Do you see the wrinkles where the cookies spread?! And the oooh so pretty small cracks caused by the cookie expanding and falling? The cookies look straight out from a bakery. Am I right? A perfect cookie in all ways. 🙂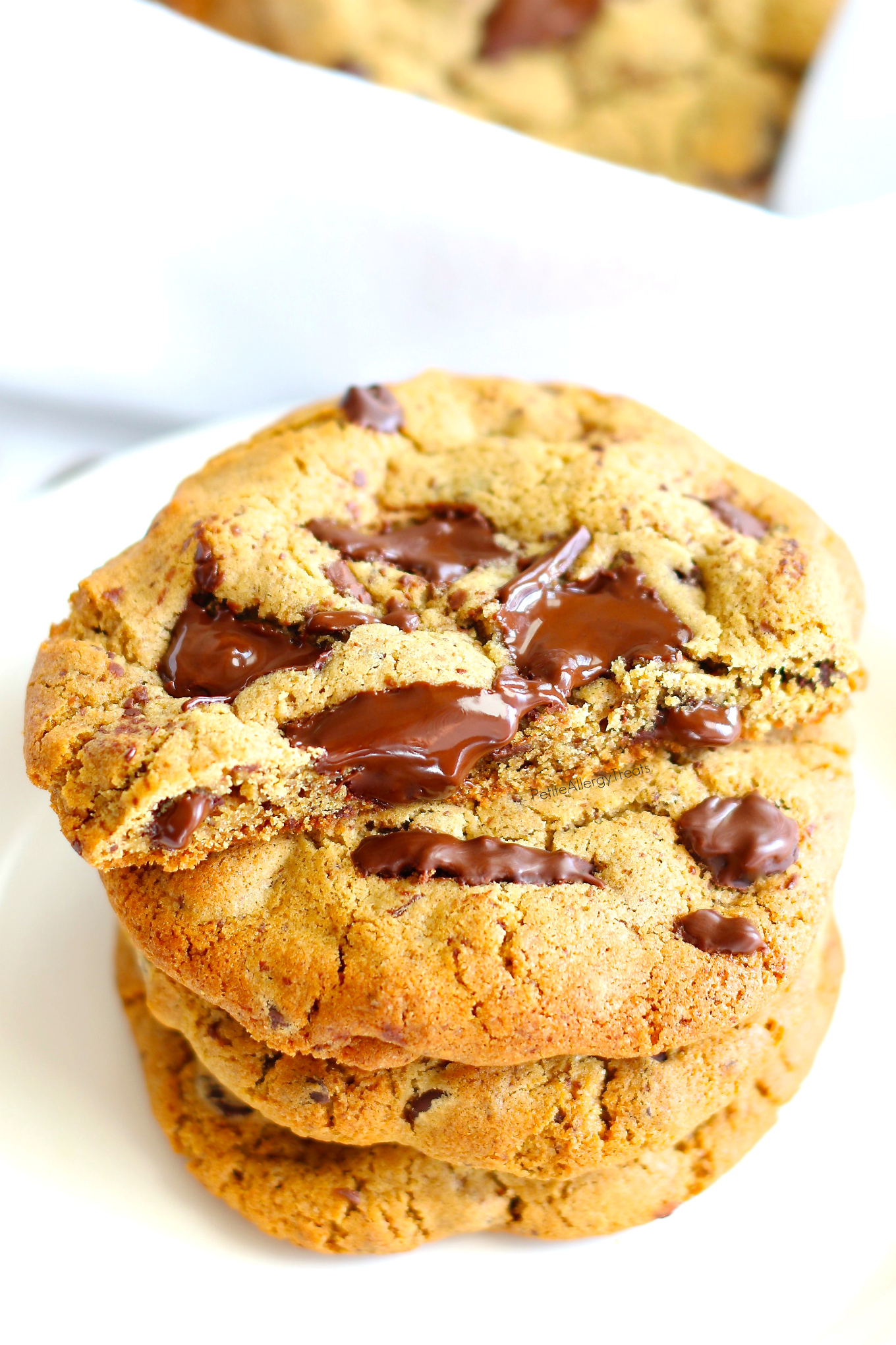 It's a happy time of year. I find myself basking in the glow of having spent quality time with family and friends. The holidays are often exhausting with all the preparation they entail. But. Like most things in life, all the effort is worth it in the end. Because family time together, etches great memories that will last forever.
This year I started playing cards with my boys during the holiday lull. A tradition of sorts. I fondly remember my grandmother playing cards with me as a child. We would visit my grandparents in Florida for Christmas Break. Grandma spent hours with us playing card games like War, Go Fish and Gin Rummy. We would all snack on cookies while she enjoyed her cup of coffee. Needless to say, my boys became obsessed with playing War.
Baking cookies is a common family tradition and a great excuse to get in the kitchen together. There is something about watching a crisp and chewy gluten free chocolate chip cookie rise and bake. I've added coffee in memory of my Grandma to make these Gluten Free Espresso Chocolate Chip Cookies. Feel free to take out the espresso if coffee isn't your thing. Our family tradition is always to bake and decorate cookies on Christmas Eve. We munch on GLUTEN FREE VEGAN GINGERSNAP COOKIES  and GLUTEN FREE SUGAR COOKIES while decorating them with  DAIRY FREE BUTTERCREAM FROSTING.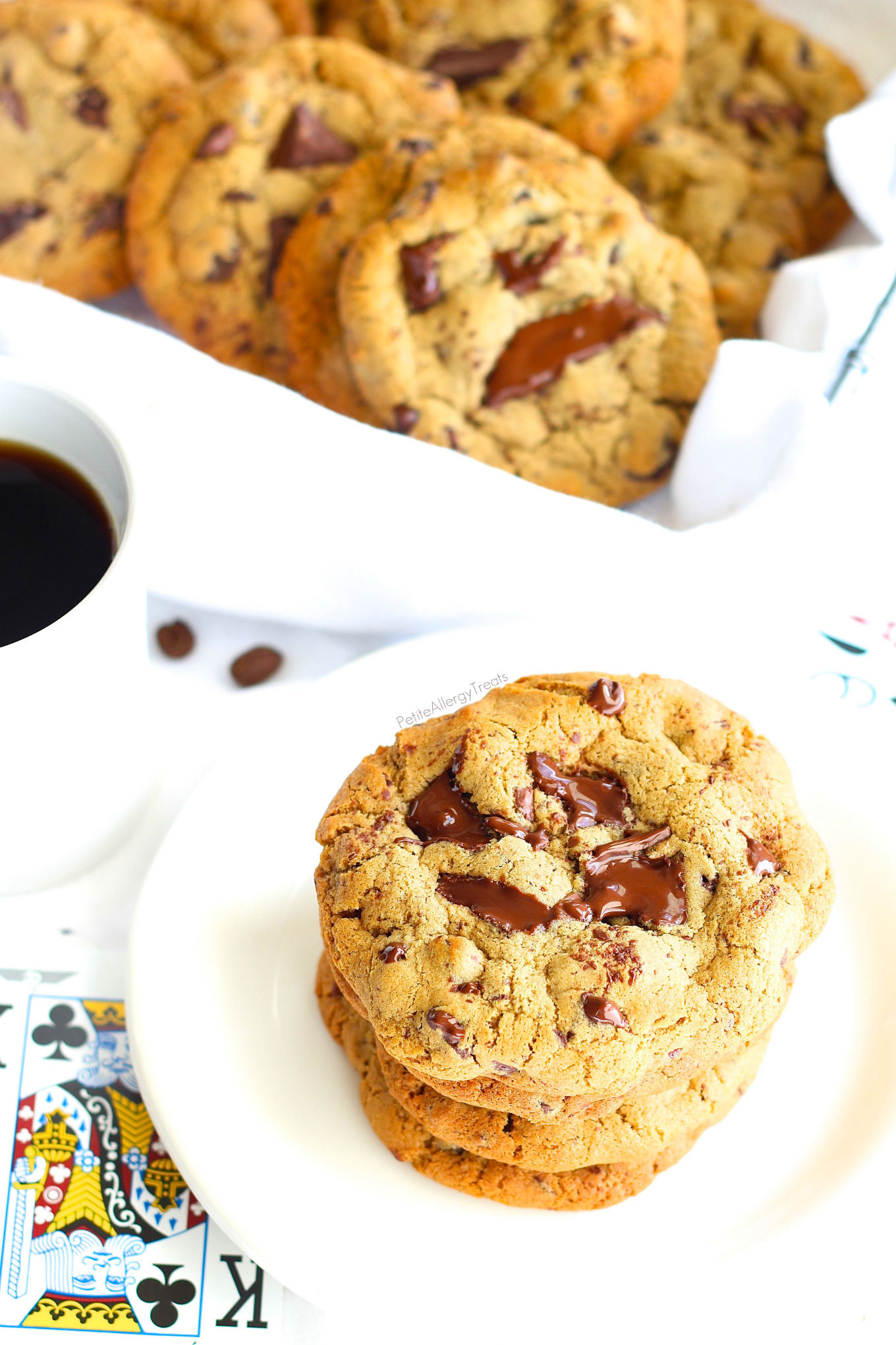 But what happens to family traditions when you have a food allergy?
Food brings people together, it's such a focal point.
Families connect with traditions. And food allergies can easily break that connection. Social and family gatherings are already difficult. Not just because of personality quirks (think the Griswalds at Christmas), but the mere fact that families cook and eat together. For example- Aunt Cecilia is hosting this year but doesn't know how to cook or bake gluten free. Why would she? She does not have a wheat allergy… So what do you do?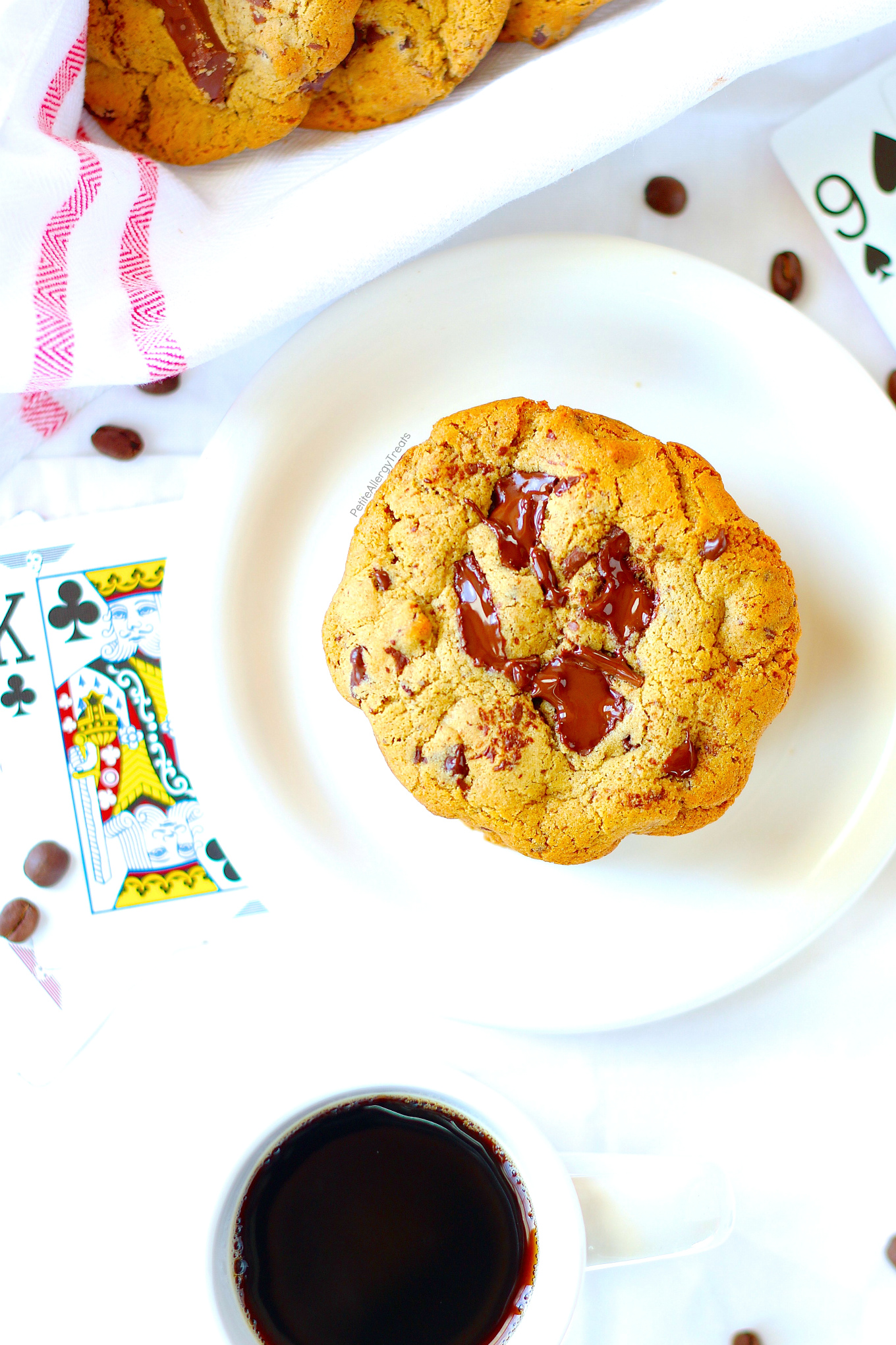 Keep traditional family recipes with the help of ENJOY LIFE FOODS.
Old and new traditions collide head-on with new food allergy friendly products. Preserve quality time together while taking the guess work out of baking egg free, dairy free and gluten free. Enjoy Life Food's ALL-PURPOSE FLOUR MIX consists of ancient grains, 5 grams of vegan protein and heat resistant probiotics.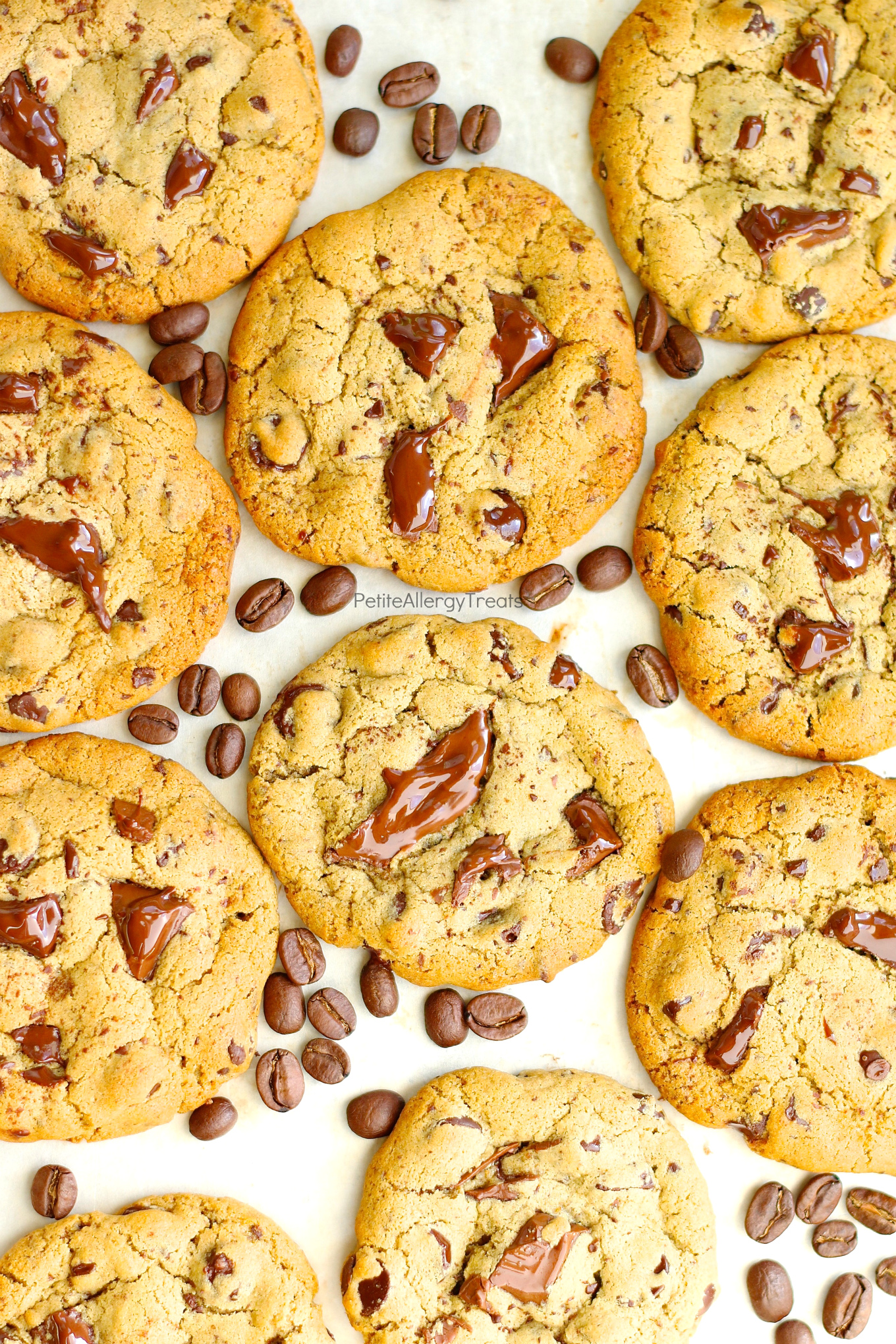 It's nothing like your grandmothers bleached white flour mix. Nope. It's real nutrition added to easy allergy friendly baking. Plus, this mix was designed to work egg free and dairy free without the use of added gums.
Another amazing fact? Enjoy Life Foods is a dedicated bakery free of the Top 8 common Allergens and more. This means it is free from Wheat, Dairy, Soy, Egg, Peanut, Tree Nut, Fish, Shellfish AND Crustaceans, Sesame, Mustard, Sulfites, Lupin, & Casein.
It's so ridiculously allergen friendly I could just scream with excitement!!!!
The prevalence of food allergies only continue to grow in the United States and world wide. I am so thankful for companies like Enjoy Life Foods, for creating allergy friendly products to make dietary restrictions easier.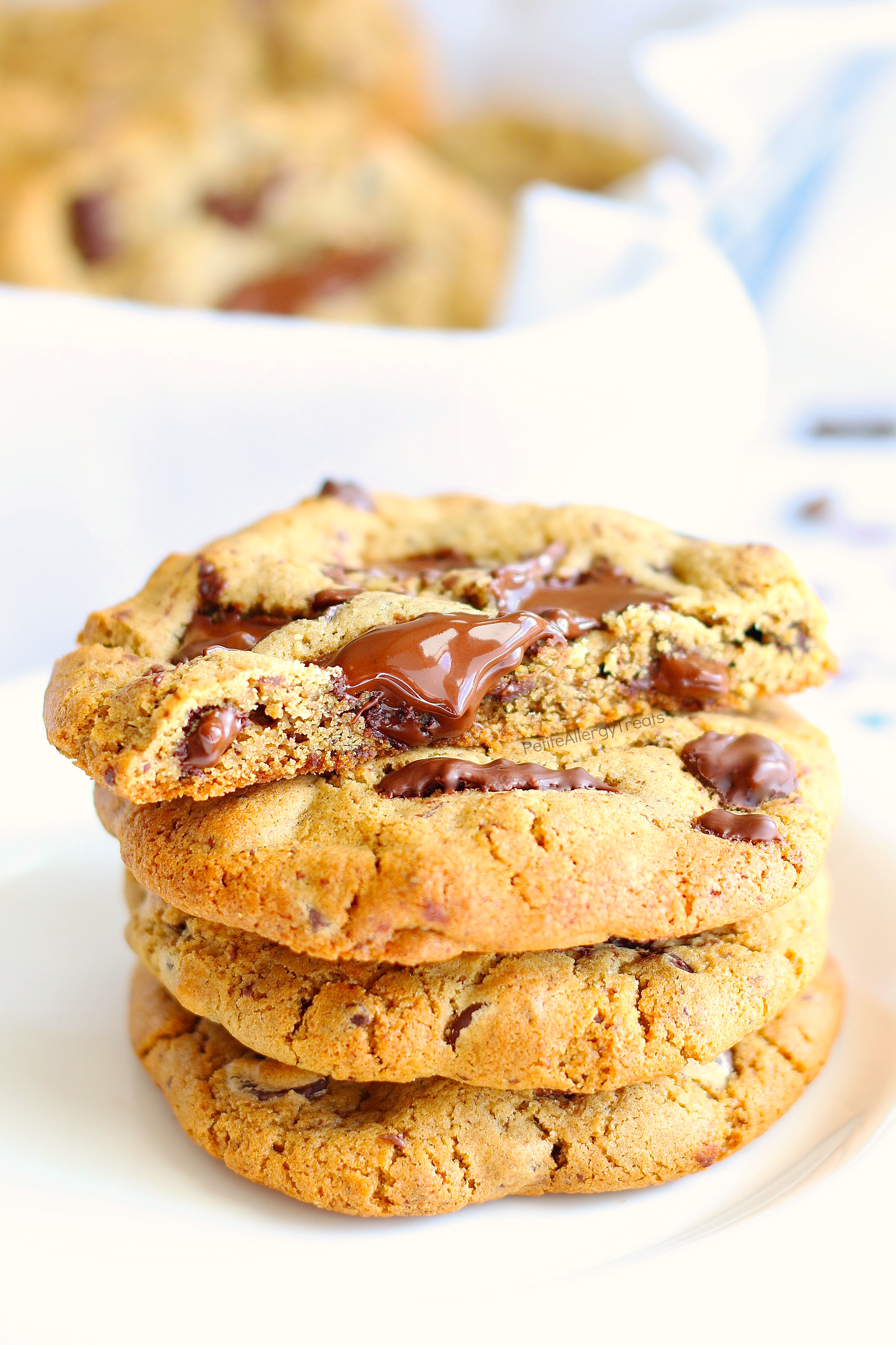 Remember, it is the TIME spent together that teaches the CONNECTION of family. PURPOSEFULLY repeating each year makes it a Family Tradition. Families can connect and write their own set of memories for generations to come.
Make a new tradition or keep an old one of baking. It's the time spent together that makes the tradition special. Family should mean inclusion whenever possible. And Enjoy Life Foods is helping families connect.
And speaking of connecting…
YOU can connect with Enjoy Life Foods! Does your have family have a favorite dessert/recipe handed down through the generations? Then your recipe could be chosen to be featured on their website. It could even inspire a new product! Be sure to share your family recipe here: GENERATIONS OF INSPIRATION now through 2/05/2018 This promotion has ended.
And one last thing! Here are some other great recipes you might like. I think you'd absolutely love some top 8 allergen free Chocolate No Bake Cookies from Alisa at Go Dairy Free , and might also enjoy a Gluten Free Vegan Brownie from Chrystal at Gluten Free Palate.

Disclosure: This post has been sponsored by Enjoy Life Foods.  All opinions are mine alone.  Thank you for allowing me to continue working with brands that meet our food allergy needs!  For more about Enjoy Life Foods be sure to follow them for the latest news on  Facebook and Twitter
Follow me for the latest news!
Some other things you may like: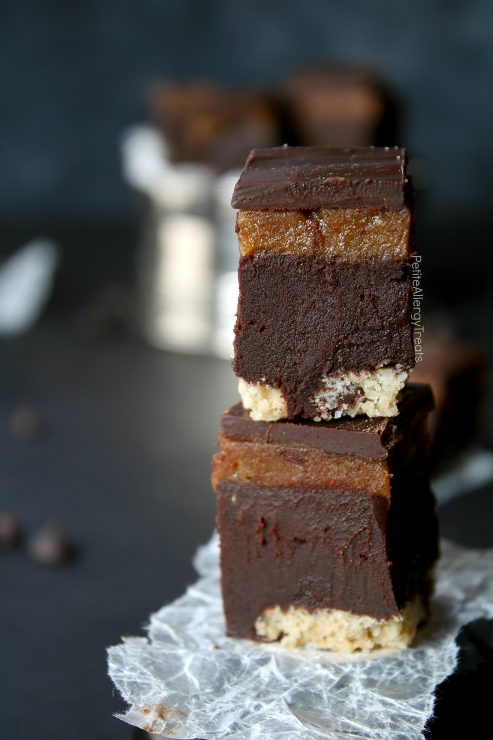 Fudge Twix Bars– dairy free, vegan, gluten free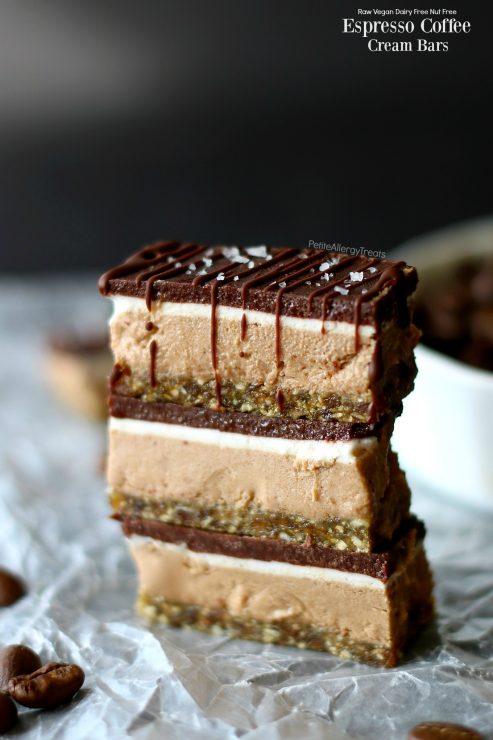 Espresso Coffee Cream Bars– gluten free, dairy free, vegan, raw
Gluten Free Vegan Protein Chocolate Pancakes egg free dairy free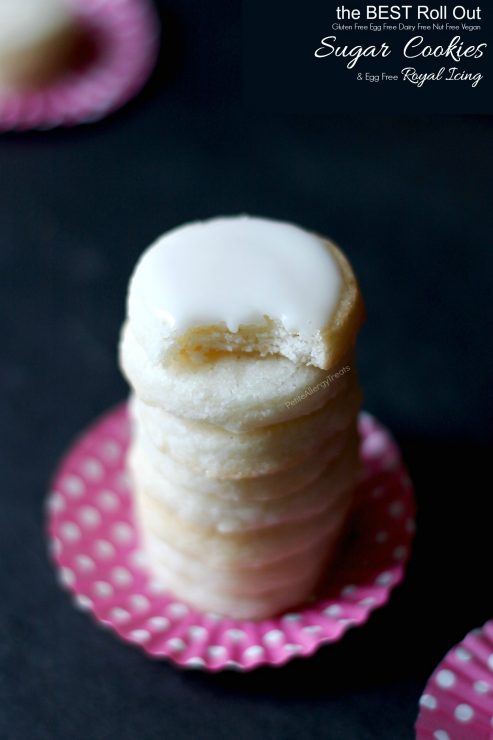 Gluten Free Sugar Cookies– egg free, dairy free, vegan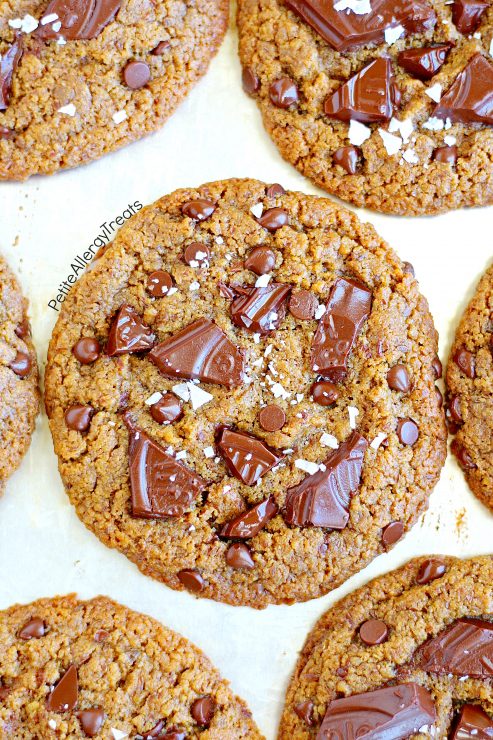 Protein Gluten Free Chocolate Chunk Cookies– nut free, egg free dairy free, vegan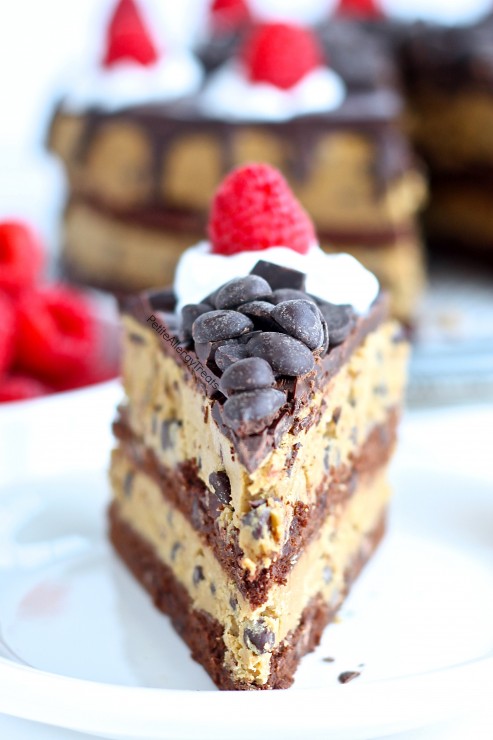 Gluten Free Brownie Cookie Dough Cake– dairy free, egg free, vegan