Decadent Dairy Free Twix Fudge Bars (gluten free vegan)! It's the classic twix candy bar you love made healthier with date caramel. This fudge is even oil free! It's the best dairy free ganache recipe out there! Plus, for peanut and tree nut allergies you can eliminate the fear of cross-contamination with nut free soy free dairy free chocolate.
Thank you Enjoy Life Foods for sponsoring this post! #eatfreely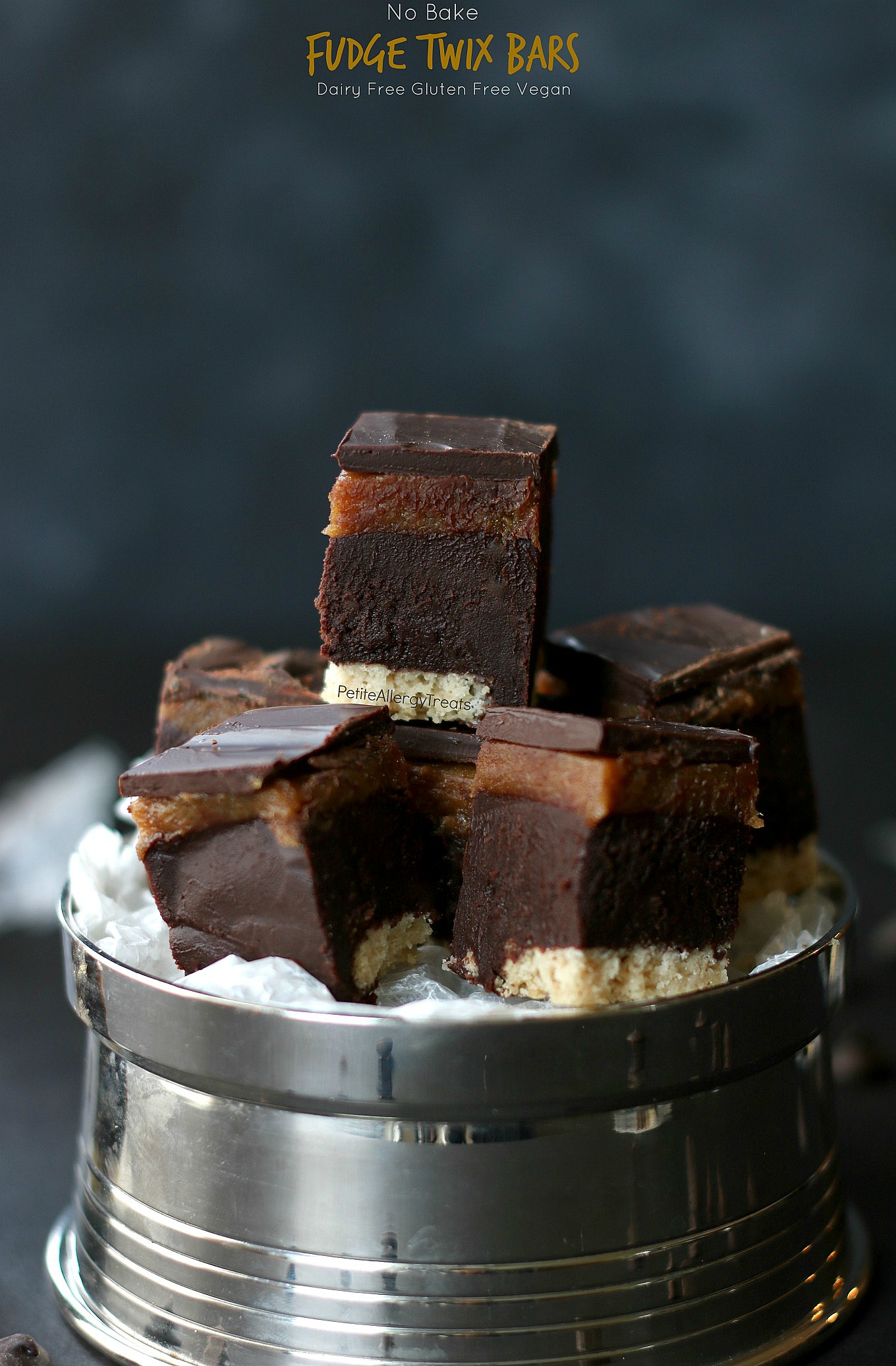 Chocolate makes the world go 'round… Do you remember Willy Wonka and the Chocolate Factory? That's my inspiration behind these dairy free twix fudge bars. My older son and I watched part of the movie last week while we were sick. The candy room and chocolate waterfall was always my favorite part.  If only companies really made chocolate this way…
Maybe we could petition Enjoy Life Foods to recreate this scene at their new Top 8 Allergen free facility in Indiana. They could dump vast amounts of their dairy free, soy free, and nut free chocolate chips into a channel. People could take tour rides in canoes. The paddling would help mix.  Enjoy Life Foods could provide samples of their peanut and tree nut free chocolates as payment. All the peanut and tree nut allergic people could go crazy like kids a candy store without the worry of cross contamination. Sounds amazing, right?! I'll put in a good word with the company. 😀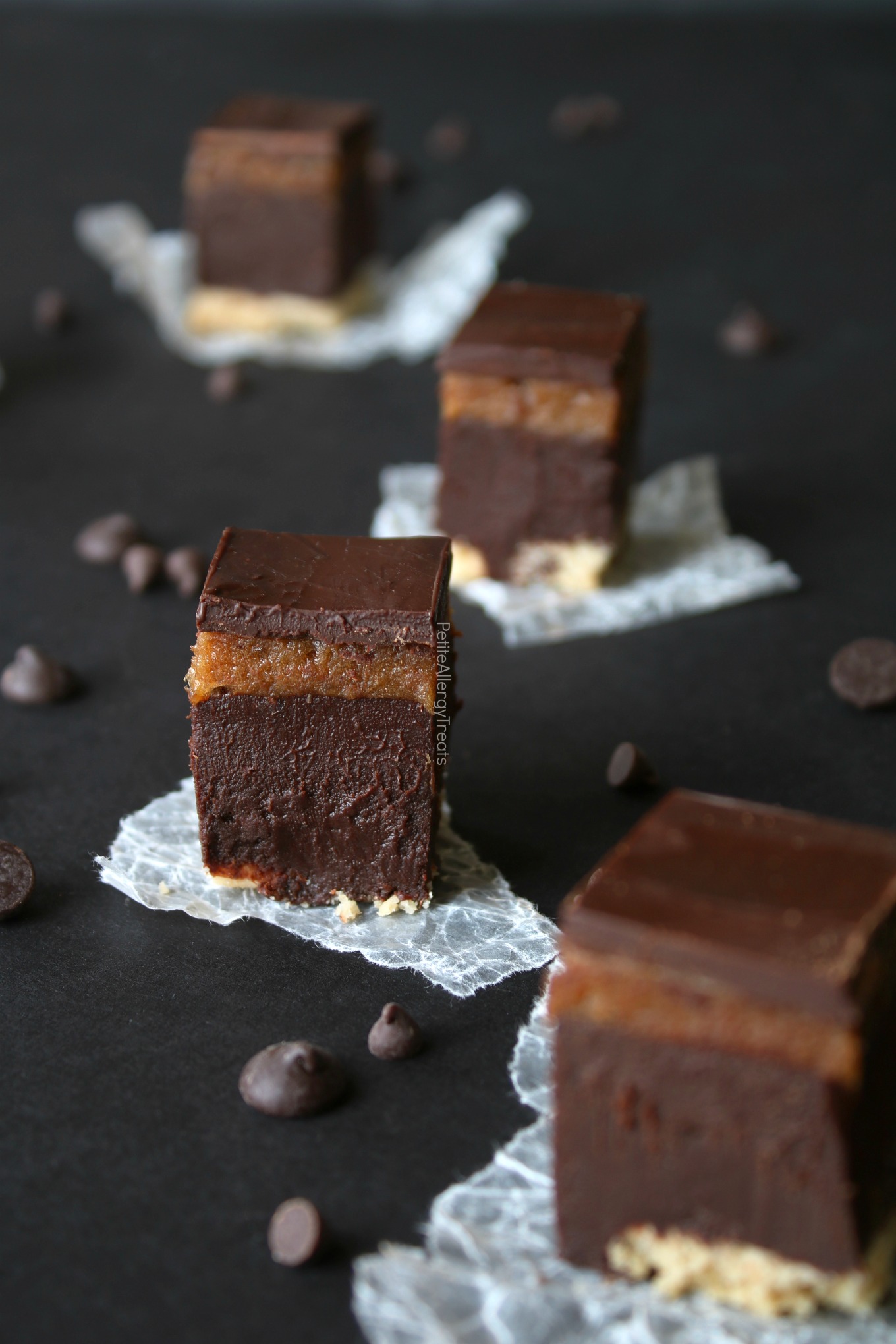 Since it's unlikely to become a reality, you can find the best selling Allergy Friendly chocolate in your grocery stores or online. Not nearly as fun as paddling in chocolate if you ask me. Still good though. And food allergy friendly chocolate is ultimately what matters most.
Oooh, all the things you can make with chocolate! Like dairy free chocolate ganache.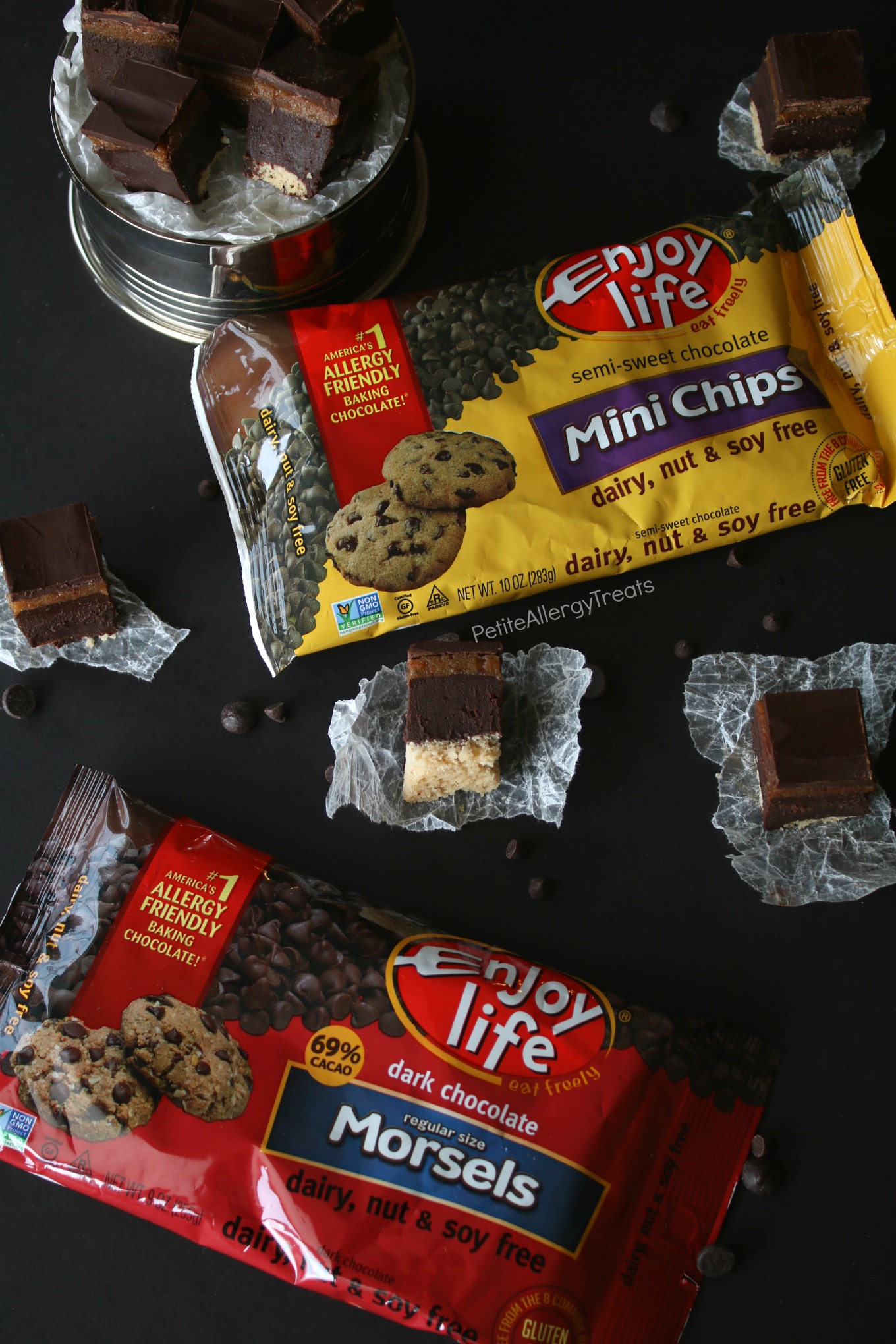 Traditionally this fudgy chocolate is created by combining heavy dairy cream and chocolate. But ganache is finicky. It can 'break' causing the cream to separate from the chocolate if mixed incorrectly. The result is expensive wasted chocolate. And no one wants that.
So. How about a fool proof ganache that happens to be oil free? I've got the easiest (and best) dairy free ganache. My secret ingredient is a little crazy one as far as traditional ganache is concerned.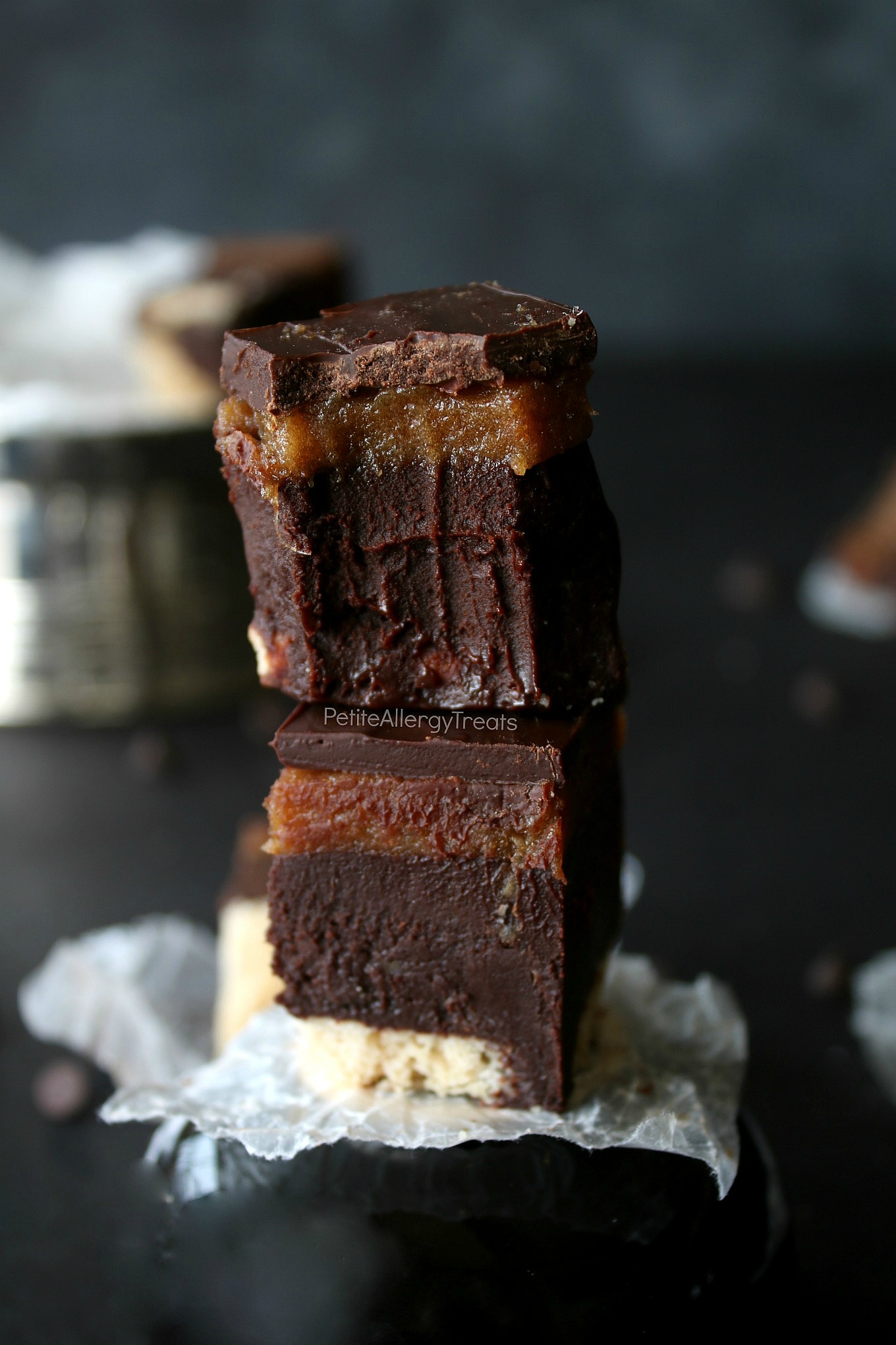 Did you know chocolate and water are mortal enemies? One drop of water can ruin the beautiful silky texture of chocolate. The cocoa in the chocolate sucks up all the moisture and causes discoloration, chunks and fat separation. This is why oil is used to thin chocolate. Not water.
Why did I choose water then to create this dairy free ganache filling? Simple. Most dairy free milks are primarily water in content; not fat or protein like real dairy cream. Annd I was beyond ill from the norovirus and out of dairy free milk. Plenty of water on hand though. I played around get the right texture for the ultimate dairy free twix fudge bars.
My first attempt was an epic failure. I tried the 1:1 chocolate to liquid ratio. It doesn't work. Not even close. I basically had refrigerated chocolate soup. Instead of throwing away the mess, I melted more chocolate. Worked like a charm. Do you see how thick and fudgy it turned out?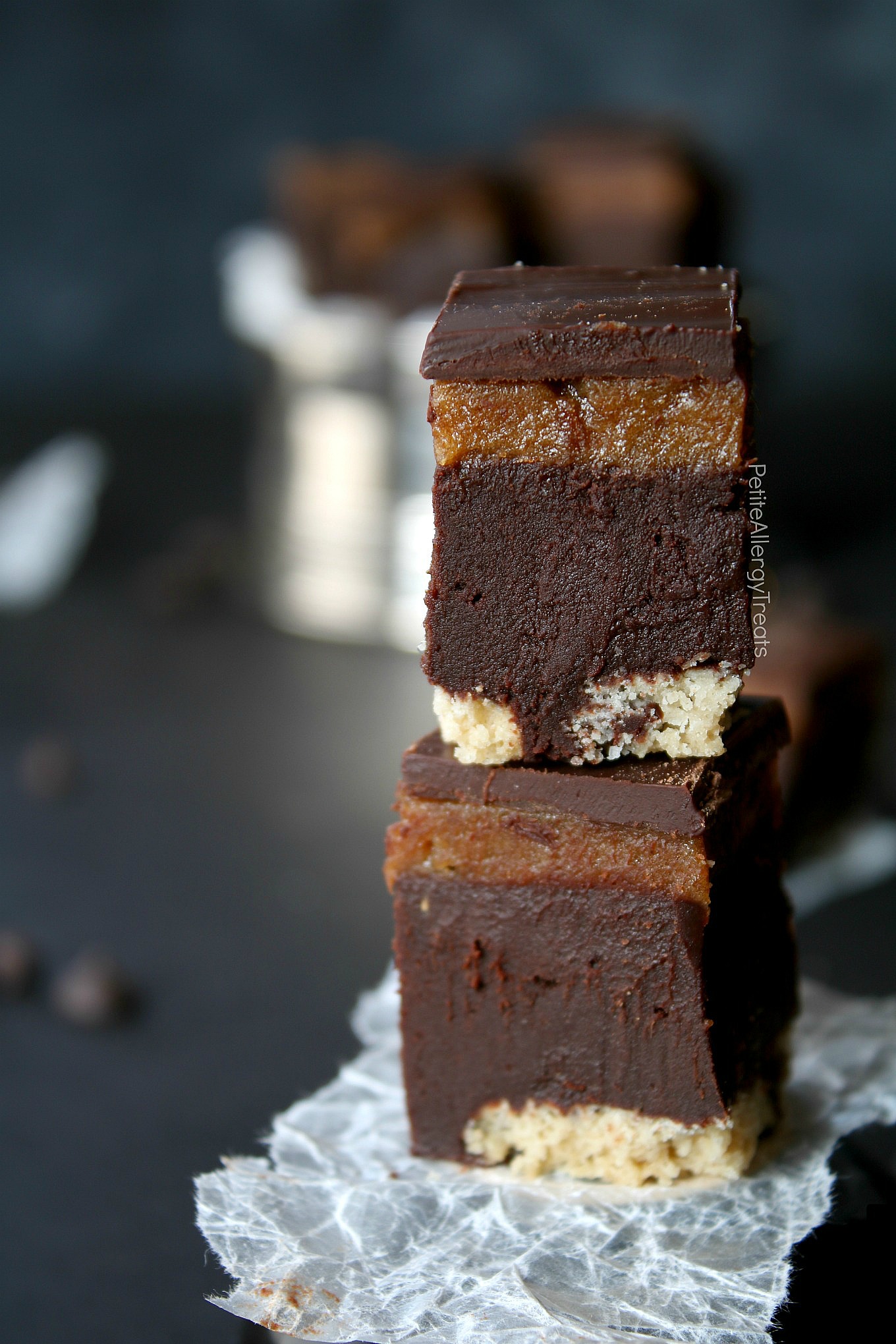 The only real work for these gluten free twix bars is the date caramel. Just soak the dates and food process. Date caramel is still easier than making real caramel and contains no refined sugar. Feel free to use all semi sweet chocolate or dark chips for the oil free fudge.
Enjoy!

Dairy Free Twix Fudge Bars (Gluten Free Vegan)
Author:
Laura @ Petite Allergy Treats
Ingredients
Fudge layer
Caramel layer
⅔ cups pitted deglet noor dates
¼ cup hot water
Cookie base
6-7 Enjoy Life Foods Crunchy Sugar Cookies
Chocolate Top
Instructions
Cookie Layer
Line a 9x5 bread pan with foil and place a single layer of cookies down. Break cookies to fill in gaps.
Fudge Layer
Combine dark and semi sweet chocolate chips in a small bowl. Heat water in a small pot until almost boiling, pour over chocolate chips.
Whisk chocolate and water until melted and mixed. It should be a smooth pudding consistency.
Pour over cookie layer. Place in refrigerator to firm up.
Caramel Layer
Place dates in a food processor and coarsely chop. Heat water until boiling and pour over dates. cover with the lid to rehydrate for 5-10 minutes. Puree until smooth, scraping down the sides.
Spread over cooled fudge and place in refrigerator.
Chocolate top
Melt chocolate chips and pour over caramel layer.
Use a sharp knife warmed over hot water to help cut straight pieces. See note*
Refrigerate leftovers.
Share with your friends!
Notes
Keep fudge refrigerated until chocolate layer is applied. The chocolate layer will quickly set once poured on top. Cut immediately with a sharp knife. Alternately you could use a warm knife to melt/cut for precise lines. 😀

Refrigerate after cutting or freeze leftovers.
Disclosure: This post has been sponsored by Enjoy Life Foods.  All opinions are mine alone. Thank you for allowing me to continue working with brands that meet our food allergy needs! For more about Enjoy Life Foods be sure to follow them for the latest news on  Facebook and Twitter
Follow me for the latest news!
Some other things you may like: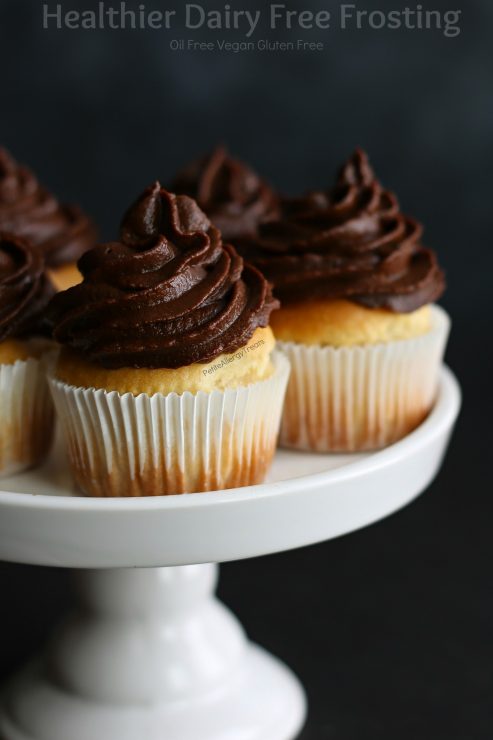 Healthier Dairy Free Chocolate Frosting oil free vegan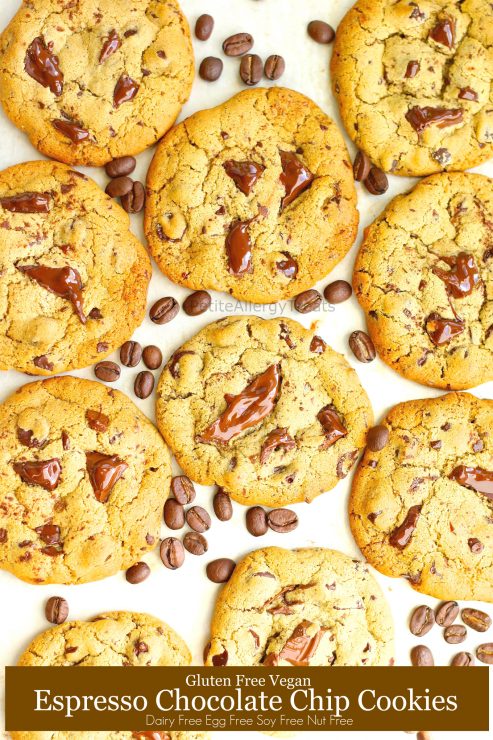 Gluten Free Espresso Chocolate Chip Cookies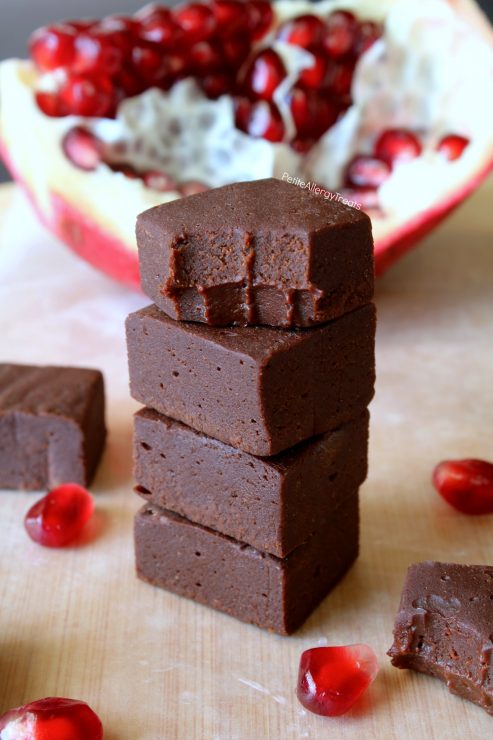 Healthy Dairy Free Fudge (Vegan)
Gluten Free Vegan Chocolate Pancakes ProBurst Bites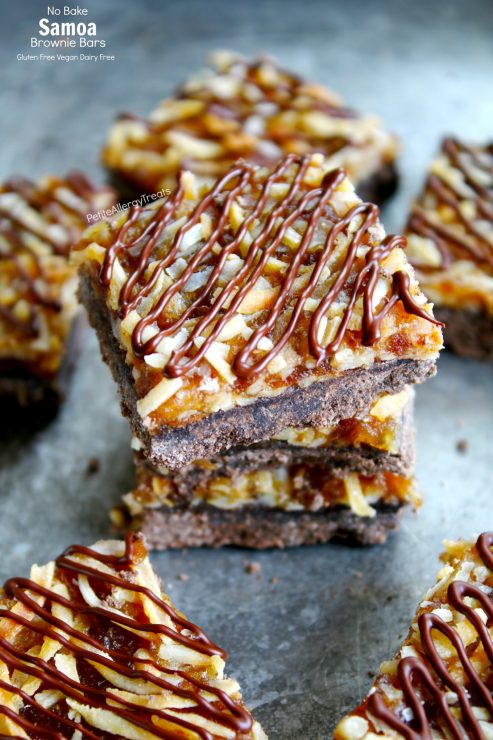 Gluten Free Samoa Brownie Bars (Vegan)-dairy free no bake