Enjoy a classic Gluren Free Vegan Gingersnap Molasses Cookie.  These cookies have just the right amout of spice with a crisp but chewy texture.  In addition, they are egg free, dairy free, soy free, peanut free and tree nut free.  Gingersnap molasses cookies remind me of Christmas baking but can be a great treat anytime of year!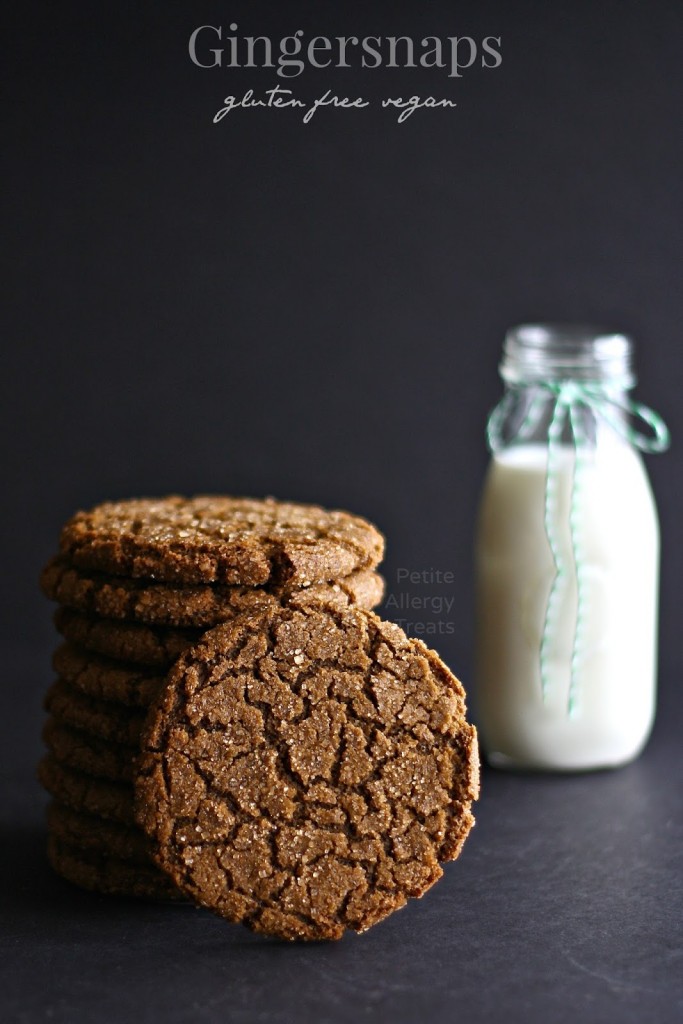 You guuysss.  These cookies…These. cookies. are. A-MA-ZING.
They're soft.
They spread?!
 That's like the best combination of a cookie in my mind.
And that's for a wheat based one.
Finally, a food allergy friendly cookie that looks and taste like a regular one.  Dare I say, even better? 😀
Imagine my excitement when I was able to recreate all these things with a gluten free, dairy free and egg free version.  Another reason I'm patting myself on the back is how long these took to convert based from a recipe I received from a patient while working at the hospital.  Close to 1 year.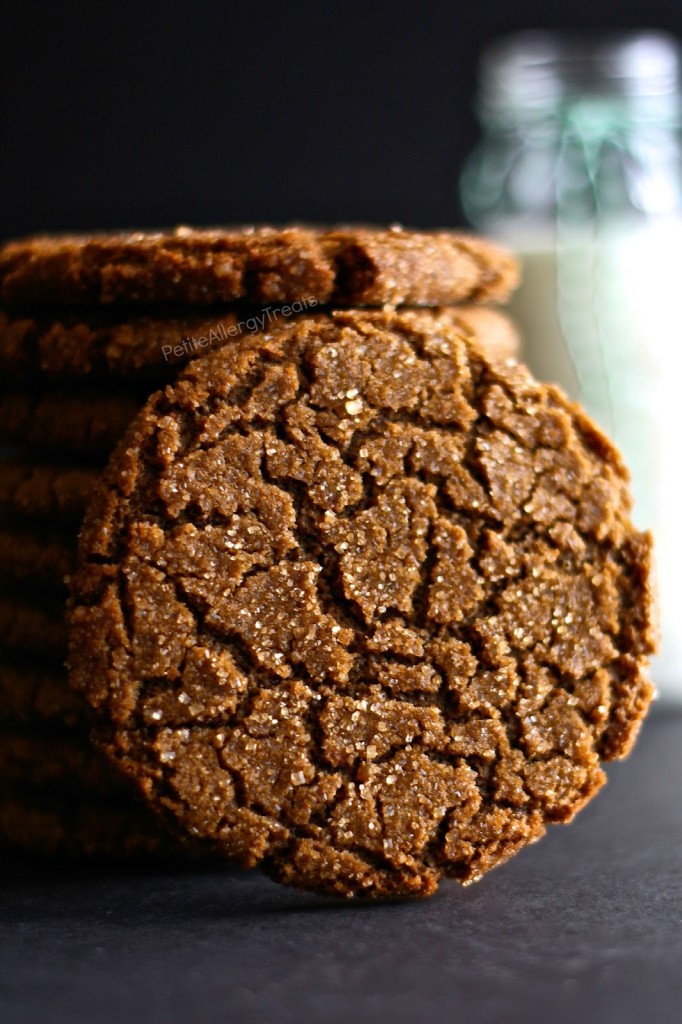 Of course the recipe was wheat based, contained eggs and BUTTER.  Lots and lots of buttah.  Converting wheat, egg, butter and molasses gave me a headache… more on this in a bit.
Molasses is a great source of iron and paired with the correct spices, makes this my most successful cookie to date.
Do you know the main difference between real butter and a shortening?  (Aside from the source of course. And the flavor.  Or the color…).  Think scientifically.
The main difference between butter and shortening is the water/liquid content.  Real butter contains 18% water on average, where as a shortening contains ZERO.  Why did you think shortening makes things crispier and is ideal for pies?  Makes total sense.  Shortening is pure F-A-T.  (Which could also be P-H-A-T in baking since I never met a cookie I didn't like )
So why do you need to know this?  Well, if you appreciate a good cookie without using eggs or dairy, you should listen up.  Have you ever had the unfortunate problem of an egg free cookie that instantly flattens when baked and becomes an oozing bubbling mess instead of a dough?  *raises hand* That was me.
That's a sure sign you need an emulsifier to help hold the fat IN where it should be.  An easy solution would be to just decrease the amount of fat.  The ideal change should probably be 18% less shortening instead of butter, right?  But then the whole moisture/taste/texture gets screwed up.  Even more so if you need to remove eggs… So remove 18% moisture from the butter when you substitute shortening and then 1/4 cup more with each egg… and what would that be exactly???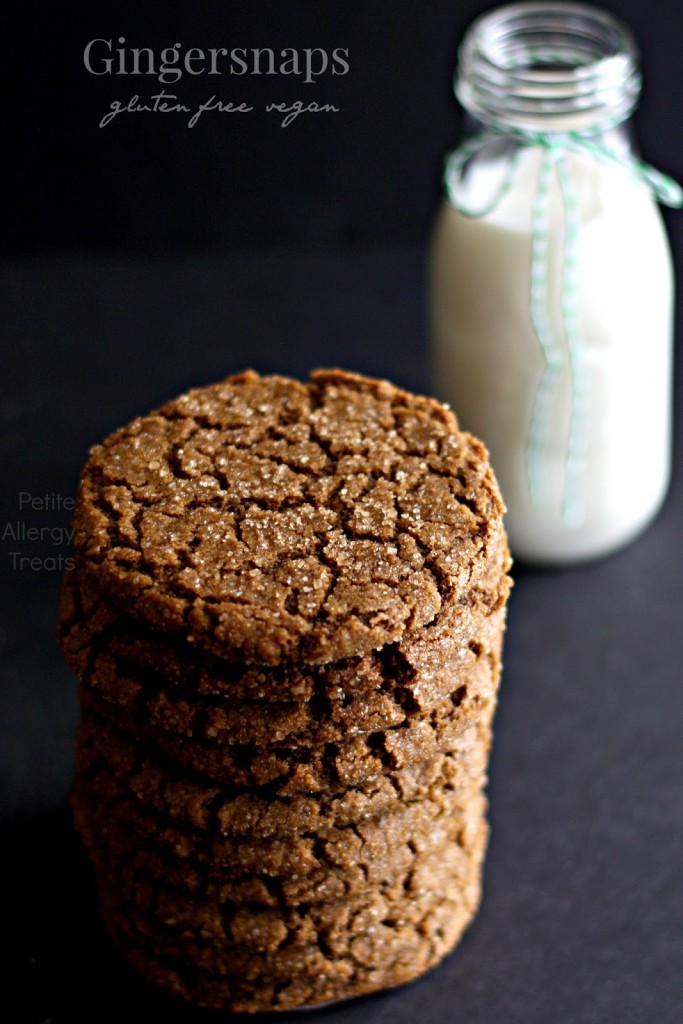 A SAD copy of how the cookies were.  *sigh*  
But maybe I can help change that…
I've found the typical safe Fat to Flour ratio 1:2 without an emulsion problem.  One part fat to two parts flour.  So lets say a recipe calls for 1 cup butter (fat) to 2 cups flour.  That should work just fine without an emulsion problem.  And it works with shortening too.  Eggs typically measure out to 1/4 cup liquid, so you need at least that much water or milk if your original recipe contained at least one egg.  Keep mind though, binding is an entirely different subject…
BUT
Don't forget the other big factor affecting emulsion= Sugar
I don't fully understand it, so I can't really explain it yet… But I know too much sugar throws the 1:2 balance out the window without any real warning.  And it's not just plain sugar.  In this case, molasses.  I struggled to figure this out for a long time.  I knew I had emulsion problems with this recipe and in the past I'd simply substitute applesauce (contains pectin, a natural emulsifier).  And it worked… but the texture wasn't what I wanted.  It was too soft and didn't have that crisp bite I was looking for.  I'm still figuring out the best sugar to fat/flour ratio which you can guess varies for each type of recipe like a muffin, cookie, cake etc.
So I played around with gingerbread.  A lot.  Like really, A LOT.  The whole gingerbread house and these cookies were my reward.
That's why this recipe took so long… and why it looks a little strange.  The sugar content for these are a bit higher than I typical bake with but the sugar actually helps hold things together and gives that dense chewy bite that won't fall apart or feel like sand on your tongue.
Gluten Free Vegan Gingersnap Molasses Cookies
Author:
Laura @ Petite Allergy Treats
Ingredients
3 cups my gluten free flour basic white blend
1½ cups sugar
⅔ cup vegetable shortening
¼ cup + 2 T molasses
¼ cup + 2 T milk of choice or water
2 tsp guar gum
1 tsp baking soda
1¾ tsp ground ginger
¾ tsp cloves
¾ tsp cinnamon
Sugar for coating
Instructions
Combine shortening, molasses, sugar, milk, and spices in bowl. Mix by hand or with a mixer until ingredients are well combined and sugar is dissolved.
Add baking soda, guar gum and gradually add all of the flour while constantly mixing. Continue to stir/mix until all the flour is incorporated.
Dough will be sticky. Use a cookie scoop to form balls. Roll in sugar and place on a parchment paper lined baking sheet. Slightly flatten. Leave 1-2 inches of space between, cookies will spread slightly.
Bake at 350 degrees for 11-12 minutes. Look for the edges to turn golden brown. The center will appear wet and cracked. Allow to fully cool before moving or else the cookies will fall apart. (For an extra crisp outside with a soft center, turn the oven off and open door allowing the cookies to sit another 1-2 minutes )
Some other things you may like: