Naturally colored Gluten Free Red Velvet Cupcakes (vegan dairy free). Go for a red colored Valentines's Day dessert or any special occasion but without synthetic dye. Beautiful red mahogany colored red velvet cupcakes made dairy free, egg free, and Vegan.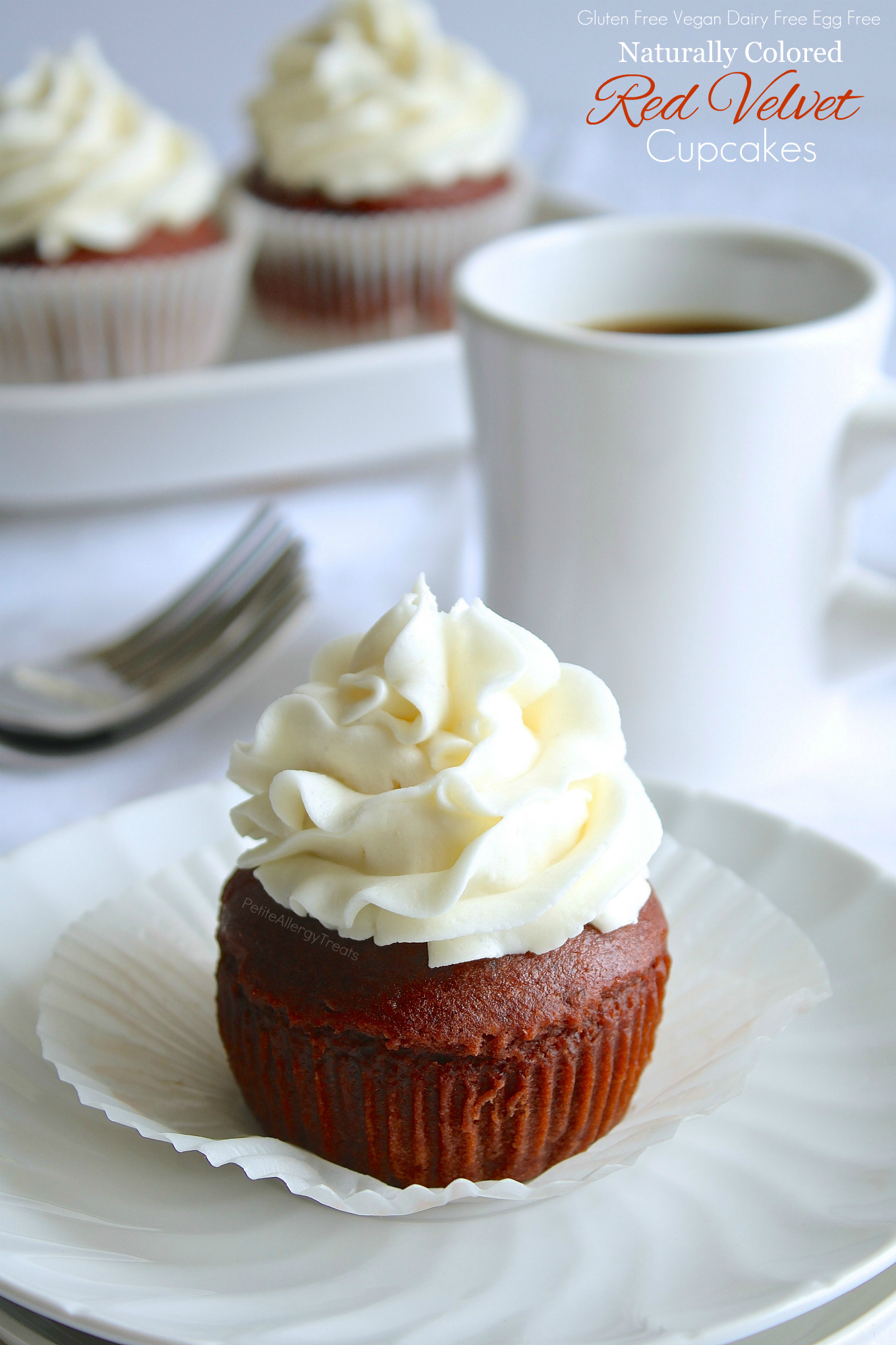 We got the beat… yeah, we got beet… Sorry. The Go Gos song has been stuck in my head for DAYS. Yep. All thanks to working with real beets. Although, truth be told I enjoy dancing and baking to beats.
It's all about the sweet vegetable beet for these throw back Gluten Free Red Velvet Cupcakes. Ok, maybe not exactly a throw back since most red velvet cupcakes were not actually gluten free vegan red velvet cupcakes. In other words they were not dairy free, egg free or gluten free for that matter. I used my BEST DAIRY FREE BUTTER CREAM FROSTING  but you could also use HEALTHIER DAIRY FREE CHOCOLATE FROSTING But I wanted to make a dye free V-day treat and found that beets were used at one time to created that red look.
That's not all.
Here is everything you never knew about Red Velvet Cake. Or at least all the things I found while searching for where it came from.
The original red color wasn't nearly as bright and vibrant as the cakes produced now. Not at all. In fact, the old version of red velvet was closer to a deep brownish red or mahogany. The color was something to due chemically with the cocoa powder reacting to the acid in the recipe. This would naturally occur without even trying to be a 'red velvet' chocolate cake per se. But things changed around World War II when food became scarce and rationed. Bakers took things into their own hands and found that the vibrant red from beets could create a red hue to the cake as long as too much cocoa wasn't added.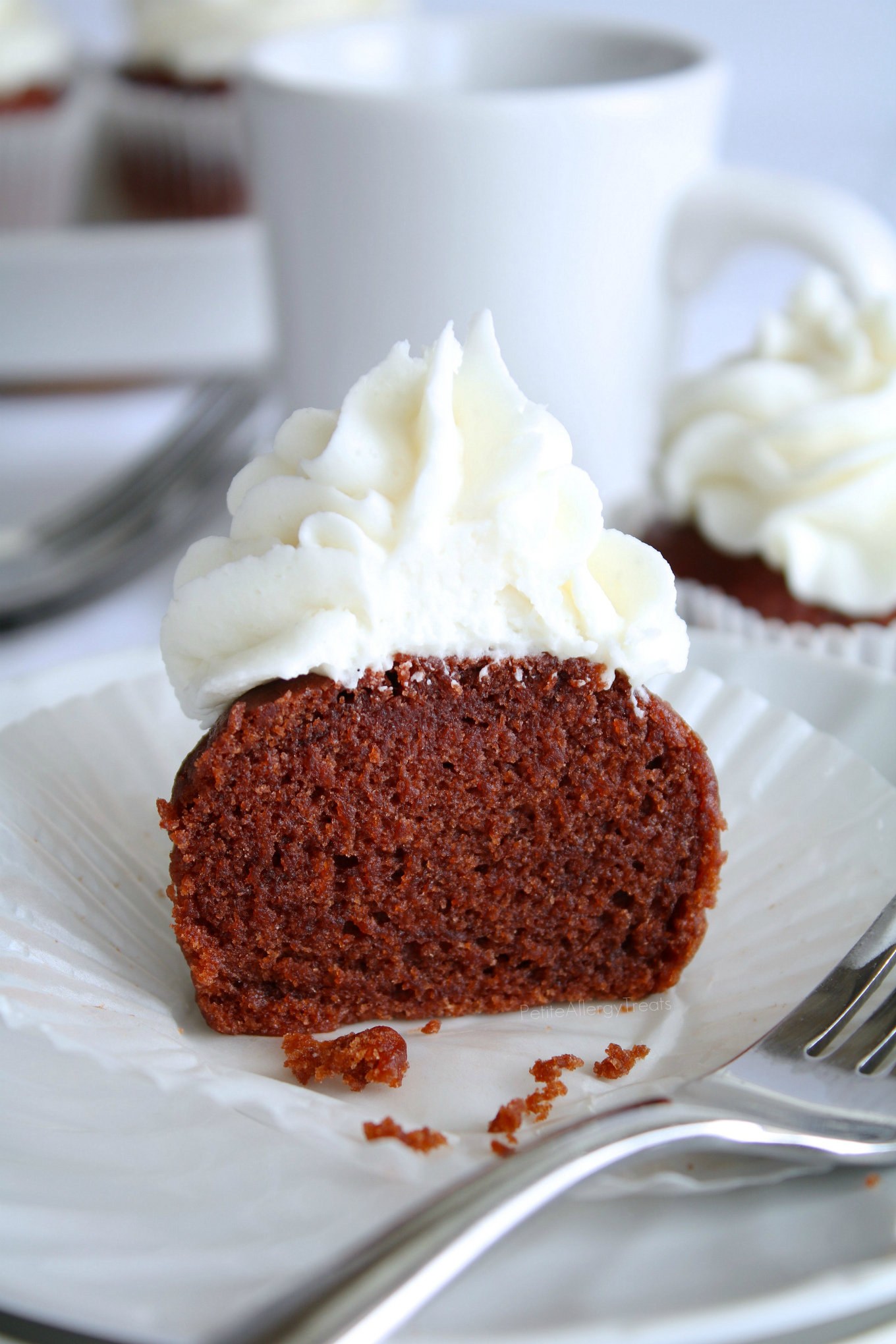 And that is basically how and why red velvet cakes barely contain any real cocoa powder (or chocolate flavor). Essentially, it's all about the visual spectacle of red cake. Which leads to why virtually all recipes include a ton of fake red dye. Boooo!
So lets go back to natural (and closer to original) with beets used to color cakes. If you don't know me, my thoughts are always natural is best whenever possible. But I am also a realist and can turn a blind eye to certain 'evils' once in a while (provided the kids aren't actually allergic).
Truth: I have never tasted red velvet cake. Probably because I never knew it existed until a few years ago. Other truth: I never wanted to try it after seeing bright red cake—–> too much red dye.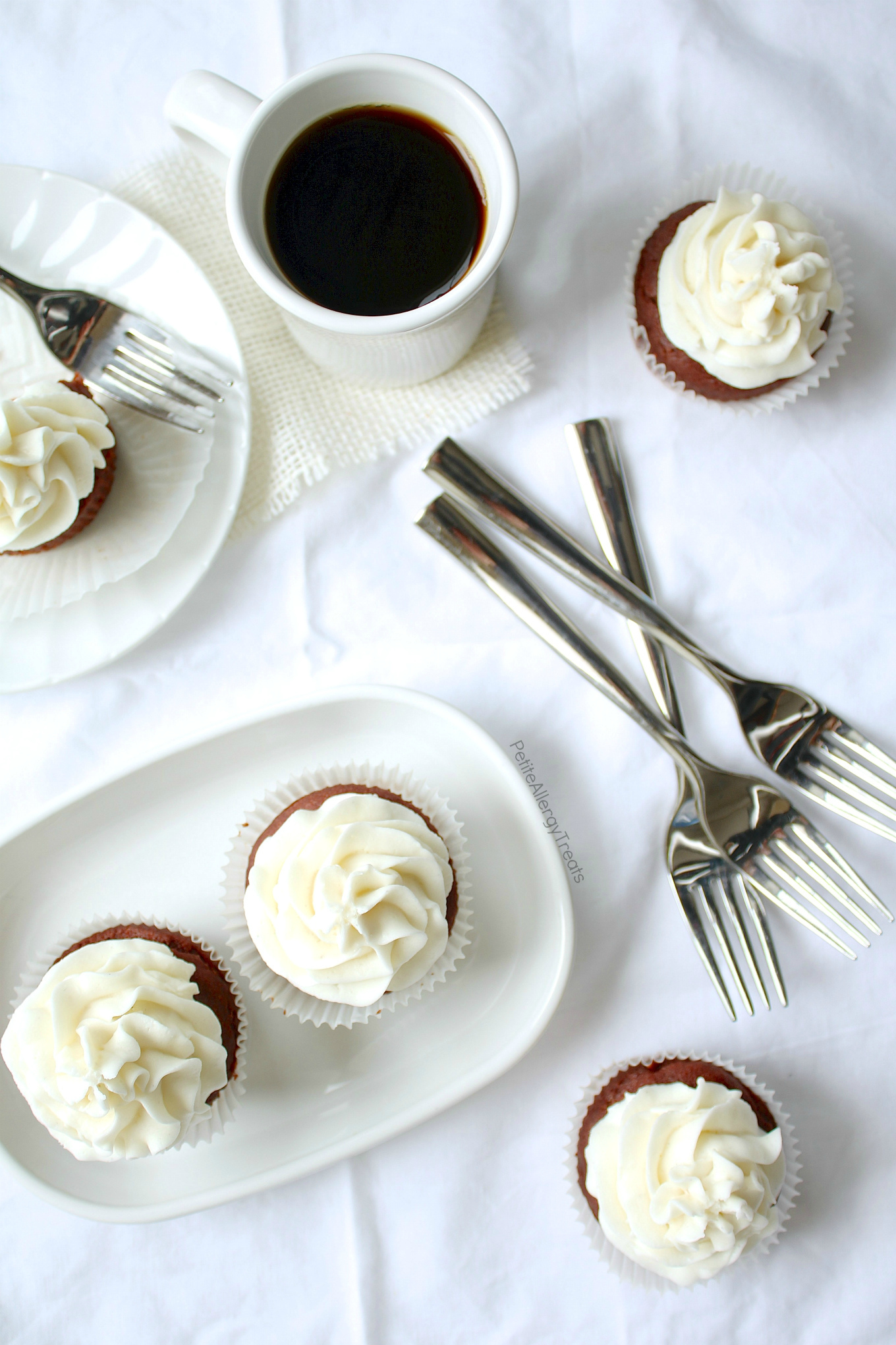 So I might not be the best person to tell you if these gluten free red velvet cakes taste like "real" red velvet. But. I can tell you the cupcakes still taste fantastic dye free and all!
And just so were completely honest with each other, the color in person doesn't appear as a vibrant red. Trade off for less chemicals. Fair enough, right? 😀
Enjoy!

Gluten Free Red Velvet Cupcake
Author:
Laura @ Petite Allergy Treats
Ingredients
¾ cup + 2 Tbsp beet puree (5* cooked beets)
2 Tbsp cocoa powder
⅔ cup white sugar
⅓ cup oil
2 Tbsp lemon juice
1¼ tsp baking powder
⅛ tsp salt
Frosting
Instructions
Preheat oven to 350 for 20 minutes.
Combine dry ingredients in a bowl and mix until incorporated. Set aside.
Puree cooked and peeled beets until smooth.
Combine oil, sugar, beet puree and dry ingredients mixing well to incorporate. Add lemon juice last and immediately pour into muffin tins lined with paper cups.
Bake 350 18-20 minutes or until tooth pick in the center come out clean. Makes 9-10 cupcakes.
Allow to fully cool on a wire rack.
Frost with your favorite dairy free frosting!
Notes
I cheated and used the prepared beets. Total time saver. Look in the fresh vegetable section in your grocer. By all means feel free to peel and boil your own beets to save a little money.
Follow me for the latest news!
Some other things you may like: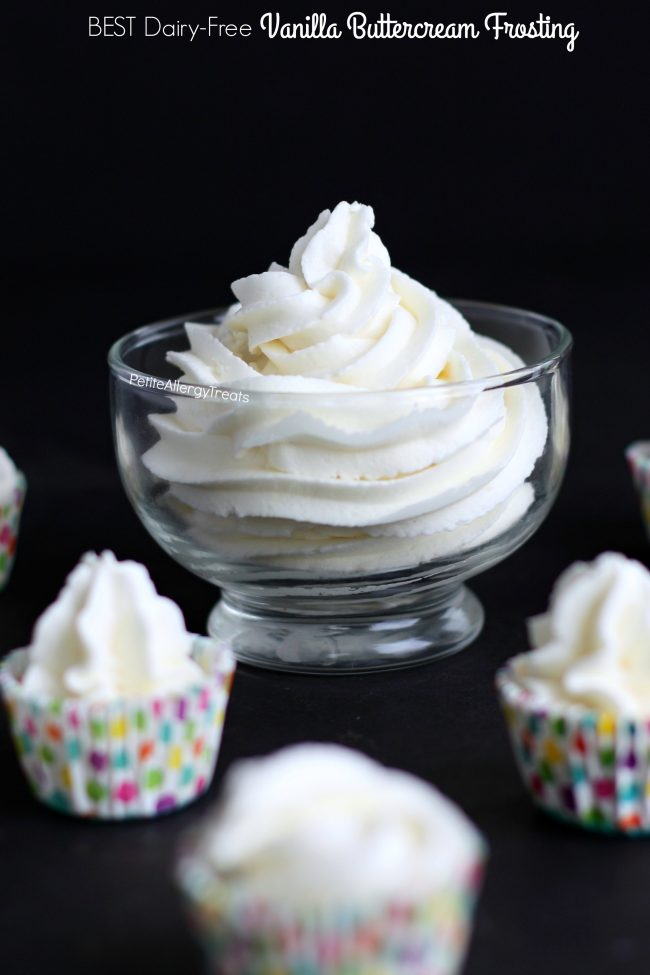 Best Easy Dairy Free Buttercream Vanilla Frosting-vegan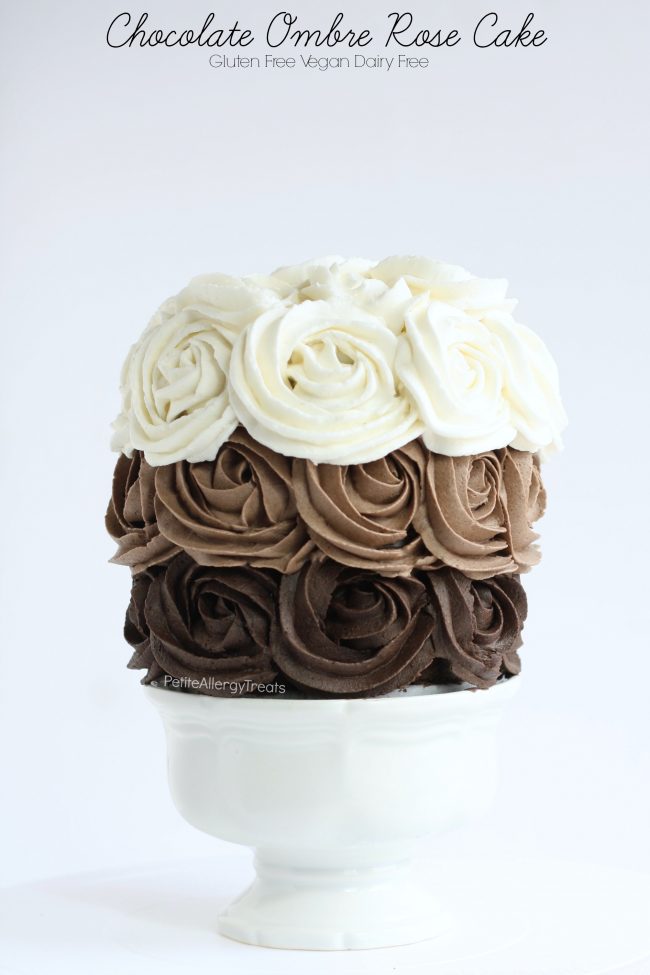 Gluten Free Vegan Chocolate Cake (Dairy Free)-egg free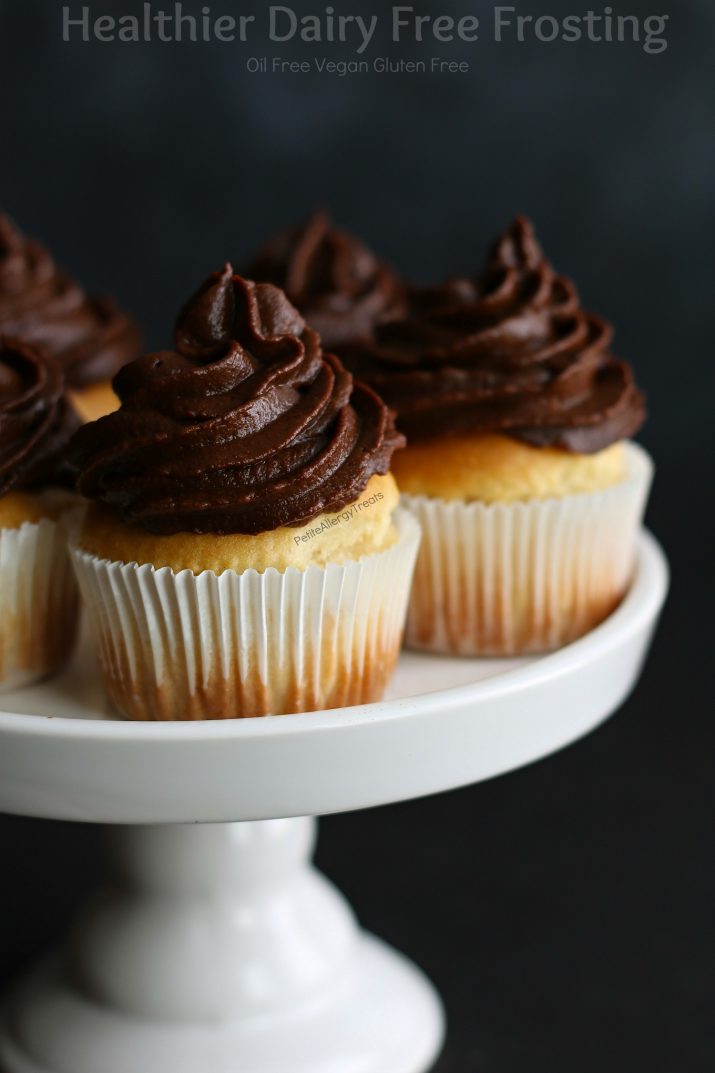 Healthier Dairy Free Chocolate Frosting- Oil Free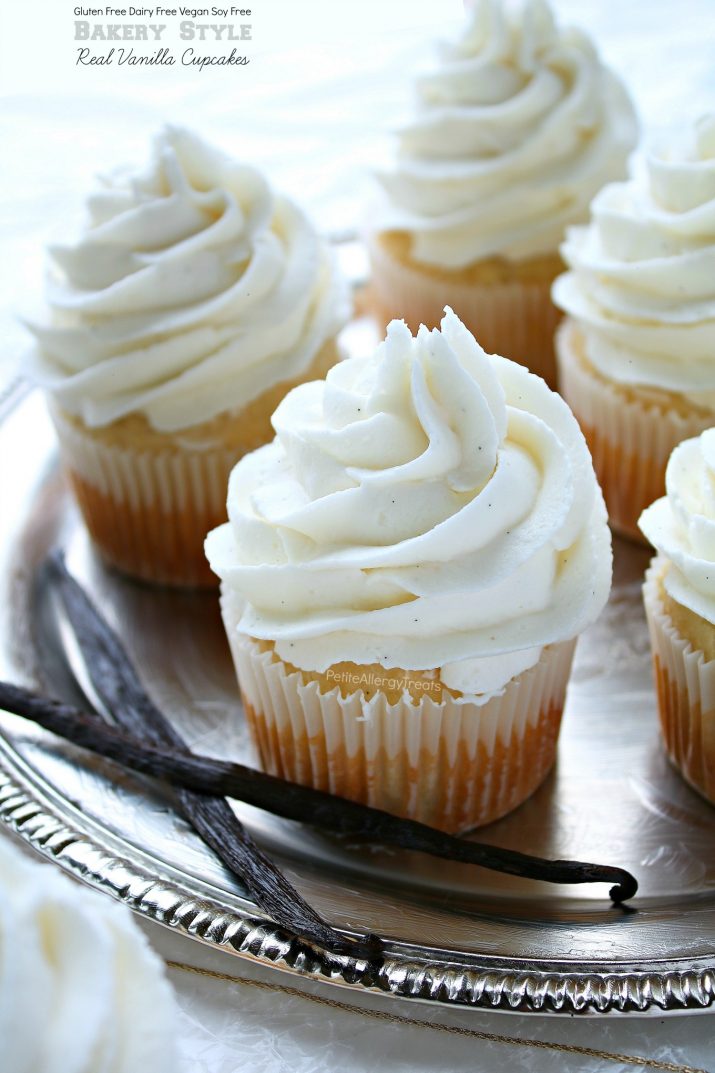 Bakery Style Gluten Free Vanilla Cupcakes- Vegan egg free dairy free