If you love and miss Panera Bread, you're gonna love these Gluten Free Panera Cinnamon Crunch Bagel Vegan Copycats!  A chewy gluten free egg free bagel topped with plenty of cinnamon sugar for that wonderful crunch you'd expect and remember from Panera only made food allergy friendly.  These copycat cinnamon crunch bagels are dairy free, soy free, nut free and happen to be Vegan.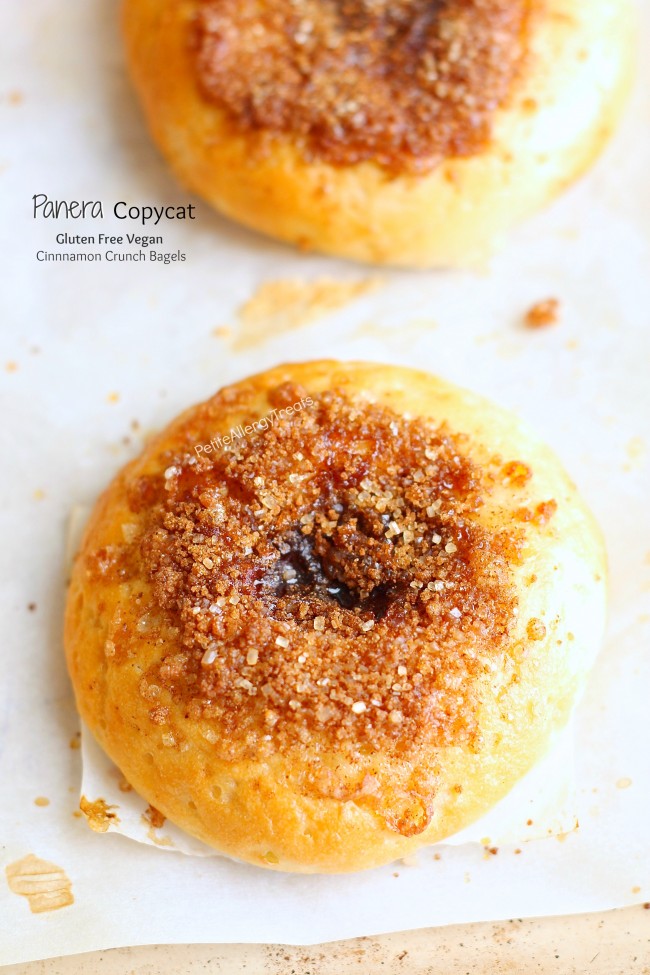 Ahh, Bagels.  It's been too long…  Bagels are so versatile.  Great for breakfasts.  Great for lunch sandwiches.  Even great for snacks.
These gluten free Panera cinnamon crunch bagel copycats have been in development for a long time.  Probably months of developing.  Before I give you the reasons, I feel I need to mention why I have so many bagel recipes.  I have my original bagels, spinach and onion, chocolate chip and apple cinnamon bagels.  Just a bit obsessed.
This obsession started in college.  (Don't the best things develop in those years?) Anyways, I loved bread and anything FREE, being I had a budget of only $25 a month for groceries.  Pasta and Aldi's were my saviors.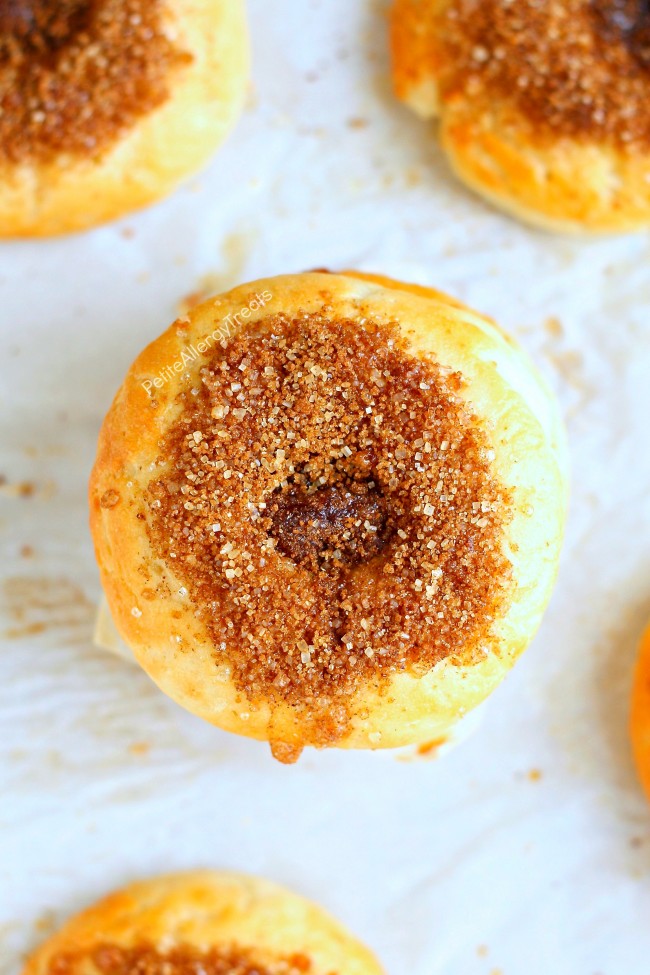 Good figure I'd go a little crazy when someone brought in food to the training room.  I remember we had a bagel breakfast thank-you with boxes overflowing with every type of bagel you can imagine.  Needless to say, I became a P-I-G ended up eating 4 bagels, with cream cheese, and I took more home for later.  You remember being poor in college right? I morphed into a CAMEL for about 4 years until I knew when my next big meal was going to come…. Good ole college life!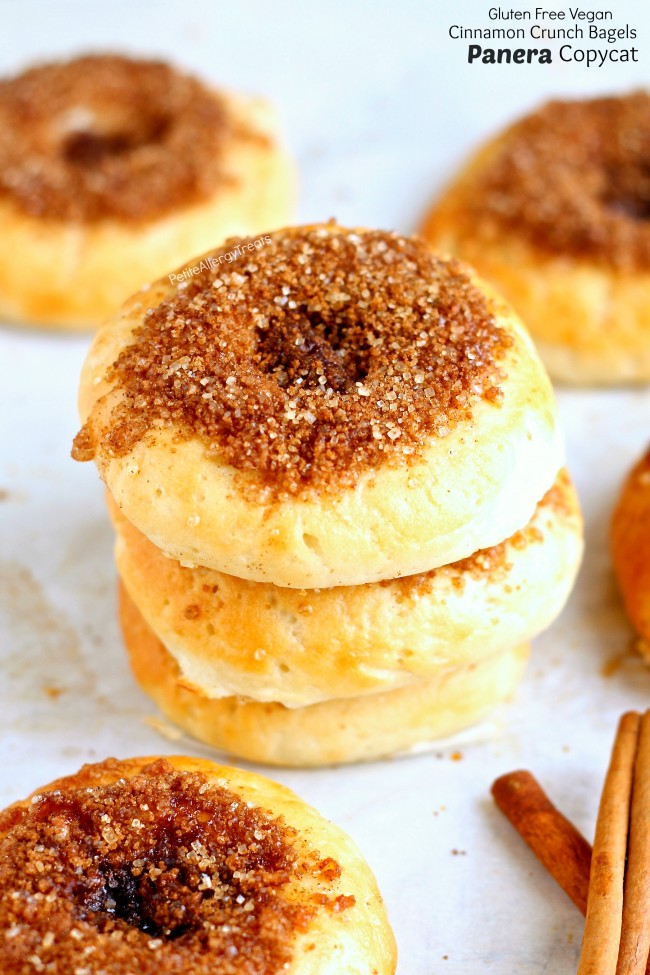 Ok, back to why these cinnamon crunch bagels took so long…
The kids needed lunch sandwiches.  Although I'm sure they won't mind a sweet turkey and cheese sandwich, it just seemed a bit strange.  Even wrong.  Every time I would start making bagels with the mind set to make cinnamon version, I'd side tracked again with my popular original plain gluten free egg free bagels.
Things got closer to Panera's cinnamon crunch with my gluten free apple cinnamon bagels.  But I had to go for apple at at the time.  (It was apple season, could you blame me?)
So I'm finally sharing a food allergy friendly version of, what I think you'd agreed, is a copycat Panera cinnamon crunch bagel.  These have that iconic cinnamon, almost candy like topping, with the soft and chewy bagel you'd expect.  And my version as usual is gluten free, egg free and dairy free.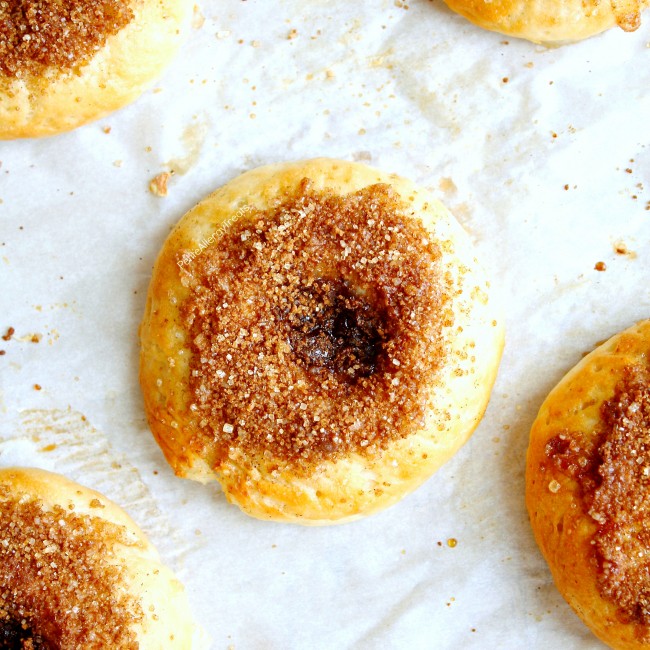 I don't have the calories calculated for my gluten free vegan cinnamon crunch bagels but I'm almost certain they are less than the original Panera version of a staggering 430 calories (without any cream cheese either!)
Feel free to add your favorite cream cheese or non-dairy spreads.  Ok, enough talking about these bagels.  I'm gonna go see if I can break my record from college of eating 4 large bagels with cream cheese for breakfast.  :p

Follow me for the latest news!
Some other things you may like: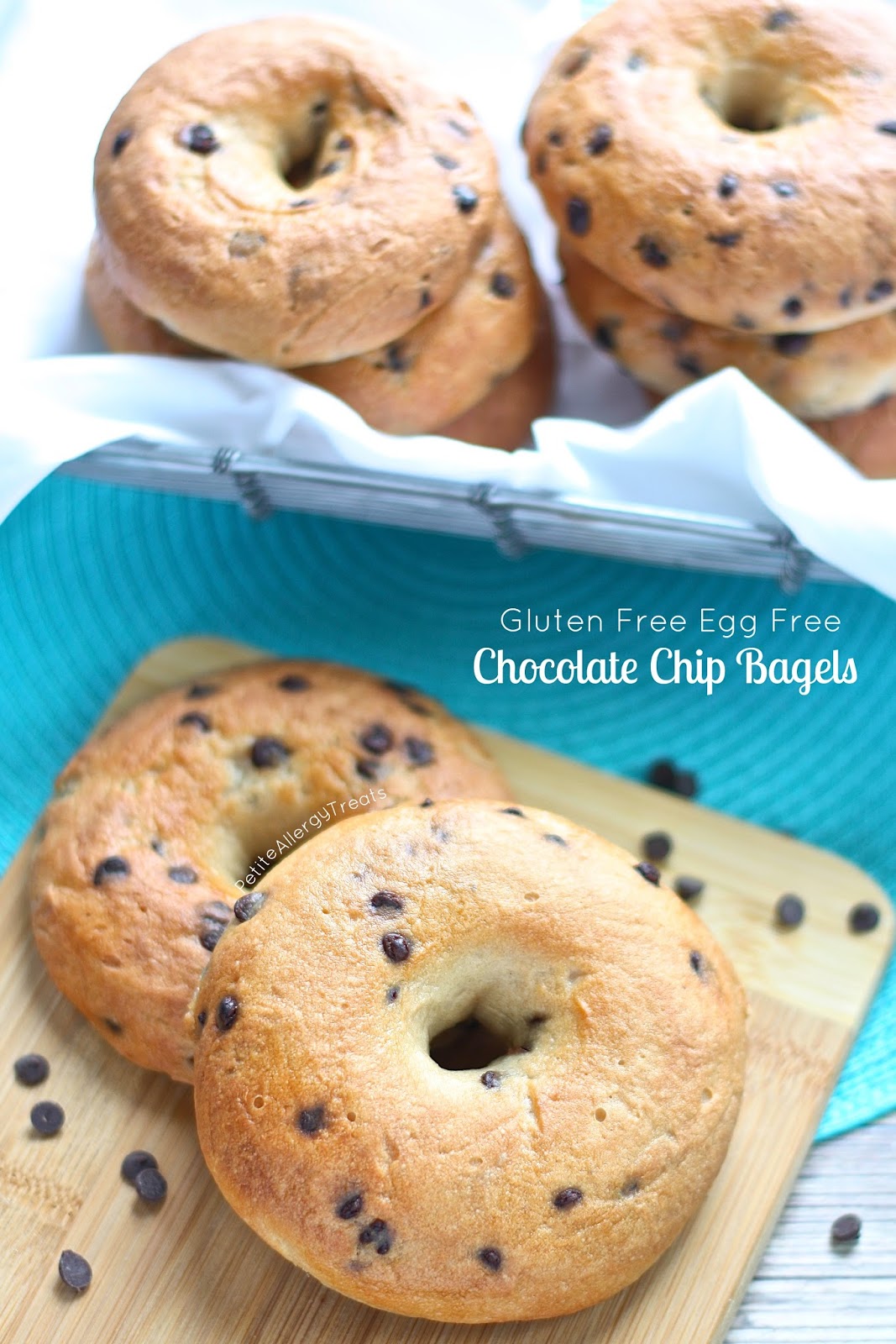 Chocolate Chip Bagels-Gluten Free Egg Free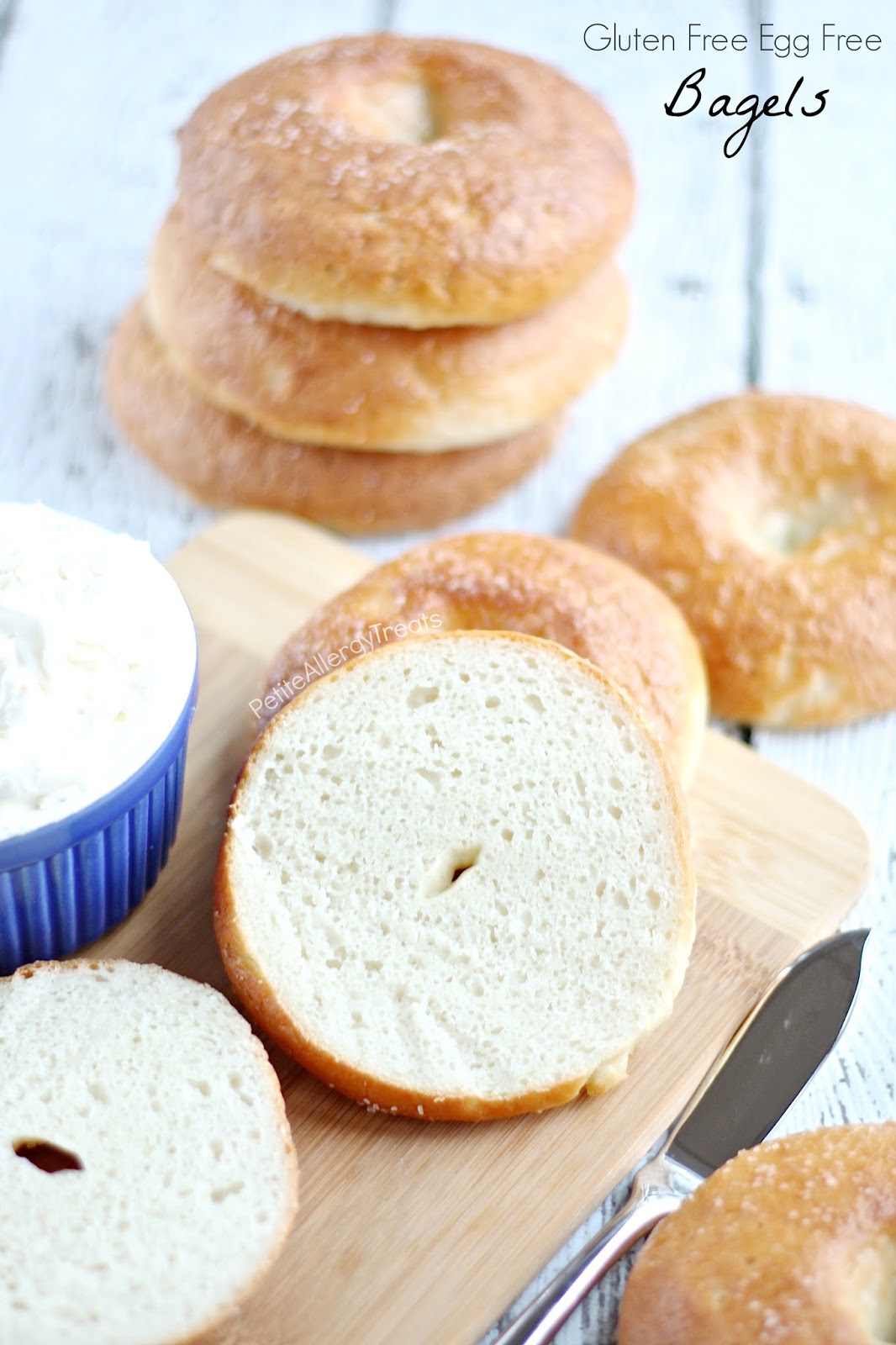 Bagels- gluten free egg free dairy free Vegan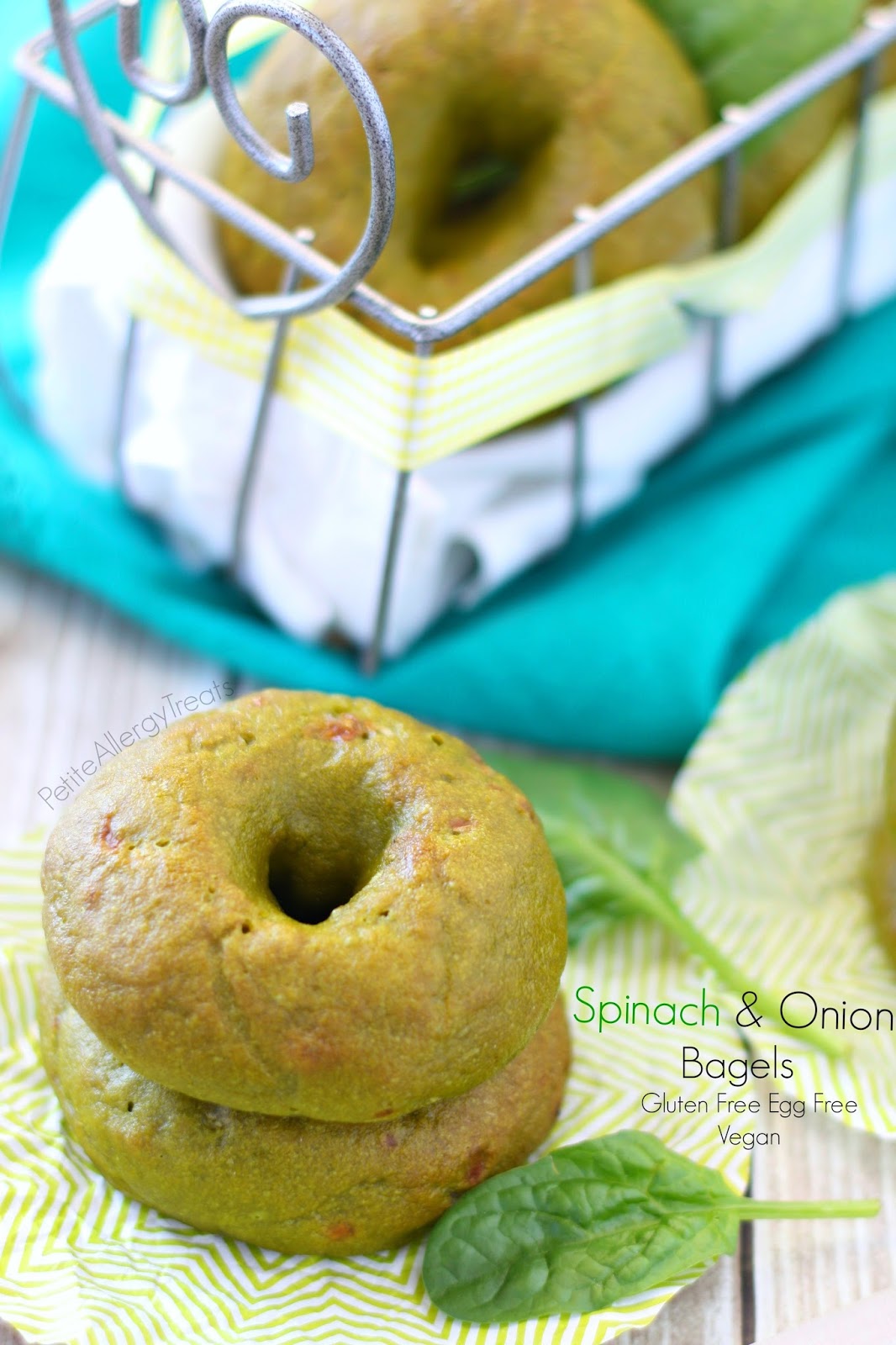 Spinach and Onion Bagels-gluten free dairy free vegan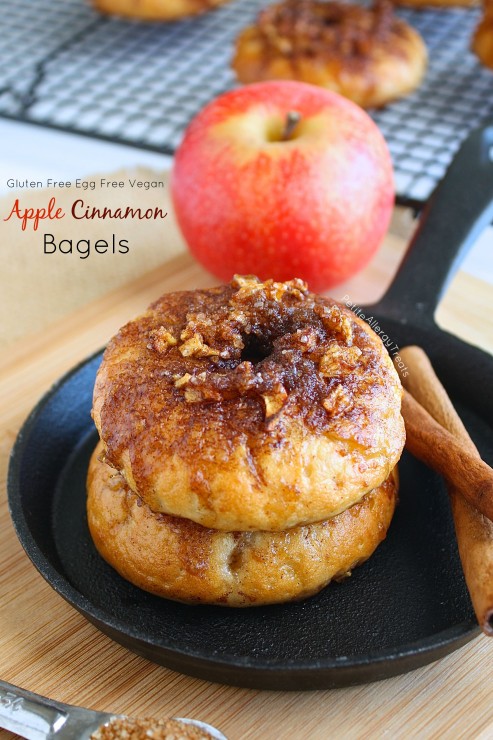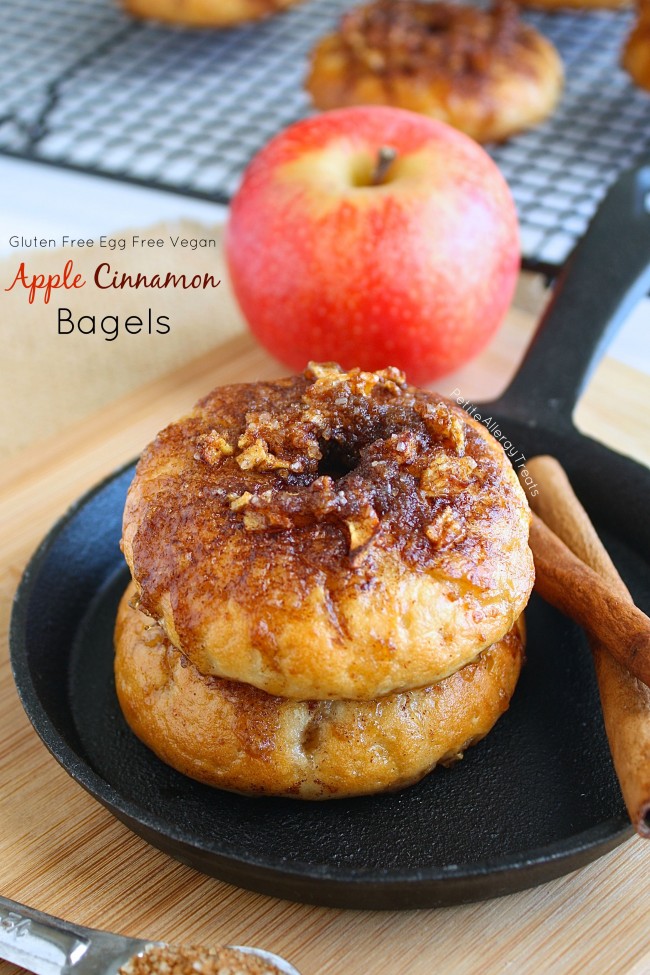 Cinnamon Apple Bagels- gluten free egg free Vegan