If you love bread you'll love these Gluten Free Egg Free Bagels that are also Vegan and dairy free.  Food allergies make it impossible to find an egg free bagel until now.  These are soft and chewy just like the bread you miss.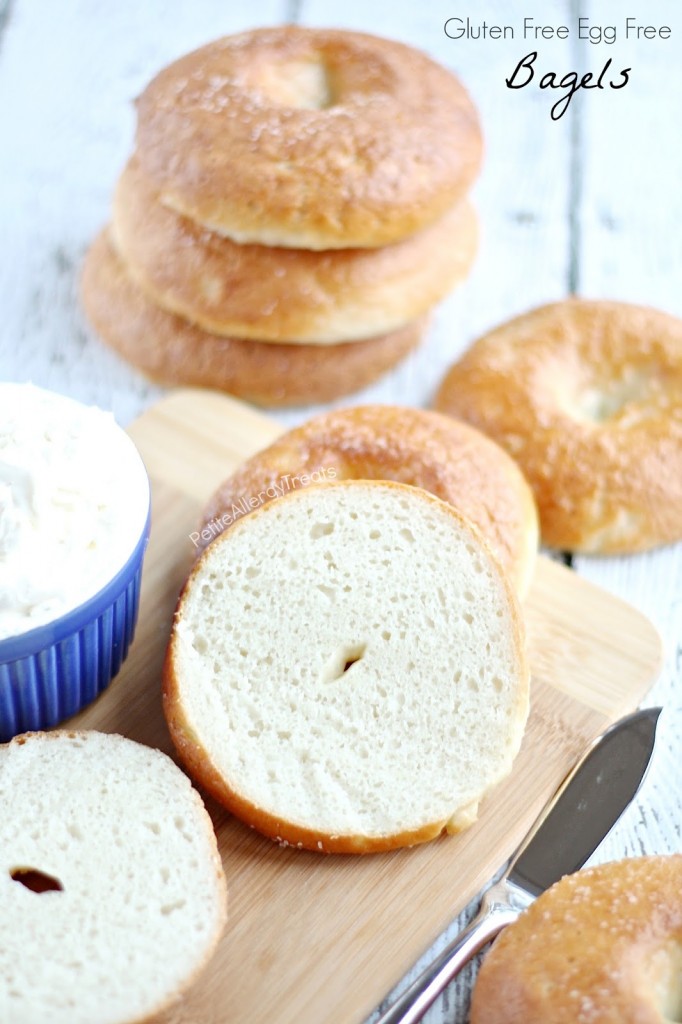 Happy New Year to everyone!  I love how each year it feels like we're given a clean slate to start over and improve areas in our lives. Of course, we should reaaallly be doing this everyday, but we're busy with life, right?  Hopefully you're off to a good start to the year.  Anything special on your list of resolutions?
My typical thoughts around this time aren't really resolutions per se but are always focused on eating better and improving health for me and the family.  The health factor always leads to exercising  to get in better shape.  So I've decided, (sort of) to train for another half marathon.  And by train, this time I'll actually run on a schedule instead of just deciding to run once a week a hope I make it back home walking and not crawling…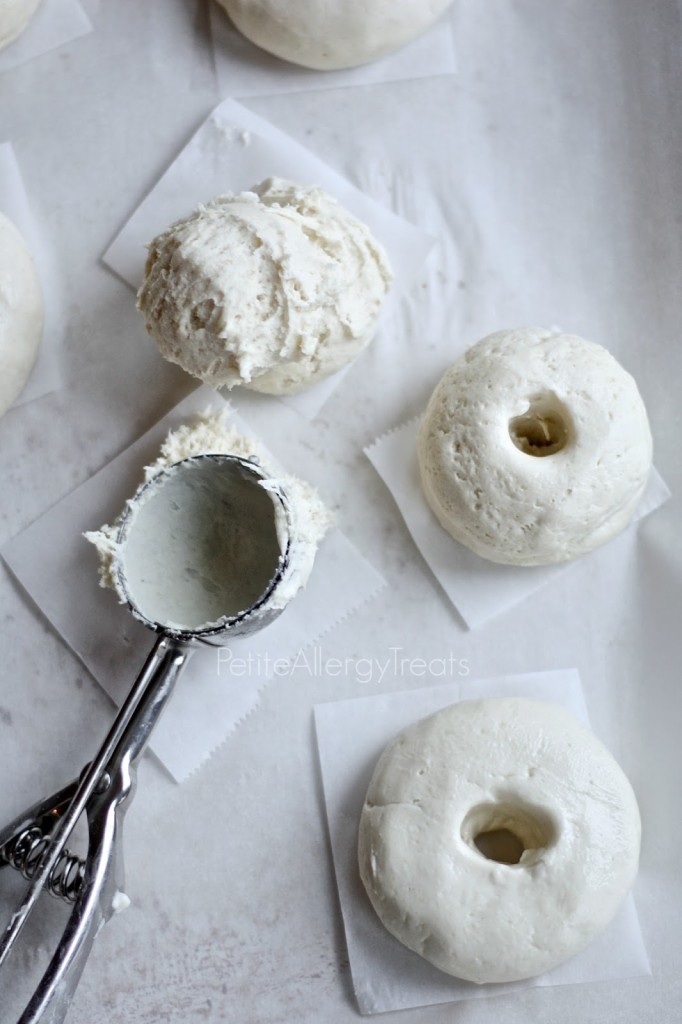 Running all those miles over the summer seems so long ago but I distinctly remember the post run carbohydrate cravings.  All I wanted was bread.  Fresh warm bread from Panera, actually.  But not just any bread.  BAGELS.  Lots and lots of bagels.
Before going practically gluten free (I cheat a bit here and there) for my son, my absolute favorite food in the entire world was a bagel with cream cheese.  Completely nutritionally void but oh so chewy, creamy and satisfying.  Apples were my craving with pregnancy with Sir but pile on the bagels with Mr. Naughty's pregnancy.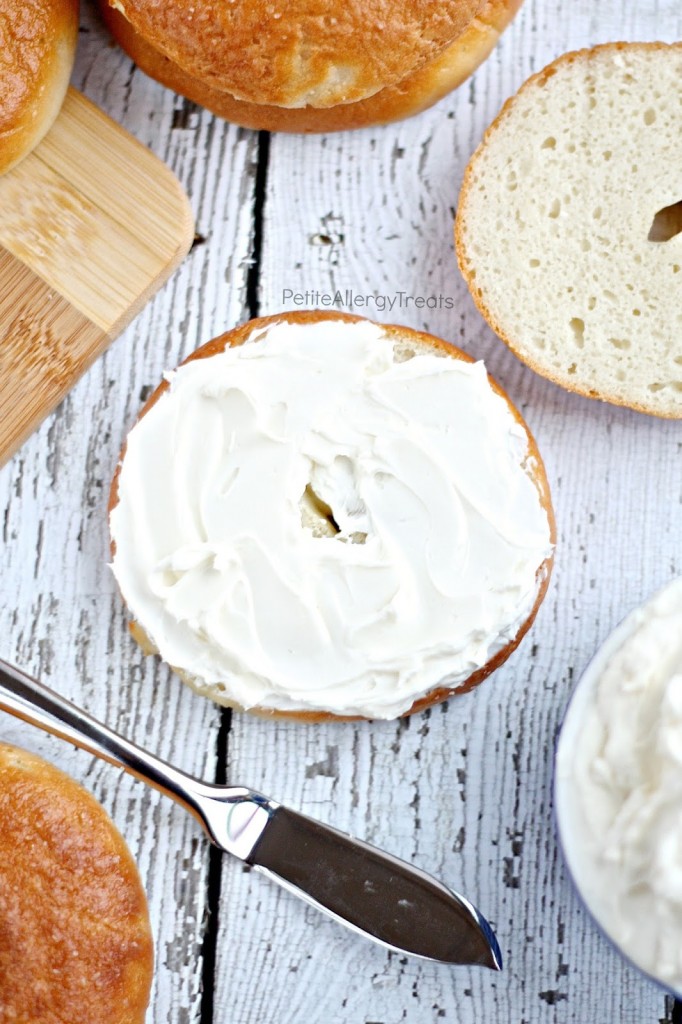 Fun fact:  I once ate 4 bagels with cream cheese while in college for a free 'snack'.  (Poor college student = not sure when the next good meal is coming.)  It was our reward for volunteering time at out local PBS television station auction.  Needless to say this little piggie had a tummy ache the rest of the day.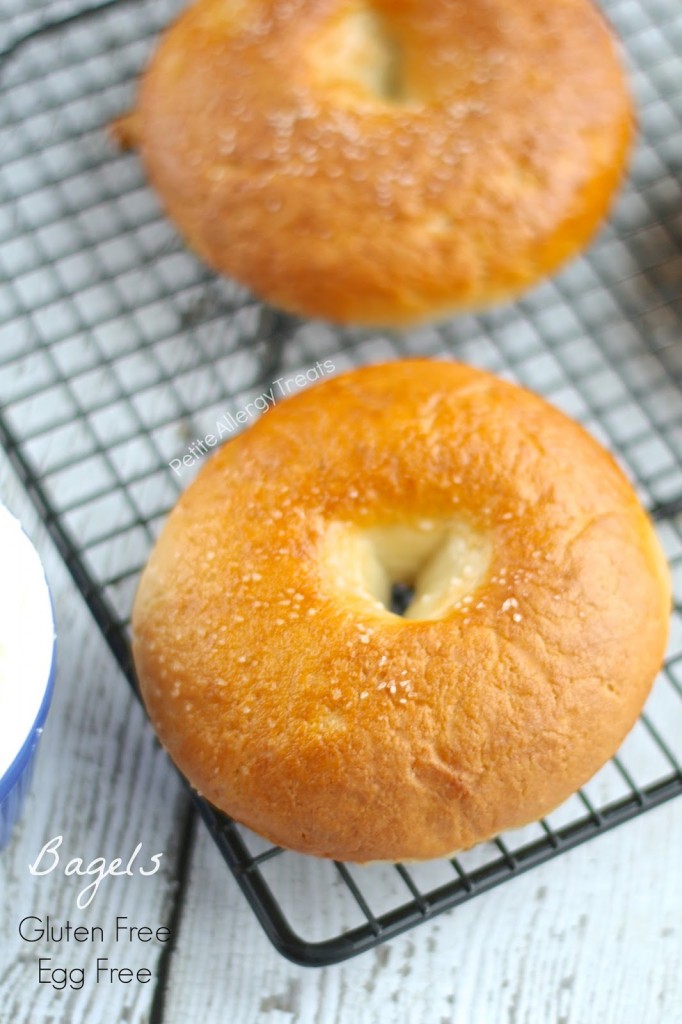 Now that I've explained how much I LOVE bagels, you can appreciate how much time I've taken to work on these.  I've had several fails… several successes… but I wasn't happy until I could make them easy enough (and seem like the real deal) to share with all of you who also are missing bagels on a gluten free egg free diet.
These bagels take some time, but then again all good things do.  I suggest trying a single batch first.  After you can't live without them, set a side some time over the weekend and make a double or triple batch to freeze.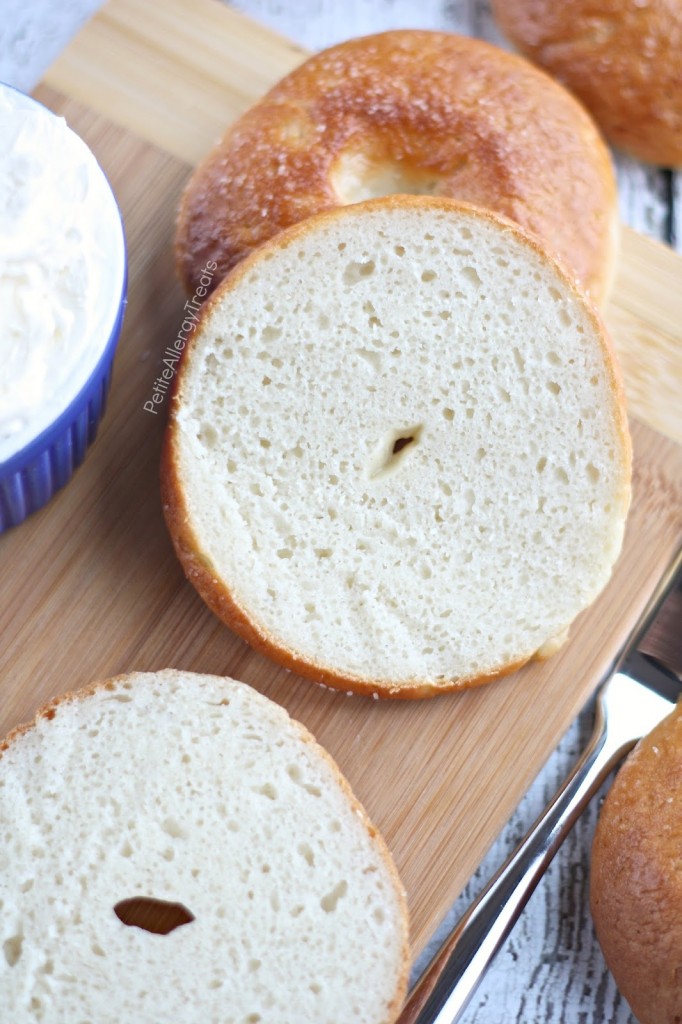 I hope you love them as much as my kids.
Gluten Free Egg Free Bagels (Vegan Dairy Free)
Author:
Laura @ Petite Allergy Treats
Ingredients
1¾ cups dairy free milk of choice or water
2½ tsp yeast or 1 packet
3 tsp guar gum
2 T oil
1 tsp salt plus extra for top
1 T sugar
Instructions
Heat liquid to 100 degrees. Add yeast and sugar and mix and allow to sit for 5 minutes.
In a separate bowl mix flour, gum and salt.
In large bowl combine liquid and oil. Gradually mix in all the flour mixture by hand to avoid big lumps. Mix until all incorporated and smooth.
Use a large cookie scoop or spray a ½ cup to scoop the dough. With wet hands form dough into a ball and use a finger to poke a hole in the center. Gently shape into bagel form by expanding the hole. Place on a individual piece of parchment paper on a baking sheet lined with parchment paper. (see pic)
Spray tops with oil, cover with plastic and allow to rise in a warm place for about 20 minutes. (Don't allow to double in size or else it will lose its shape and fall apart in the bath.)
Bring a large pot of water to a rapid boil. Gently drop a max of 2 bagels in the water and boiled each side for only 30 seconds each side. Remove individual parchment paper pieces and place back on baking sheet. Sprinkle with salt.
Bake at 450 degree for 14-16 or until golden brown.
Notes
Be careful moving bagels to and from the water. The extra sheet of parchment paper makes it easier to move and comes off easily after boiling. The water should be a rapid boil and only let them sit for a short while on each side or else they will absorb too much water and become soggy. If you can, allow your oven to preheat at least 20 minutes prior to baking. These freeze extremely well and can be used for sandwich bread.
Some other things you may like: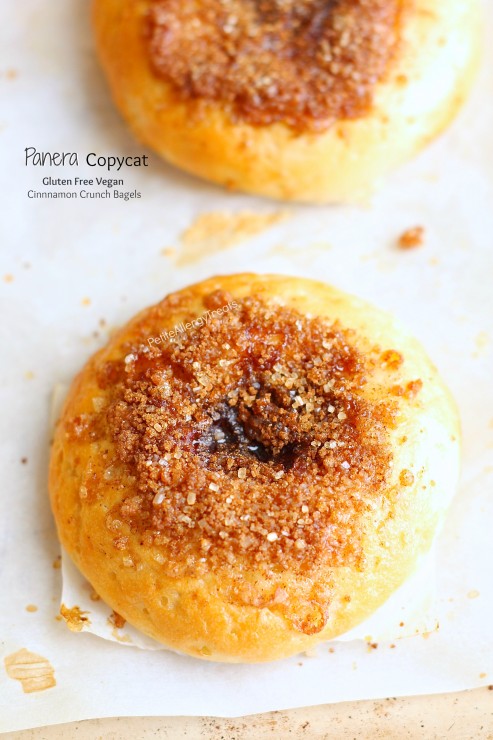 Gluten Free Panera Cinnamon Crunch Copycat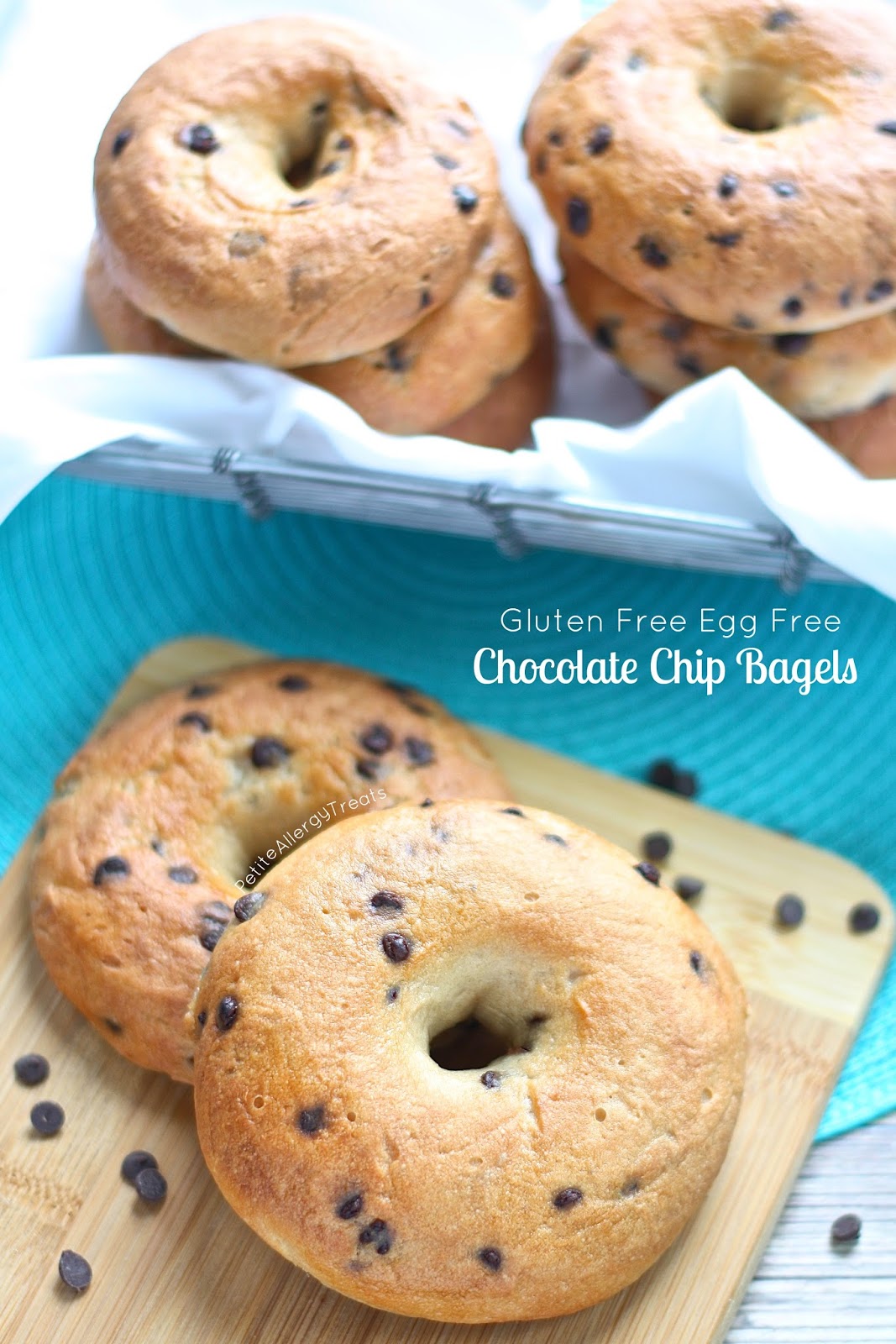 Gluten Free Chocolate Chip Bagels- dairy free egg free Vegan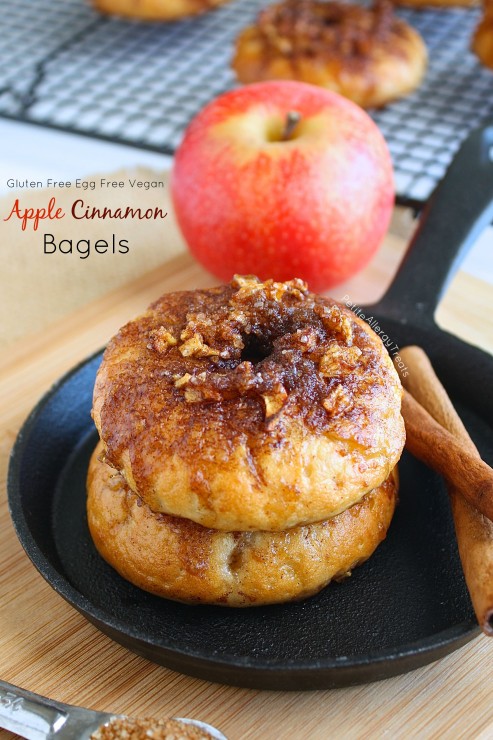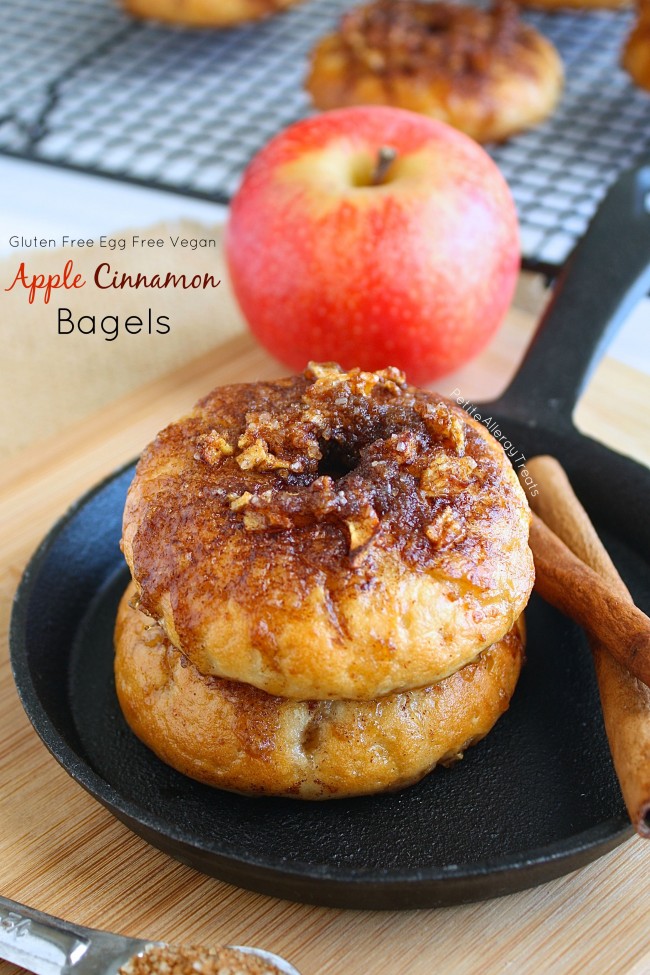 Cinnamon Apple Bagels- gluten free egg free Vegan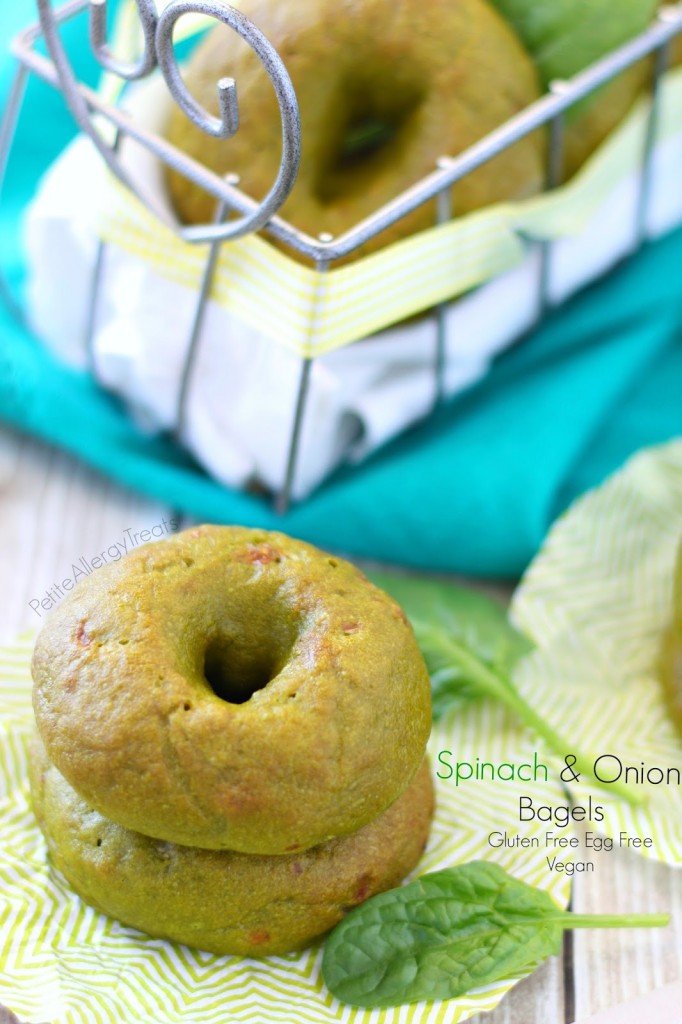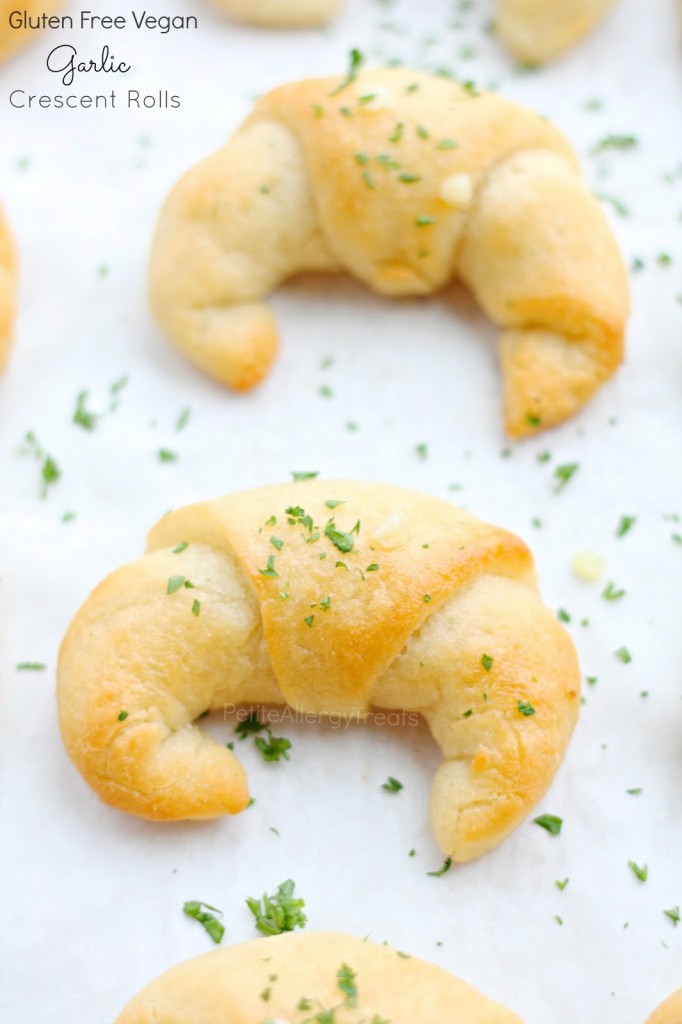 Gluten Free Vegan Garlic Crescent Rolls