These Yeast Free Gluten Free Vegan Cinnamon Rolls will change your view on vegan gluten free baked goodies forever… You won't believe these are dairy free, egg free, soy free AND Vegan.  Not to mention quick, they're yeast-free!!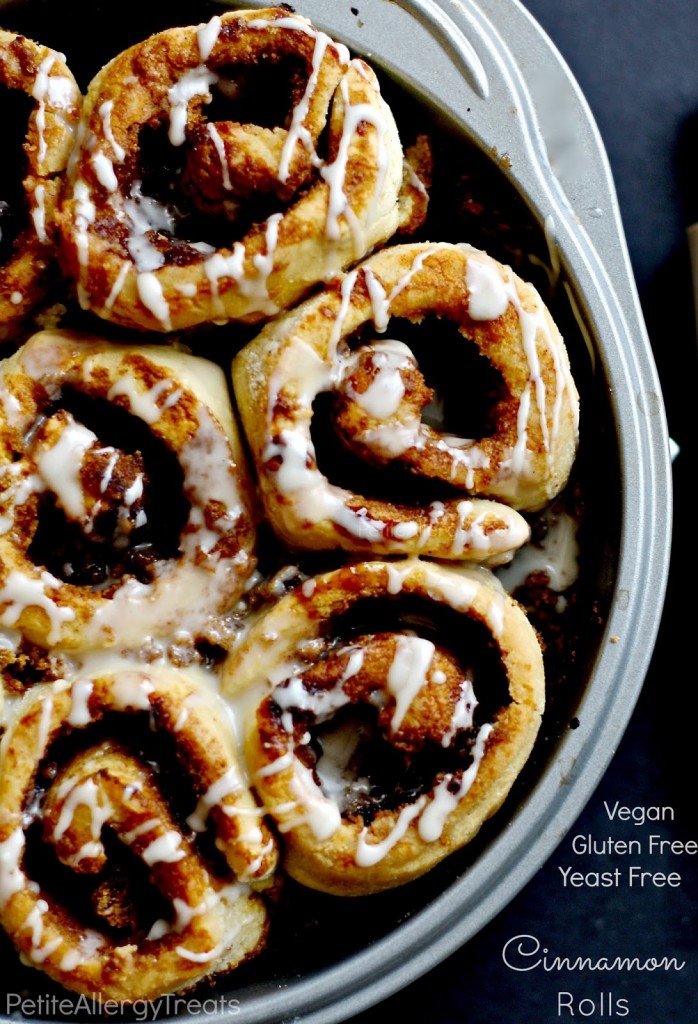 You guys… This is it.  The world of gluten free-egg free allergy baking is changing.   In a really good way…  These warm, soft, gluten free yeast free vegan buns are the proof.  We're gonna talk all about them in just a moment.  Before we start on the rolls, let me tell you where I found this fabulous recipe.
The one and only Cara Reed, from the amazingly creative blog 
Forks and Beans,
 wrote a book: 
Decadent Gluten Free Vegan Baking
.  All of Cara's recipes are gluten free, egg free and dairy free and darn delicious.  Her blog has some uber awesome photos and really creative recipes that you can look at right now.  And… She has this knack of making classic off-limit-foods look not just normal. but simply delicious!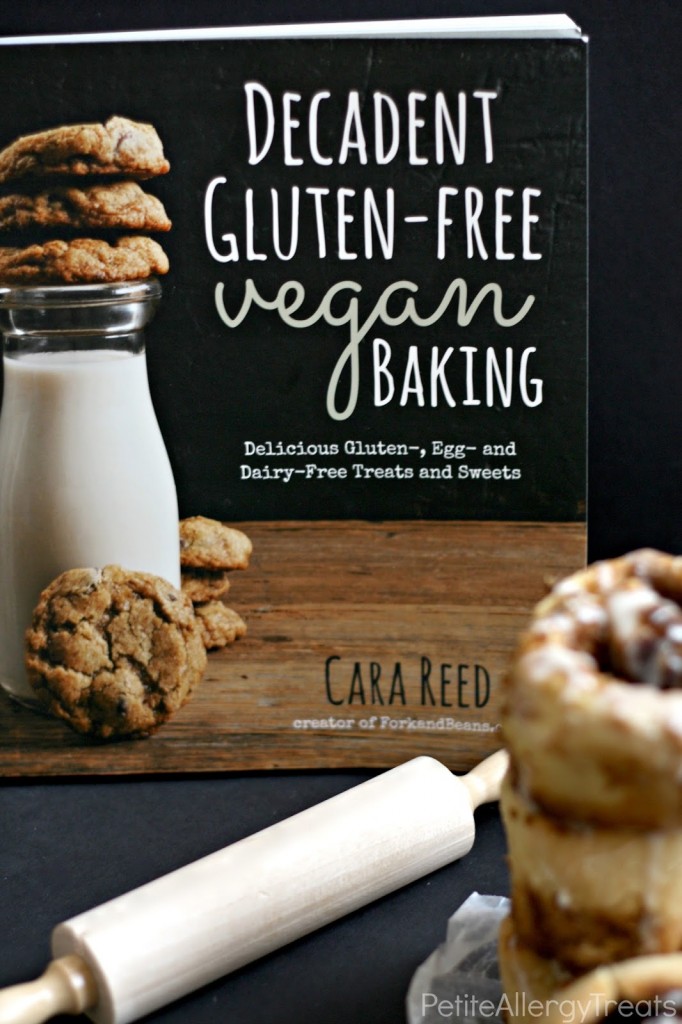 For example, take these yeast free cinnamon rolls.  They are traditional in every sense of the delicious flavor you'd expect in a fresh cinnamon roll.  What is so unexpected, is that fact it is: egg free, dairy free, nut free and yeast free.  Yep.  An amazing yeast free gluten free vegan cinnamon roll!  If you've always been scare to make a cinnamon roll due to issues with the yeast not rising or taking the extra time for rising, this recipe is for you!  It also includes a light sweet glaze that truly makes these cinnamon rolls.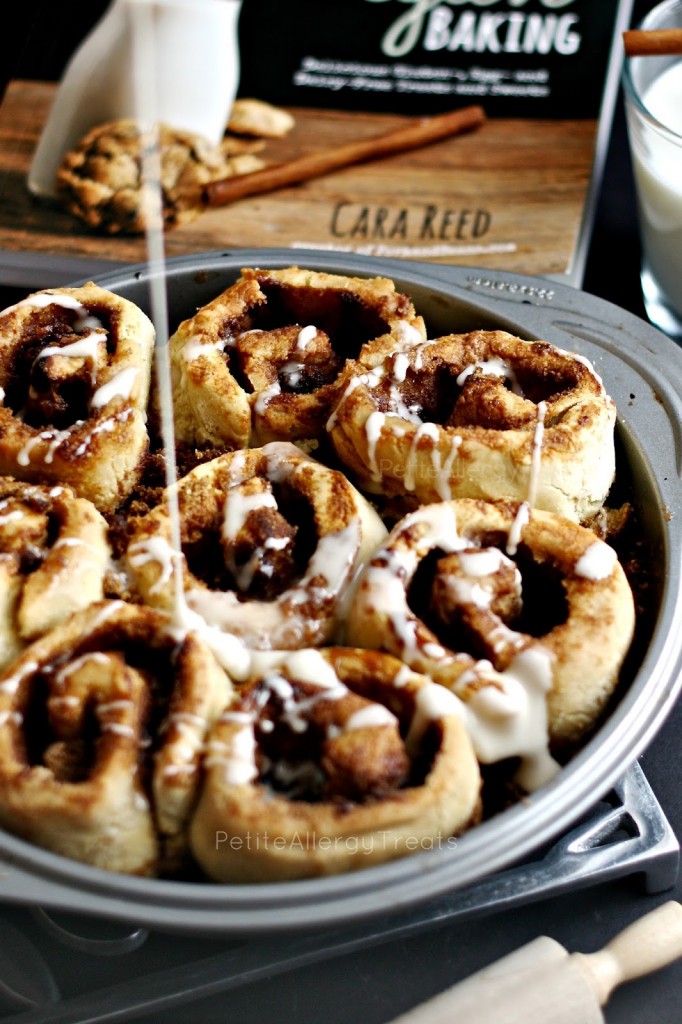 The book is a complete guide for making any type of gluten free vegan dessert and includes a few savory dishes too.  Some recipes that really caught me eye were in the Sauces, Toppings & Frosting chapter including natural Food Coloring, Natural Sugar Glitter AND Sprinkles.  Crazy… as in crazy creative, good.  The other chapters include cakes, cookies, quick breads etc.  The next thing I want to make is her Lazy Man's Tiramisu… for me only. 😀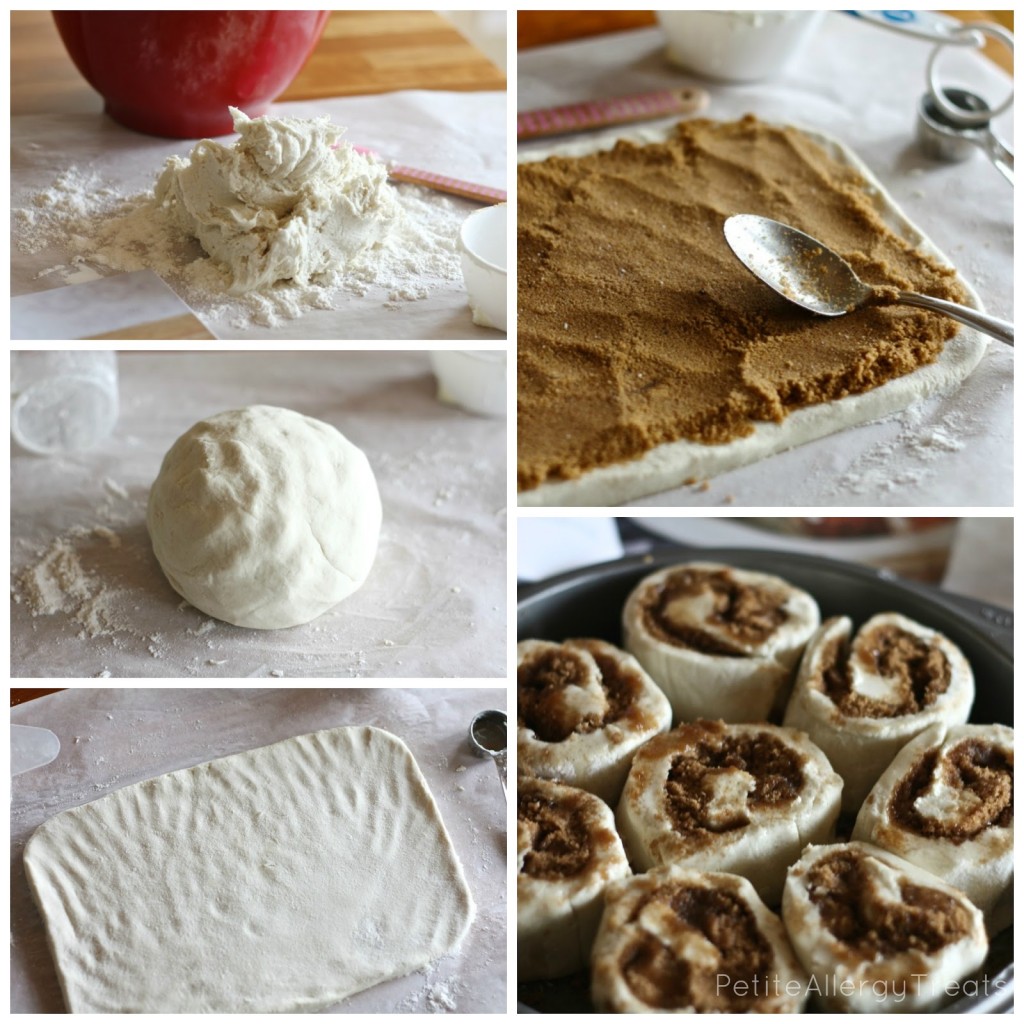 If you are newer to baking gluten free and egg free, there is a helpful Resources section highlighting common substitutions for egg, dairy, cheeses and butter.  She also has a DIY gluten free mix recipe and talks about the properties of each type of gluten free flour such as brown rice, coconut flour, almond flour etc.  Not all of the recipes in the book are nut free, but whenever possible, she offers substitution suggestions included with the recipe.
So now by now you're wondering, just how good were those Cinnamon Buns?  Umm, pretty darn delicious!  Thank goodness this only made 8 large buns or else I'd be sending Cara a bill for bigger pants.The fact that they are yeast free made it so much quicker to make.  The dough was soft, pliable and easy to work with.  I didn't have any problems with it being too sticky or dry.  Go figure the kids went crazy for these and ate every. single. crumb.  I had the will power to set 2 aside for the freezer.  I think defrosting one for a weekend breakfast would be perfect over coffee.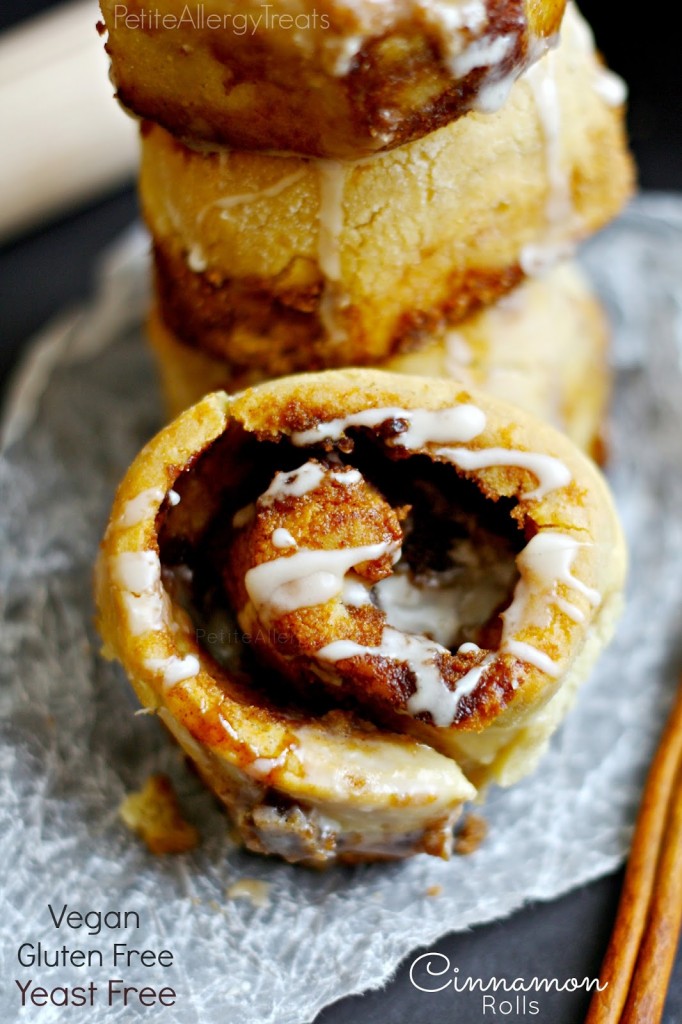 Enough, talking right?  You'll find the recipe below… And you can order this book just about anywhere and have it delivered straight to your home.  One lucky reader will be sent a copy of here book! Enter below for your chance to win.
 And if you haven't visited
Forks and Beans
yet, head over there.  You'll be surprised atall the wonderful  gluten free, egg free, and dairy free recipes waiting for you.
Disclosure: I was not compensated for this review but given a copy of the book at no cost to me.  All opinions are my own. 🙂

Open to only those in the USA and Canada.  Good Luck! This contest has ended.
Recipe printed with expressed permission from Cara Reed and the Page Street Publishing Co.
Ingredients
Dry
3 cups/495 g Cara's All Purpose Blend 
2 tsp/7.5 g baking powder
1/2 tsp baking soda
1 1/2 tsp/5 g xanthan gum (I used guar gum)
1/2 tsp salt
Wet
1 1/2 cup nondairy milk (I used coconut milk)
1 Tbsp apple cider vinegar or lemon juice (I used lemon juice)
6 Tbsp/84 g vegan butter, melted divide into 3
Cinnamon Sugar Filling
1 cup brown sugar, packed
2 Tbsp vegan butter or coconut oil melted
2 tsp cinnamon
1/8 tsp ground cloves
Icing
1 1/2 cups/180 g powdered sugar
1/4 cup/60 ml melted coconut oil
1/2 tsp vanilla extract
2 Tbsp/30 ml hot water
Directions
Preheat oven to 425 degrees.  Grease an 8 inch round glass or tin pie pan.
Combine 2 1/2 cups of the flour (set 1/2 cup/83 g to the side) and the remainder of the dry ingredients until well blended.  In a small bowl, whisk together the nondairy milk, vinegar/lemon juice and 2 tablespoons/28 grams of the melted butter. Add the liquid ingredients into the large bowl with the flour mixture and stir with a wooden spoon until the liquid is absorbed.  The dough will look ugly at this point.
Line the counter with a piece of parchment paper and coat with a 1/4 cup/41 grams of the reserved flour mix.  Transfer the dough onto the floured counter and begin kneading until the flour is incorporated.  Add the remainder of the flour serve until the dough becomes less sticky and easier to work with.
To Make the Filling
Combine all the ingredients in a bowl until it's the texture of wet sand and set aside.
With your hands, shape the dough gently into a 9 x 13-inch/ 22.5 x 32.5 cm rectangle.  Spread 2 tablespoons/ 28 grams of the melted butter and evenly sprinkle the cinnamon-sugar fill onto the dough.  Using the parchment paper to guide you, roll the dough from the length side over.  If your dough breaks apart at the seams, just use your hands and pat the dough to correct the problem.  Slice the roll into 8 even pieces.
Place each piece into the greased pan.  Brush the top of the rolls with the remaining 2 tablespoons/ 28 grams of the melted vegan butter.  Bake for 18-22 minutes or until golden brown.  Allow to cool slightly for about 5 minutes before coating with the icing.
To Make the Icing
Combine sugar into melted oil.  Add vanilla and water until thick but thin enough to stir with ease.  Add more water if too thick or more powdered sugar if too thin.
Some other things you may like: