Finally you can enjoy classic roll out Gluten Free Sugar Cookies turned Vegan, egg free and dairy free.  These gluten free sugar cookies are the perfect Top 8 Free Food Allergy Friendly Cookie.  Decorate these gluten free sugar cookies with Egg Free Royal Icing and adorn them for seasonal holiday themes like Christmas, Valentine's Day, Easter, Birthdays and anything in-between.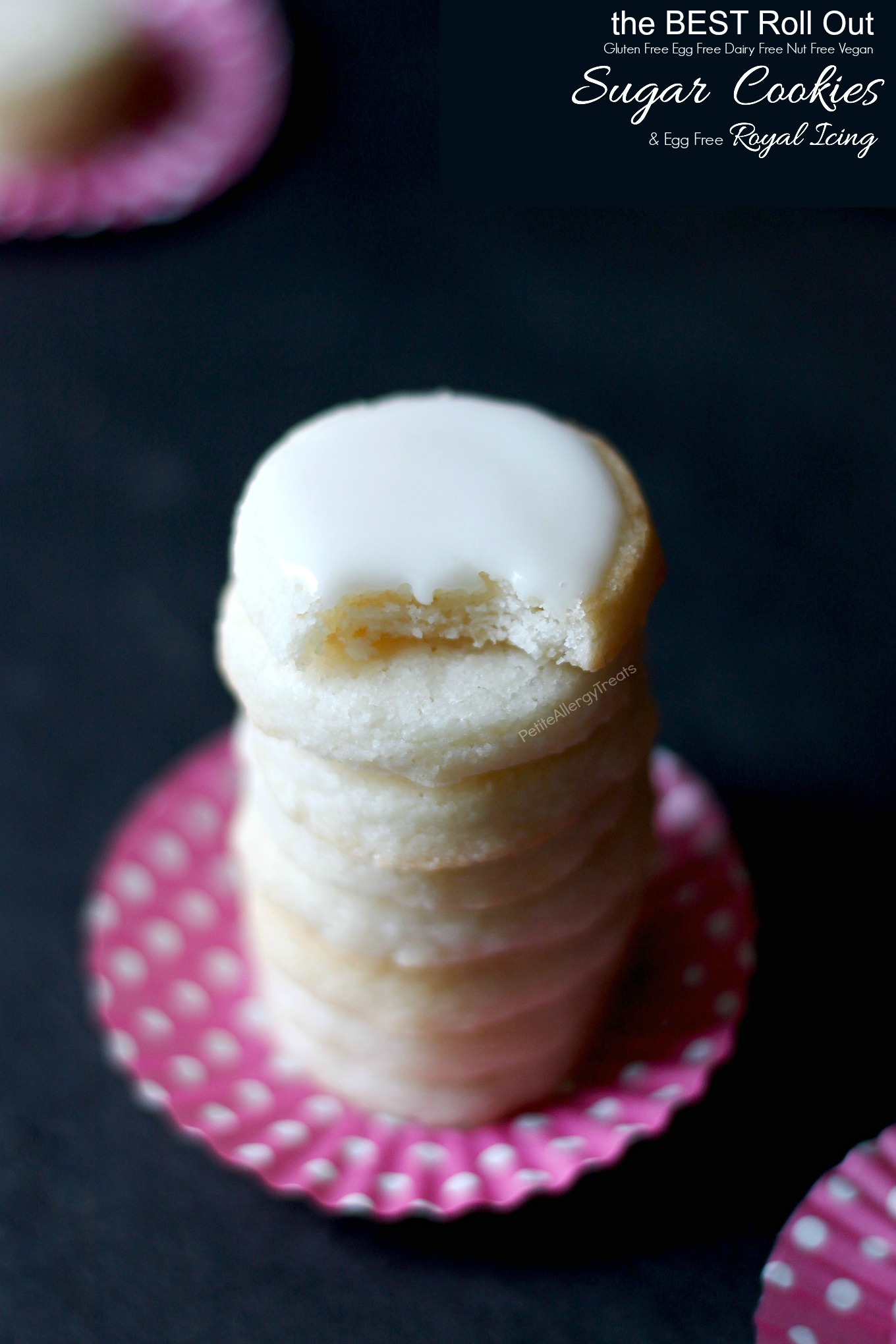 Food allergy parents and suffers, this is the one cookie recipe you NEED.  Sugar Cookies. Gluten Free Sugar Cookies that is…that are also free of the Top 8 Food Allergens. It's a classic roll out cookie dough that is the backbone any cookie decorating.  You can cut out stars, hearts, Christmas Trees etc to match the baking season.  Plus, they are great for birthdays and special occasions.  I think I'm safe when saying, gluten free cookies are easier to make for a birthday party than a full blown gluten free chocolate cake.  And what kid doesn't like decorating their own gluten free sugar cookie with all the colorful toppings?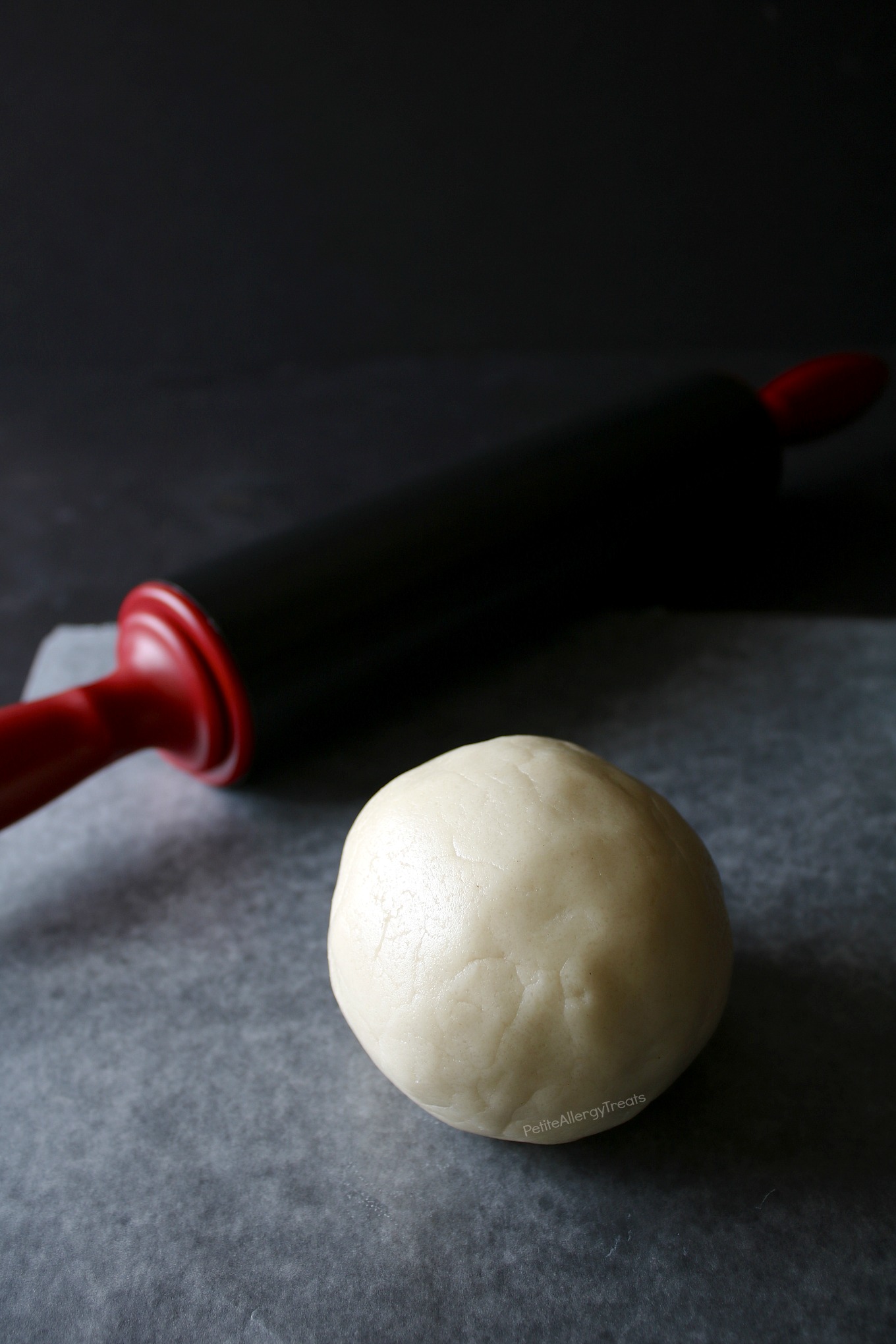 Every year we have our tradition of making cookies for Santa.  Not just one type of cookie either.  No.  We go all out for the man in red.  The kids always ask for my gluten free vegan gingersnap cookies, the best gluten free chocolate chip cookies, soft gingersnap reindeer cookies and of course these vegan gluten free sugar cookies.
If these vegan gluten free sugar cookies look a bit familiar, they should be. I used this dough to create my cute Easter Chubby Bunnies.  You gotta see them.  Cutest cookie I ever made… and then ate. 😮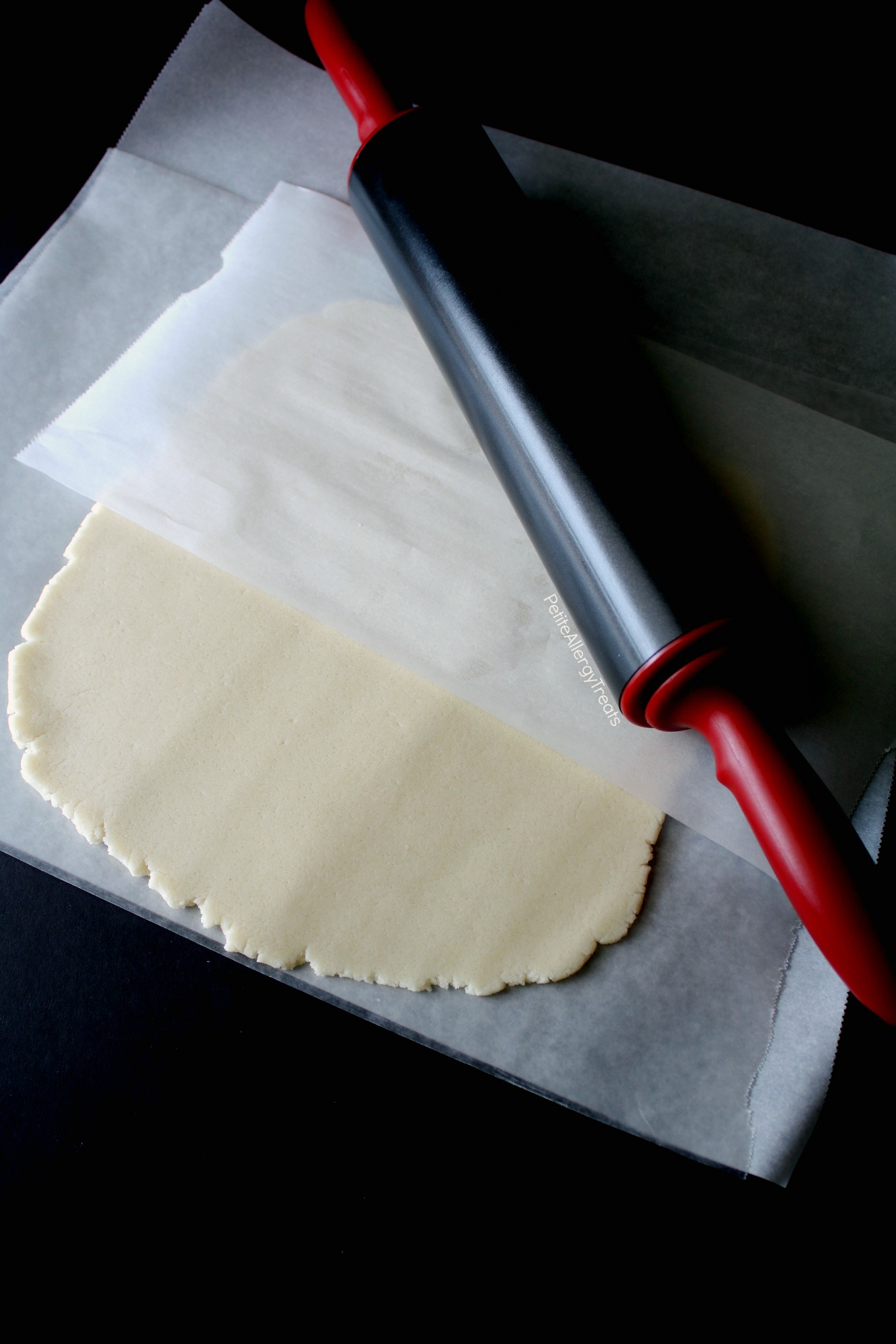 Most people are looking for plain (but darn good) "gluten free sugar cookie".  So I felt it was a good idea to give those gluten free sugar cookies their very own dedicated post.  Many of you have asked for an egg free, dairy free sugar cookie recipe.  You mentioned you searched my blog and couldn't find one. 🙁  But it was there, hidden under the Chubby Bunnies.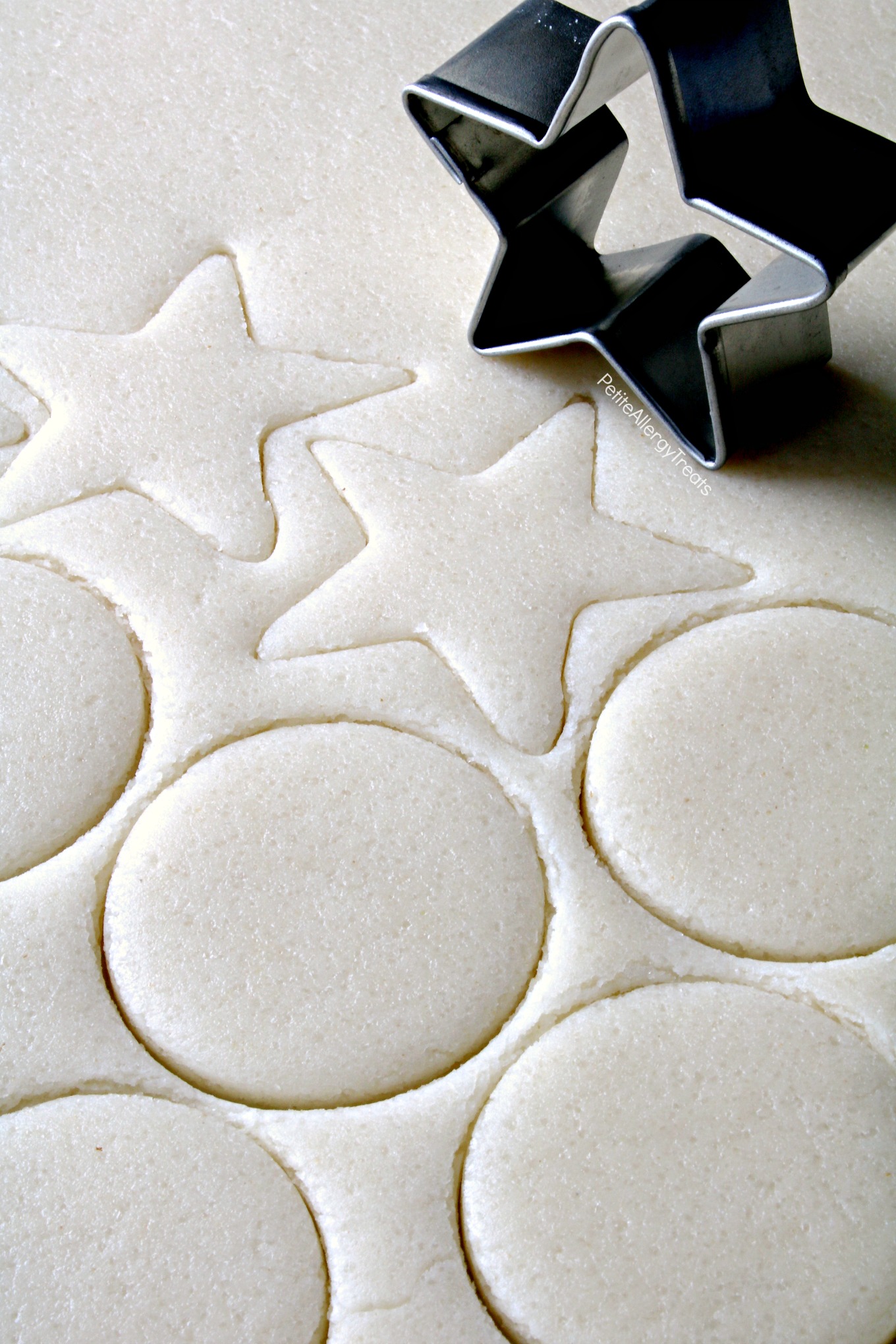 If you here looking for just an egg free or dairy free sugar cookie and  can eat regular wheat, this recipe will work for you too.  As with any gluten free recipe, you can convert it to wheat based be swapping regular wheat flour for all the gluten free flours listed and omit the guar/xanthan or pectin 'gums'.
Which reminds me.
Xanthan gum tends to be super strong in binding compared to the guar gum I use.  I think you could decrease the amount of gum listed if using xanthan instead of guar gum.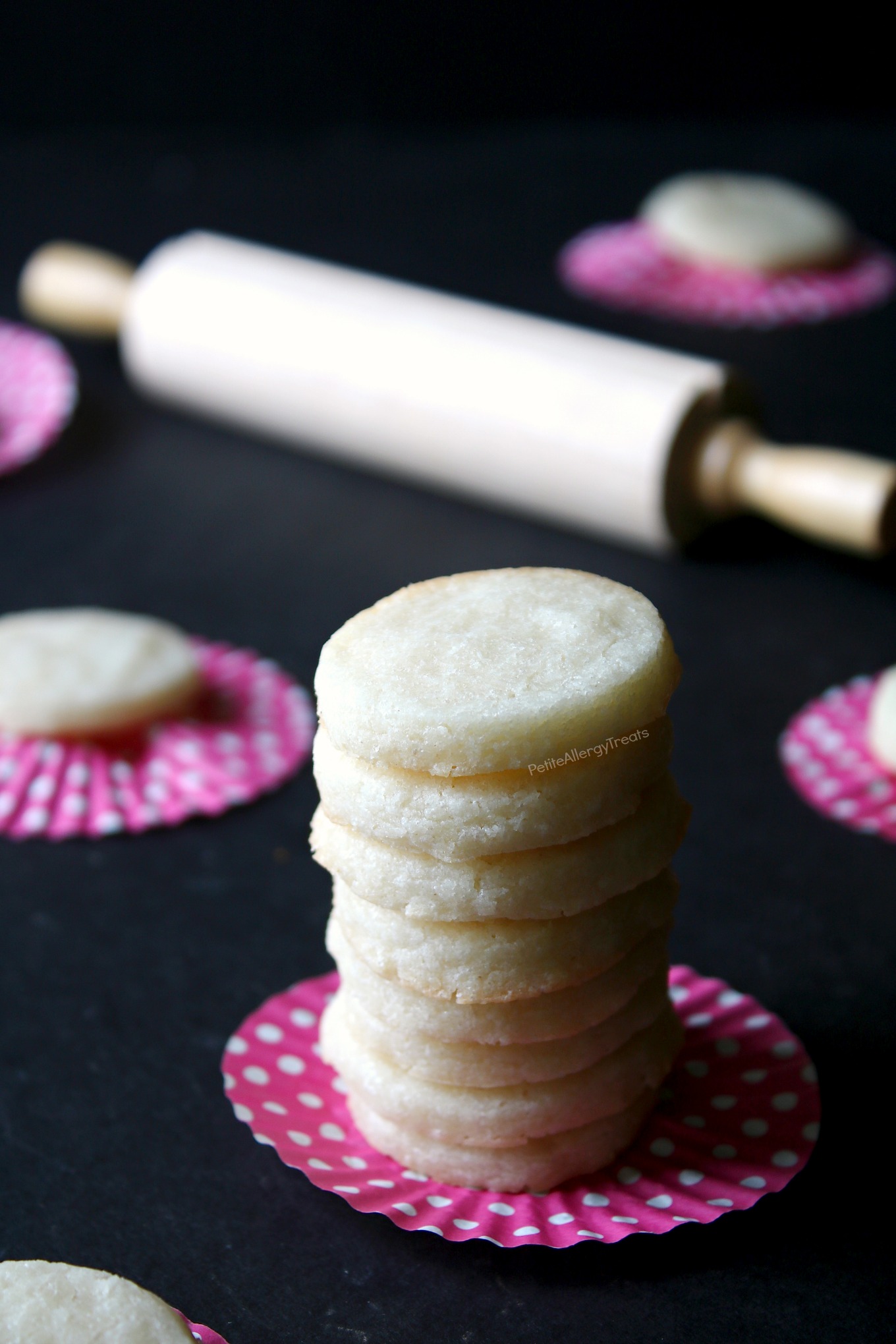 I hope you can make some food allergy friendly cookies as a family this year with these egg free dairy free gluten free sugar cookies.  Feel free to add any flavoring extracts such as lemon.  Not sure why, but most sugar cookies have lemon flavor.  Forgive me, but shouldn't a sugar cookie just have 'sugar' to flavor it and not lemon?  It would turn into a lemon cookie other wise, no?  Just saying.
Enjoy these gluten free sugar cookies with egg free royal icing.  And don't forget, this dough can be used for any Holiday or special occasion with a few changes to the color of the egg free royal icing.

Gluten Free Sugar Cookies (Vegan)
Author:
Laura @ Petite Allergy Treats
Ingredients
Cookies
Egg Free Royal Icing
2 cups powdered sugar
8 tsp dairy free milk or water
Instructions
Preheat oven to 325 degree F for 20 minutes prior to baking.
Combine all dry ingredients and mix well. In another bowl, add shortening, sugar, dairy free milk, and mix until fluffy. Gradually add all flour until a dough is formed.
Roll out dough between parchment paper to ⅛ inch thickness. Carefully cut into shapes and DO NOT move to retain shapes. Pull away scraps and repeat the process on another sheet until dough is gone.
Bake for only 6-8 minutes or until tops appear dry just beginning to slightly brown on the top. (The cookies won't appear golden brown or fully cooked. They will continue cooking on the sheet and will firm up after they cool.)
Allow to fully cool before decorating.
Icing
Mix powdered sugar with dairy free milk or water until smooth.
Follow me for the latest news!
Some other thing you may like: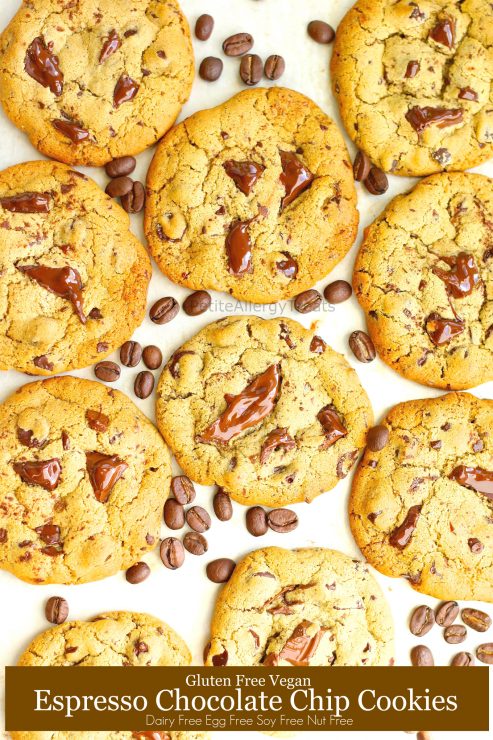 Gluten Free Espresso Chocolate Chip Cookies dairy free egg free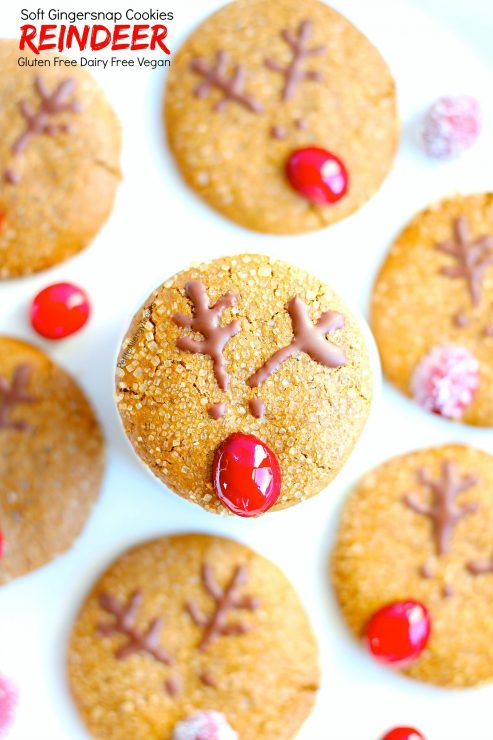 Gluten Free Reindeer Soft Gingersnap Cookies (Vegan)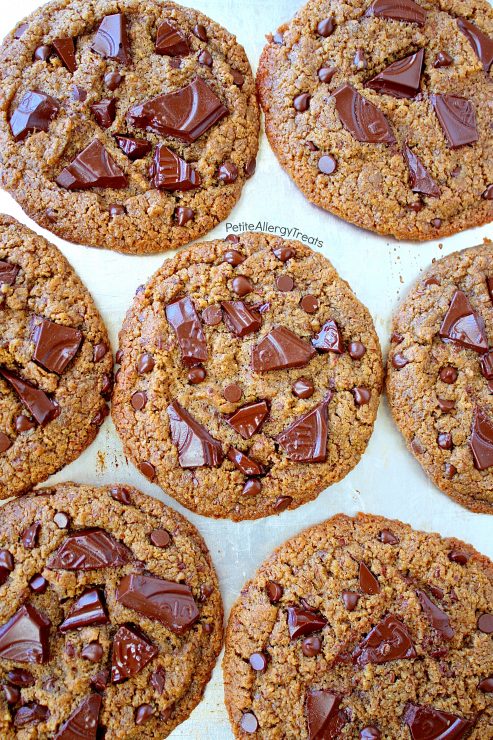 Gluten Free Chocolate Chunk Protein Cookies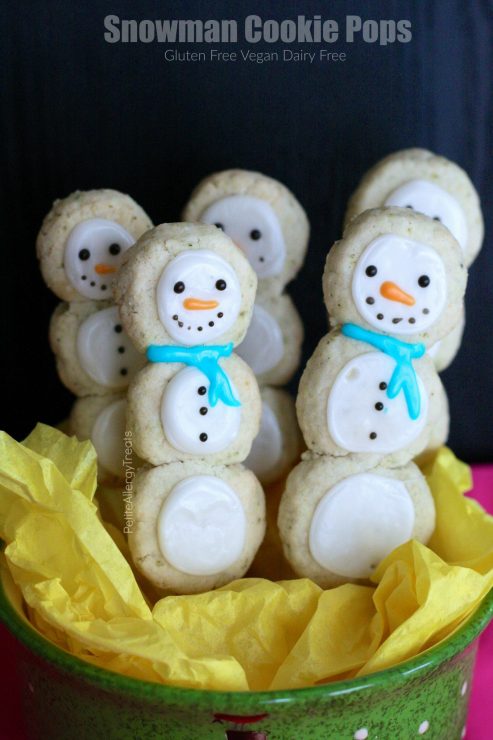 Snowman Cookie Pops (Gluten Free and Vegan)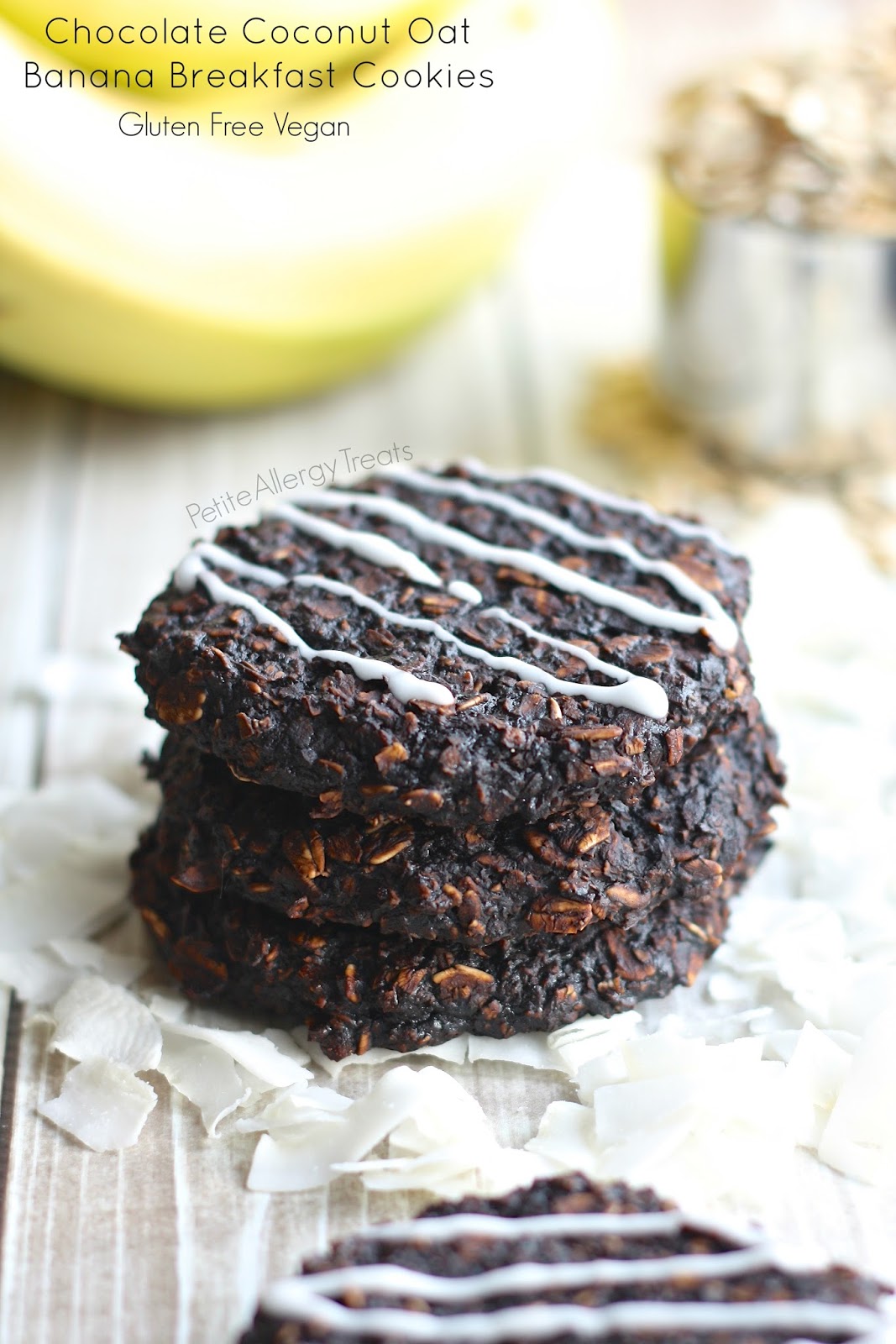 Gluten Free Chocolate Coconut Oat Banana Breakfast Cookies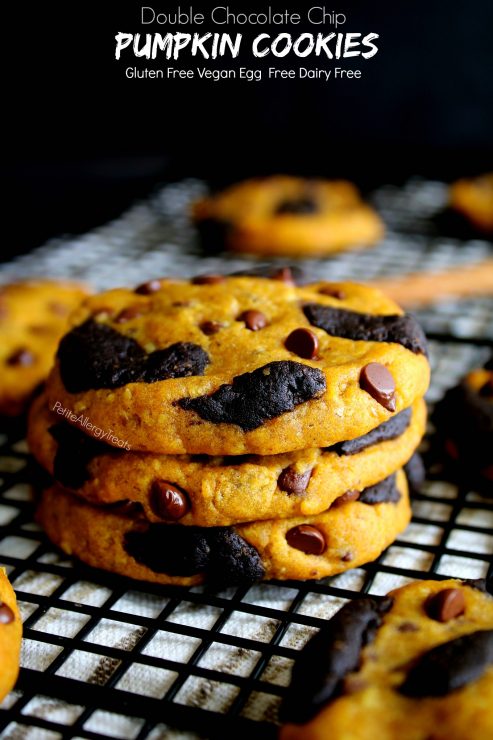 Gluten Free Double Chocolate Chip Pumpkin Cookies