Warm Vegan Gluten Free Double Chocolate Chip Pumpkin Cookies to enjoy with some dairy free milk.  These gluten free cookies are egg free and dairy free but still super soft from the pumpkin puree and packed with double chocolate flavor of chocolate chips and chocolate dough dispersed through out.  As always these cookies are super food allergy friendly and free of the top 8 food allergens!  The extra chocolate really puts these pumpkin cookies in a class of its own.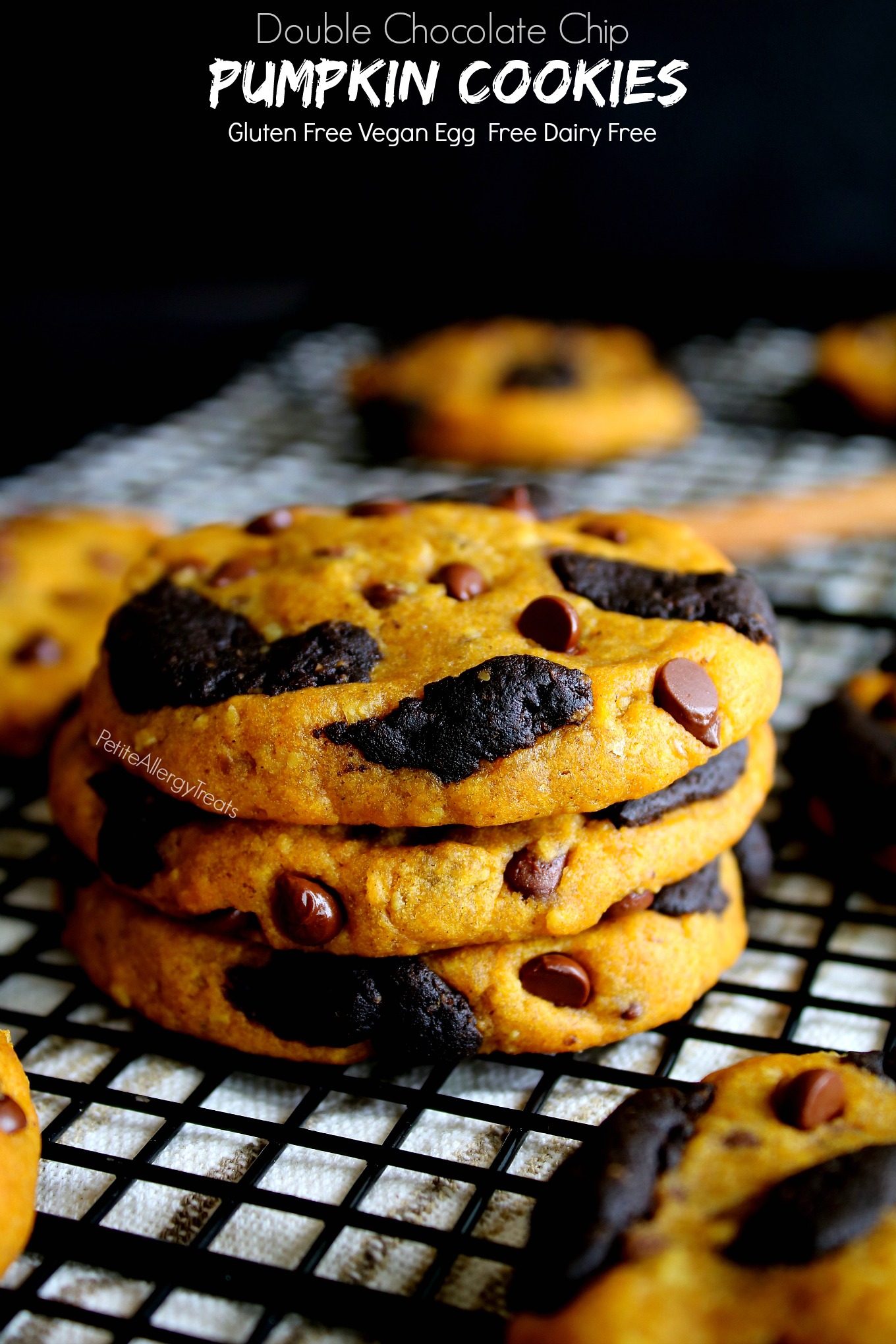 Kids are silly… I recently had the opportunity to help in my 4 year old's K-4 classroom.  First off, Teachers are saints.  I really mean that.  Each and every grade school teacher deserves to be recognized.  The amount of patience they possess is incredible.  And to think, they deal with our kids all day and then go home to their own.  I'm telling you, they are incredible.  But back to the helping in the classroom.
The teacher was reading to the students about family.  She loves to interact with the kids and would often ask questions.  The answers to the questions seemed so obvious but then again you never know how a 4 year old thinks.
Some of my favorite questions where: What is a family?  The kids all excitedly raised their hands stretching with their butts creeping off the ground.  One girl's answered "A bunch of people you play with". True, but not what the teacher was looking for.  The teacher asks another student, "Umm, it's people you go to school with." Closer at least since a brother or sister usually go to the same school.  The teacher prompts even more, who takes care of you like preparing meals and helps you get dressed?  Another boy jumps with his hand up, "I know!  A DOG."
Whaat?!  LOL.  I'm in the corner of the classroom cracking up trying not to draw attention to myself.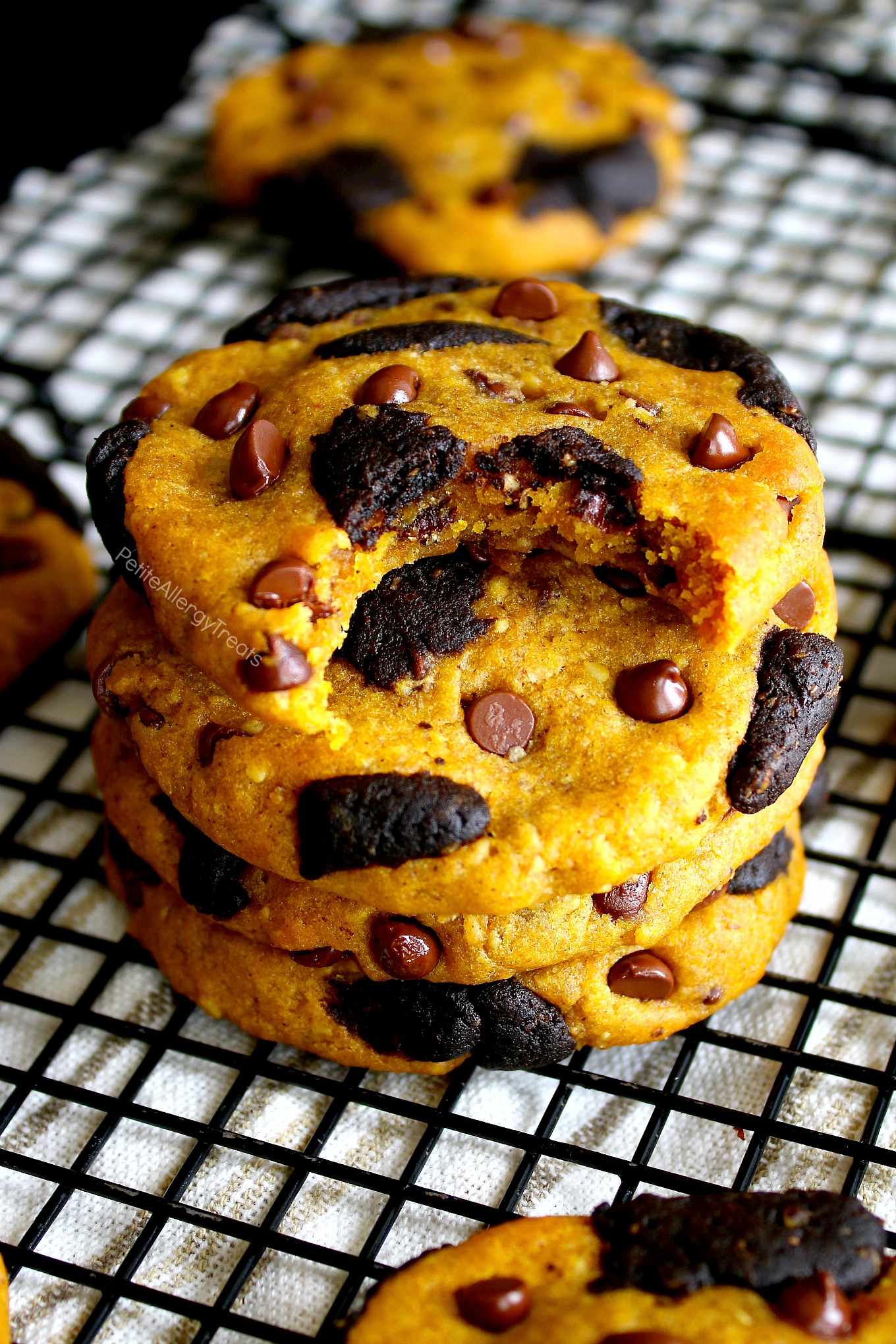 The answer doesn't even seem to phase the teacher.  She continues with the lesson and comes to the subject of church (it's a catholic school).  The teacher asks who is always with us at church?  A kid answers "Our family".  Good answer but not what she was going for.  She's trying to lead the kids towards answer of God.  She prompts again, who is always with us watching us at Church?  Other various answers are giving before another child blurts out "SANTA!"  Hehehe… And I think Santa would be a fair answer to someone always watching us. 😀
I highly encourage volunteering in the classroom if you ever get the opportunity.  Kids see the world so differently.  They are lighthearted.  They play with anyone and will try anything.  They are more open to change, than us adults.  I really learned a lot helping in the classroom.   Maybe I'll learn some more things on the upcoming pumpkin patch field trip I'll be chaperoning.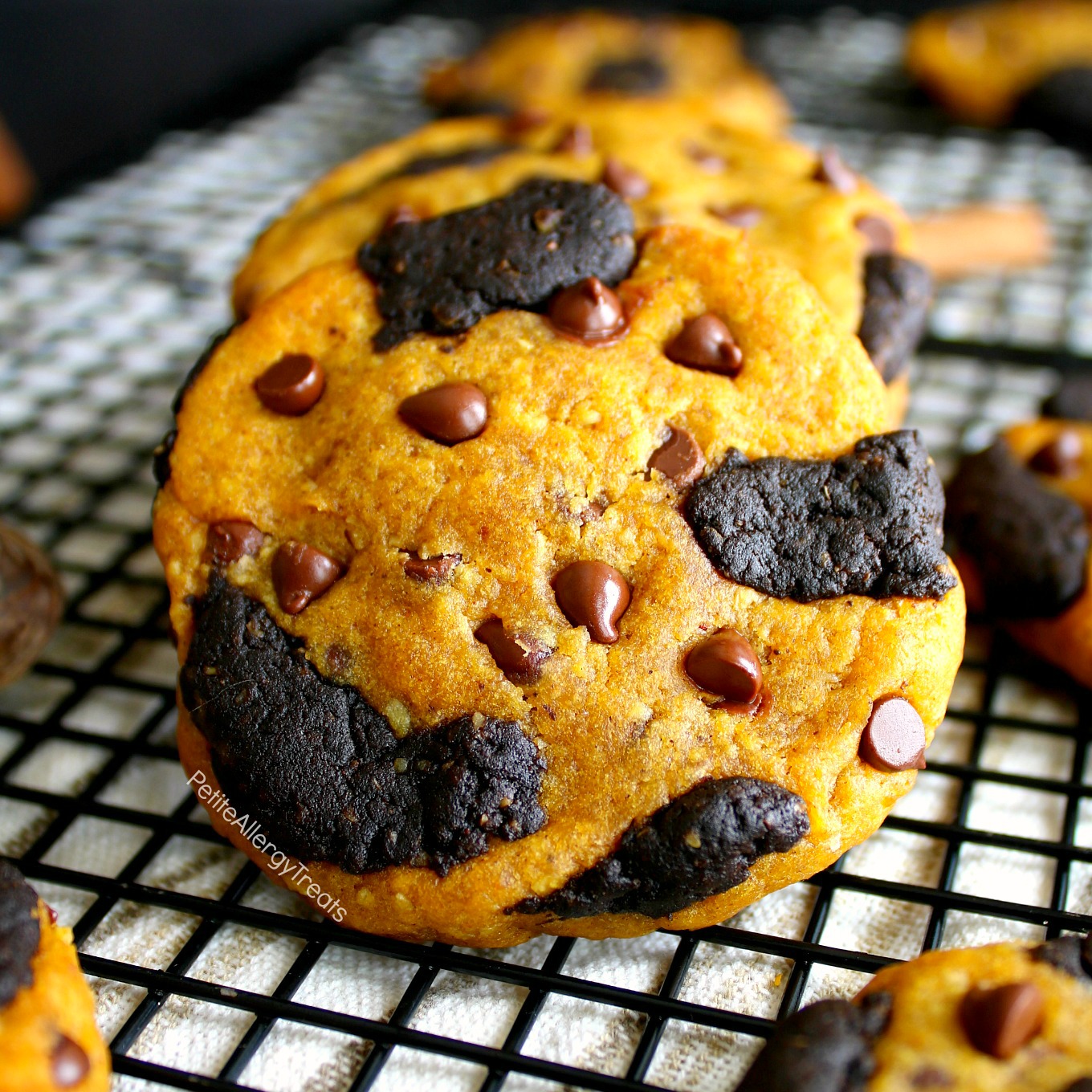 Speaking up pumpkin, I might have to grab a few pie pumpkins to make more Vegan Gluten Free Double Chocolate Chip Pumpkin Cookies.  The extra chocolate in the pumpkin cookies really sets these apart from plain pumpkin chocolate chip cookies.  The massive amount of pumpkin puree keeps things soft but still crisp on the outside too.  Enjoy!

Vegan Gluten Free Double Chocolate Chip Pumpkin Cookies
Author:
Laura @ Petite Allergy Treats
Ingredients
1 cup oat flour
1 cup pumpkin puree
1 cup palm shortening
1 cup sugar
¾ cup allergen chocolate chips
¼ tsp salt
½ tsp baking soda
2 tsp pumpkin spice
½ tsp xanthan gum or guar gum
Chocolate Dough
⅓ cup dough from above
3 tsp dark cocoa powder
1 Tbsp palm shortening
Instructions
In a separate bowl, combine all dry ingredients and mix well.
In another bowl, add shortening, pumpkin puree, sugar and mix until smooth and combined. Gradually add all flour until a dough is formed. Scoop ⅓ cup of dough to reserve for chocolate dough.
Fold in chocolate chips. Drop 1-2 Tbsp size dough balls onto a parchment paper lined baking sheet. Place pea size chocolate dough (see below) on top of dough balls. Slightly flatten
Chocolate Dough- Add cocoa powder and shortening to reserved ⅓c dough. Mix until combined.
Bake at 350 until edges just begin to turn golden brown.
Follow me for the latest news!
Some other things you may like: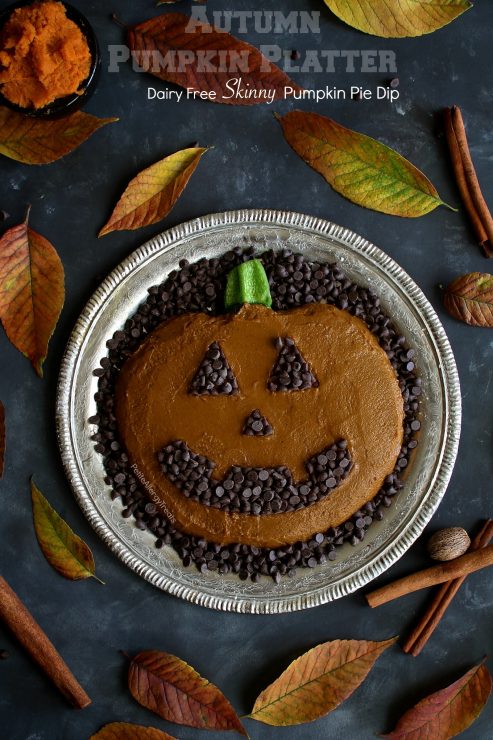 Dairy Free Skinny Pumpkin Pie Dip– vegan gluten free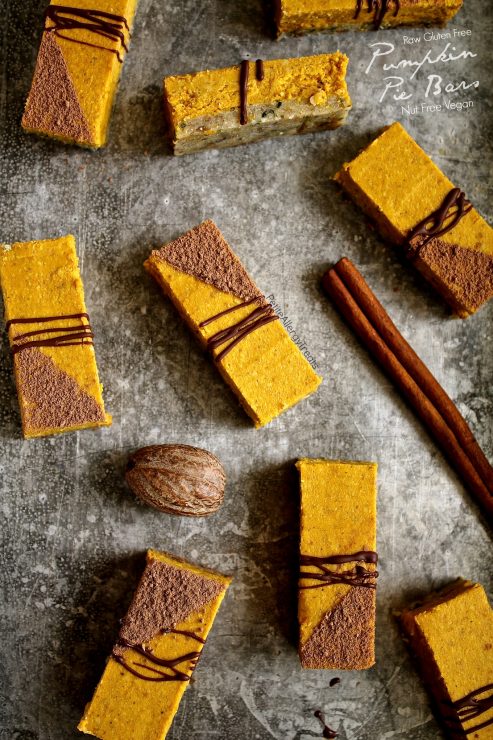 Healthy Gluten Free Vegan Pumpkin Pie Bars (Dairy Free)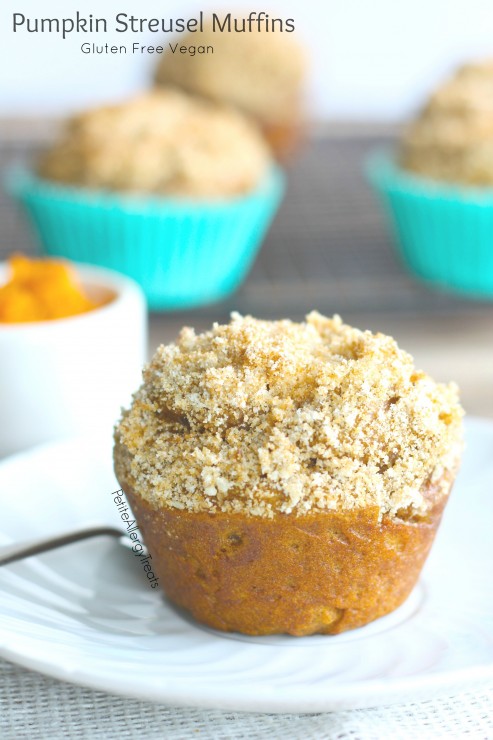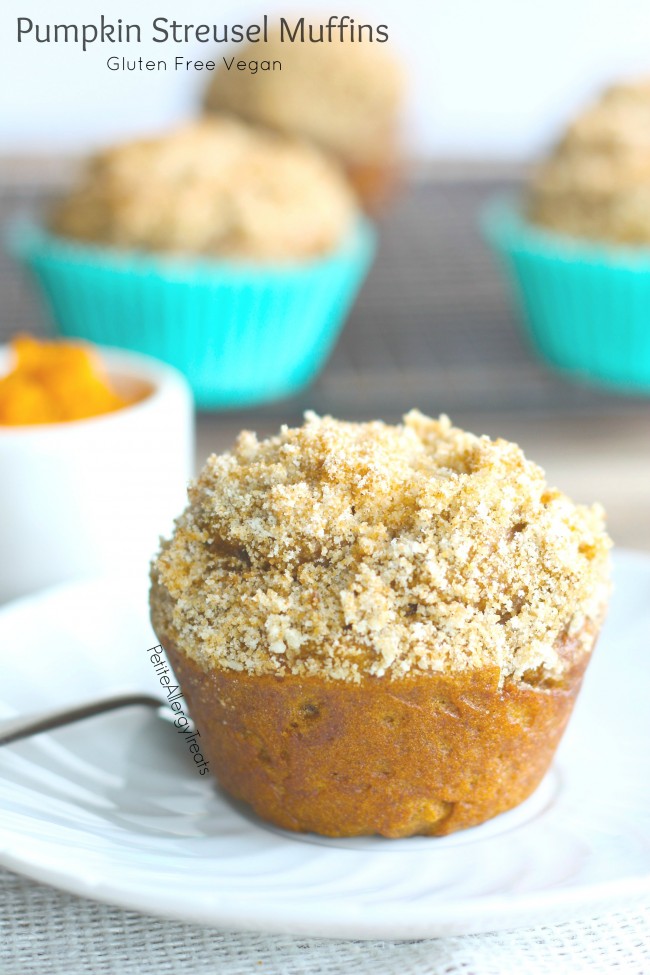 Pumpkin Streusel Muffins (gluten free Vegan)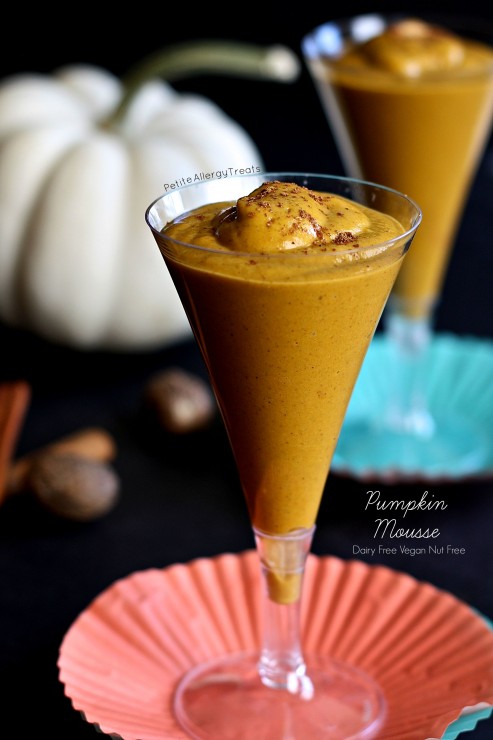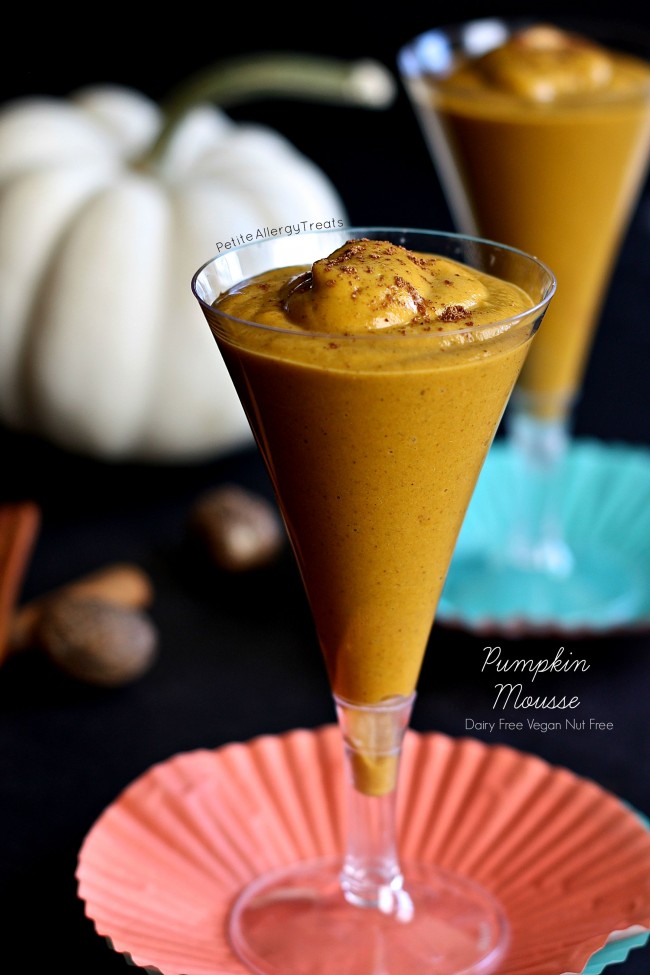 Pumpkin Pie Mousse (Dairy Free Vegan)