Enjoy spending time with family and celebrate with healthy Dairy Free Skinny Pumpkin Pie Dip.  This adorable pumpkin shaped pumpkin platter is adorned with food allergy friendly chocolate chips and is all together Vegan, gluten free, dairy free, egg free, soy free, peanut free, tree nut free and soy free- Free of the Top 8 Food Allergens.
Thank you to Enjoy Life Foods for sponsoring this post!  #SnackFreely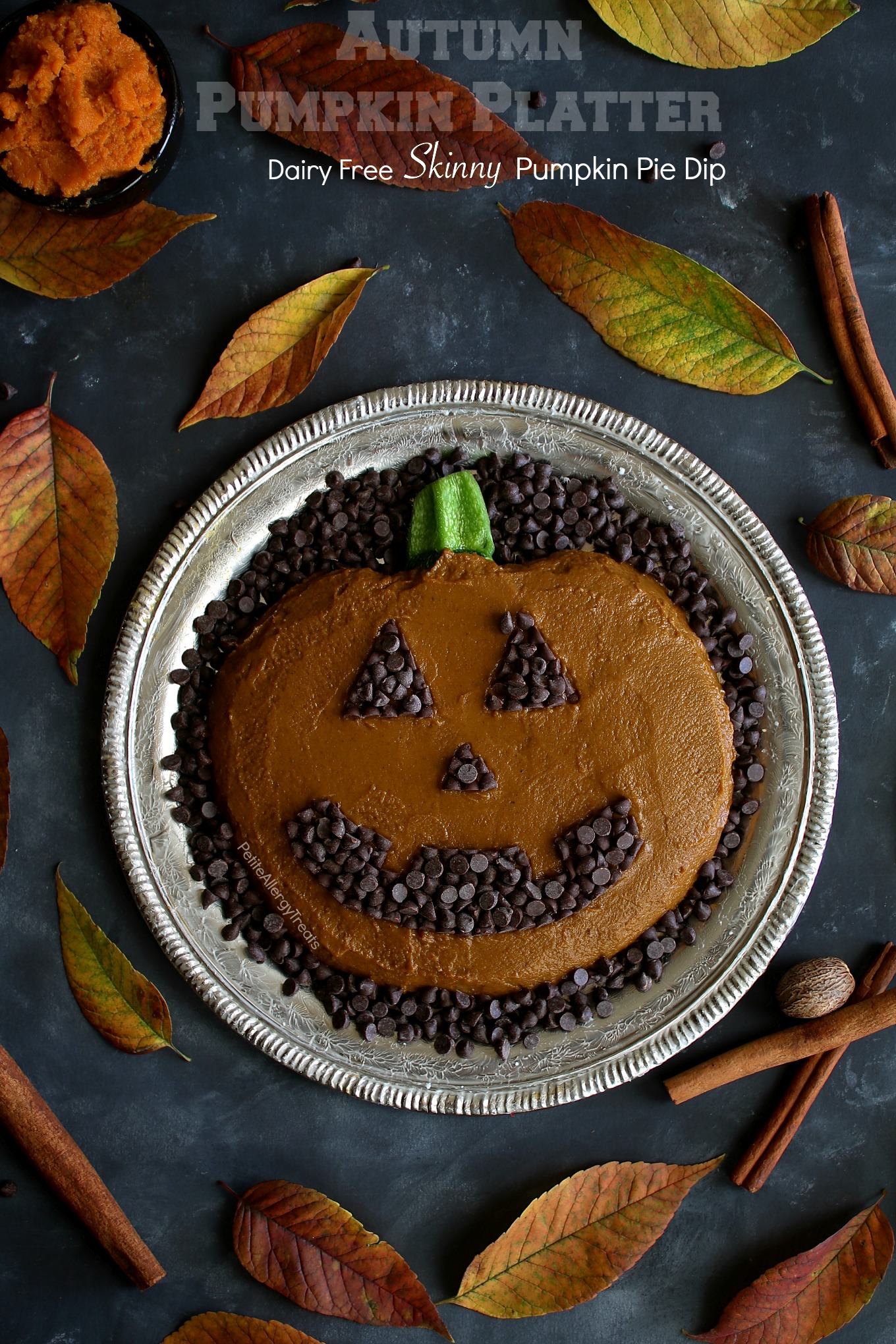 Time to dust off the Halloween costumes.  Can you believe Halloween is just 2 weekends away?  Eeek.  And since were talking weekends, did you know there are less than 10 weekends until Christmas?  Double EEEK!  But let's stay focused on Halloween first, ok?  We can all panic about Christmas later…
We still need to figure out costumes.  Mr. Naughty was a shark last year.  It still fits.  He still loves sharks.  Boom.  Done.  Sir's costume is much more difficult.  I thought he should be Harry Potter since he loves Harry Potter and even wears glasses.  Remember I made him the Book Of Monster's Cake for his birthday?  Well, as much as he loves still loves HP he refuses to consider it.  Whatever costume he decides on he'd better do it quick.  You can't go treat or treating without a costume…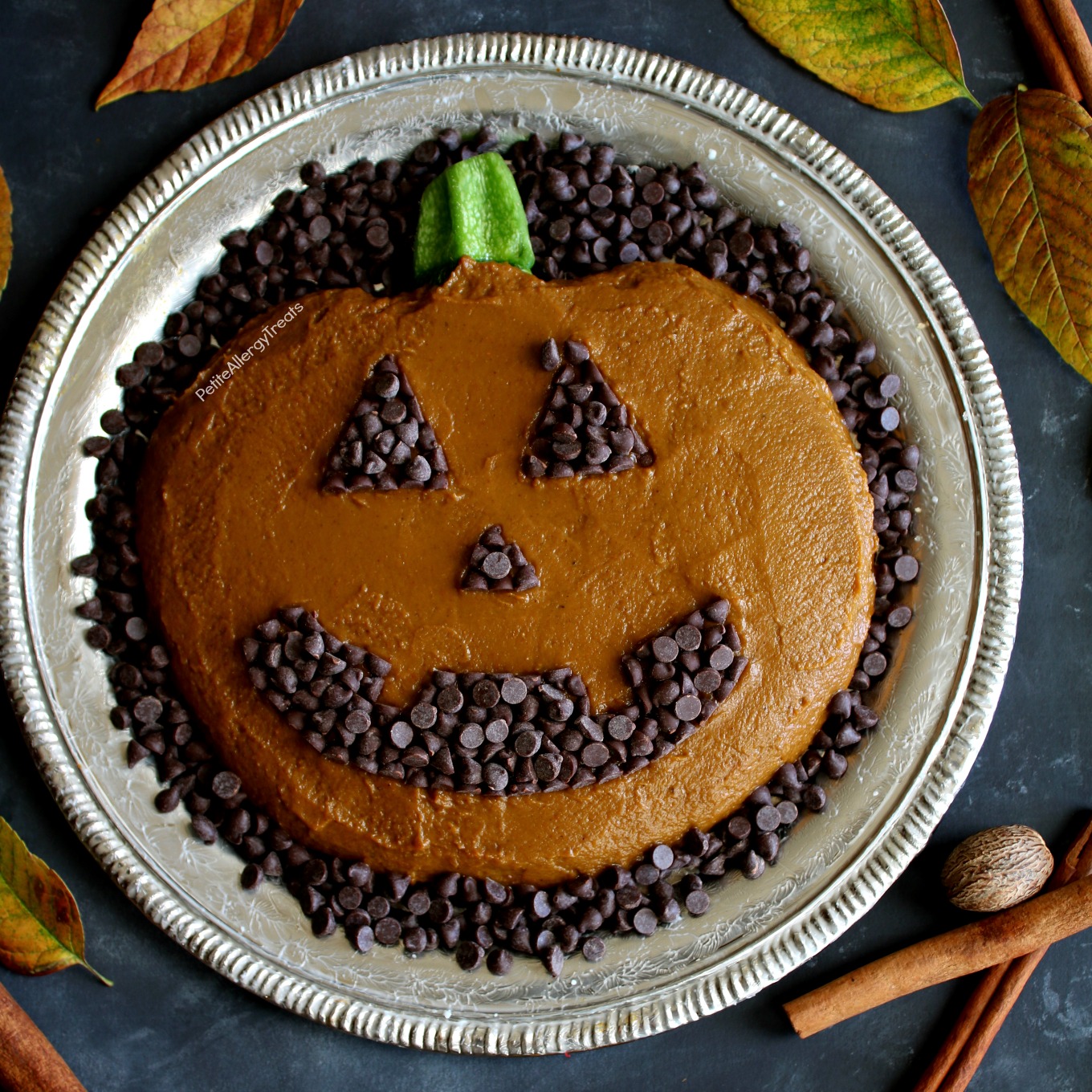 And yes we still dress up and trick or treat even though we can't eat the candy.
Sounds a bit silly right?  Or maybe even a bit cruel.  Here's all the candy you could eat if you weren't allergic too but can't, so I'm taking it away…
It's not like that.  I promise.  Ok, maybe just a teeny bit.  But we always let the kids trade the unsafe candy for either toys or other safe candy.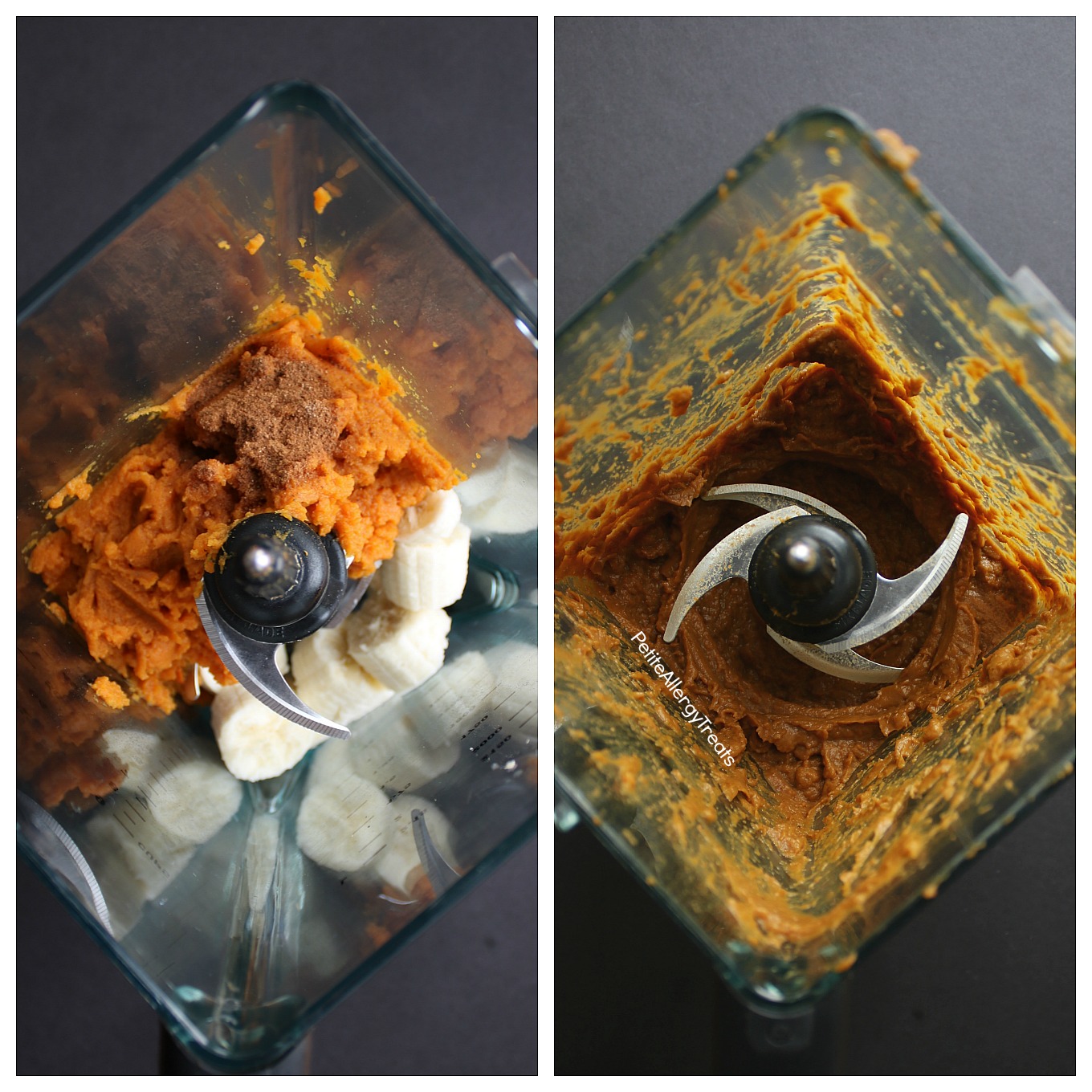 Safe candy, you ask?
Yes, it exists.  Most candy is actually peanut free or gluten free.  But.  As always it comes down to shared equipment since holidays mean more special candies.  We don't eat a lot sugary candy but we all appreciate chocolate.  (Which BTW, is virtually impossible to find dedicated peanut free or tree nut free equipment since companies use the same lines for dipping all their chocolate creations.)
In the past, I'd make our own chocolate man eating spiders or Gluten Free Protein Chocolate Chunk Cookies with Top 8 Free chocolate from Enjoy Life Foods.  I still use the chocolate for tons of things.  Like even a drizzle for my Raw Pumpkin Pie Bars.  But this year's Trick Or Treating just got a little bit more Food Allergy friendly candy on the shelves.
This year Enjoy Life Foods has created…
Wait for it…
Mini Chocolate Snack Packs!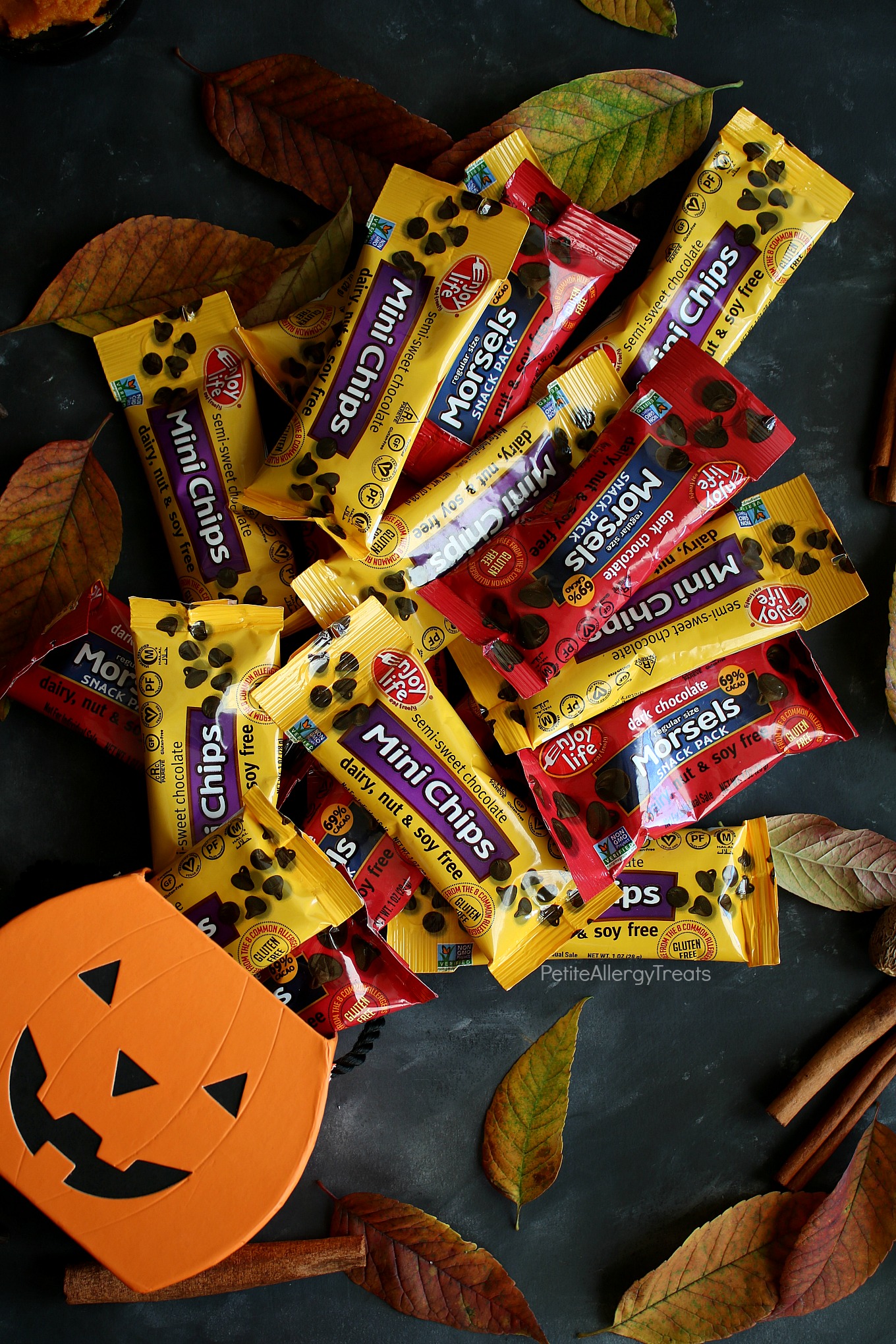 It's the same dairy free and soy free chocolate chips from Enjoy Life Foods you love, shrunk down to individual bags.   Snack on the mini bags, share with others, garnish recipes or pack for school treats.  What makes Enjoy Life Foods so special as a company is ALL of their products are made on dedicated equipment and facilities free from the Top 8 Allergens… Dedicated facilities take the guess work out of the possibilities of cross-contamination of the Top 8 Allergens and are also Sesame Free Potato Free and Sulphite Free.  That's piece of mind for food allergy parents.  Especially when it comes to Chocolate.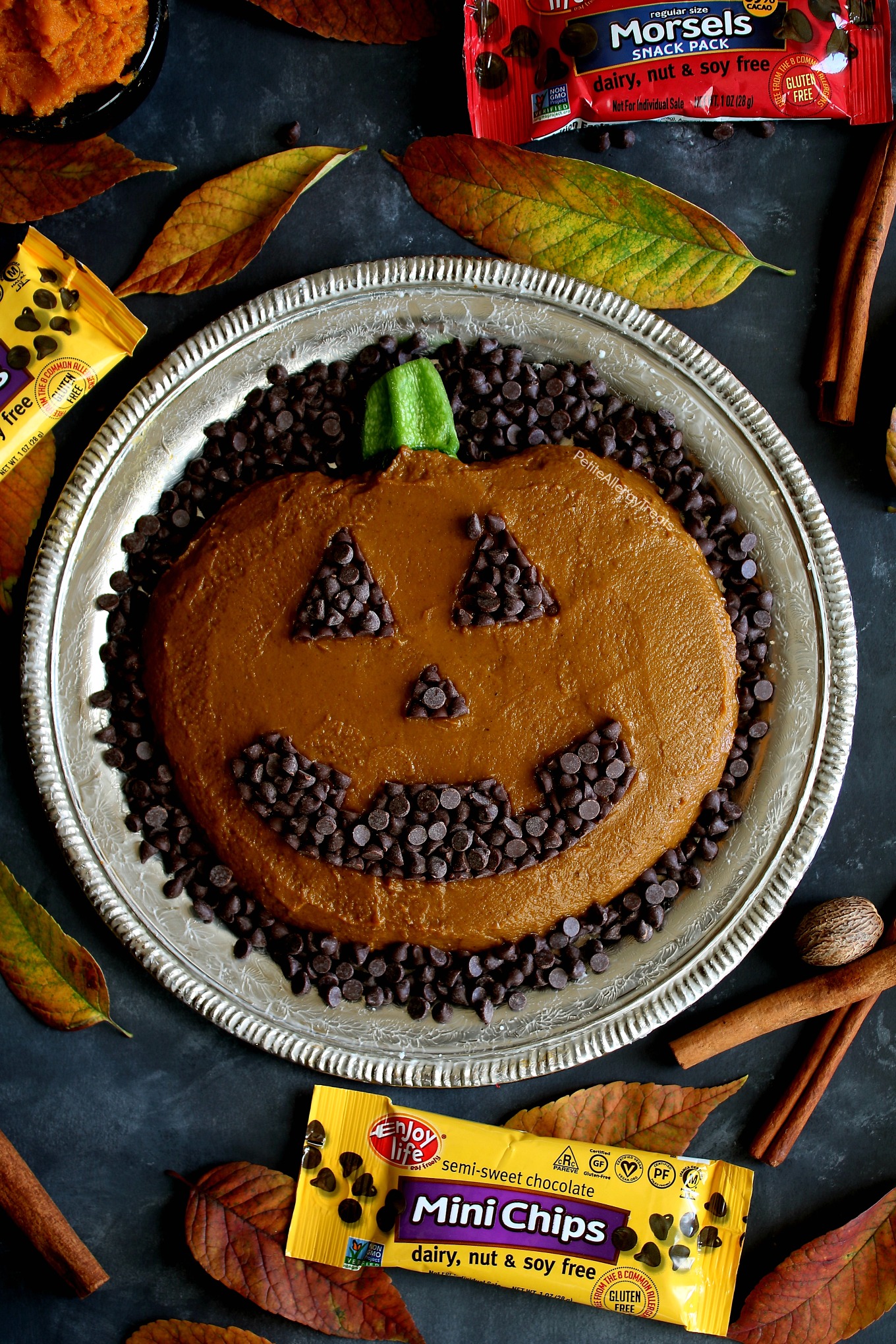 Think of the mini chocolate snack packs as travel size pouches of chocolate. Easy classroom special treats that won't go stale. Or *perfect* portioned Halloween appropriate treats to hand out in the masses.  Portable fixes of chocolate.  Sign. me. up. Halloween just became fun again for kids with food allergies.
So with Halloween just around the corner lets go through our checklist:
-Costume for Mr. Naughty: cute friendly Shark—————————————–Check
-Costume for Sir: in the works —————————————————————-Almost Check
-Safe Top 8 Free Candy: mini chocolate and dark chocolate snack pack—Check and Check
-Party platter:  adorable No Bake Skinny Pumpkin Pie Dip Platter————Check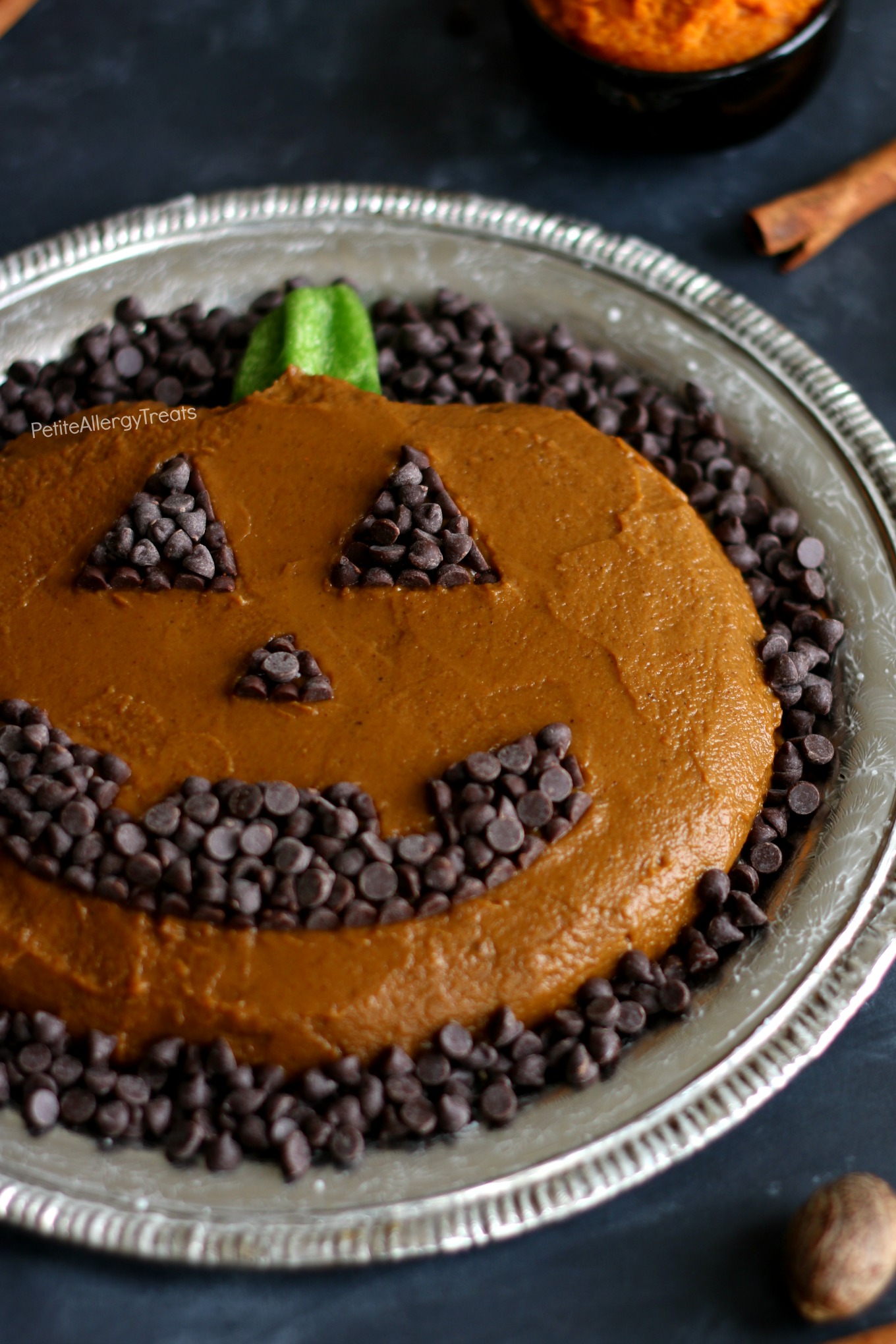 We'll be heading to a few Halloween themed parties and I'll be bringing this dairy free Skinny Pumpkin Pie Dip pumpkin platter.  So festive for fall or Halloween.  But better yet, it's a no-bake dessert free of the Top 8 Food Allergens.  Just puree everything together and shape in the form of a pumpkin.  Go ahead and get creative with the shape of the eyes and mouth.  I went with the traditional cute triangle eyes, nose and teeth mouth.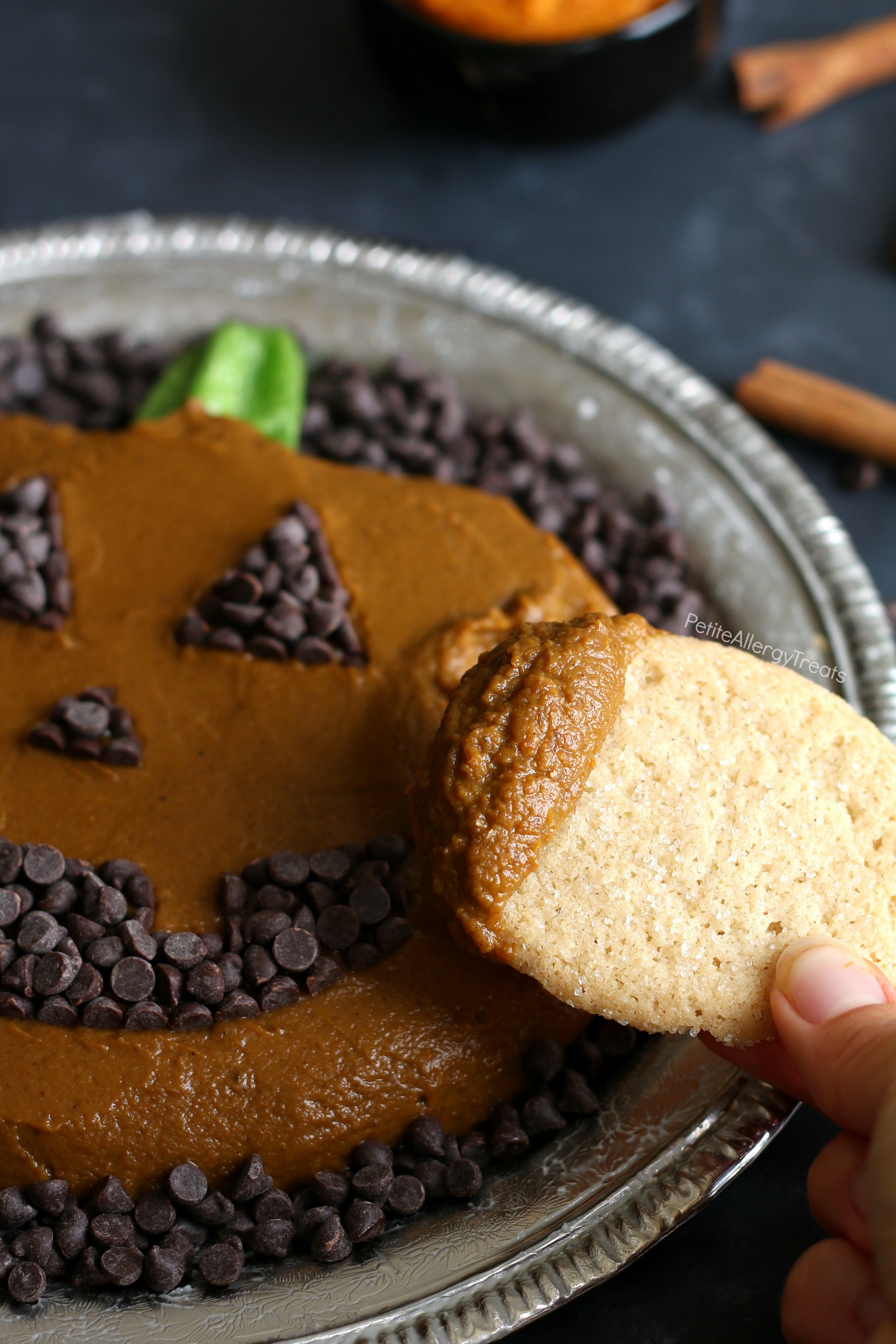 Please keep your kiddos safe while creating fun memories of Trick Or Treating.  Start talking about your plan for trading unsafe candy for something else they can have.  And don't forget you can often donate unwanted candy to a Dentist's office sometimes for money or donate to our Troops overseas.
Be sure to order your Mini Chocolate Baking Packs  (currently only on the Enjoy Life but soon to be in stores) Use the code- SNACKFREELY  for a Buy One Get One Free with free shipping over $49 until Oct 21!!  

Skinny Pumpkin Pie Dip
Author:
Laura @ Petite Allergy Treats
Ingredients
1 (16oz) can pumpkin puree
1 medium banana
2 Tbsp maple syrup
1¾ tsp pumpkin spice*
1 Tbsp seed butter (sunflower or pumpkin)
1 tsp vanilla
1 zucchini top- optional
1Tbsp gluten free flour- optional
pinch of salt- optional
Instructions
Combine all ingredients except chocolate chips in a blender or food processor. Blend until smooth, occasionally scraping down sides.
Pour mixture on to a 10 inch plate in the shape of a pumpkin.
Add mini chocolate chips for eyes, nose, mouth and zucchini top for stem.
Serve with sugar cookies or fruit for dipping.
Notes
This pumpkin platter dip can be made a day in advance. Wait until day to assemble or else water may separate a little. The pumpkin spice I use is mild. If you're using a store bought mix, you may want to taste test before adding the full amount. The flour isn't necessary but helps keep the dip a little drier for display purposes. Enjoy!!!
Disclosure: This post has been sponsored by Enjoy Life Foods.  All opinions are mine alone.  Thank you for allowing me to continue to working with brands that meet our food allergy needs!  For more about Enjoy Life Foods be sure to follow them for the latest news on  Facebook and Twitter
Follow me for the latest news!
Some other things you may like: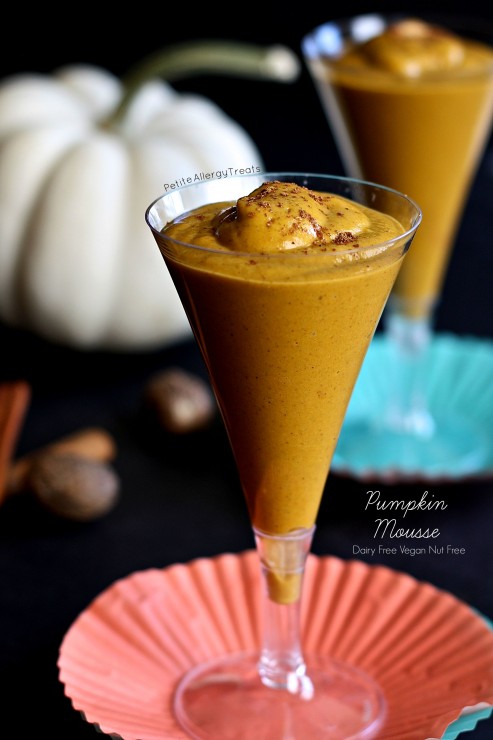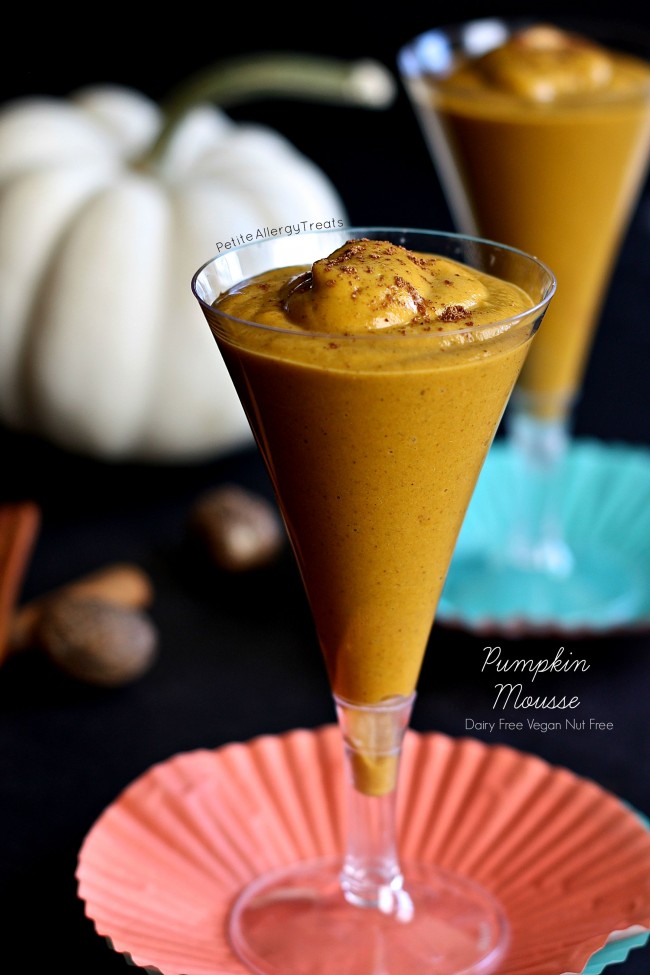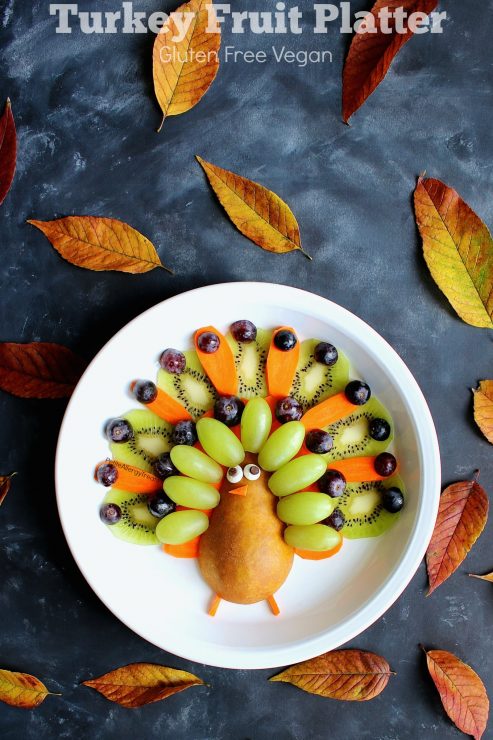 Vegan Turkey Fruit Platter– gluten free vegan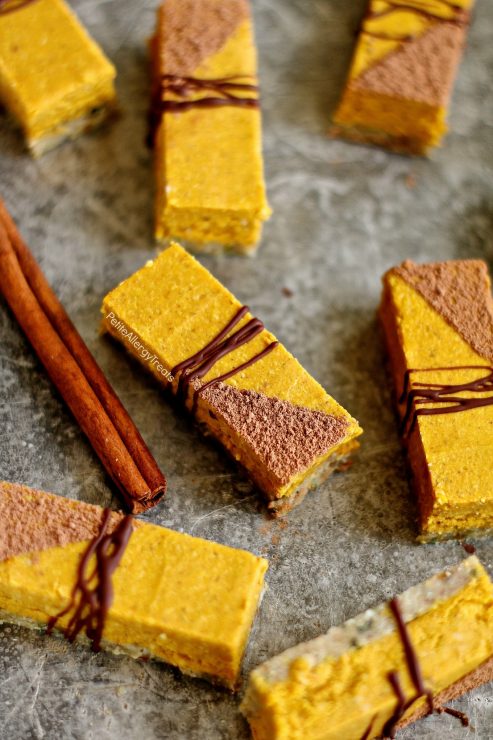 Healthy Gluten Free Vegan Pumpkin Pie Bars (Dairy Free)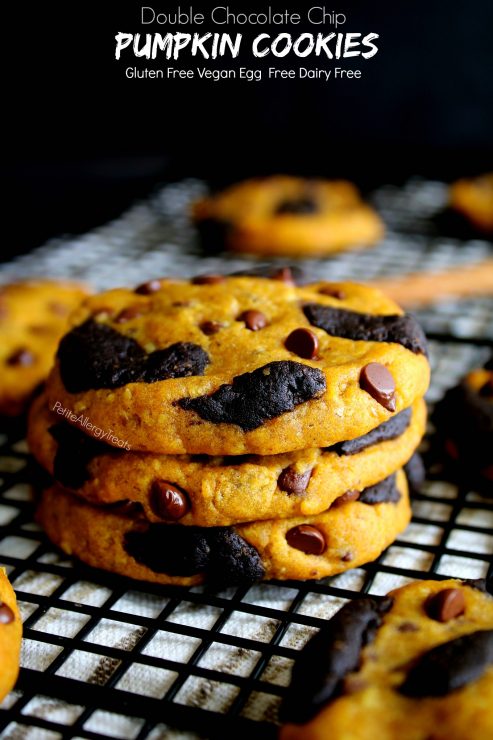 Gluten Free Double Chocolate Chip Pumpkin Cookies– vegan dairy free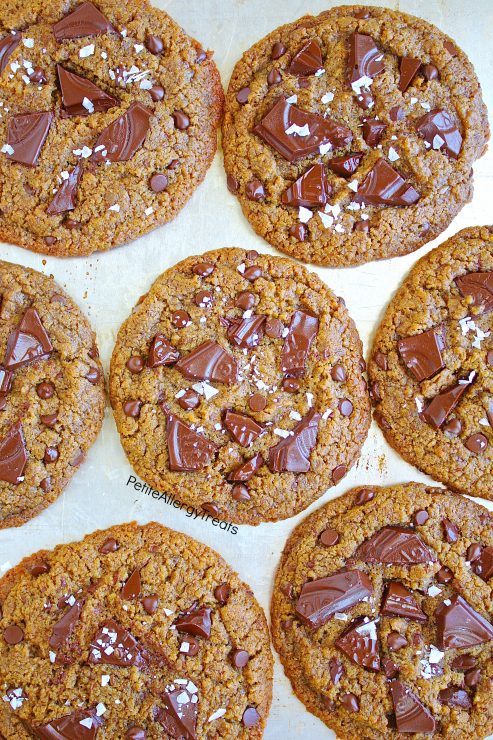 Gluten Free Chocolate Chunk Protein Cookies– vegan dairy free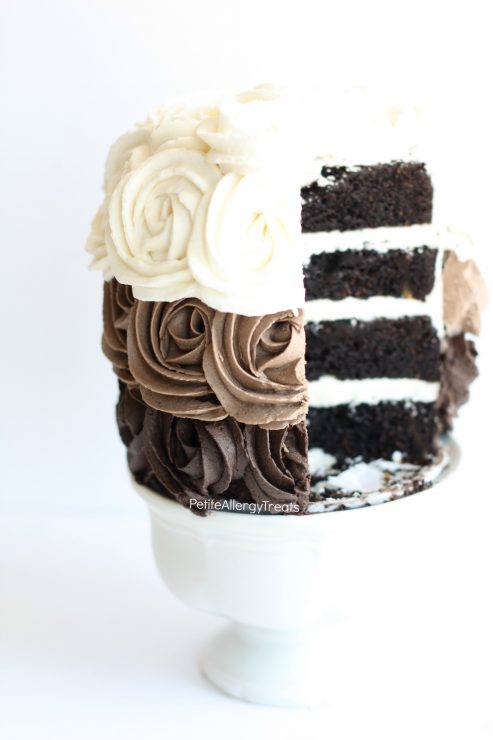 Gluten Free Vegan Chocolate Cake (Dairy Free)