For any serious Harry Potter fans this gluten free Harry Potter Book of Monsters Cake is to die for… or at least worth it biting you!  This magical monster book is completely gluten free, dairy free, egg free and peanut free.  Who knows if the wizarding world has food allergies but either way, just about anyone could enjoy a slice of cake.  And people around the world are freaking out over the release of the new Harry Potter Book: The Cursed Child.  Why not celebrate the book with a slice of the Book of Monsters Cake? 😀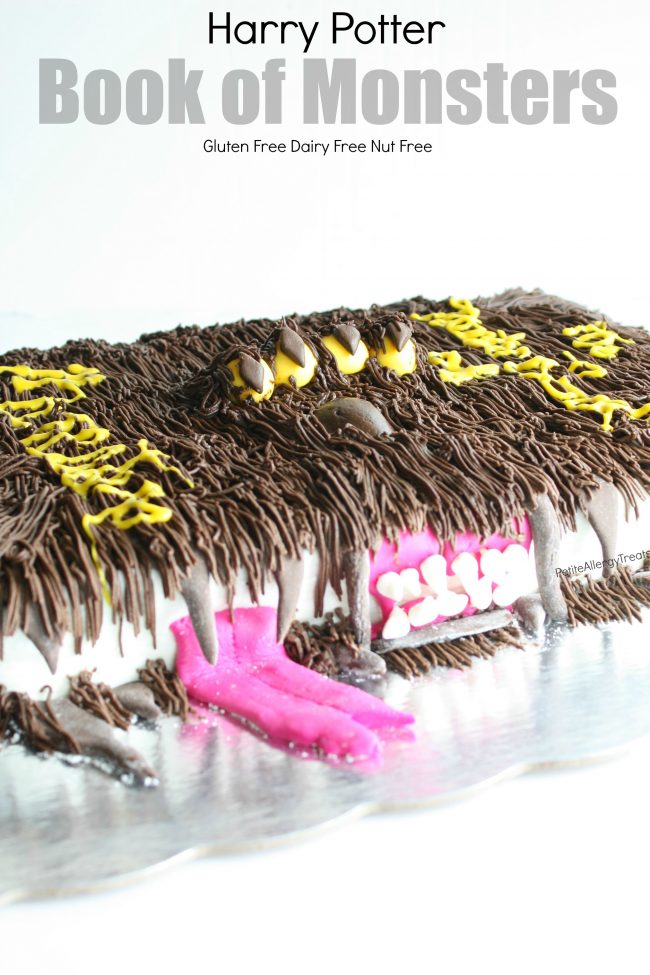 Harry Potter.  Such a fun world.  If you've never read the books or haven't seen the movies they are well worth the time.  All 7 books were fantastic in their own way and kept you wanting to read more.  Annnd a new book, The Cursed Child, will be released tomorrow!  Any Harry Potter fan is more than thrilled to have a new book to read.
Harry and I go way back… Believe it or not Mr. Potter is responsible for my first half marathon.  Yep.  I would watch the movies as I ran on the elliptical.  I grabbed all 7 films from the library and before I knew it, I had been running for over an hour.  It took most of the Summer to watch/run all the movies but really motivated me not matter how tired I was at night to change into work out clothes and escape into the magical world.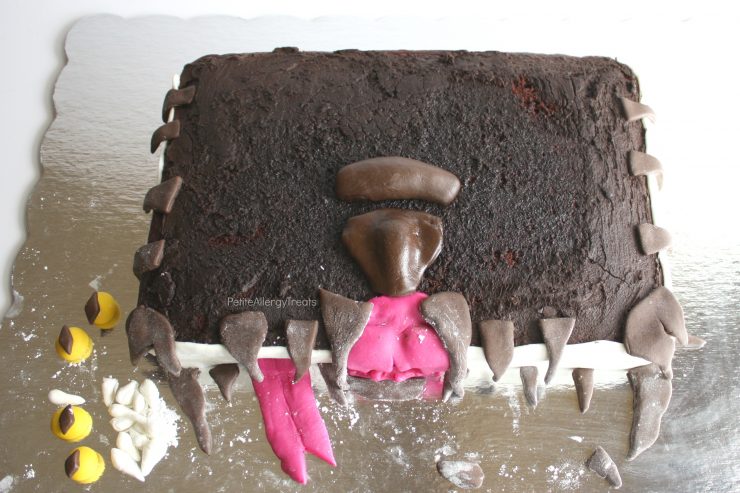 Last Winter I decided to read the books.  I know.  Like I didn't know what would happen in each book.  But each book was *so* good.  The book contained many more details and another thing to look forward to at night.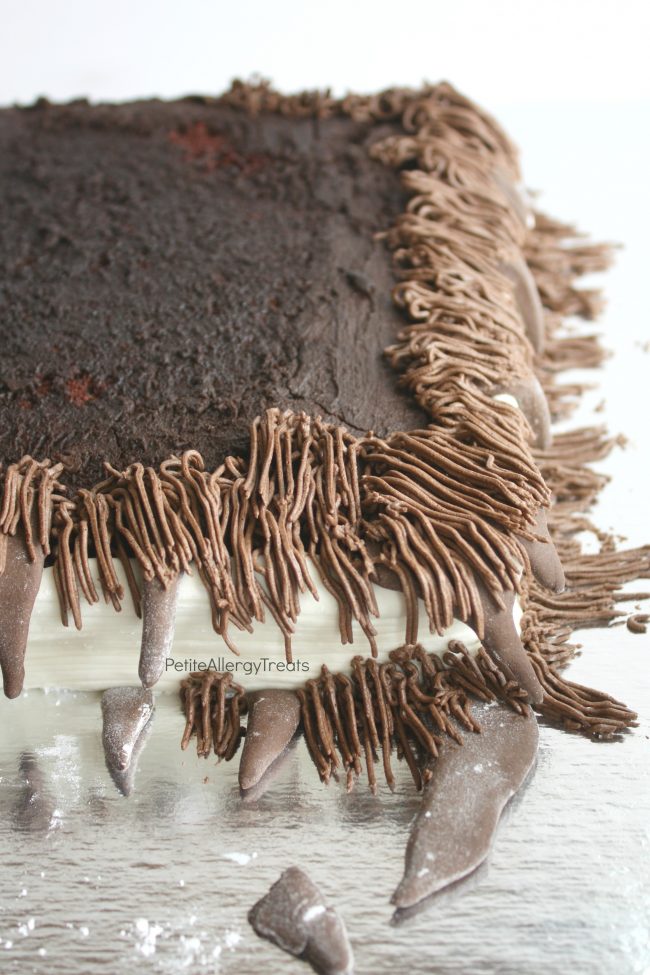 Another wonderful thing, was my son became very interested in which book I was reading.  He was focusing on how many pages there were.  (He's a numbers sort of kid and loves math) Anyways, he said he thought those books were way too long to ever read.  I told him he would could easily read them and just to read one page at a time.  Easter came and the bunny brought the first book.  He finished it in TWO days.
So fastfoward a few months and he finished all 7 books.  Some of which are over 800 pages.  Eight HUNDRED pages.  He's only 8.  I really don't think I could do that at his age…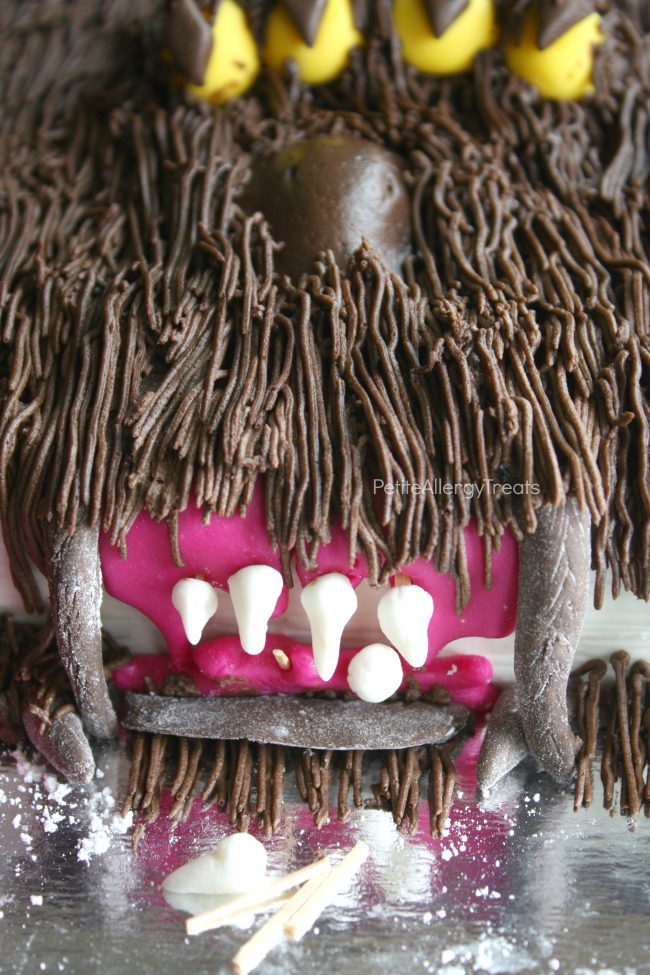 Naturally, he fell in love with all the iconic characters.  This gluten free Book of Monsters Cake is modeled after the real Monster Book of Monsters.  In the movie, this book takes a few snaps at Harry Potter's face and feet until being stomped upon.
He requested a gross Monster Book of Monsters Cake.  Yep. You read that correctly.  Monster is added twice.  Apparently, J. K. Rowlings wanted to be very specific about the monster book actually being a monster.  There's another scene the movies don't include in the bookstore where the books are attacking one another and ripping other books apart.  The bookstore workers feared for their safety every time a student requested a book.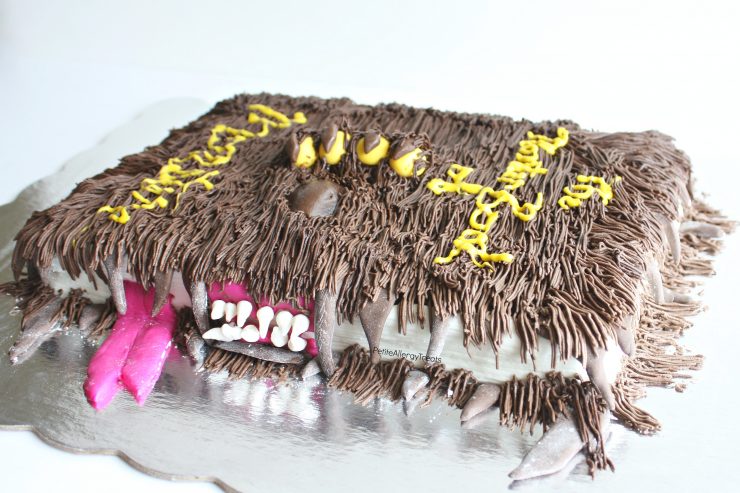 Another side note.  I'm not proud to admit this but I had freak out moment with the cake.  I had just finished decorating everything. I didn't even get a full photo yet and my 4 year old came running over to look at the cake.  He knocked over the white cardboard, smashing into the nicely finished cake!  Nooooo…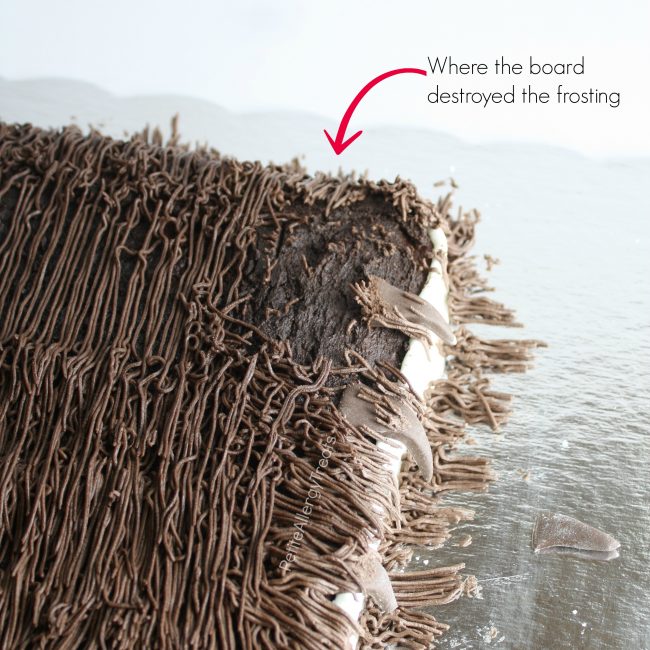 Thank goodness the frosting is done in layers and the texture can hide anything.
Anyways, here's my easy version of Harry Potter's Book of Monsters Cake.  I think it turned out well.  Overall I was happy with the cake and was a bit sad to chop him up and eat him.  But we managed…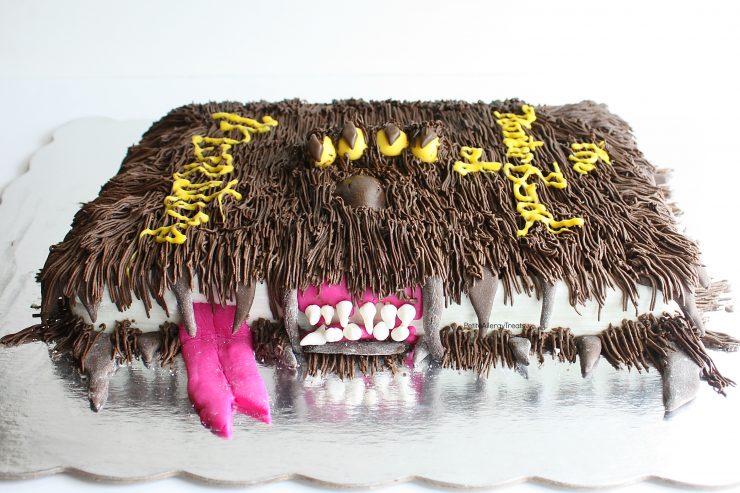 This cake isn't difficult but very time consuming.  The prep work of fondants and frosting take the longest.  For this I would suggest working in phases.  Make the frosting and fondant one day, cake another day, then decorate.  I broke mine into days since my in laws were visiting.
This would be a perfect cake for any Harry Potter Fan!

Gluten Free Harry Potter Book of Monsters Cake
Author:
Laura @ Petite Allergy Treats
Ingredients
1 box of gluten free chocolate cake mix
Chocolate Frosting
1½ cup palm shortening
3 cups powdered sugar
¾ cup dutch cocoa powder
1- 1½ Tbsp dairy free milk*
2 tsp vanilla
⅛ tsp salt
Special piping tip for hair: #233
tooth picks
Fondant
natural yellow food dye*
natural red food dye*
cocoa powder
1-2 tsps water
Instructions
Cake
Prepare mix according to box. Pour into in 2 9 x13 pans and bake until center is set and toothpick comes out clean. Use a serrated knife to level each cake. Allow to cool completely before icing.
Frosting
Cream shortening on high speed mixer until light and fluffy.
Add vanilla and ¼ cup- ½ cup powdered sugar until fully incorporated scrapping down sides of the bowl.
Add cocoa ¼ cup at a time until fully mixed scaring down sides of the bowl. Frosting will be thick. Test the consistency before adding the full liquid amount (See note)
Apply a frosting to one 9x13 cake about ¼ inch of thickness on top and thin crumb coat for the sides. Carefully stack the remaining cake on top. Save remaining frosting. Set aside cake and work on fondant.
Fondant
Mix fondant and divide into 3 equal balls. (1 will be used for the white pages, 1 for the chocolate fur and the remaining will divide again for eyes and tongue.)
White Pages: 1st ball-Stretch and roll white fondant to approximately 3 inches wide by 29 inches long (Length of the book pages).
White Teeth: use scrapes from 1st ball- Form into 12 small triangular shaped teeth. Teeth will be used with toothpicks later. Set aside.
Brown Fur: 2nd ball- Mix fondant with dutch cocoa powder until desired color is reached, adding a touch of water if it become too dry. Roll flat and cut with a knife into large shaggy fur. Roll a 2½ x ¾ inch rectangle for eyes placement, set aside. Next create the nose by roughly shaping a thick triangle. (See first photo of cake as a reference)
Yellow Eyes: 2 Tbsp of 3rd ball- Mix with natural yellow food dye until desired color is reached. Use scrapes from fur to create diamond shaped pupils.
Red Tongue: Remains of 3rd ball- color tongue with natural red food dye until desired color is reached. Shape tongue into approximately 4 inch by 2 inch strip. Cut a triangle out of the end and lightly press a light down the center of the entire length of the tongue. Create 2 ovals for the upper and lower gums. Stretch-press into shape. Set aside.
Assembly & Detail: Apply a thin layer of frosting to the front and sides of the cake gently press white fondant pages in place. Use a straight end to create "page" lines. Cut a line just big enough to insert the tongue (slightly left of center).
Use toothpicks to secure gums into place in front and center of the cake. Add brown eye holder, eyes and nose.
Place fondant brown fur in place with a dab of frosting.
Use a pipping bag and Tip #233 to apply fur frosting. Start at the front on the cake closest to you (where the tongue is) and work away from you. Create even looking fur by gently squeezing down first then pulling towards you. Don't forget to add some hair on the bottom too.
Notes
Frosting is always an estimate with the amount of powdered sugar to liquid. Test the frosting before adding the full amount of dairy free milk to ensure it has the correct consistency for piping any design. You made need to add a little more or less liquid.
For the food dye I used India Tree food dye. This food dye is very thick but uses nothing artificial or synethic for color.
Some other things you may like: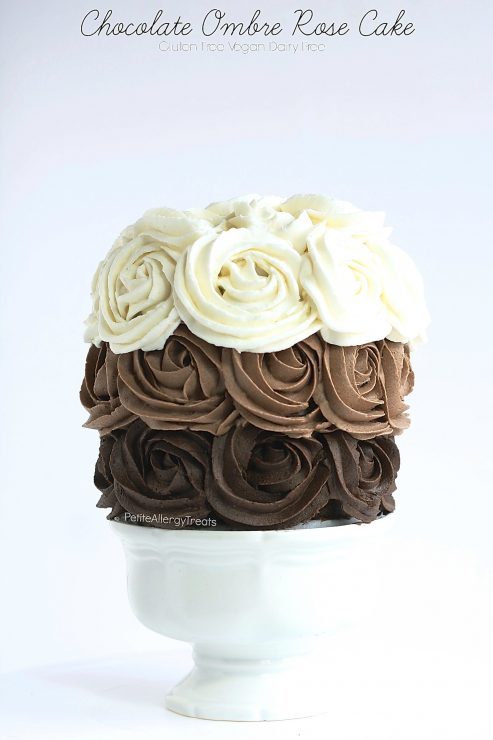 Gluten Free Vegan Chocolate Cake (Dairy Free)– egg free soy free nut free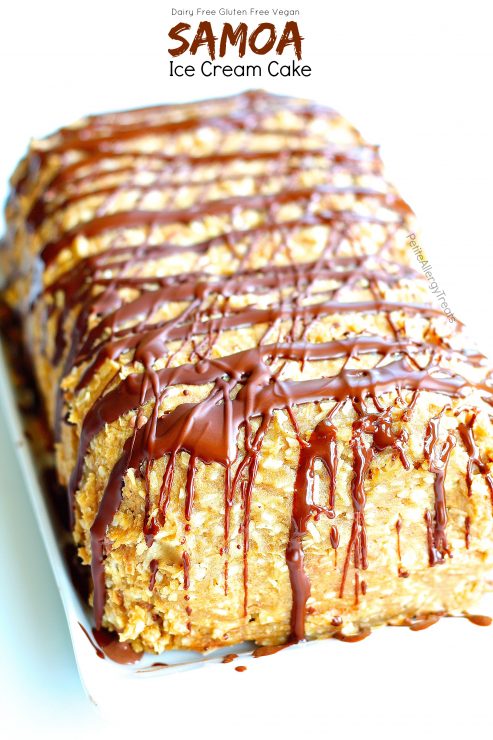 Gluten Free Dairy Free Samoa Ice Cream Cake (aka Caramel eLites)– Vegan egg free nut free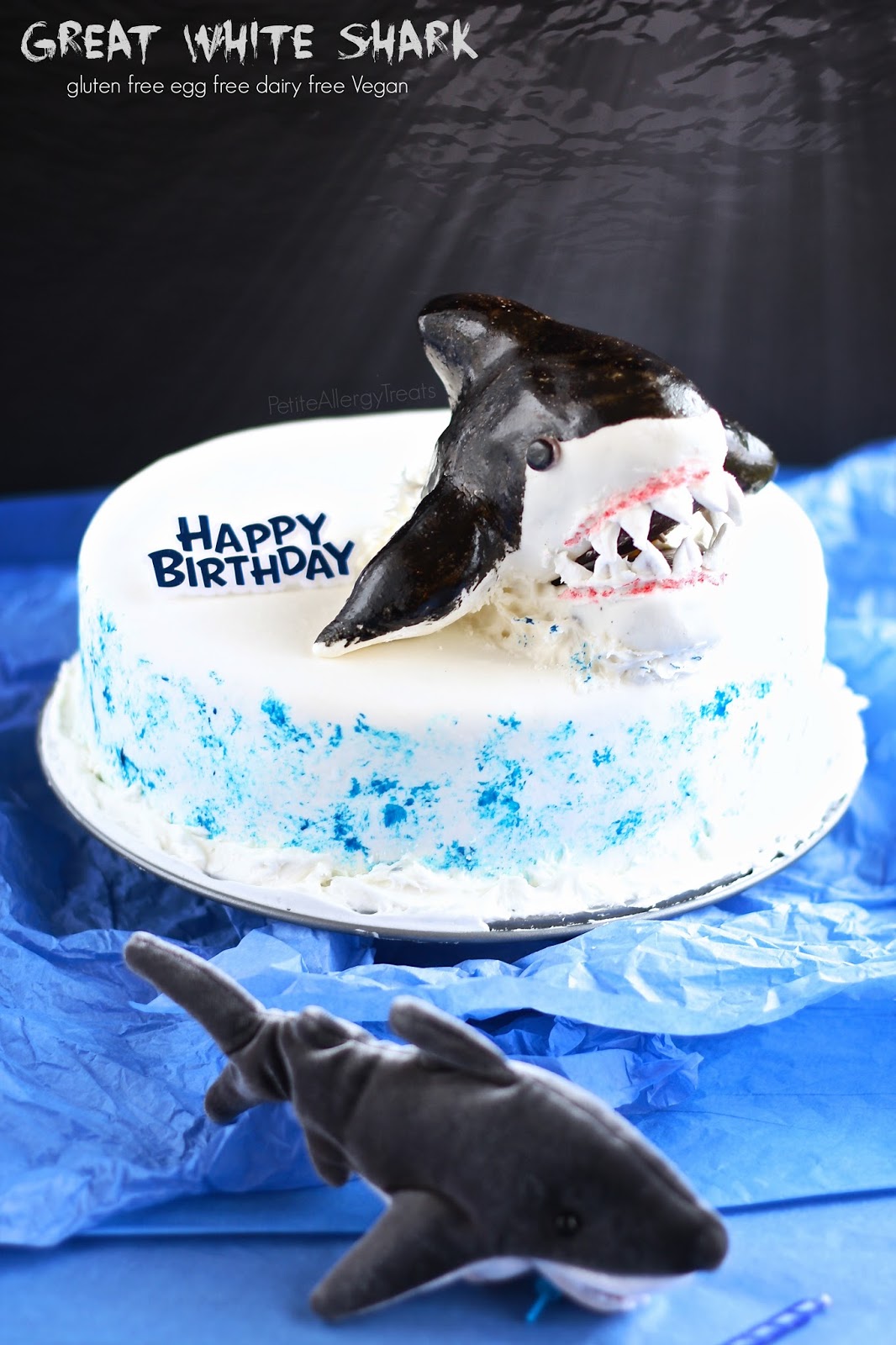 Shark Cake (egg free dairy free gluten free food allergies)– free of top 8 allergens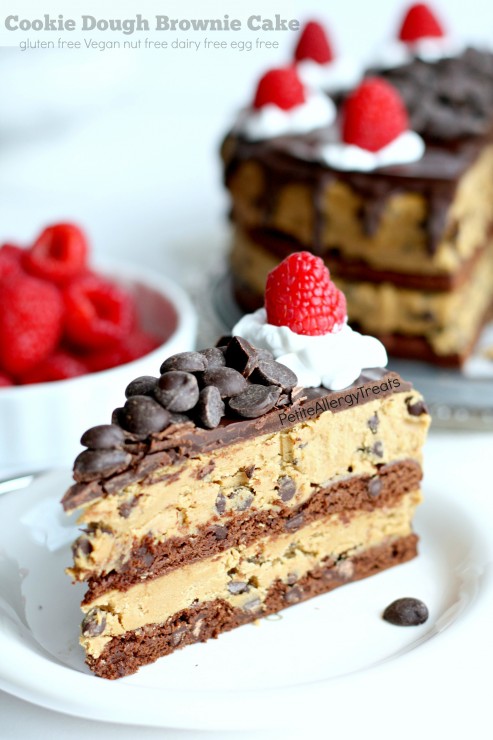 Gluten Free Cookie Dough Brownie Cake (Vegan)– dairy free egg free soy free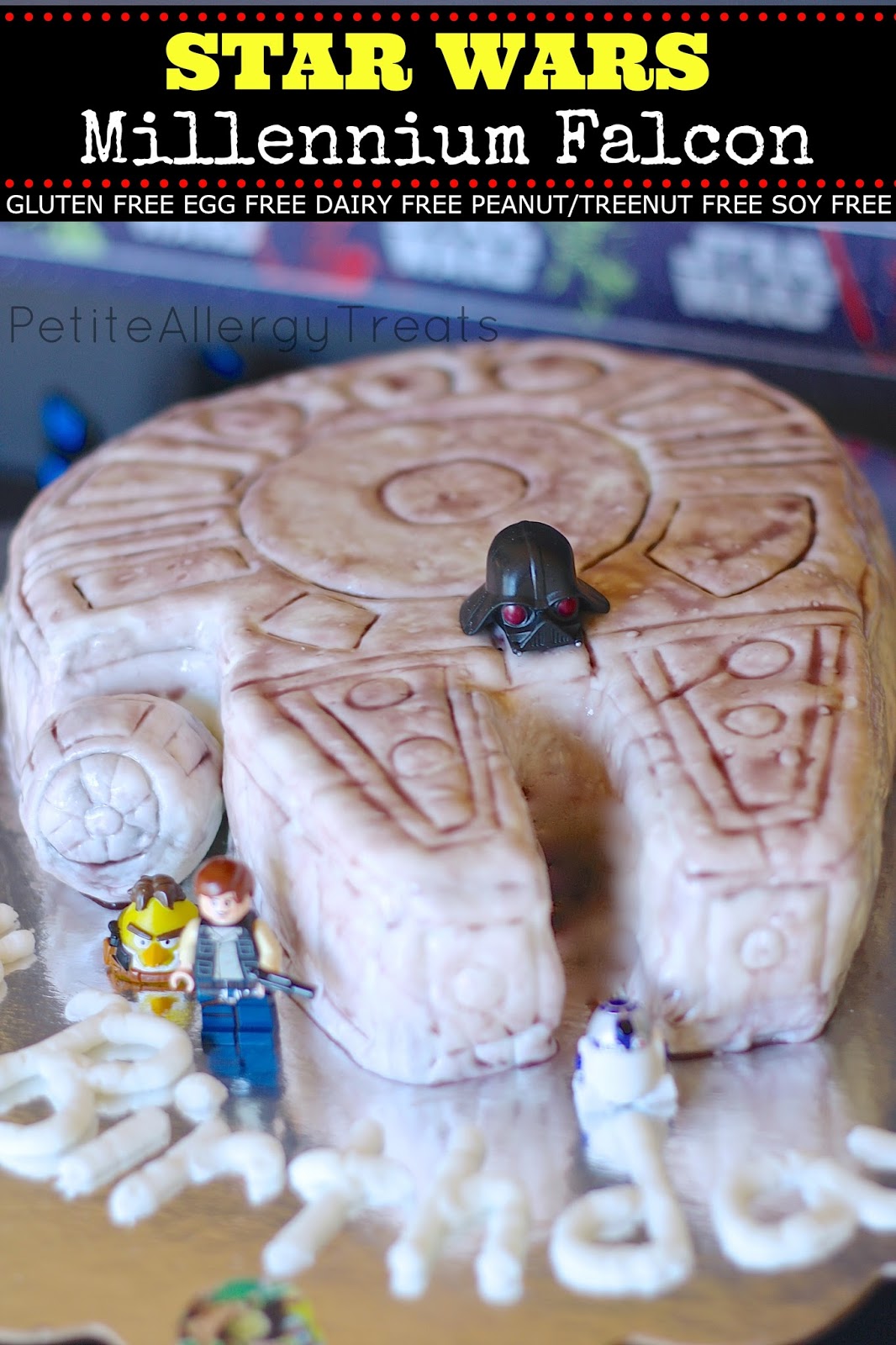 Star Wars Millennium Falcon Cake Gluten Free Eggless– dairy free free of the top 8 allergens