Celebrate in style with the ultimate food allergy friendly Gluten Free Cookie Dough Brownie Cake!  This cake looks like something you'd order from a bakery but is free of the Top 8 Food Allergens making it: gluten free, dairy free, egg free, soy free, peanut free, tree nut free and it's even Vegan.  Birthdays and special occasions just got easier for food allergy parents!
Thank you Enjoy Life Foods for sponsoring this post! #EatFreely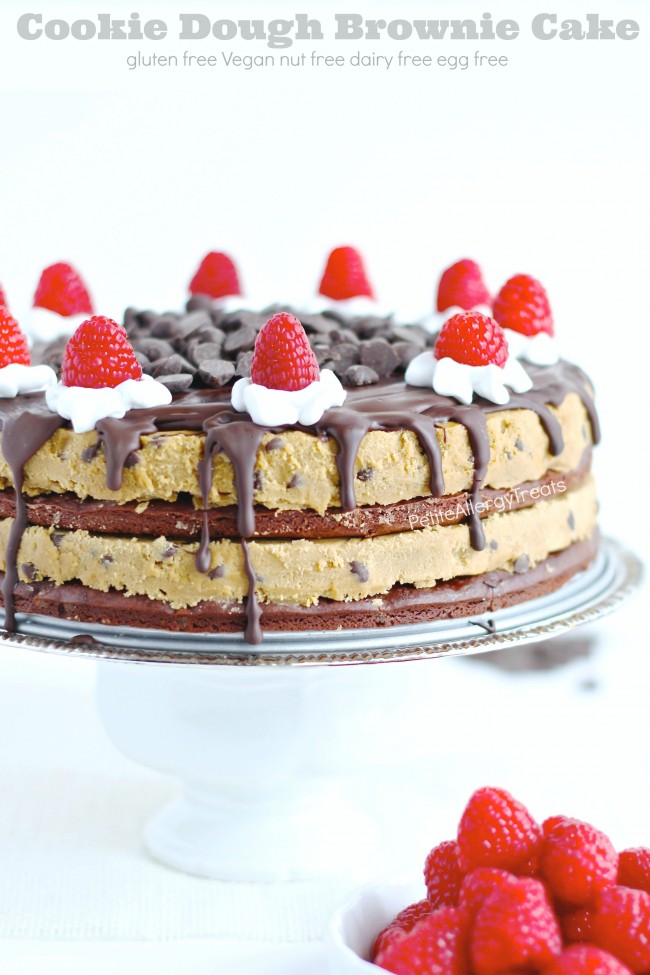 Prepare yourselves.  This is pretty epic.  Or at least I think so… Have you ever had a envisioned a beautiful cake for birthday or special celebration?  The kind of cake you'd order from a bakery?  Of course you have. We all do.  But that vision is usually all we have since chances are you cannot find a bakery free of the top 8 food allergens.  Right?  Right.
Baking for many, is one of those necessary evils in our food allergy lives.  Ok, not really evil.  But it can seem evil.  Frustrating would be a better term.  Like most things in life, practice make perfect.  If you aren't baking all the time, failures are just part of the food allergy journey…
I am the first to admit I have had horrible fails with birthday occasions.  Epic failures.  The failures that leave you crying, not because the cake looks less than perfect or is deemed inedible.  It's that enormous pressure food allergy parents face when trying our very best to make a cake.  Many food allergy parents are NOT bakers by nature or have mad decorating skills up our sleeves.  But if we don't make a safe cake, then who will?
And don't get me started on regular baking failures… Baking without eggs alone is enough to just start the tears.  Add in restrictions to wheat, soy, dairy, etc and your head sort of explodes.  Am I right??
It's getting over that fear of failure (which will happen in allergy free baking), and alleviate some stress associated with birthdays.  The last thing you want happening is a house full of guests about to arrive any moment and you're still working on the allergy cake recipe you found on the internet (but did not test before).  You know it looks horrible and fear may taste equally as bad.
I know this feeling.
Do you see the photo of all that went wrong?  The huge cracks.  The frosting even shredded the delicate cake.
I don't wish this result on anyone in the allergy world.
I've learned from these past failures.  Always do a test run…unless you can't… (Do people really make the full cake ahead of time?  It's expensive.  It's time consuming.  And who needs a full extra cake sitting around the house days before another cake appears?)
Fear not if you cannot do a test run.  There are some new helpful mixes to take the guessing work out of egg less gluten free baking.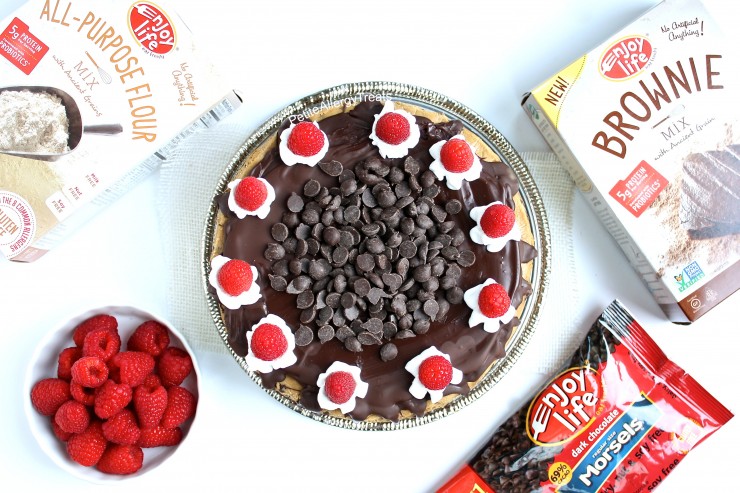 I've mentioned them before, but the baking mixes from Enjoy Life Foods are life savers!  These mixes are ready to go.  Just add water and your favorite oil.  Mix, bake and serve.  No more measuring different flours.   No more grabbing an all purpose mix, crossing your fingers it won't turn out gummy when using an egg free recipe.  That's the cool thing about these mixes.  They were built from the ground up with food allergies in mind.  The flours were formulated with the knowledge that eggs would not be used for structure or even dairy.  Not only are these mixes manufactured in a dedicated top 8 free facility, the mixes do not contain traditional xanthan gum or guar gum.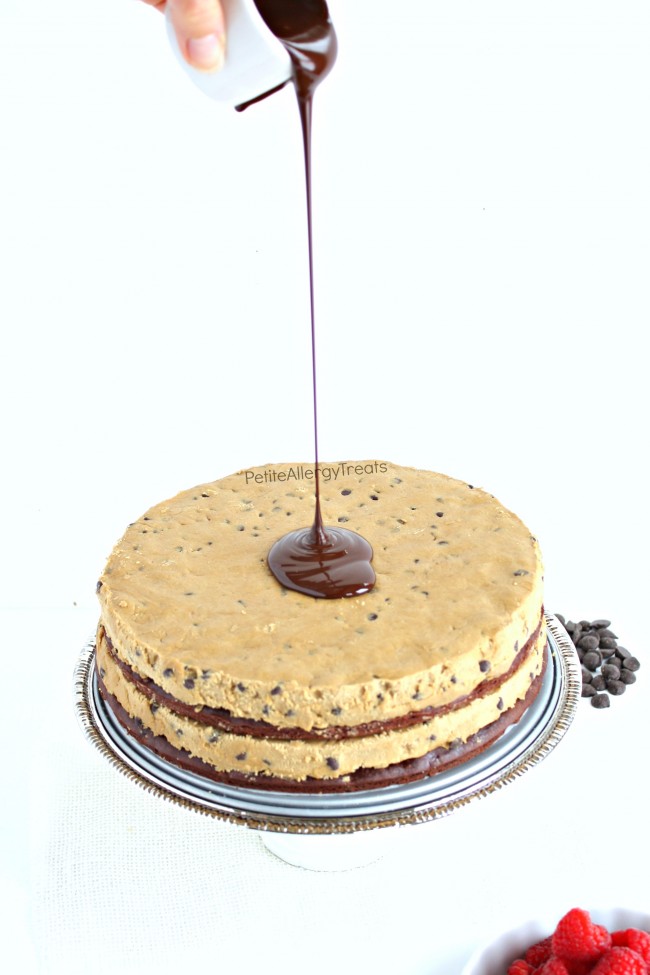 So what do they contain?  Lots of things.  Good nutrient dense things, like whole grain gluten free flours that even contain 5 grams of protein in each serving.  Cutting edge probiotics that don't need refrigeration and that survive the heat of baking.  You can read more about these in a previous review here.  And the best thing to love about the mixes is the ease of creating something as daunting (but decadent) as this gluten free cookie dough brownie cake!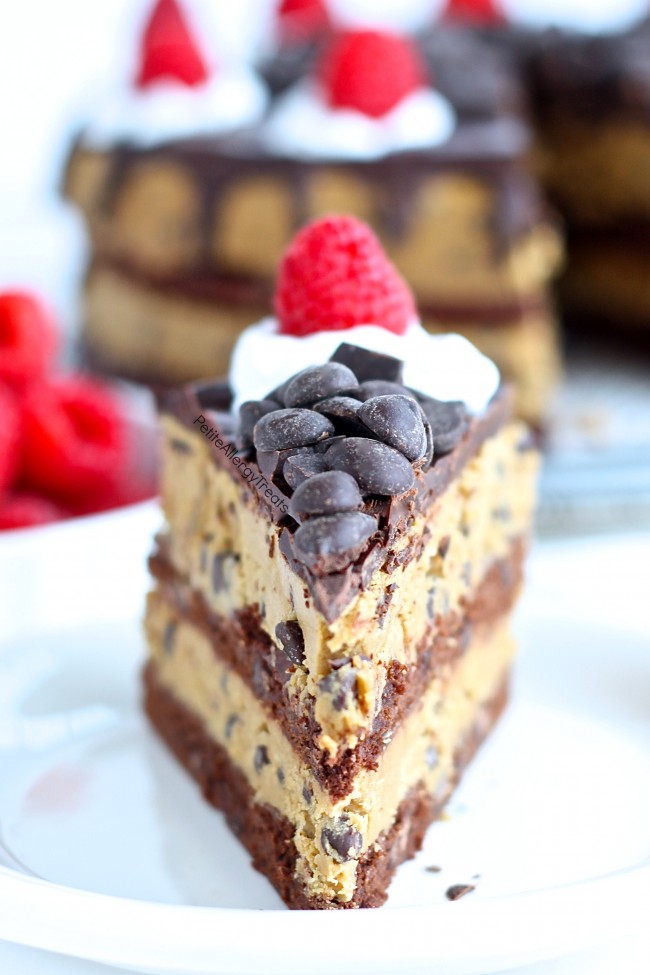 Chocolate cake for birthdays is pretty much the typical dessert… People really love chocolate chip cookies too.  Edible raw chocolate chip cookie dough is another one of those sinful necessary test tasting steps when baking… And that is basically how you know this cake will be A-M-A-Z-I-N-G.  Two great desserts mashed into one with a no fail mix. And chocolate.  Lots of lovely dark chocolate.
The main thing to know about this cake is you'll need at least 2 9inch round pans.  After mixing the cookie dough, press into the pans and allow the dough to firm up in the freezer.  Remove the dough from the pans and then use the same pan for baking the brownie mix.  Once the brownies have cooled off, stack alternating brownie and cookie dough layers.  If like things to line up nicely, you might take the extra time to shave/shape the cookie dough layers to match the exact width of the brownies.  Not necessary though.  Complexity here is unnecessary.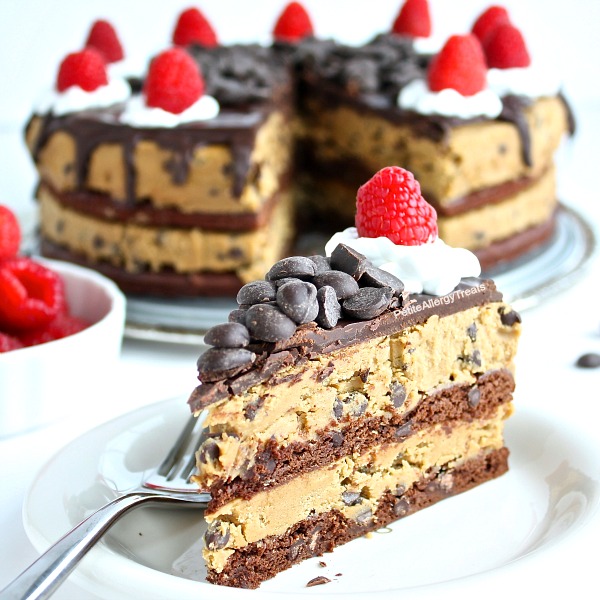 Finish things off with a healthy drizzle of melted dark chocolate with your choice of fresh raspberries and a touch of coconut cream.  (Completely optional if you are allergic to coconut).  No matter how you choose top your gluten free cookie dough brownie cake, it will instantly become a food allergy favorite cake.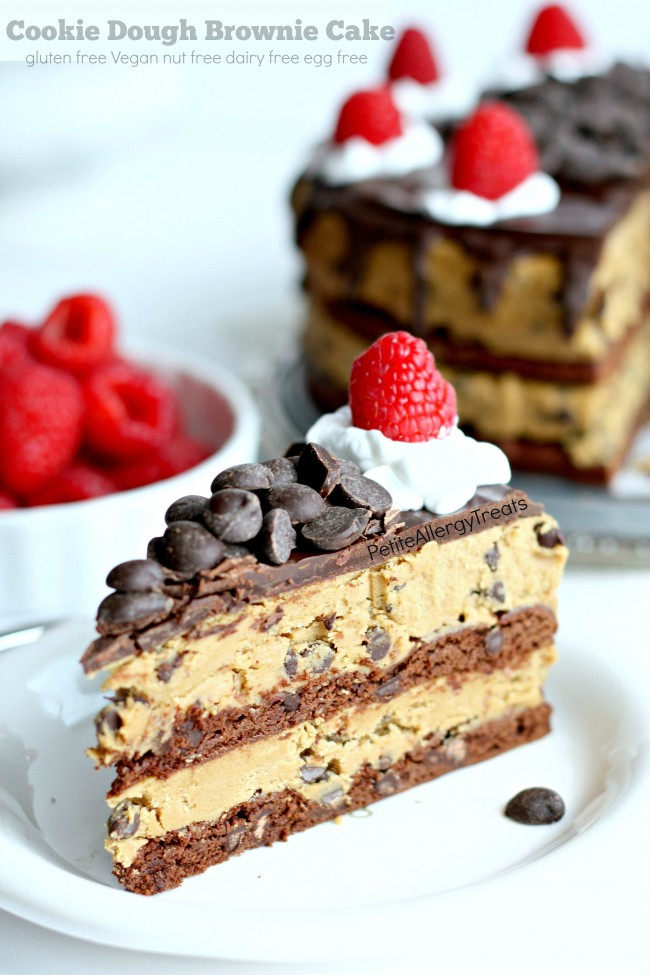 And one last thing to sweeten your day.  Enjoy Life Foods is saying Thank You their readers.  Enter below for your chance to WIN  a chocolate and pancake prize pack. Good luck!

Gluten Free Cookie Dough Brownie Cake (Vegan)
Author:
Laura @ Petite Allergy Treats
Ingredients
Cookie Dough Layers
3¼ cup Enjoy Life All Purpose Gluten Free Flour Mix(1 box)
1¼ cup non hydrogenated palm shortening
1¼ cup sugar or coconut sugar
⅓ cup + 3Tbsp water
1 Tbsp + 1 tsp molasses
3 tsp vanilla
1 cup mini Enjoy Life Chocolate Chips
pinch of sea salt
Brownie Layers
Topping
1 cup Enjoy Life Dark Chocolate Chips
2 Tbsp non-hydrogenated palm shortening
optional 1 pint fresh raspberries
optional extra chocolate chips for top
optional dairy free coconut whipped cream
Instructions
Cookie Dough Layers
Cream shortening, sugar, vanilla and molasses by hand or with a mixer until incorporated.
Add water and half of gluten free flour. Mix well. Gradually add remaining flour, scraping down bowl and while mixing. Fold in chocolate chips. Divide dough in half.
Press dough into a 2- 9 inch round pans lined with plastic wrap. Place pans in freezer for 15 minutes. Remove from pans when firm. Keep dough in refrigerator for easy assembly later.
Brownie Layers
Combine brownie mix with oil and water. Mix well, scraping down bowl.
Divide batter in half. Pour into 2- 9 inch round pans (same ones used for the cookie dough layer) with the bottom lined with parchment paper. Batter layers will be thin. Spread evenly to the sides.
Bake at 350 for approximately 16-19 minutes or until center is dry and tooth pick comes out clean.
Allow to fully cool in the pans on a wire rack before removing for assembly.
Assembly
Remove parchment paper and plastic wrap from layers prior to assembly. Place one brownie layer on the bottom of one pan, stack a cookie dough layer, brownie and last cookie dough layer.
Melt half of chocolate chips with the shortening in the microwave. Add remaining chocolate chips and mix until melted and smooth. Pour over top of cake and quickly spread to cover top and drip down sides.
Best served at room temperature.
Notes
I promise this cake is awesome! You'll need time to let the cookie dough layers set in the pans before you can use the same pans for baking the brownie. Feel free to make cookie dough layers ahead of time and assemble the day you need it. Since there is no egg in this recipe, rest assured you can safely eat the cookie dough raw. Assembly is easiest when the layers are completely cooled (less chance of mess too!) Cover any extra cake with plastic wrap to avoid drying out and keep refrigerated when not consuming.
Inspired by
Life Love and Sugar
Disclosure: This post has been sponsored by Enjoy Life Foods.  All opinions are mine alone.  Thank you for allowing me to continue to working with brands that meet our food allergy needs!  For more about Enjoy Life Foods be sure to follow them for the latest news on  Facebook and Twitter
Follow me for the latest news!
 Some other things you may like: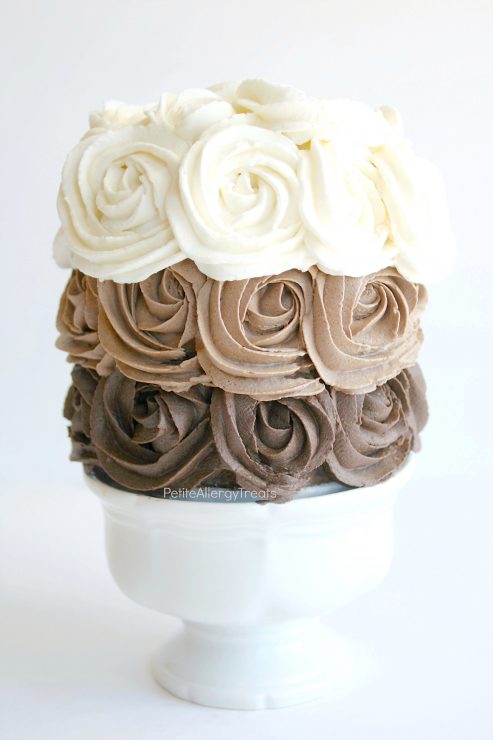 Gluten Free Vegan Chocolate Cake (Dairy Free)– egg free, nut free, soy free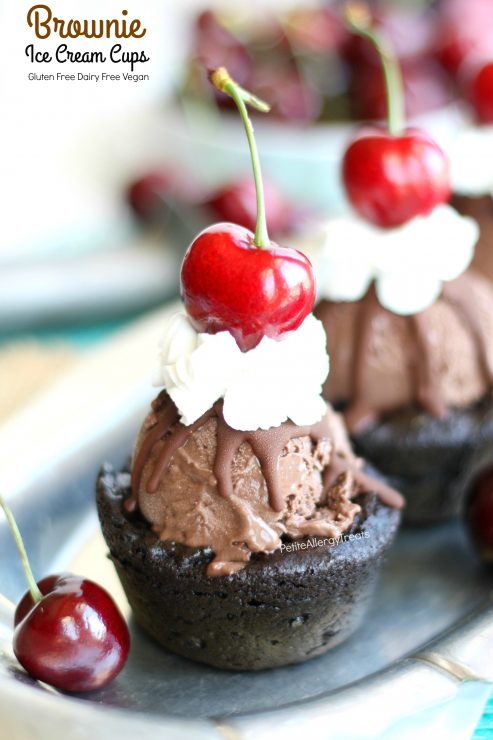 Gluten Free Vegan Brownie Ice Cream Cups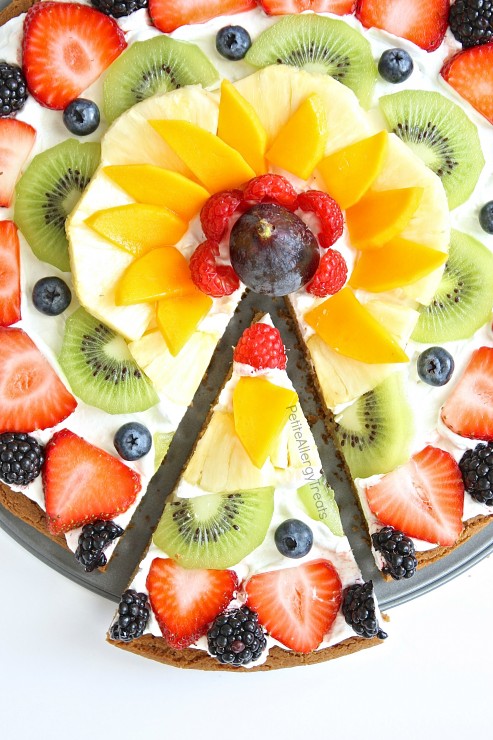 Rainbow Fruit Pizza (Gluten free Vegan)– egg free, dairy free nut free soy free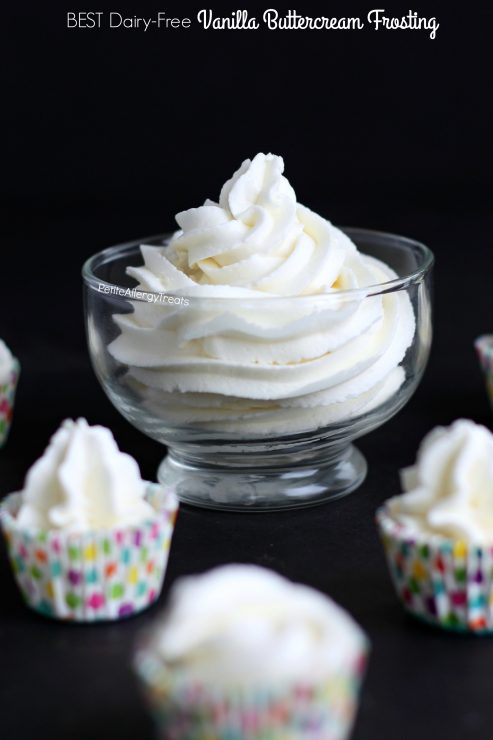 Best Easy Dairy Free Buttercream Vanilla Frosting– vegan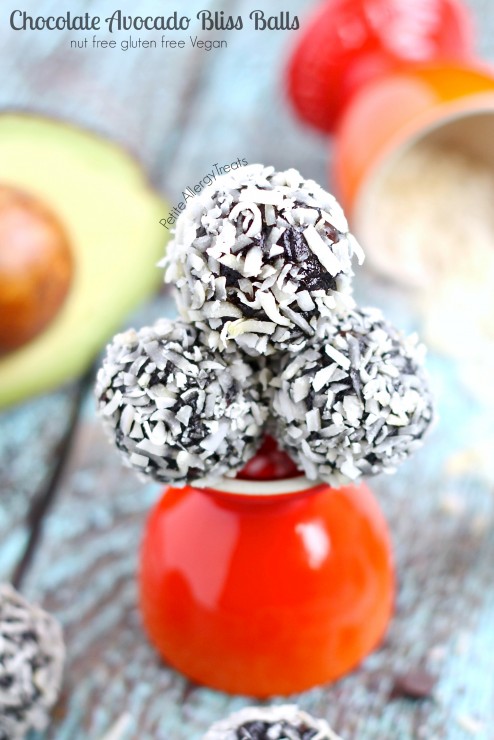 Chocolate Avocado Truffle Bliss Balls- nut free dairy free Vegan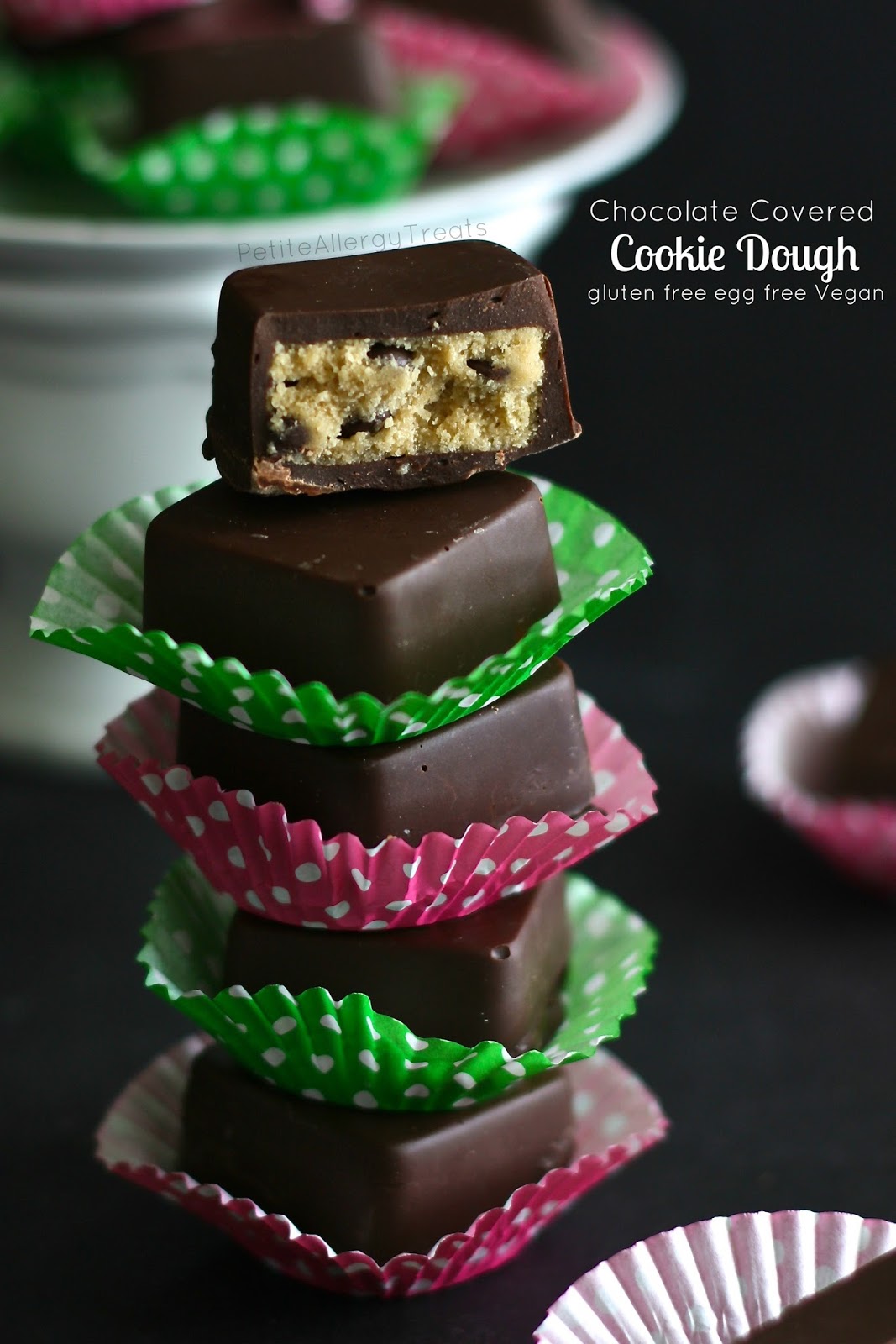 Chocolate Covered Cookie Dough Bites– gluten free vegan FODMAPs friendly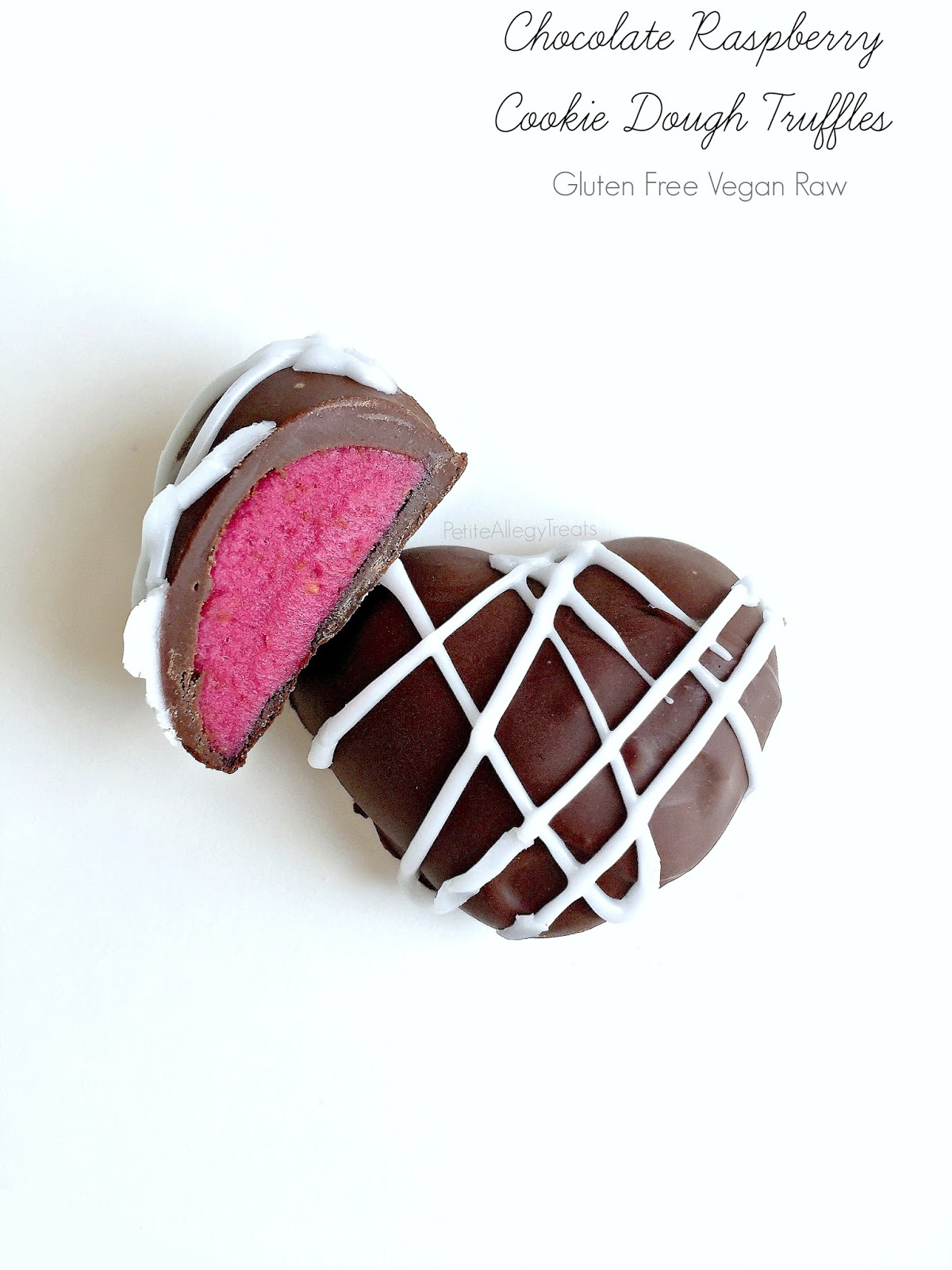 Raspberry Cookie Dough Truffles– gluten free Vegan