Summer calls for cool treats like Gluten Free Vegan Brownie Ice Cream Cups!  Fill these chewy crisp brownie cups with any dairy free ice cream topped with dairy free coconut cream.  Your guests will never suspect the brownies cups are not only dairy free but gluten free, egg free, soy free, nut free and Vegan.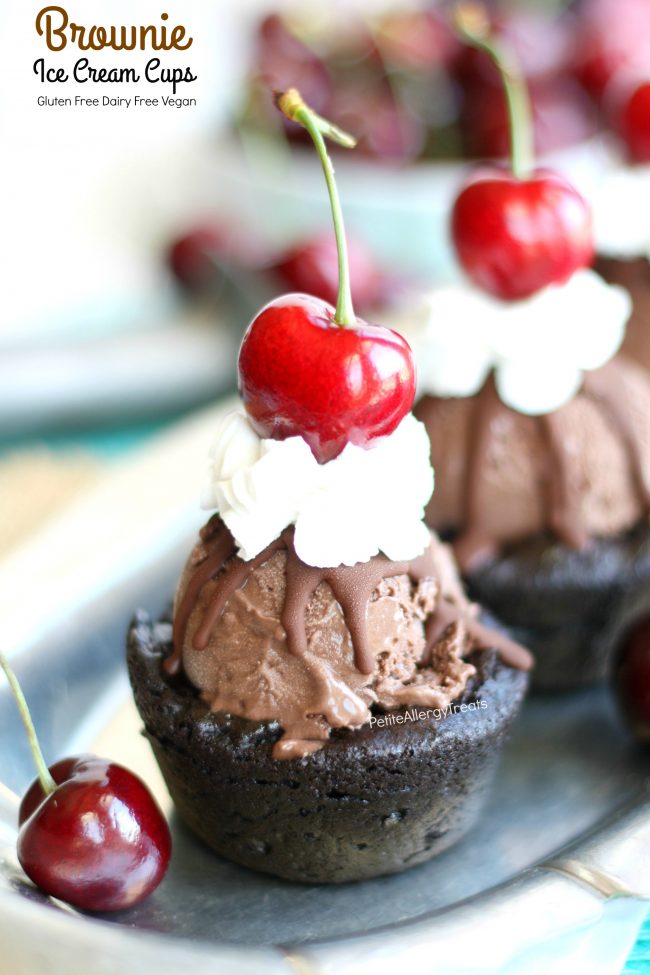 Aaaah, Summer.  Are you soaking up every last minute?  Clearly, from the amount I've been posting, we've been enjoying the outdoors.  But when we're not having an activity like tennis or baseball things are starting to get ugly.  And quickly.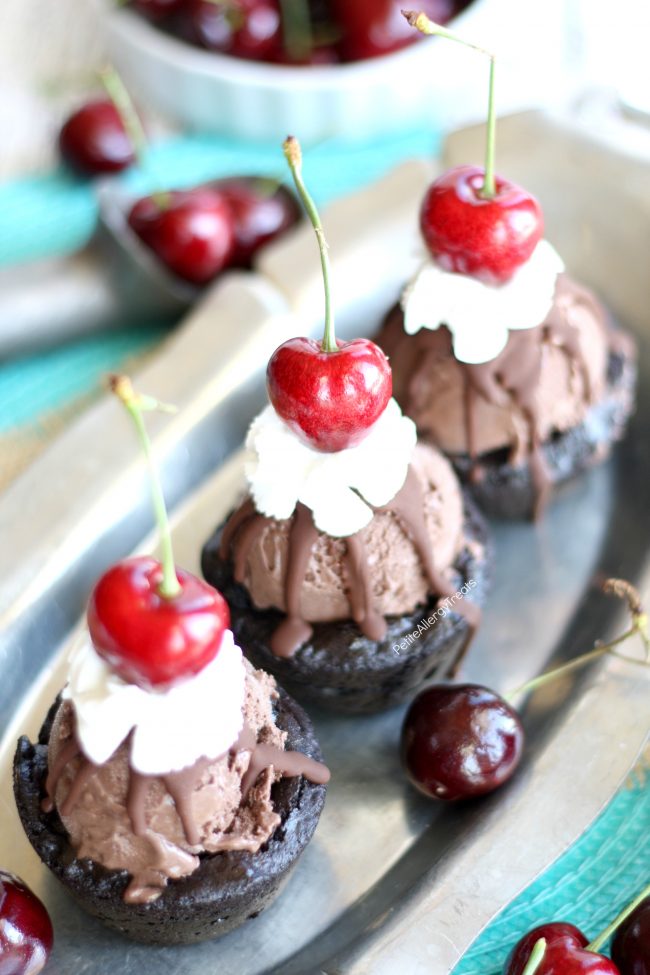 You know what I mean.  When the kids are constantly picking fights and whining for no apparent reason it's a sure sign it's time for school.  As much as I long for school to start, I don't want the schedule.  Not that we don't a schedule now, it's just more flexible.  The whole attitude of 'what do you want to do today' has a relaxed tone embedded into the day.  The true essence of Summer break.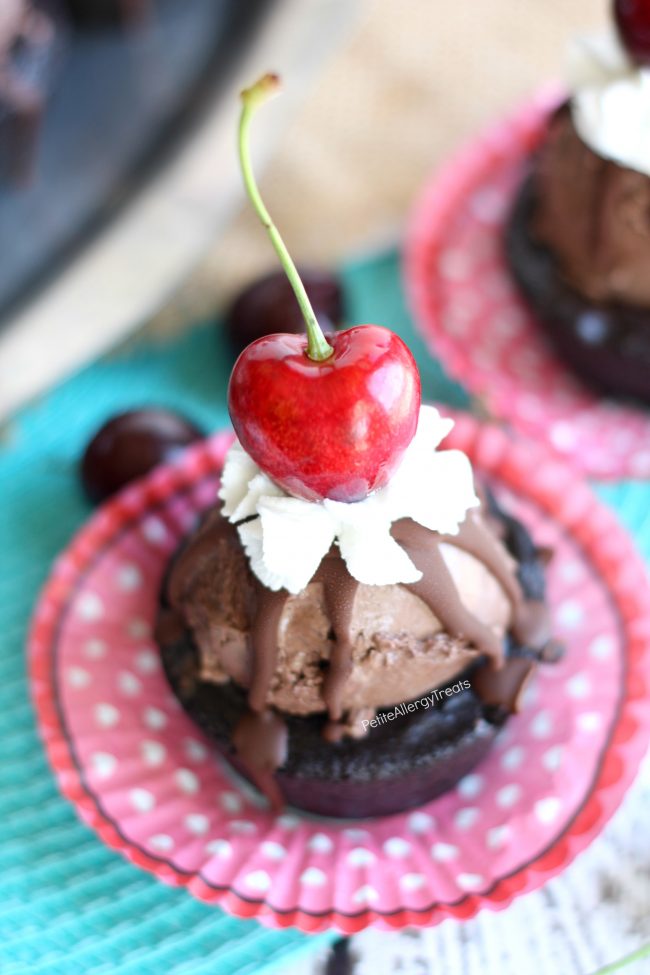 But all good things must end.
And if Summer's ending, lets end it with ice cream!!!  Actually, how about some Gluten Free Vegan Brownie Ice Cream Cups to be exact.  No matter where you live, warmer weather means celebrating with ice cream.  Dairy free ice creams are readily becoming popular in the grocery stores making life for allergy parents easier.  Trader Joe's even makes its own Coconut Ice Cream line, that's really. stinking. good.  And lets not forget So Delicious makes amazing ice creams too.  Just look at my Gluten Free Samoa Ice Cream Cake.  Sinfully good.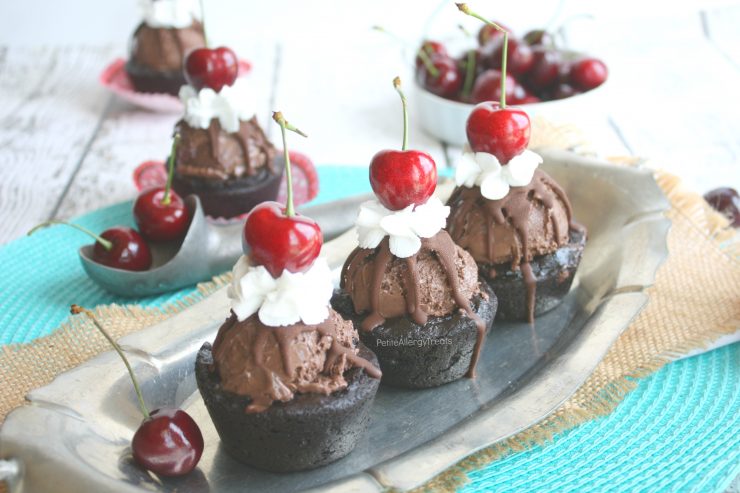 With all these convenient options in the grocery stores, I rarely find myself making my dairy free Blueberry Ice Cream and Dairy Free Mint Chocolate Chip Ice Cream.  Guess that means more time for soaking up the sun.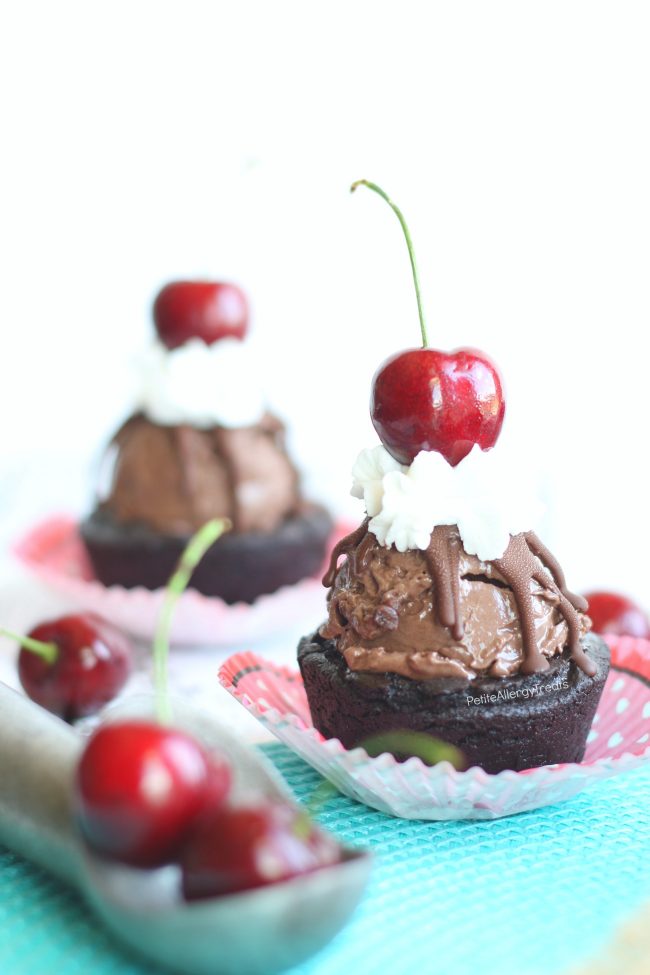 Speaking of soaking up the sun, I have a ridiculous tan line from running.  Running has become a big part of my Summer ritual too.  Usually about this time I get the itch to attempt another half marathon.  I've mentioned this before, but running and exercise is a stress reliever.  Is it a coincidence by the end of Summer my milage creeps up to 8 miles runs?  I think not.
Running more means I can eat more, right? Right.  I'll take 2 of these Gluten Free Vegan Brownie Ice Cream Cups…

Follow me for the latest news!
Some other things you may like: