Recreate a childhood classic cookie into a food allergy friendly no bake vegan Gluten Free Dairy Free Samoa Ice Cream Cake (aka Caramel deLites).  Whether you grew up eating samoa cookies or caramel delites, you're bound to love every bite of this vegan dairy free chocolate ice cream cake.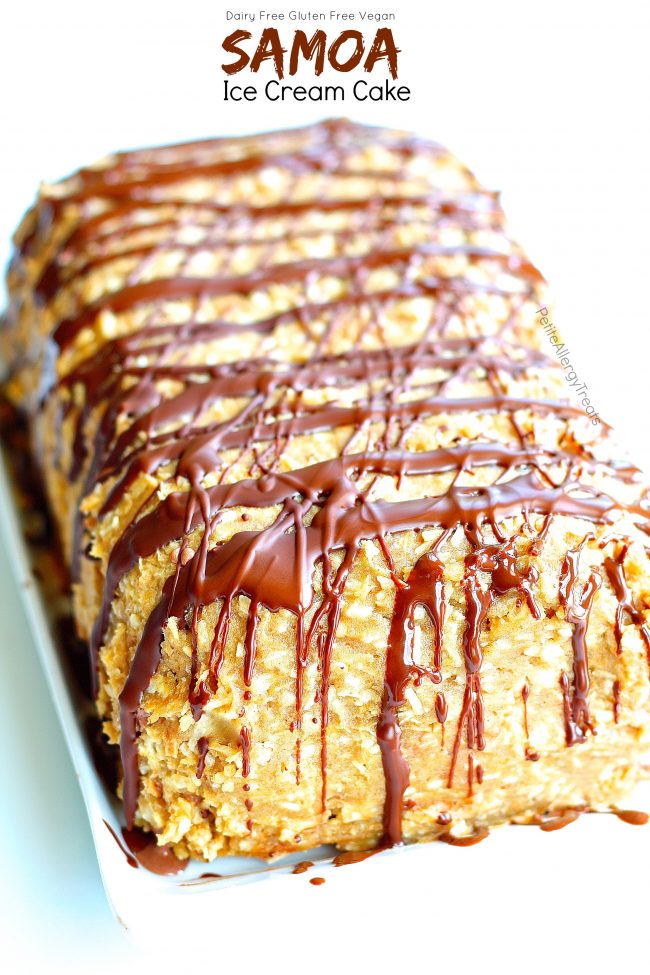 It's been somewhat of a transition but Summer is finally in full swing.  I can honestly say we're enjoying it to the fullest!  This is the time when kids can truly be kids without responsibility and more flexibility on schedules like bed time.  Summer is all about having fun when you're young… And eating cool treats like ice cream. Lots of ice cream.  All fun things seem to end with a big bowl or cone full of ice cream. And a no bake vegan Gluten Free Dairy Free Samoa Ice Cream Cake is tons of fun too.
It's like taking the Girl Scout Samoa Cookie (or Caramel deLites depending upon where you live) to a new level.  With that new level, lets add Food Allergy friendly to the list.  This samoa cookie ice cream cake is gluten free dairy free, egg free, peanut free and tree nut free and Vegan.  Totally fun and not to mention cool.
We'll talk more about the cake in just a moment.  First I'd like to share a moment of pure joy as a parent.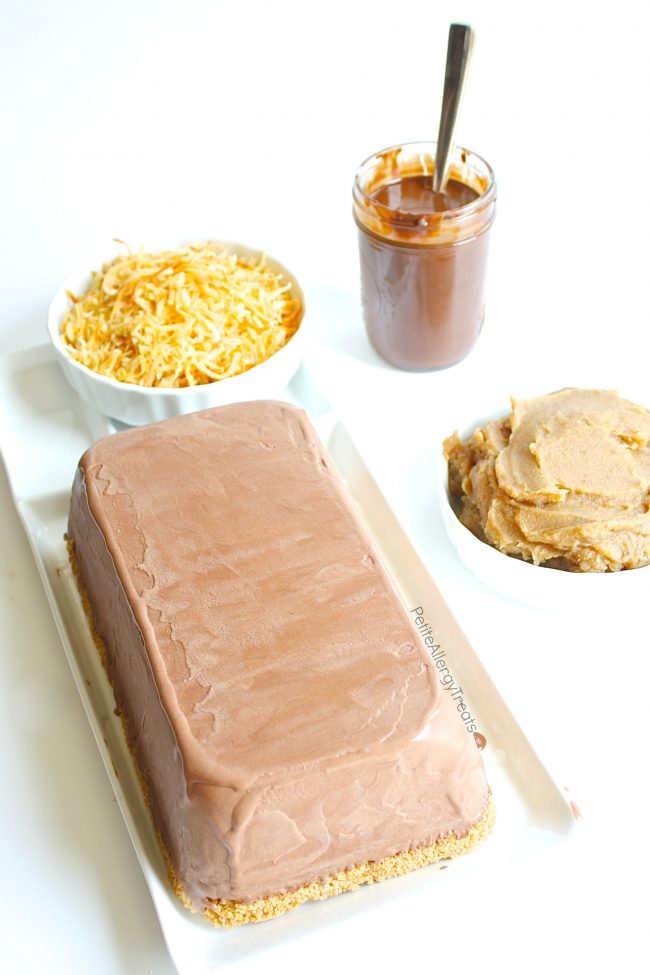 Mr. Naughty recently participated in his first T-ball game.  Overall, Mr. Naughty is a very out going-go-with-the-flow kind of kid.  Our T-ball league is a no pressure introduction to the sport through our church.  The parents are the coaches, volunteers and team support.  I'm even the team photographer. 😀  Practices and games are played simultaneously, with half the team batting and the other working on fielding skills.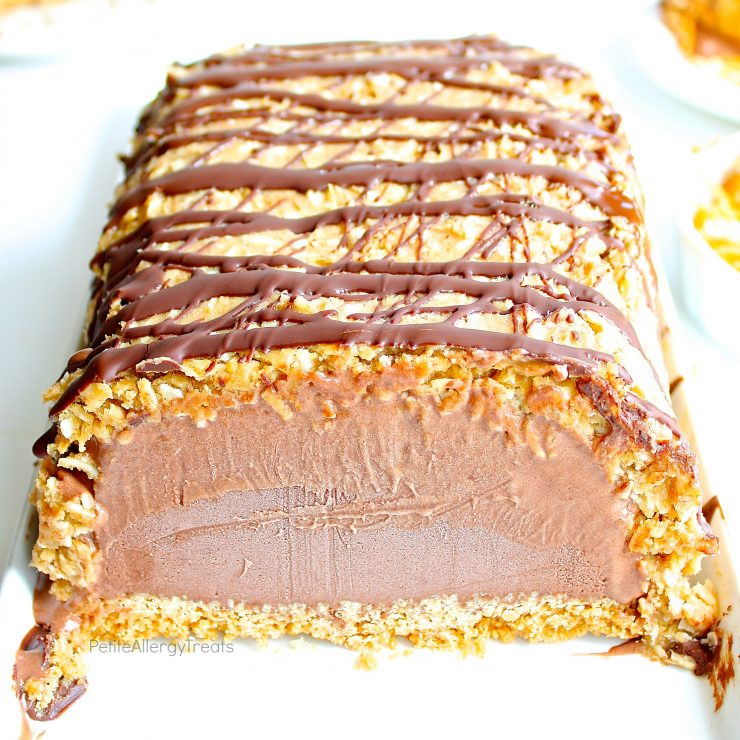 Sounds organized. And it is.
But.
We're talking about tiny 4 years who don't have the slighted clue as to what they're really supposed to be doing.  Standing in line for most of them is completely foreign.  They loose their attention with the slightest gust of wind.  And if a butterfly happens to float through the field? Forget it.  The entire team charges for the butterfly while the ball rolls past.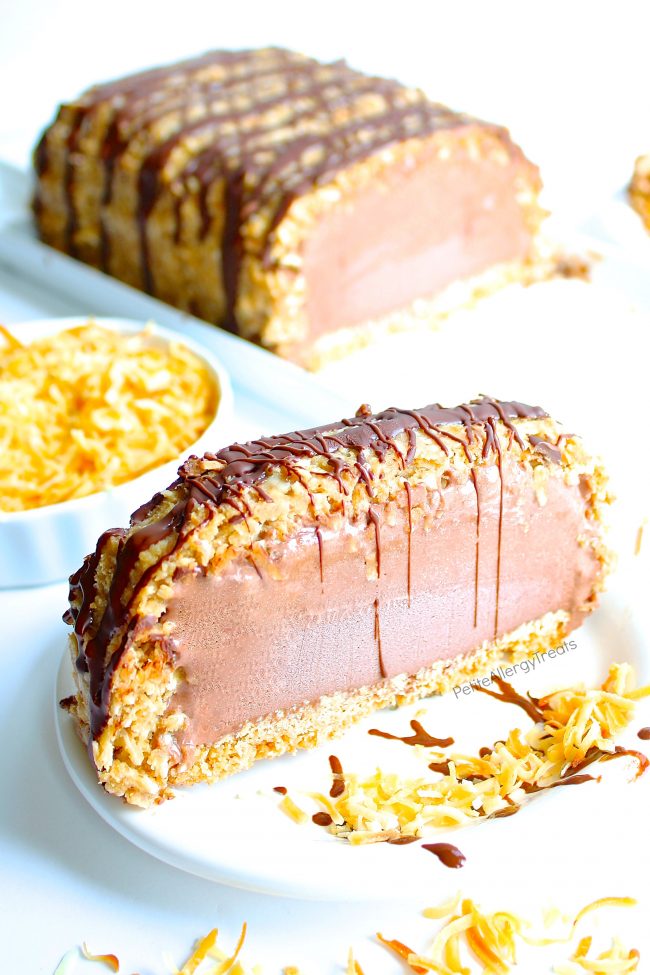 So fun to watch.
Mr. Naughty has played a little T-ball at home so he had the general idea of what to do for batting.  But we never ran the bases.  You know those white squares.  Squares that seem waaay too far away.  And does it really matter which base you run to first?  Nah.  Not for 4 years olds.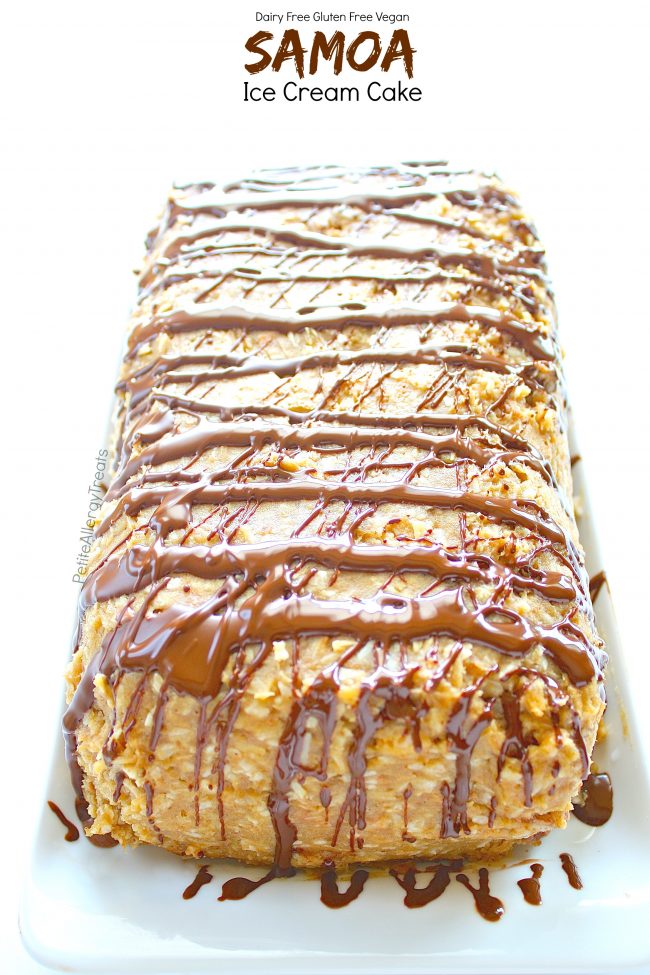 Mr. Naughty's first time at bat went like this:
Swing and a miss for the ball, but got the tee instead.
Second swing hit the ball.  Now what?? Oh, yeah! Run… where do I run?
First base.   I'll just bring the bat with me.
Coach yells to drop the bat. What?! Why can't I take the bat too??  Ok fine. I'm on the base, now what.
Run to second.  Whaat? I have to run again? Where??
Keep running to third.  Ok, this running thing is fun! Wheeee…Wait… where was I going again?
Still needs to run to third.  Why is everyone yelling at me?  And why are they sooo far away? What?  You mean I have to stay on my field for third base and not the *other* field?
Run home!  Alright.  This game is so confusing.  This square is so not my home!
Hysterical.  The other parents watching with me were dying with laughter.  So glad I got that one on tape.
And that's pretty much how every kid was the first time at bat.  Dazed,confused but so stinking cute!  It's great since there are no outs, everyone bats and last batter gets a home run.  And who does't like a home run?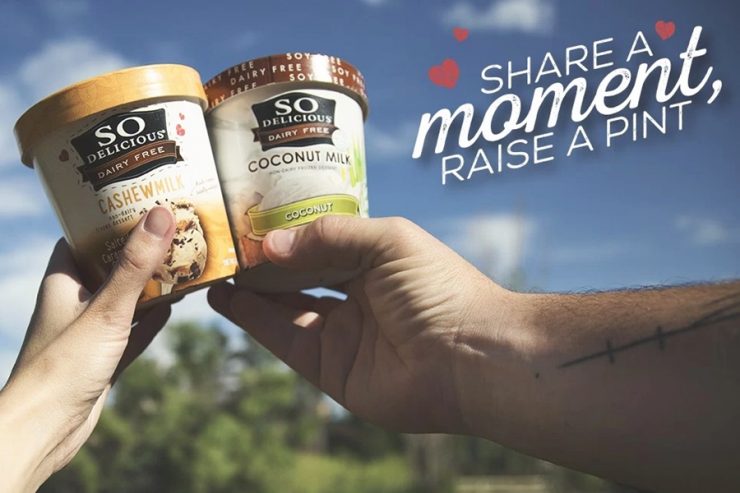 Speaking of home runs, I'm hoping this gluten free dairy free samoa ice cream cake will hit it out of the park.  This is my entry for the So Delicious Raise a Pint blogger recipe contest among other food allergy friendly bloggers.  You'll be able to vote for your favorite recipes to help narrow it down for the judges.  I was honored when my friend Alisa at GoDairyFree.org invited me to participate.  If you haven't heard of this contest don't worry, it just started… They will be 21 bloggers creating amazing recipes July 10th- 24th which you can find at the end of this post.
But here's the cool part —-> You can participate too.  Whenever you're enjoying some dairy free ice cream, celebrate with a photo on social media July 11th- Aug 5th using the hashtag #RaiseAPint.  20 entries will then be chosen to win their own dairy free ice cream party.  More ice cream= more FUN 😀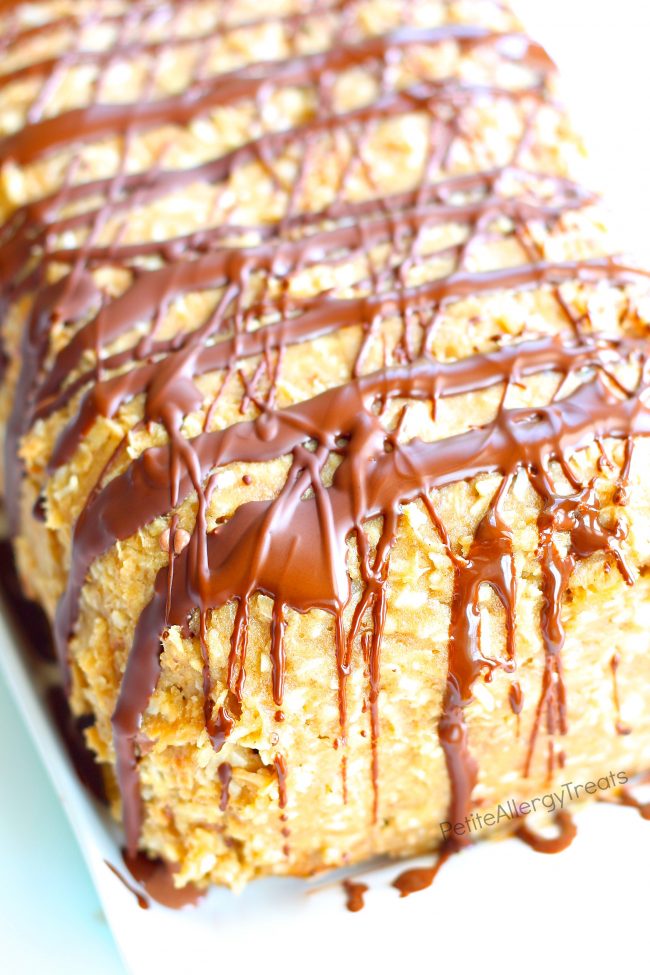 And this dairy free samoa ice cream cake incorporates all the fun things you remember about those famous girl scout cookies.  Except this cake is Food Allergy friendly!  I dare to say this is a little healthier than your typical ice cream cake since this uses dates for the caramel and unsweetened coconut.  A tad less refined sugar overall.
Best of all?  It's SO easy.
No baking required.
Just scoop the ice cream.
Crush the cookies.
Puree the dates, mix with coconut and slap it all on top.  Add a healthy drizzle of chocolate and you got yourself a show stopping cake.
Enjoy!

Gluten Free Dairy Free Samoa Ice Cream Cake (aka Caramel deLites)
Author:
Laura @ Petite Allergy Treats
Ingredients
3 pints dairy free chocolate ice cream (I used So Delicious)
1 box allergy friendly sugar cookies (I used Enjoy Life)**
3Tbsp coconut oil
Caramel Topping
2 cups pitted dates
1 cup hot water
⅓ cup coconut oil
2 cups shredded toasted unsweetened coconut**
Chocolate Drizzle
1 cup allergy friendly chocolate chips
2 Tbsps coconut oil
Instructions
Thaw ice cream in the microwave until easily scoop-able (do not over melt to liquid state). Scoop into a 9 x 5 inch bread pan. Push down to avoid large air bubbles and create an even top layer. Place in freezer for 3 hours or until center is firm.
Break cookies and place in a food processor. Coarsely chop to break up big chunks. Add melted coconut oil and processor until crumbs form. Pour crumbs over top of ice cream and gently press to form an even layer. Place back in the freezer for 1-2 hours or until firm.
While cookie layer freezers, simply rinse out the food processor to remove large crumbs. Add dates and coarsely chop until small chunks form.
Add hot water and allow mixture to sit for 5 minutes to rehydrate dates. Puree for 5 minutes or until smooth, scraping down the sides. Add coconut oil (no need to melt, the warmth from the dates should do it). Puree another 2 minutes until smooth scraping down the sides.
In a small bowl fold in the shredded coconut and caramel. Set aside.
Assembly
Run the ice cream pan under warm water to loosen and flip ice cream cake (cookie crumbs side down).
Quickly and evenly as possible, spread the coconut caramel over the entire ice cream portion of the cake. There will be a little left over coconut. Place back in freezer until ready to serve.
Prepare the chocolate right before** serving. Melt the chocolate in small bowl or glass jar the microwave with coconut oil. Mix well and drizzle over the top of cake.
Cut cake with a large sharp knife. Freeze any leftovers.
Enjoy!
Notes
**Feel free to use any allergy friendly cookies or even graham crackers that suit your needs. Some stores carry coconut already toasted. If you cannot find toasted coconut (or unsweetened coconut) you can easily toast your own. Spread coconut on a baking sheet and broil on high for about 3-5 minutes and allow to cool before using. You can make the chocolate drizzle ahead of time and simply reheat in the microwave on low until melted. See my allergy friendly magic shell.
Disclosure: This my entry for a contest sponsored by So Delicious and GoDairyFree and have not received compensation.
Some other things you may like: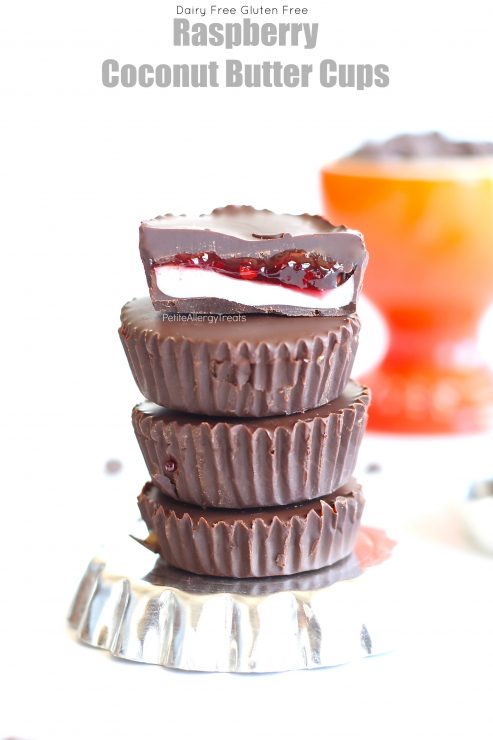 Vegan Raspberry Coconut Butter Cups– dairy free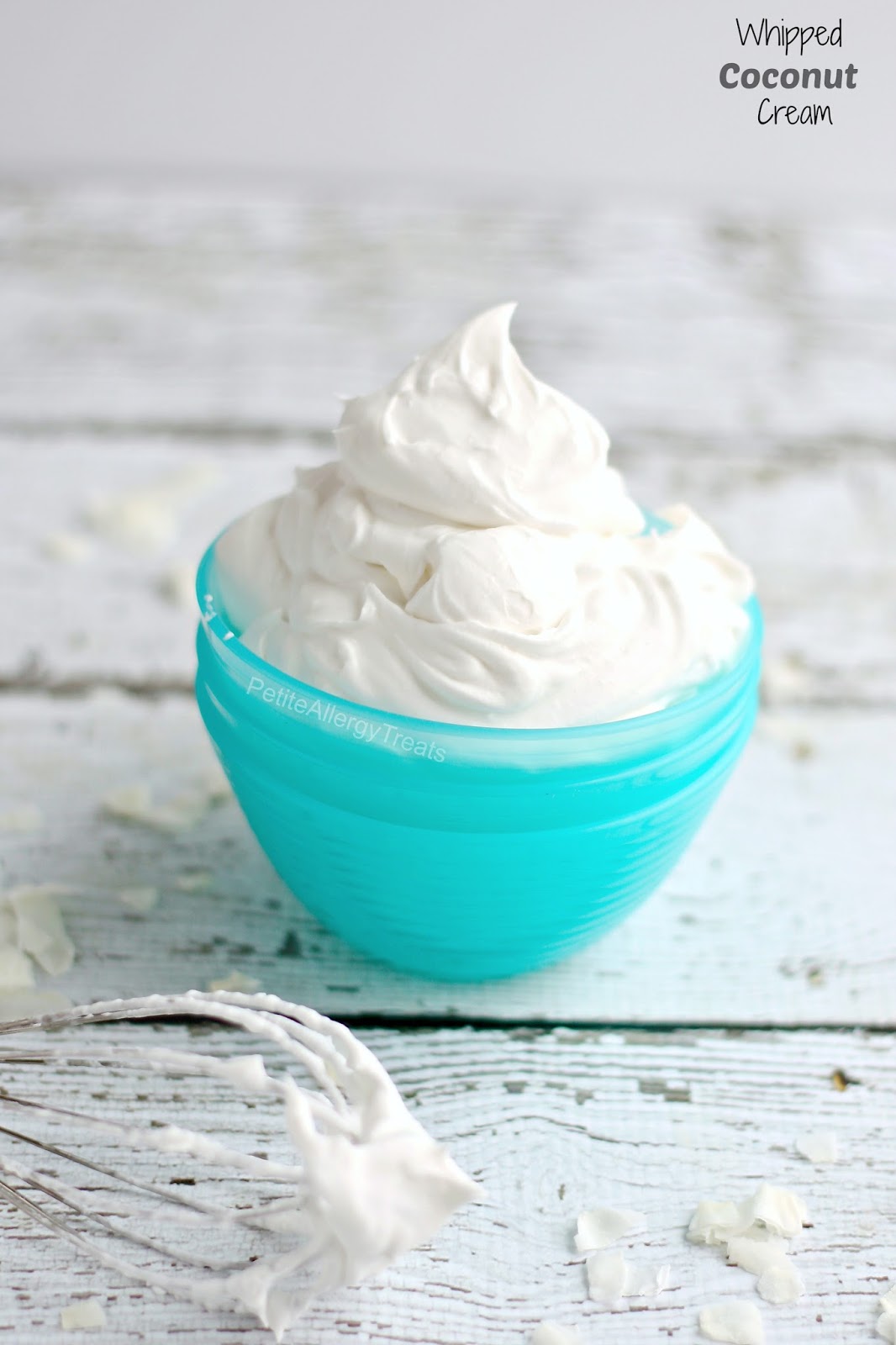 Homemade Coconut Whipped Cream (Dairy Free Vegan)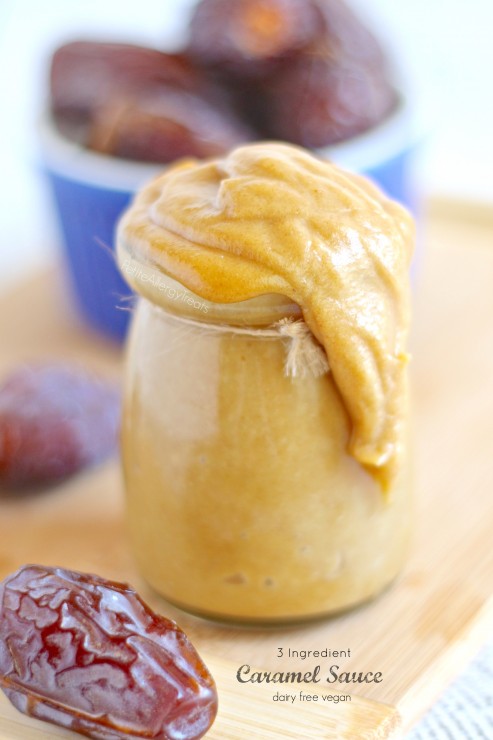 Caramel Sauce (dairy free vegan)– gluten free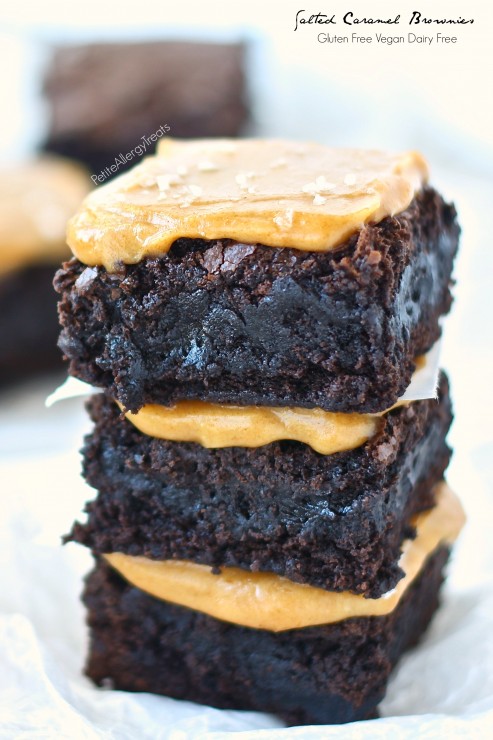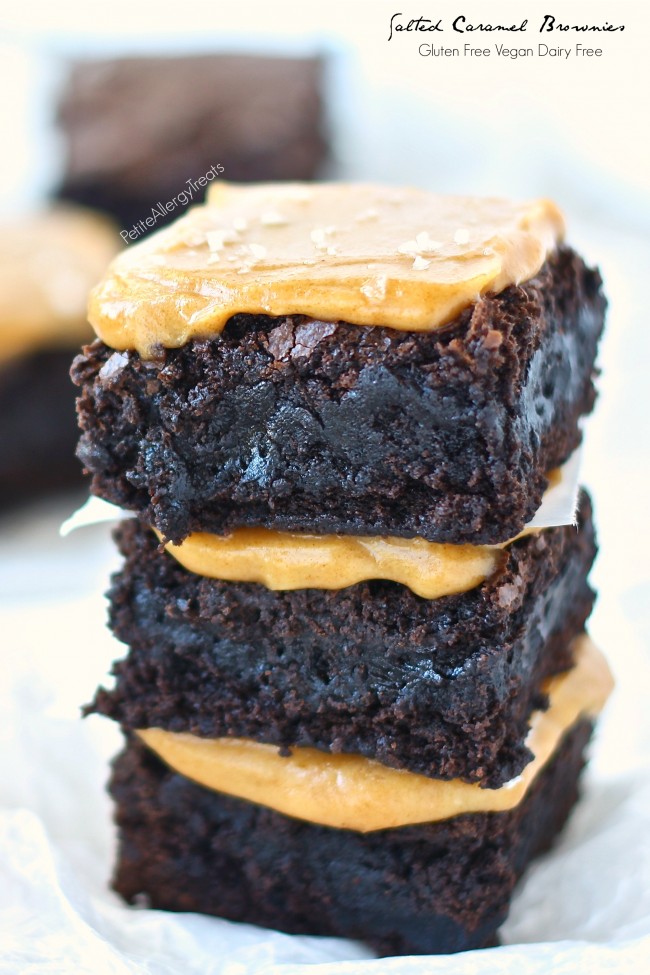 Salted Caramel Brownies (gluten free Vegan egg free)– dairy free

Blogger Participants for the So Delicious #RaiseAPint recipe contest July 10th-24th 2016:
Alexa of Flo & Grace
Brianna of Flippin' Delicious
Cadry of Cadry's Kitchen
Colette of Learning to Eat Allergy Free
Elizabeth of EBL Food Allergies
Hannah of Bittersweet
Jackie of Jackie Ourman
Jenn of Veggie Inspired
Jules of gf Jules
Kelly of The Pretty Bee
Kim of Kim's Welcoming Kitchen
Kristina of Spabettie
Lacy of Making it Milk Free
Laura of Petite Allergy Treats
Megan of Allergy Free Alaska
Natalie of Feasting On Fruit
Rebecca of Strength and Sunshine
Sarah of Sarah Bakes Gluten Free
Sarah of A Whisk & Two Wands
Sharon of What the Fork
Wendy of Wendy Polisi